Kashmir is heaven on earth with its alpine peaks and snow-clad ranges. From trekking to solo trips to leisurely family vacations, Kashmir is a complete package. An unbelievably beautiful landscape, valley of flowers, serene lakes, and amazing trekking trails, Kashmir has a little of everything to offer to its visitors. Looking to decode Kashmir for your next trip? In this blog, you will find a complete list of places you must visit during your visit to Kashmir. It is a good option for solo women traveling to Kashmir.
Contents
7-Day Itinerary for Kashmir
Here is a perfect 7-day itinerary for anyone looking for a solo women's trip to Kashmir or to travel to Kashmir with family or friends.
To find our detailed Itinerary you can click the link below or you can keep scrolling to know everything about Kashmir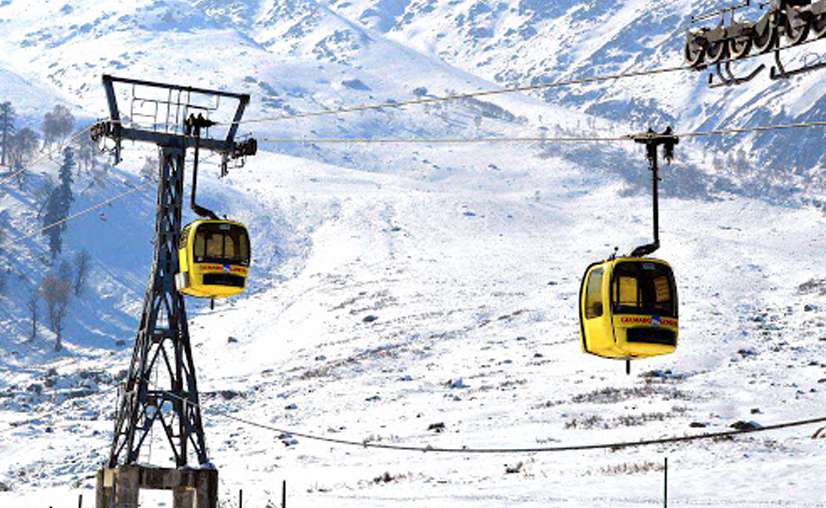 DAY 1: Srinagar to Gulmarg (54 km /2 hr)
Arrive at Srinagar and proceed towards Gulmarg (approx 2 hrs journey). Gulmarg is known as the Meadow of Flowers.
It is also a popular hill station as well as a skiing paradise, with delightful slopes and home to many Bollywood movies like Mission Kashmir, Yahaan, Fitoor, etc. for its alluring background.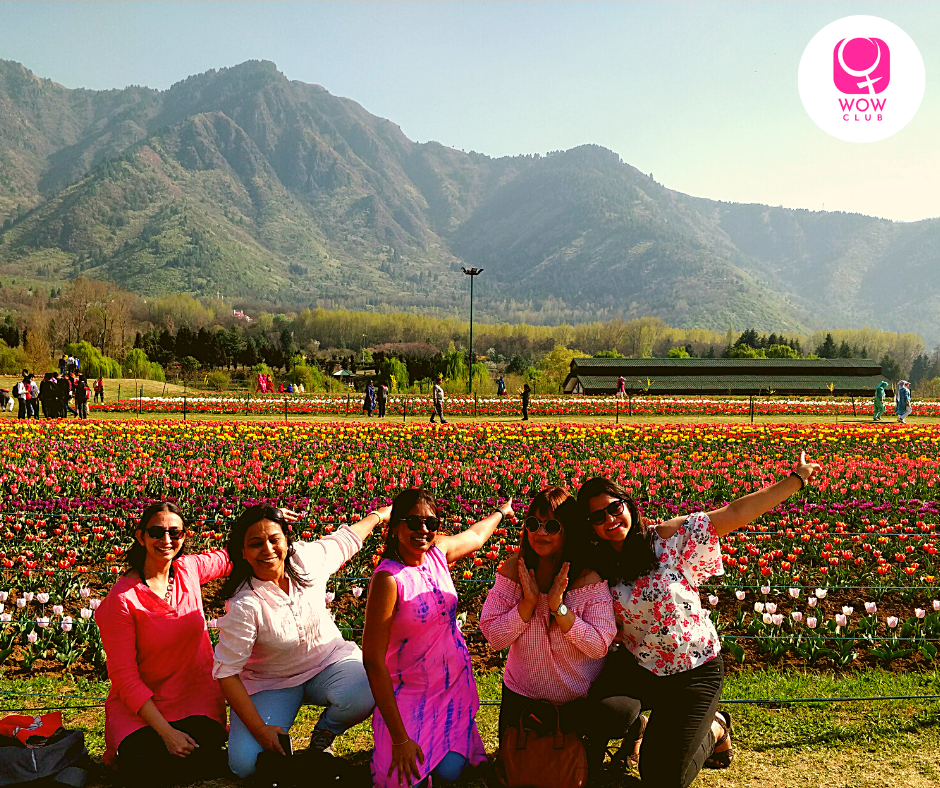 DAY 2: Gulmarg to Sonmarg (125 km/3.5 hr)
A must-do here is the Gondola ride to witness the beautiful views of the Gulmarg valley.
You may also visit the outer circle walk.
A number of attractions of Gulmarg like the main market, children's park, Shiva temple, and the Ice skating rink can be covered during the outer circle walk and a few detours from the main outer circle road.
Head to Sonmarg in the early evening.
DAY 3: Sonmarg to Srinagar (80 km/ 2.5 hr)
Thajiwas Glacier is the highlight of Sonmarg Valley.
You may choose to do the hike to the Glacier or you can have a day at leisure to explore the beautiful serene views of Sonmarg valley.
You may transfer to Srinagar by the afternoon. Once you reach Srinagar you may visit Mughal Garden & Parimahal.
WOW Pro Tip: For the Adventure Junkies- Try the one-day trek to ALPATHER LAKE which is moderate on the difficulty spectrum. The high altitude and steep climb can make this hike challenging. However, you will be greeted by unparalleled views of the entire valley comprising snow-clad mountains and lush green meadows, if you are visiting in the summer season.
DAY 4:  Srinagar-Pahalgam (110 km /3 hr)
You may start to drive towards Pahalgam wherein you drive through the Saffron fields region to the Avantipura ruins.
Avantipura Ruins were destroyed by a massive earthquake and the remains are now maintained by the Archeological Department.
DAY 5: Pahalgam
After breakfast, we set off for a day's excursion of the beautiful Betab Valley which is famous for shooting many Bollywood films.
You may also visit the Mammal Temple or shop at Pampore market, where you can purchase authentic Kashmiri saffron and famous Kashmiri handicrafts.
DAY 6: Pahalgam to Srinagar (90 km/3 hr)
Reach Srinagar from Pahalgam and you may indulge in local sightseeing like a visit to the Shankaracharya temple.
We suggest staying a night on the Houseboat for a relaxing experience. Also, enjoy the Shikara ride at Dal Lake. Dal Lake is the second largest lake in the state and is integral to tourism and recreation in Kashmir.
Don't miss the "Floating Post Office" – claimed to be the only such in the world – is built on a houseboat, now moored on the western edge of the Dal Lake.
DAY 7:   Say your goodbyes or extend your trip to Srinagar
If you want you may stay longer in Kashmir and cover other parts of Kashmir like Yousmarg which is a small hilly meadow set in the heartland of mountains about 47 kilometers away from the Himalayas. A day trip visit from Srinagar is ideal.
WOW Pro Tip: Do try and visit the the famous Ahdoo's restaurant in Srinagar which serves authentic Kashmiri Cuisine.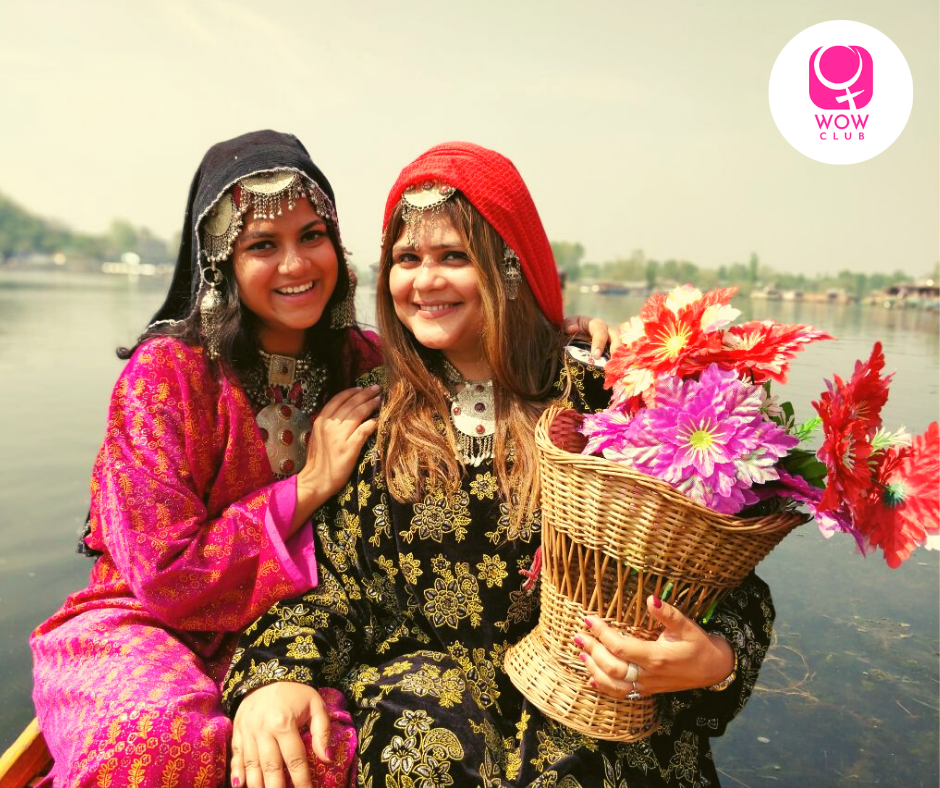 6 Must-Visit Places in Kashmir
Solo and group travelers rejoice! Kashmir has a lot to offer and a variety of experiences that make for a lovely week-long getaway.
1. Srinagar
Now the most asked question is, is traveling to Srinagar safe? Yes, it is completely safe and is a beautiful place for solo women to travel.
Take a shikara ride on the peaceful Dal Lake, view the city from the top of Shankaracharya Temple, and stay in the iconic houseboats on your next trip. You'll definitely fall in love with Kashmir!
Srinagar is home to the Shalimar Gardens which are on the back of the Rs. 10 Indian Currency Note.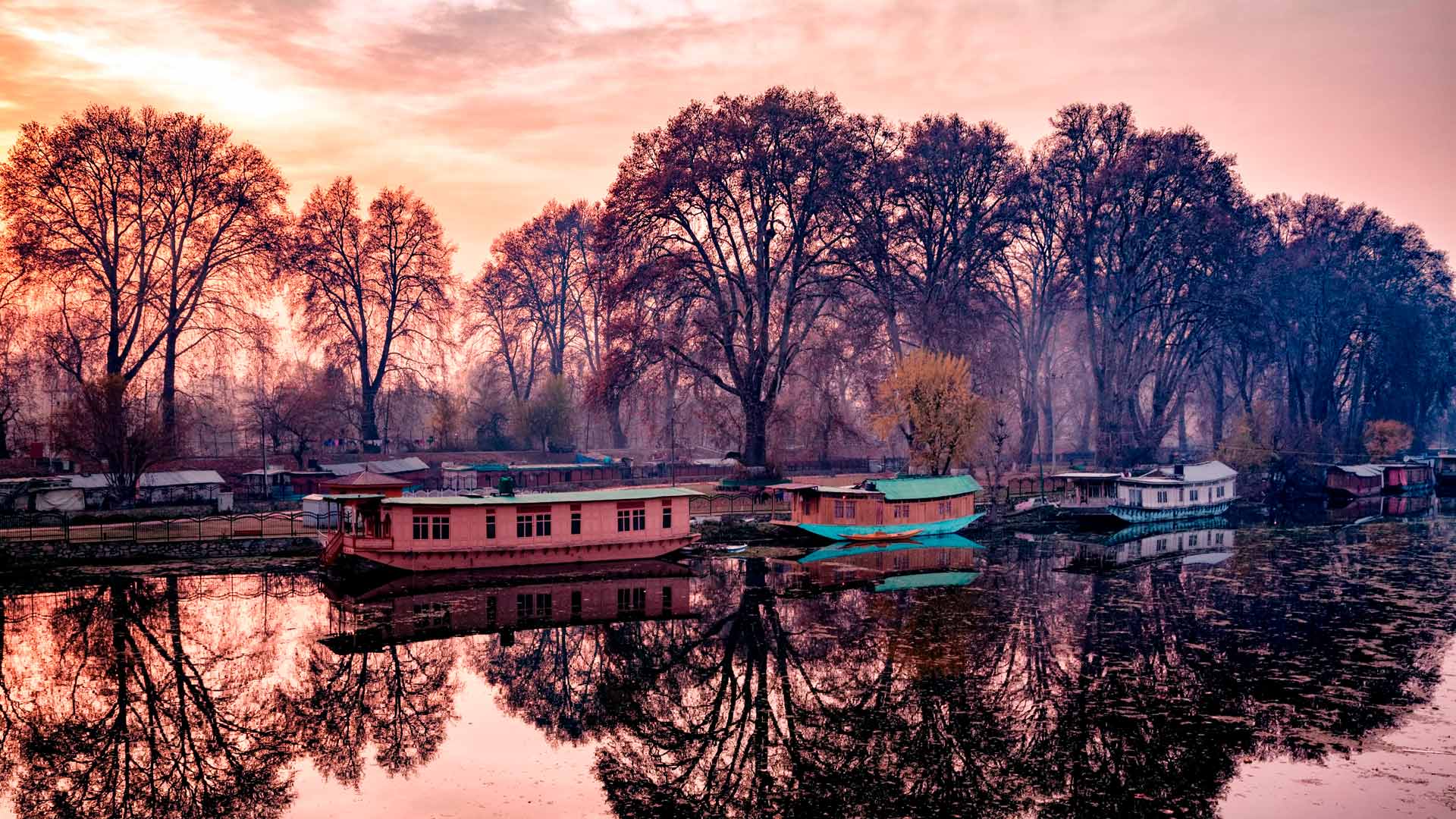 How do you reach Srinagar?
To reach Srinagar by train, one could take a train to either Jammu Tavi or Udhampur Railway Station.
From there you can take a taxi or a bus to this beautiful place. You can fly directly into Srinagar which is 50 minutes away from Dal Lake.
What should you do when in Srinagar? Stay in a Houseboat
What is the best time to visit Srinagar:  February to July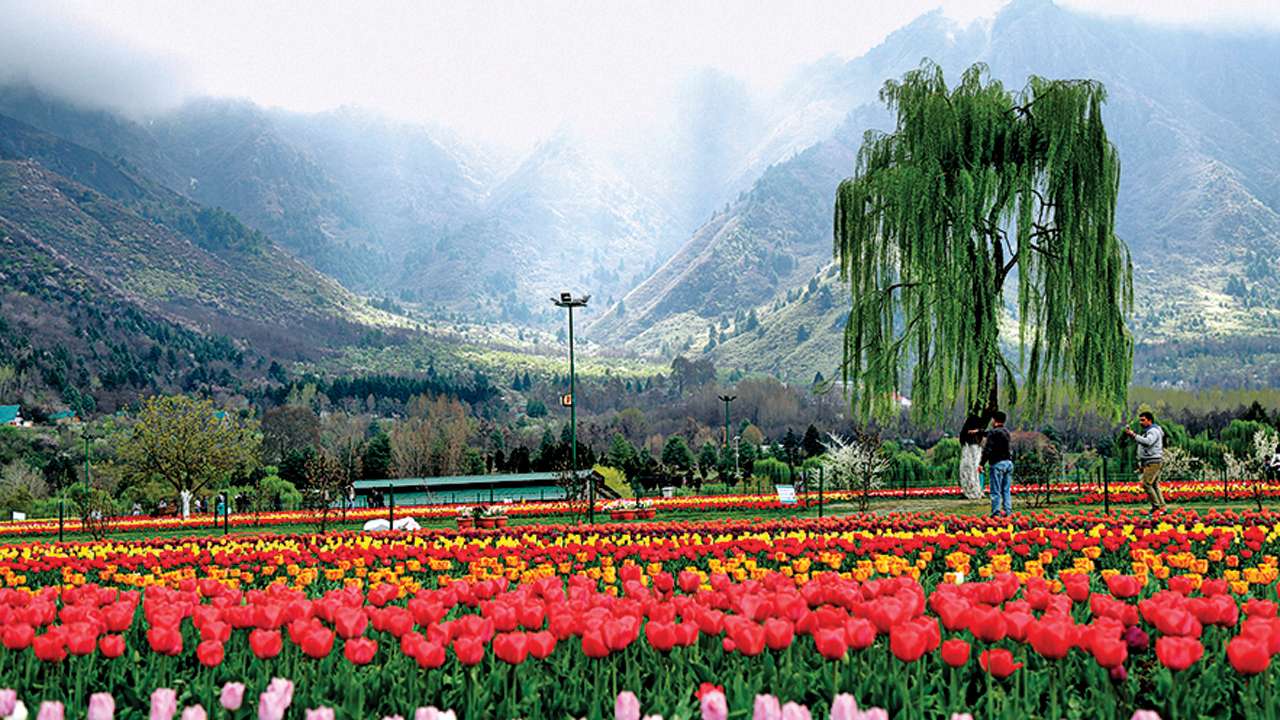 2. Pahalgam

How far is Pahalgam from Srinagar?

Surrounded by Lidder Lake and Betaab Valley, Pahalgam is the place you visit to experience clear water rivers and exhilarating deep valleys.
Why is Pahalgam famous?
This place is famous for river rafting at Lidder Lake, golfing, and shopping for traditional Kashmiri items.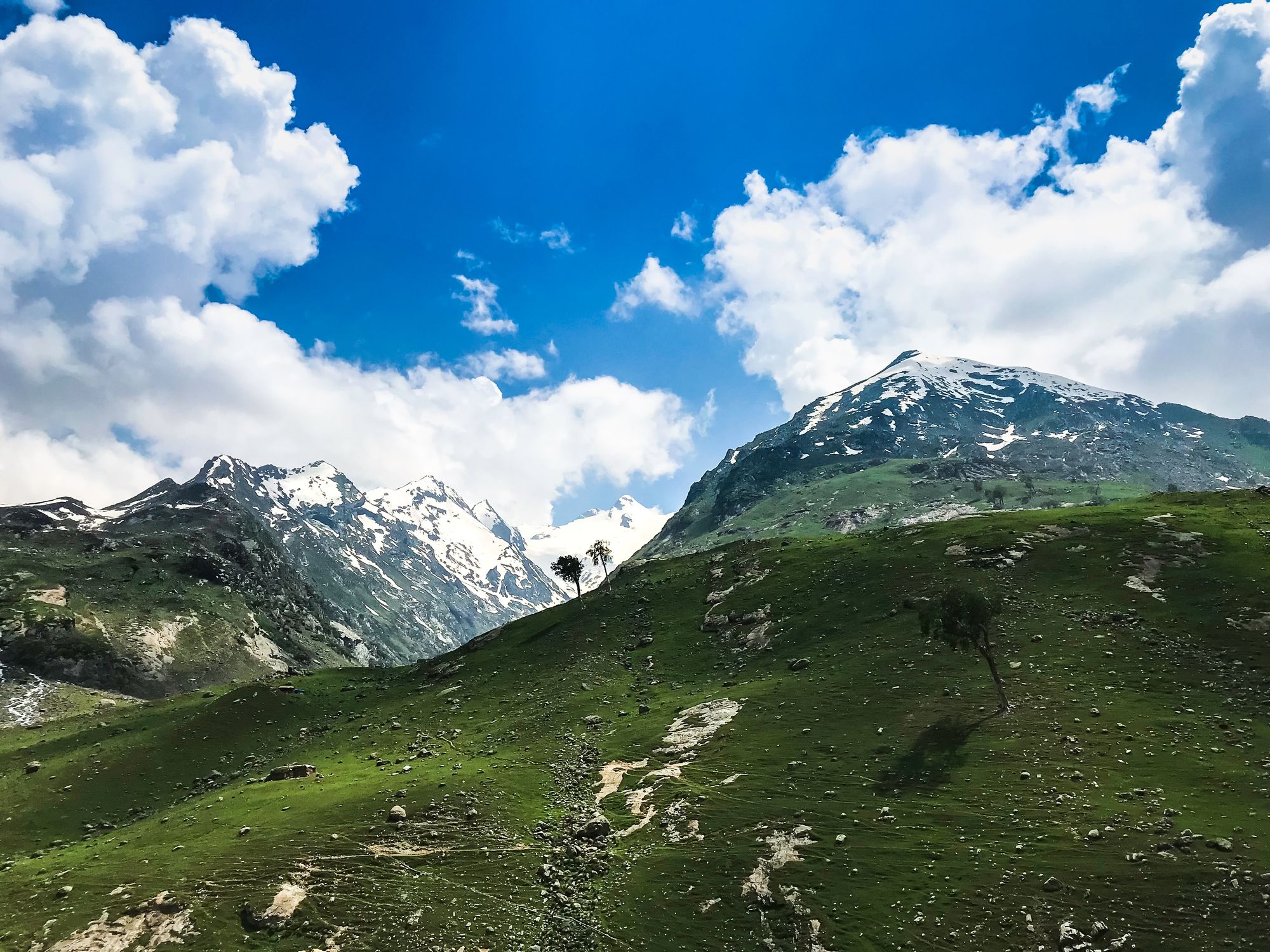 How to reach Pahalgam:
You can take a train to Jammu which is about 255 kilometers from Pahalgam.
You can then rent a taxi to Pahalgam.
You can reach there by air by boarding a flight to Srinagar which is at a distance of 95 kilometers from Pahalgam
Must Do in Pahalgam: Visit Mini Switzerland on ponies
What is the best time to visit Pahalgam: February to June
3. Gulmarg

Why is Gulmarg famous?
It is the snow paradise of Kashmir. This skier's paradise is popular for having one of the world's highest and largest ropeways with an aerial distance of approx. 5kms.
The view from the top of the mountains at 3979 meters above sea level is bewildering. Snowfalls are regular even during summer, giving every tourist a fair chance to enjoy the fall!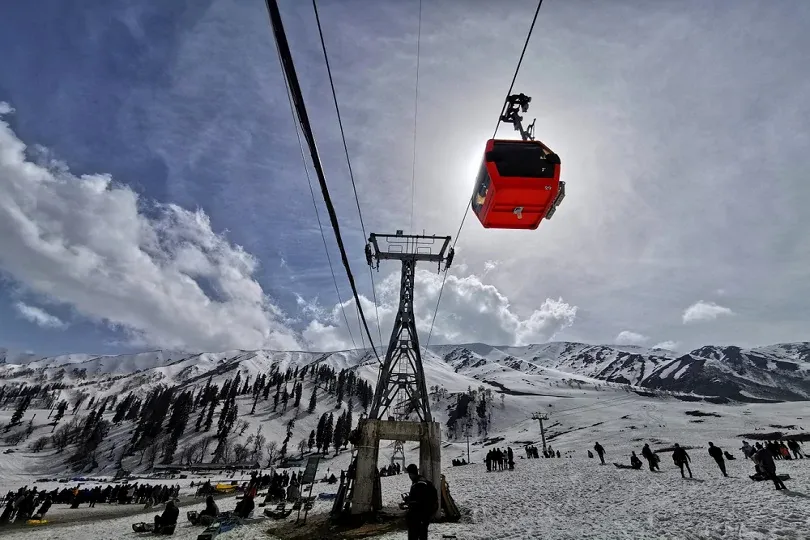 How to reach Gulmarg:
By air - The nearest airport is Srinagar which is 56 kilometers away.
By bus - Gulmarg is well connected by bus from Srinagar, Sonmarg, and other neighboring towns in Kashmir
By train: Jammu is the nearest Railway Station at a distance of 290 kilometers
Must Do an activity in Gulmarg: Ski with the help of professionals at 14000 feet above sea level.
What is the best time to visit Gulmarg: March to June
4. Sonmarg

Is Sonmarg worth visiting?
Sonmarg or 'the meadow of gold' has one of the most picturesque views in Kashmir. Snow-clad mountains, green grasslands, and ponies to ride on, this place is what they call, 'Jannat' or heaven.
Sonmarg is also one of the base points for starting the Amarnath Yatra.
Best activities to do in Sonmarg:
River rafting, zorbing, and trekking are the various events conducted around popular tourist spots. Sonmarg is inaccessible in winter due to heavy snowfall and avalanches.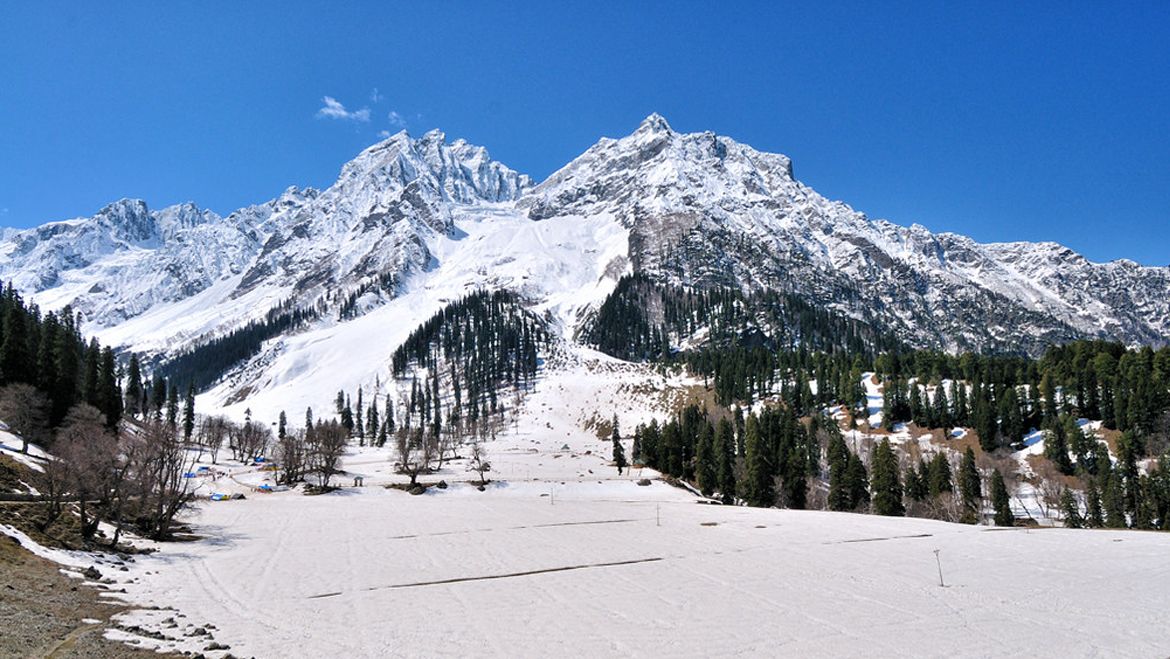 How to reach Sonmarg :
By air – You can take a flight to Srinagar and then take a bus or a taxi to Sonmarg
By road – Sonmarg can be reached by Pahalgam which is well connected by roads from all the major cities in the north
Must Do: Trek to the Thajiwas Glacier
What is the best time to visit Sonmarg: February to March

5. Kashmir Valley

Where is the valley of Kashmir?
It is located in the western Jammu and Kashmir union territory, northern India.  Kashmir Valley, the largest Himalayan valley, is an elliptical saucer-shaped landmark of Kashmir.
Surrounded by the Karakoram and Pir Panjal ranges, Kashmir Valley has a mesmerizing view in all directions possible. This 140km long valley is the perfect spot for all trekkers and mountaineers alike!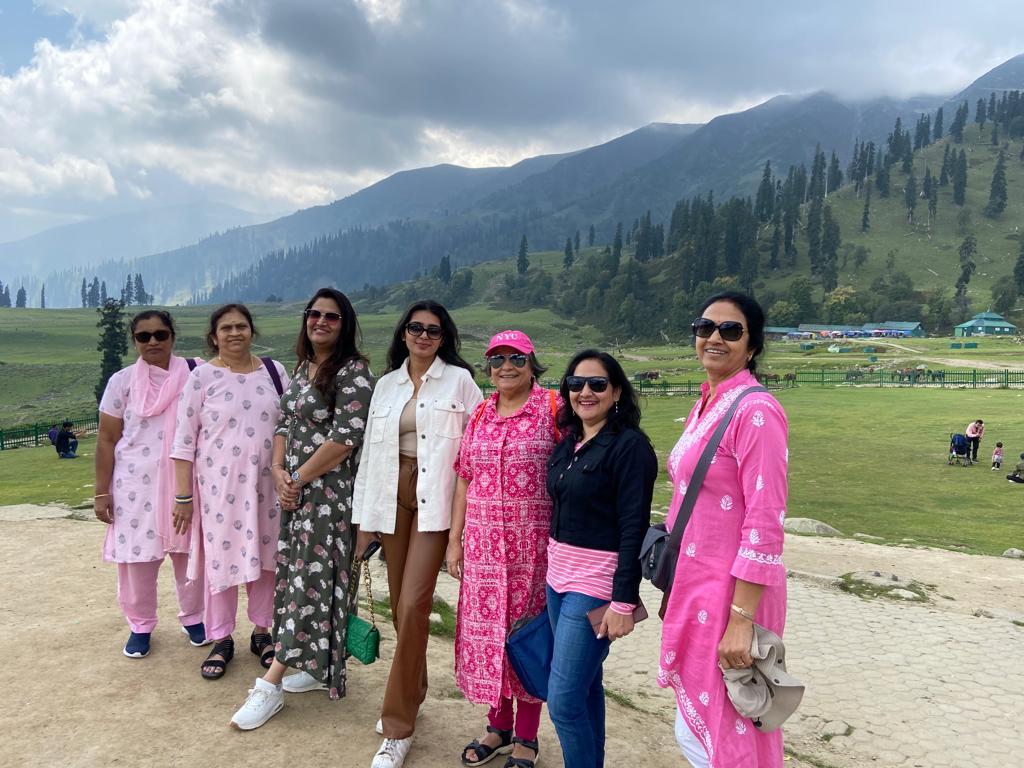 How to reach Kashmir Valley:
By road – You can take a bus from any of the major cities to Srinagar. It is well connected with cities like Delhi, Chandigarh, etc.
By air – You can board a flight to Srinagar which is 18 kilometers from the valley
By train – The nearest railway station is Jammu Tawi, taxies and buses ply from Jammu at a regular interval for the valley
Must Do an activity in Kashmir Valley: Paragliding over the Valley
What is the best time to visit Kashmir Valley: March to October
Where to stay in Kashmir Valley: There are no hotels in the valley, so either you need to book your stay in Pahalgam or Srinagar
6. Yousmarg and Charar-i-Sharief
Yousmarg is a sprawling meadow that's refreshingly underdeveloped (only a couple of restaurants are there).
The highlight is the Doodh Ganga River, which is reached by a picturesque 30-minute walk along a forested trail down a hill. Alternatively, it's possible to take a pony. (Don't give into the insistent pony owners if you want to walk).
On the way to Yousmarg, you'll pass numerous apple trees, as well as the town of Charar-i-Sharief. It's worth stopping there as it's home to one of the holiest Sufi Muslim shrines in India, and some of the biggest halwa parathas you'll ever see!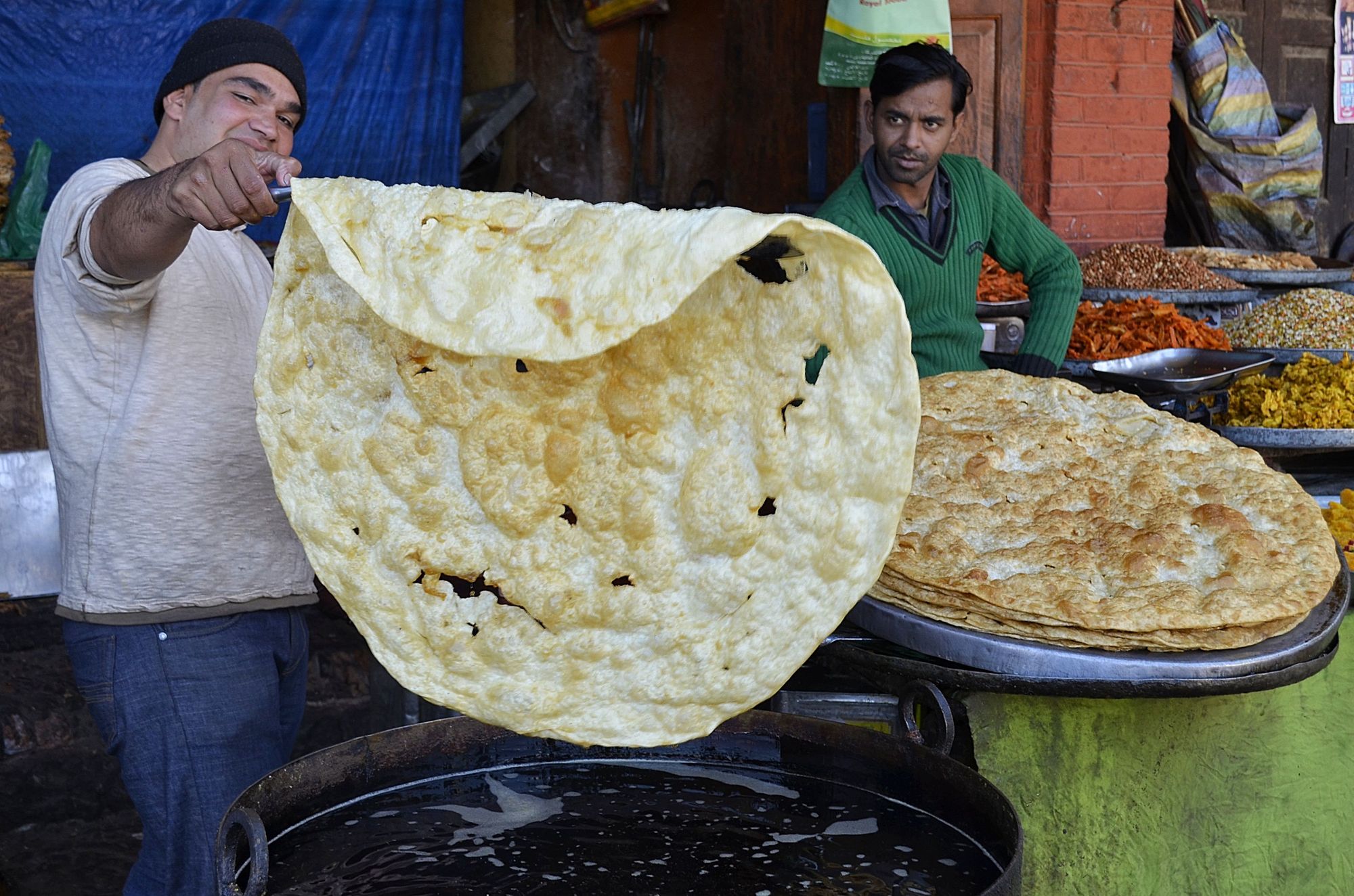 How to reach Yousmarg and Charar-i-Sharief: Drive for 2 hours (45.5 Kms) southwest of Srinagar.
Must Do: If you spot anyone selling apples on the roadside, get some as they're delicious!
What is the best time to visit Yousmarg and Charar-i-Sharief : March to October
Where to stay: As there are not many Resorts or hotels here, a day trip from Srinagar will be a good idea.
WOW Pro Tip-
Recommended places to shop from in Kashmir:
1- Hubbi arts emporium
2- snow world village
3- Winsome arts
4- zamindr kesar king
The best time to visit Kashmir
Kashmir is Known for its stunning climate all throughout the year. features a typical European climate that can widely be categorized into four seasons SPRING, SUMMER, AUTUMN, and WINTER.
Kashmir in March and April (Spring)
(15-18 Celsius during Day) to (0 to 5 degree Celsius at night)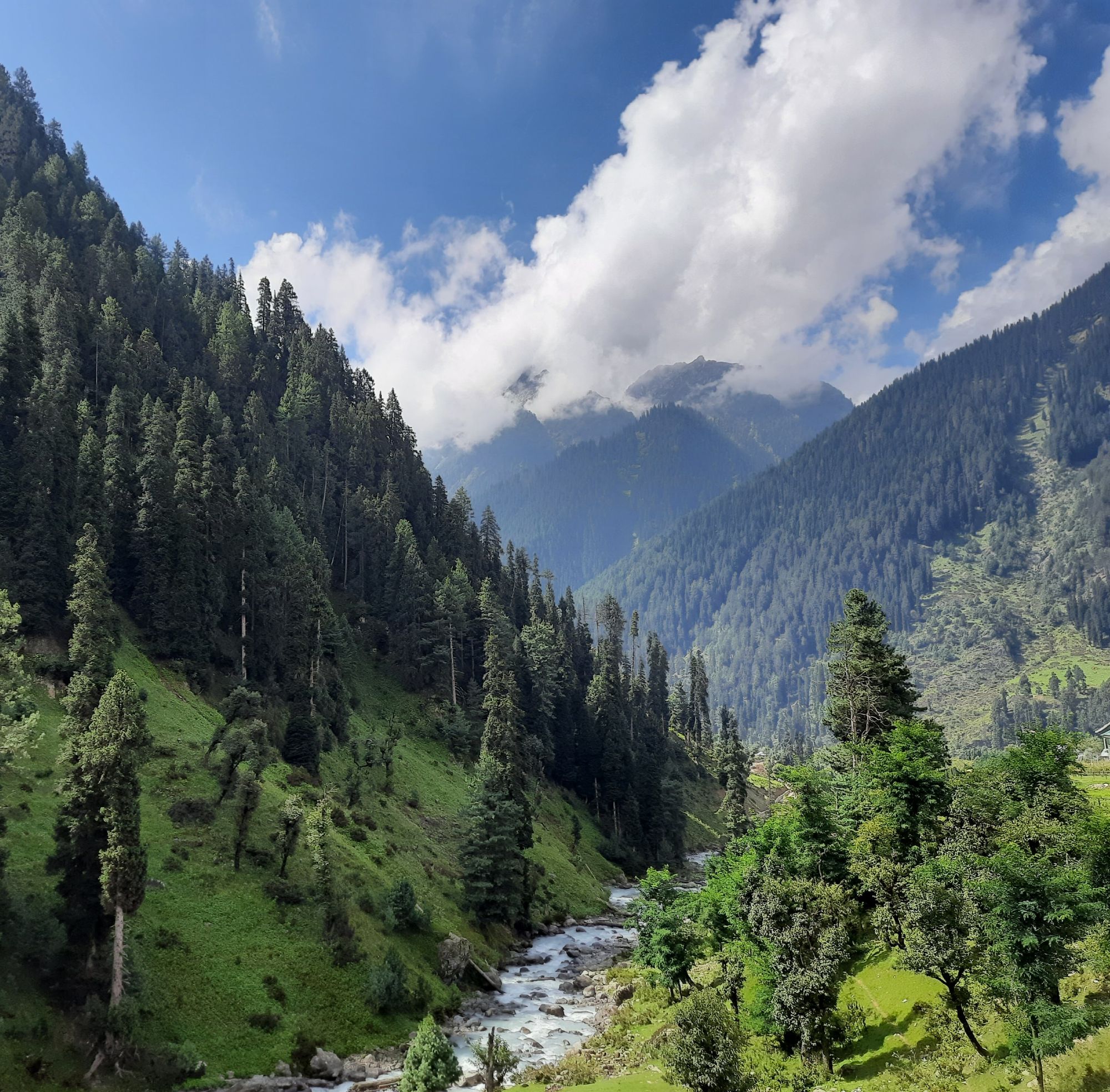 The whole valley comes alive during this time with velvety green grasses, a mustard field in full bloom, and blossoms after blossoming of almond, cherry, apple, peach, pears, pansies, narcissi, daises, and a million grass flowers carpet the ground.
Throughout the valley, thousands of fruits and flowers burst into bloom exuding an alluring fragrance. One can see miles and miles of mustard fields draped in Yellow and orchards full of multi-hued blossoms.
The Climate of Jammu and Kashmir at this time of the year is ideally suited to thoroughly enjoy the beauty of the place.
The most interesting event in this season is the Tulip Garden blossom – which starts around mid march and ends by the 1st or 2nd week in April, depending on the heat intensity. And that is spectacular that any visitor to Kashmir and Srinagar city would not want to miss.
Kashmir from May to August (Summer)
(20-30 Celsius during Day) to (15 – 20 degree Celsius at night)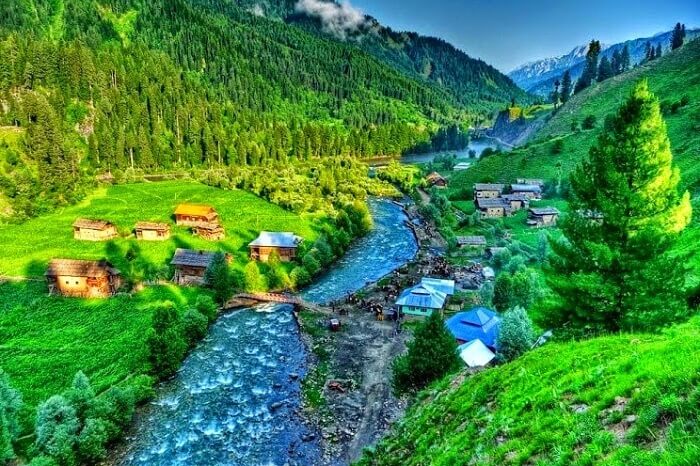 Temperatures rise slightly and the Climate of Kashmir valley is unbelievably lovely at this time of the year.
Tourists can also visit the Orchards and assist the villagers in Apple and other fruit pickings.
In and Around Srinagar you may be required to wear light woolens or heavy cotton clothing.
The whole valley is like a painter's canvas with varying shades of green – ice fields, meadows, trees, etc Srinagar with its lakes and waterways is a heaven after the scorching heat of the Indian plains.
Kashmir from September to November (Autumn)
(18-25 Celsius during Day) to (10-15 degree Celsius at night)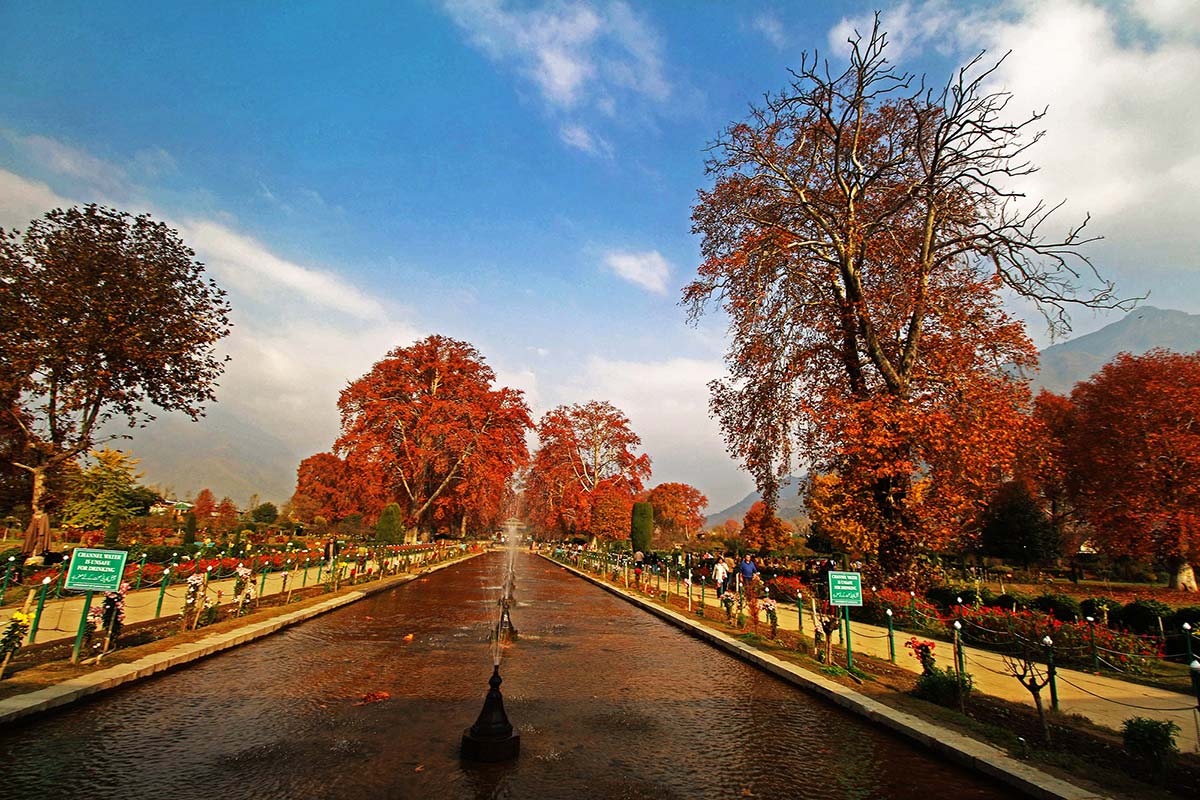 The most awaited season in Jammu and Kashmir sets in the month of September. It is autumn, the season of mists and mellow fruitfulness.
Everything turns to gold.
Temperatures rise to a maximum of 23 degrees in the morning but the nights are relatively colder.
The weather is very conducive for the tourists to take delight in the sights, sounds, and smells of this idyllic land.
The onset of autumn, perhaps Kashmir's loveliest season, is towards September when green turns to gold and then to russet and red.
The highest day temperatures in September are around 23 C and night temperatures dip to 10 C by October and further drop by November when heavy woolens are essential.
Kashmir from December to February (Winter)
(5 to 10 Celsius during Day) to (-4 to 2 degree Celsius at night)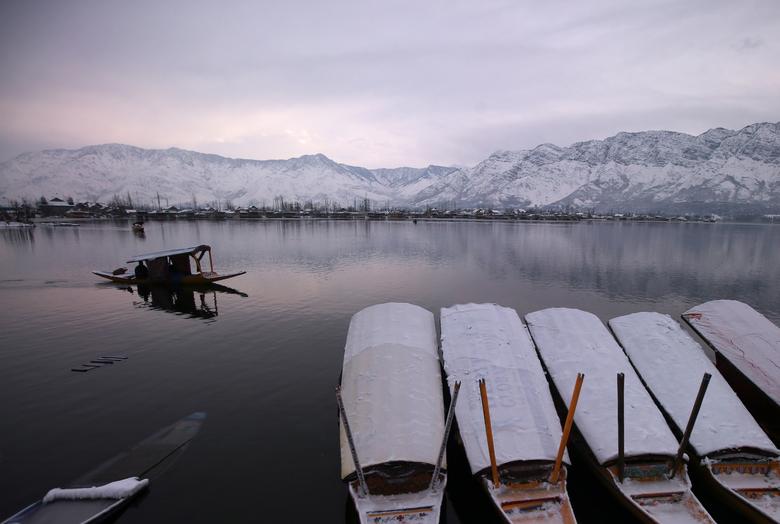 Winter starts in the month of December and it is extremely cold then.
The upper reaches are snow-covered and become a visual treat to the eyes, the city of Srinagar also receives snow towards the mid of January – February, and overall the whole landscape is transformed.
This is the best time for Skiing enthusiasts to enjoy the beautiful slopes of Gulmarg and other places around Srinagar.
Recommended restaurants to try in Kashmir
1- Ahdoos restaurant and bakery: Excellent Kashmiri food. Must try Rista and Mirchi Korma. Not the place for soup. Courteous staff. Their bakery store on the ground floor is the best. Cream rolls are delicious

2- 7c's cafe n fine dining: 7cs is the only fine dining in the valley for family and friends! The food quality is amazing and the ambiance is fab! A must-go place in Srinagar!

3- Bistro boulevard: This place is a Must Visit when you are in Srinagar. It is opposite ghat no.9.
Awesome ambiance, a clean place with amazing food, and excellent service. Highly recommend this place.

4- Little inn cafe: The Cafe looks like an old log house and so we believe the name. Must try the kehwa which is really amazing & the best you can get anywhere along with local gouda cheese!

What should you carry for the Kashmir trip?
Carry all your documentation including your government ID in original if you are an Indian National and your Passport if you are a Foreign National.
Take Necessary Medicines including any medicine that you are on as well as anti-nausea pills which are really important- bandages, antiseptic, anti-allergic pills, etc.
Go light on your luggage and make sure to do your packing nicely, we would recommend that you take your clothes as per the weather of Kashmir in the season that you plan to visit Kashmir in.
Carry sufficient cash, ATM and credit cards that will help you. We will also recommend that you take care of your belongings as there are some crowded places in Kashmir that have pickpockets as well so be a little cautious.
Souvenir shopping from Kashmir- We would suggest you load up on Kashmiri tea, artifacts, Copperware, Kashmir Pashminas, Walnut wood items, Spices, etc.
Respect the Kashmiri Culture- In keeping with local culture, women must also take care to dress conservatively, so as not to risk causing offense. This means covering up, and not wearing mini-skirts or shorts!
Note: Only Postpaid mobile networks are permissible in Kashmir.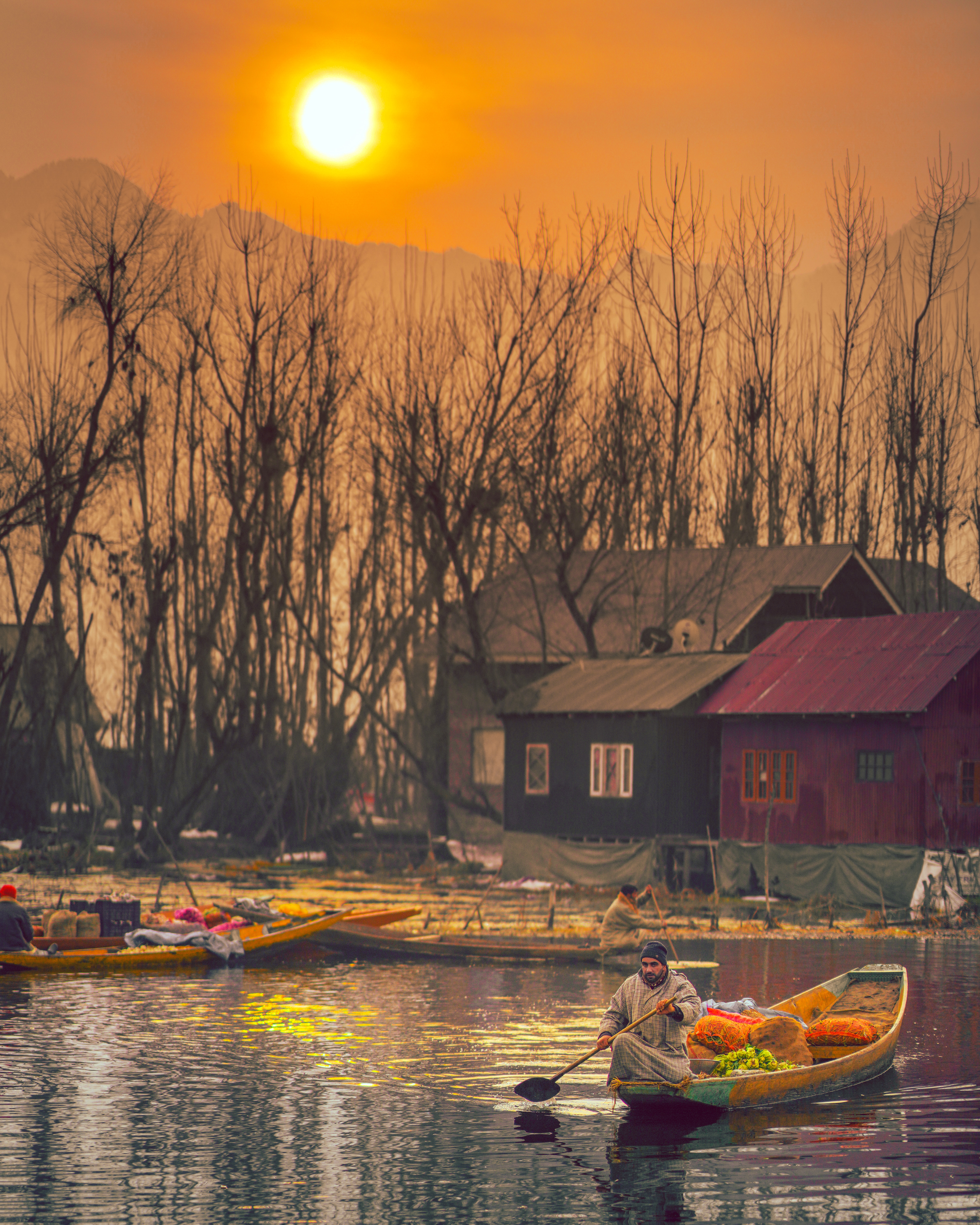 Conclusion
I hope my blog was useful and informative for planning your trip to Kashmir. Most of the points will be useful for solo traveling in Kashmir. Do try the exquisite Kashmiri Cuisine even if you are a vegetarian, there is a lot of locals can offer.
Need more help? Contact us for your personalized trip to Kashmir. You may also hop onto the WOW's next Kashmir trip and join your old and new girlfriends.
Join the newsletter to receive the latest updates in your inbox.