The name Rajasthan literally means 'The Land of the Kings'. The land of pink turbans, long moustaches, ghunghats, peppery food, and camels, Rajasthan is regarded as the flamboyant state of India. There is much more to this iconic region. It is a land of deserts and jungle, camel trains and tigers, glittering jewels, vivid art and vibrant culture. There are enough festivals here to fill a calendar and an artist's palette, and the shopping and cuisine are nothing short of spectacular. It is the must-see state of India, brimming with varied, startling and incredible attractions.
You will instantly fall in love with Rajasthan the moment you step in. So start planning your trip to this vibrant state of Rajasthan if you haven't already and let us help you in doing so..
Contents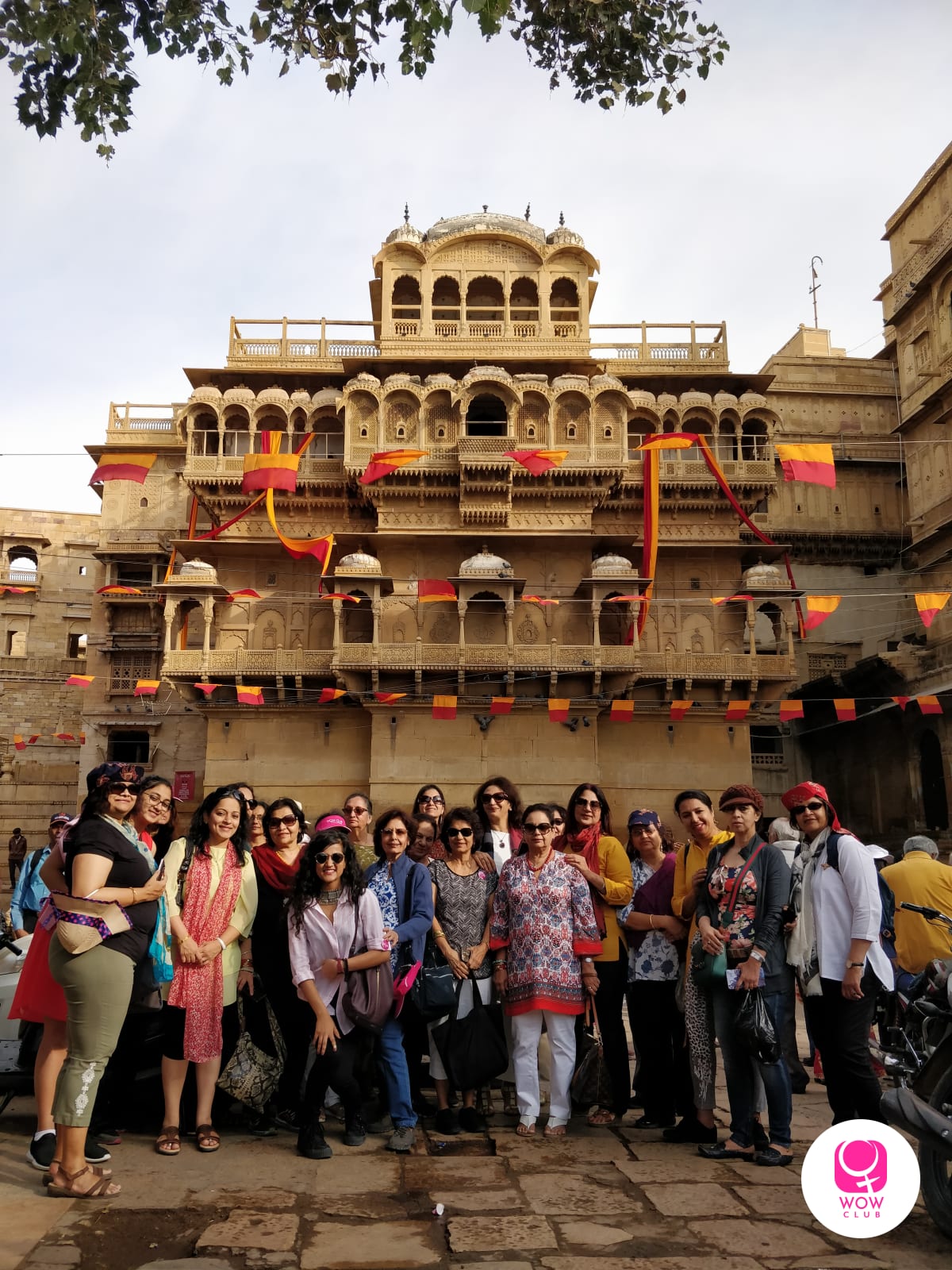 Things to do in Rajasthan
Whether you are a culture enthusiast, an adventure freak or a history buff, Rajasthan has something in store for everyone. Here are the must visit cities and experiences that you can include in your itinerary:
Jaipur:
Historical monuments dilly dally with modern cafés. Fort walls are lined with colourful shops. And everything is bathed in a nostalgic shade of pink. The best places to see includes the City Palace, Nahargarh Fort, Amer Fort, Jaigarh Fort, Hawa Mahal, Albert Hall Museum, Panna Meena ka Kund, Patrika Gate at Jawahar Circle, Jal Mahal, Jantar Mantar and Birla Temple.
Wow Pro tip: Combine your sightseeing with some offbeat experience each day as in Jaipur you will have to walk quite a lot at each tourist spot. If you just do the city tour all day long you will be extremely tired to anything else. Also prefer tuk tuk rides rather than taxis when you go for the city tour.
Indulge in early morning cycling tours.
Head out for the Jeep Safari at the Nahargarh Sanctuary or Nahargarh Biological Park.
Hop on a Hot Air Balloon in Jaipur for an ultimate experience.
Go to Masala Chowk- It is a congregation of over 100 of the most famous food stalls of Jaipur in one place.
Go to Nahargarh's RTDC open-roof restaurant in the evening, for a perfect combination of chilled beer and a view of the magnificent city from high above!
There's no excuse to not try the famous Special Paneer Ghewar and Phini, at Lakshmi Misthan Bhandar in Johri Bazaar and Doodh Mishthan Bhandar, in Lal Kothi.
Go watch a Bollywood flick at Raj Mandir, the oldest movie theatre in Jaipur.
Enjoy some awesome cutting chai and maska bun on a rainy day, at Tapri - The Tea House.
Relish authentic Rajasthani cuisine amidst folk music and experience traditional Rajasthani culture at Chowkhi Dhani.
Chaura Rasta and Bapu Bazaar are the markets to go to if you are looking to buy leheriya dupattas and sarees or the traditional tie and die clothing of Rajasthan. Jhori Bazar is renowned for its several shops selling authentic gold and silver jewelry.
Spend a day at Elephantastic or Dera Amer where you can play with elephants, bathe them, feed them and learn about their lifestyle.
Witness or participate in the elephant polo in Jaipur which truly defines the royalty of Rajput!
Learn how to create an original block print scarf at the Anokhi Museum of Hand Printing.
Visit to Rajasthali- This state-government-run emporium, opposite Ajmer Gate, is packed with quality Rajasthani artefacts and crafts.
Dine at Shikaar Bhag- It is a  popular hangout place with beautiful interiors inspired by peacock-blue color interiors. You can also checkout Baradari restaurant at city palace.
Wow Pro Tip: You must Bargain while you are shopping in local markets of Jaipur. Mostly shopkeepers will tell you very high rates at first shot so bargain hard.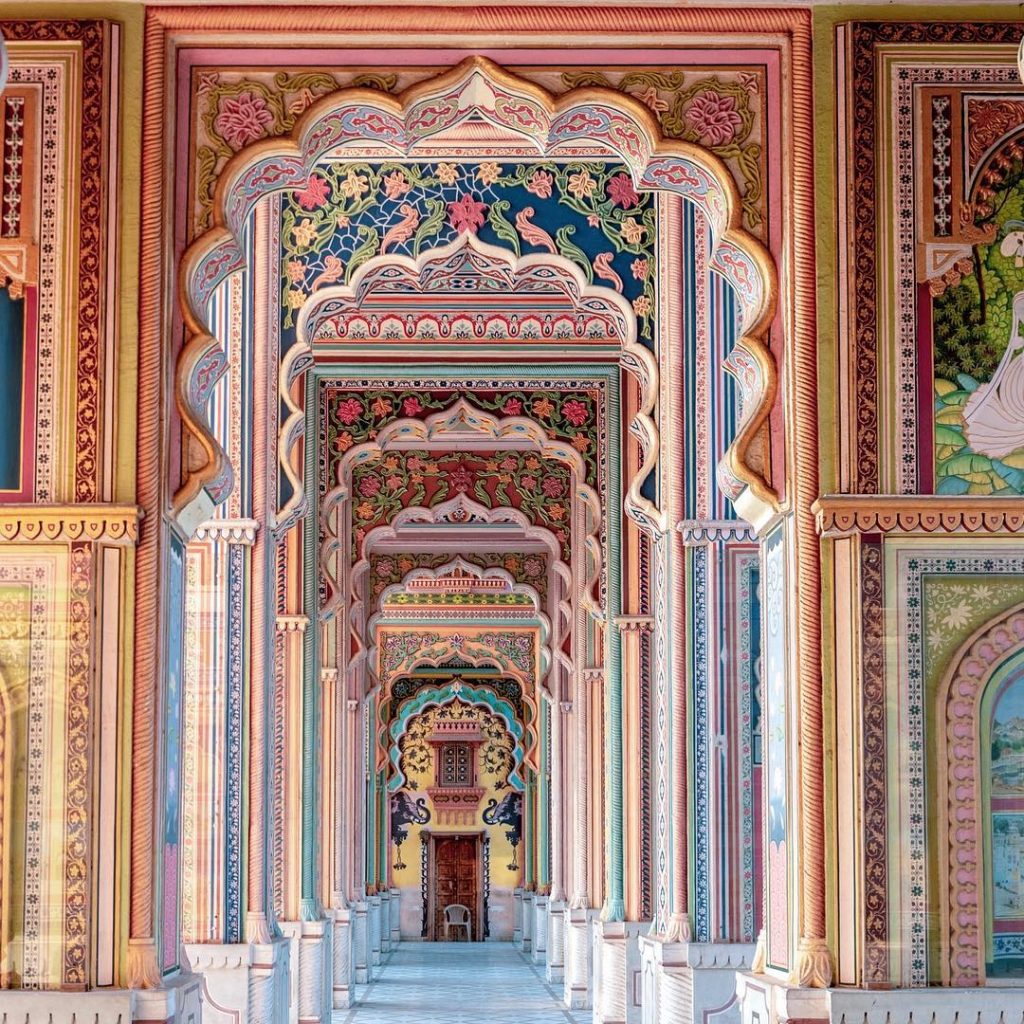 Jodhpur:
Also known as the Blue City for its distinctive blue colour painted on houses across the city and is the second-largest city of Rajasthan. Must visit places includes the Mehrangarh Fort, Jaswant Thada and Umaid Bhawan Palace Museum. You can also visit Mandore Gardens and Kaylana lake.
Start your day with a cup of Masala Tea at Bhati Tea Stall.
Opt for a Desert Experience like no other with Overlander Safaris.
Dine at Indique Restaurant, Pal Haveli- You can see the handsome Mehrangarh Fort bathed in the most gorgeous light at sunset.
Participate in an Amal Sabha, a traditional Opium Ceremony in Bishnoi Village.
Sample mouth-watering snacks at Janta Sweet Home-  Must try the Jodhpuri Mirchi vada (Breaded and fried green peppers stuffed with potatoes) and Pyaaz ki Kachori (crisp pastry with a spicy onion stuffing).
Indulge in Blue city walking experience tours - You will get to see temples, ancient wells, community kitchen etc.
Go for Bishnoi Village safari - It is a wonderful way to experience the traditions and culture of tribal India.
Enjoy a Candle-lit Rooftop Dinner at Darikhana. Prior reservation is required.
Sign up for a Class at Spice Paradise- Spice Paradise is a spice shop run by a lovely husband-wife team, who provide cooking classes to enthusiastic visitors.
Tour Sadar bazaar in Jodhpur- one for the shopaholics. You can also check out the local market surrounding the clock tower in Jodhpur.
Get Jiggy with the Kalbeliyan Tribe-  The women of the tribe perform the traditional Kalbeliya dance, where they move to some groovy Rajasthani music.
You can also do day trips to Osian Temples (70 kms), or the Khimsar sand dunes (100 kms).
Wow Pro tip: Jodhpur is particularly famous for its Lal Maans and you can try this dish at most of the eateries/restaurants in the city. This is a spicy mutton curry made in typical Rajasthani style.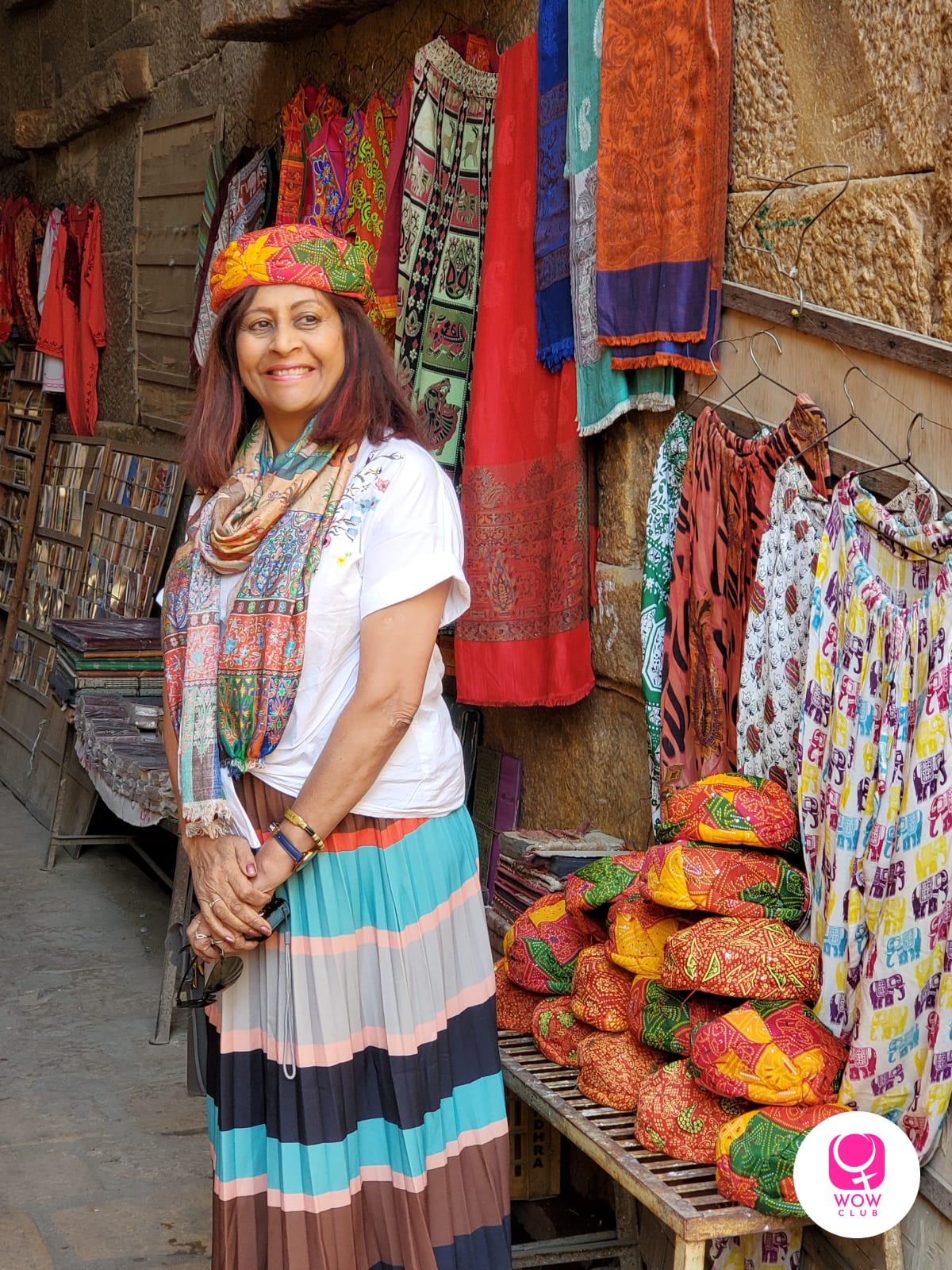 Jaisalmer:
This town is named "the Golden City" because the yellow sand and the yellow sandstone used in every architecture of the city give a yellowish-golden tinge to the city and its surrounding area. Jaisalmer is an Arabian fantasy come true. The city is historically famous for many havelis, forts and sand dunes.
Boating at the picturesque Gadisar Lake is one of the best things to do in Jaisalmer if you love being on the water!
Explore Jaisalmer Fort and Palace Museum- What really makes it unusual is that it's one of the few living forts in the world. Thousands of people reside inside its walls. The fort presents a sight to behold at sunset.
Visit the Jain Temples- One of the main attractions inside the fort is a stunning series of seven interconnected Jain temples that date back to the 15th and 16th centuries.
Walk Through Havelis- Patwa Haveli is the city's biggest and most important one. It's actually a cluster of five mansions built by a wealthy Jain trader and his sons. You can also see Sakim Singh Haveli and Nathmal Haveli.
Visit the Bada Bhag- Located approximately 6 kilometres off Jaisalmer, tourists People come here to visit the various chattris or royal cenotaphs which exist here.
If you're a curious explorer, you must include a visit to the ghost town of Kuldhara on your 'to-do' list.
Cultural Show with Dinner at Sam Sand Dunes- You can ride a camel and also sit on a camel cart. After the sun sets, this remote desert destination turns into a full-blast festival with lights, dance performances, delightful acts and colourful costumes.
Camping in Jaisalmer- You can do the camping in Sam Sandunes but it is better to go to Manwar and stay at Manwar Desert Camp. You can enjoy the Jeep Safari, the camel Safari, the folk music and dance and the wrold class hospitality.
Visit the Famous Bhang Lassi Shop - The best way to describe Bhang Lassi is that it is a cannabis-infused yogurt drink with a hint of sweetness. Just make sure that you must try this drink responsibly.
Dinner on the Dunes with Suryagarh is one of the most unique things to do in Jaisalmer. You get to enjoy your dinner like the royals do, with lamps and bonfires marking the territory.
Dine by the Rooftop Restaurants- Jaisalmer is home to quite a few rooftop restaurants that flaunt the beauty of the Golden City. Some of them are The trio, The Jaisal Italy, Zoya by Zakaya, Free Tibet and Sunset Palace.
Go Shopping in Sadar Bazaar for carpets, leather goods, paintings, etc.; Bhatia Bazaar for the best silk fabric and sarees; Sonaron Ka Baas for both precious and imitation jewellery and Manak Chowk for souvenirs among others.
Wow Pro Tip: You will see a lot of shops inside the Jaisalmer fort as well. Those shops will be a bit costly. So better buy things from local markets.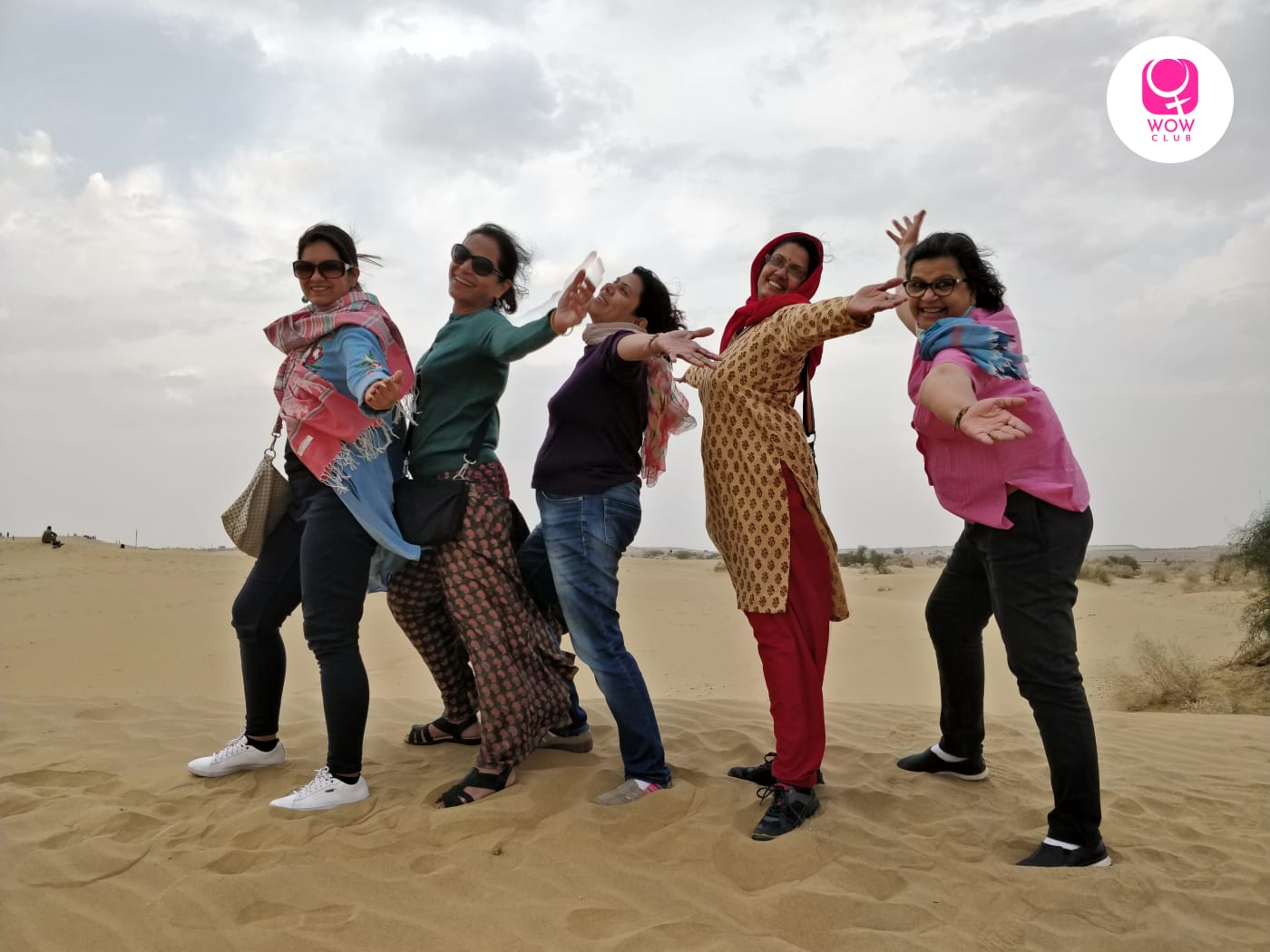 Udaipur:
Known to many as City of Lakes or Venice of the East, Udaipur is all about elegance and magnificence. The sightseeing includes includes the city palace, Jagdish Temple, Saheliyo Ki Bari Garden, Fateh Sagar Lake, Heritage Walks, Monsoon Palace, Ahar Cenotaphs, Ranakpur Jain Temple, Ambrai Ghat, Kumbhalgarh fort and Wildlife Sanctuary.
Take a boat cruise around the freshwater lake during sunset at Lake Pichola.
Another lake that you must visit if you are in Udaipur is Badi Lake. There is a nice hike in the area, if you are craving some activity on holiday.
Drive to Pipliya. The drive to this little village is quite scenic and it makes the perfect spot for a picnic.
Riding the ropeway to get to Karni mata temple is fun.
Checkout the vintage car museum in Udaipur. All the vehicles in the museum belong to Maharanas of Mewar.
Trek to Tiger Lake - If you are looking for offbeat things to do in Udaipur, then a visit to this lake should definitely be on your list.
Must go to Sheesh Mahal - You can enjoy authentic meals over looking the lake and feel like royalty here.
Eat at Charcoal By Carlsson- This is a famous barbecue restaurant in Udaipur. The restaurant specializes in everything cooked on charcoal.
Visit to Shilpgram- It is a rural arts and crafts complex and is a very interesting place.
Horse Riding in Udaipur - The best way to discover the rural areas of Rajasthan is on a horse back. For you can visit villages and the lower region of the Aravalli Hills.
Enjoy a Sundowner at the Sunset Terrace- With the Fateh Prakash Palace on one side and Lake Pichola on the other, a sunset cocktail accompanied by live music will give you the perfect vibe of the place.
Shop at Hathi Pol Bazar- The market is littered with souvenirs, paintings and artisanal products at negotiable prices. You can also visit Bada Bazar and Sadhana Emporium.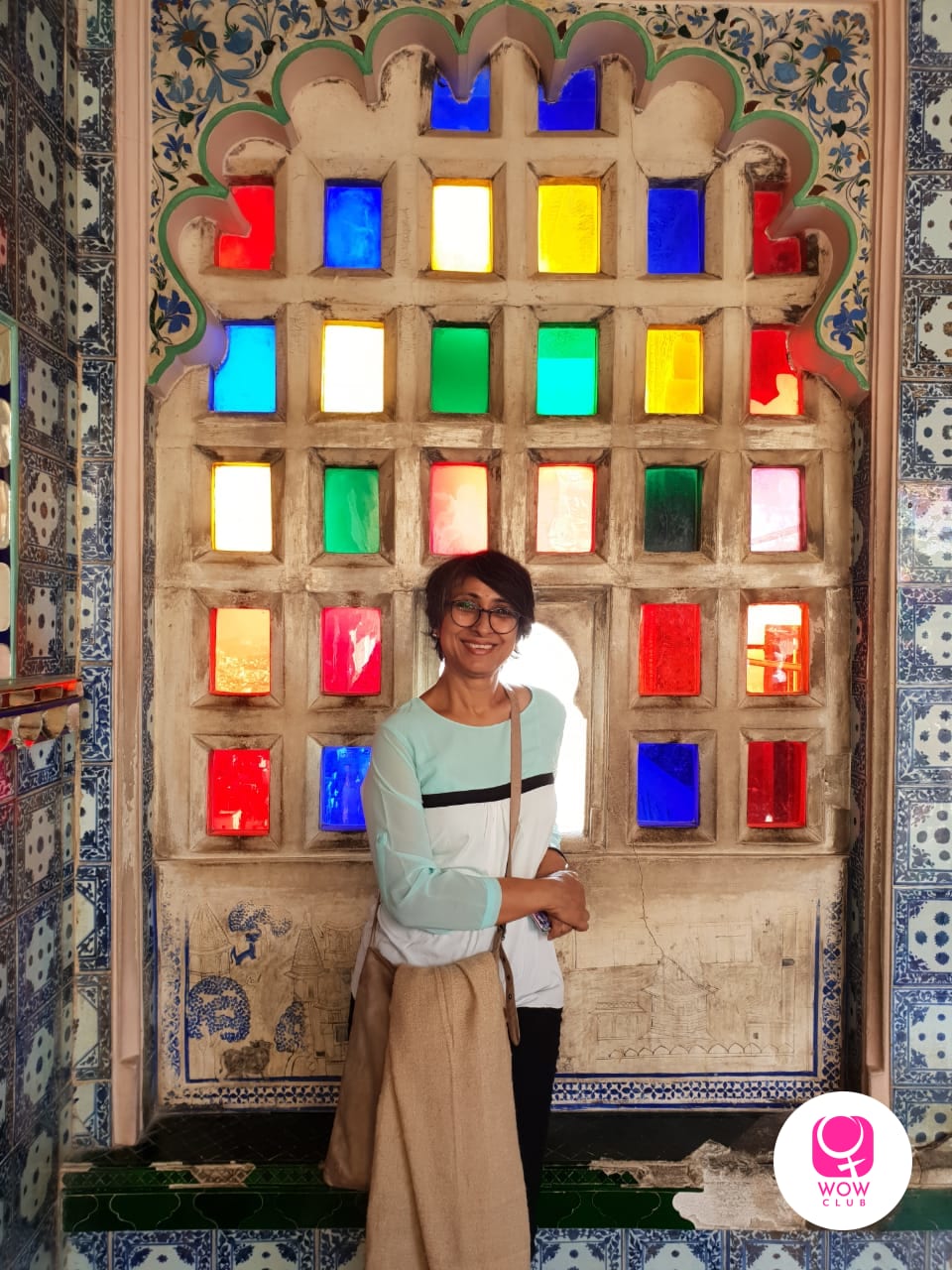 Pushkar:
One of the ancient cities of the country, located in Ajmer, it has been largely known for its religious significance, annual cattle fair, the holy lake, a handful of adventure activities. This place is usually crowded with foreigners. You can explore the different cuisine cafes. There are more then 500 temples in Pushkar but you must visit the Bharmaji Temple, explore the different ghats and check out the Sarafa Bazar.  Pushkar is famous for it's resort stays such as Ananta Resort and spa, Pratap Palace, Pushkar Bhag and Dera Masuda.
Bikaner:
This north Indian state of Rajasthan is to the east of the border adjoining Pakistan. Some of the prominent places to visit in Bikaner are Junagarh Fort, Prachina Museum, Karni Mata Temple (Home to more than 25,000 rats) , Gajner Palace, sand dunes safari, Rampuriahaveli, Bhandasar Jain temple, The Royal Cenotaphs, Lalgarh Palace, Kote Gate, Shiv Bari temple, Kodamdeshwar temple, Shop at Kote Gate and much more. The Laxmi Vilas Palace is the most luxurious place to stay in the city.
Bharatpur: One of the most famous bird sanctuary, Keoladeo National park is at Bharatpur where thousands of species of birds are gathered from different parts of the world.
Chittaurgarh: One of the largest forts is at Chittaurgarh where Rani Padmawati and others committed Jauhar.
Ranthambhore: It is one of the attractive tourist spots in Rajasthan for its Tiger safari.
Mount Abu: The most famous spot in the Mount Abu is the Dilwara Jain Temple.
Sariska National Park: It is a tiger reserve situated a protected place in the Alwar district of Rajasthan. The national park is famous for its wildlife.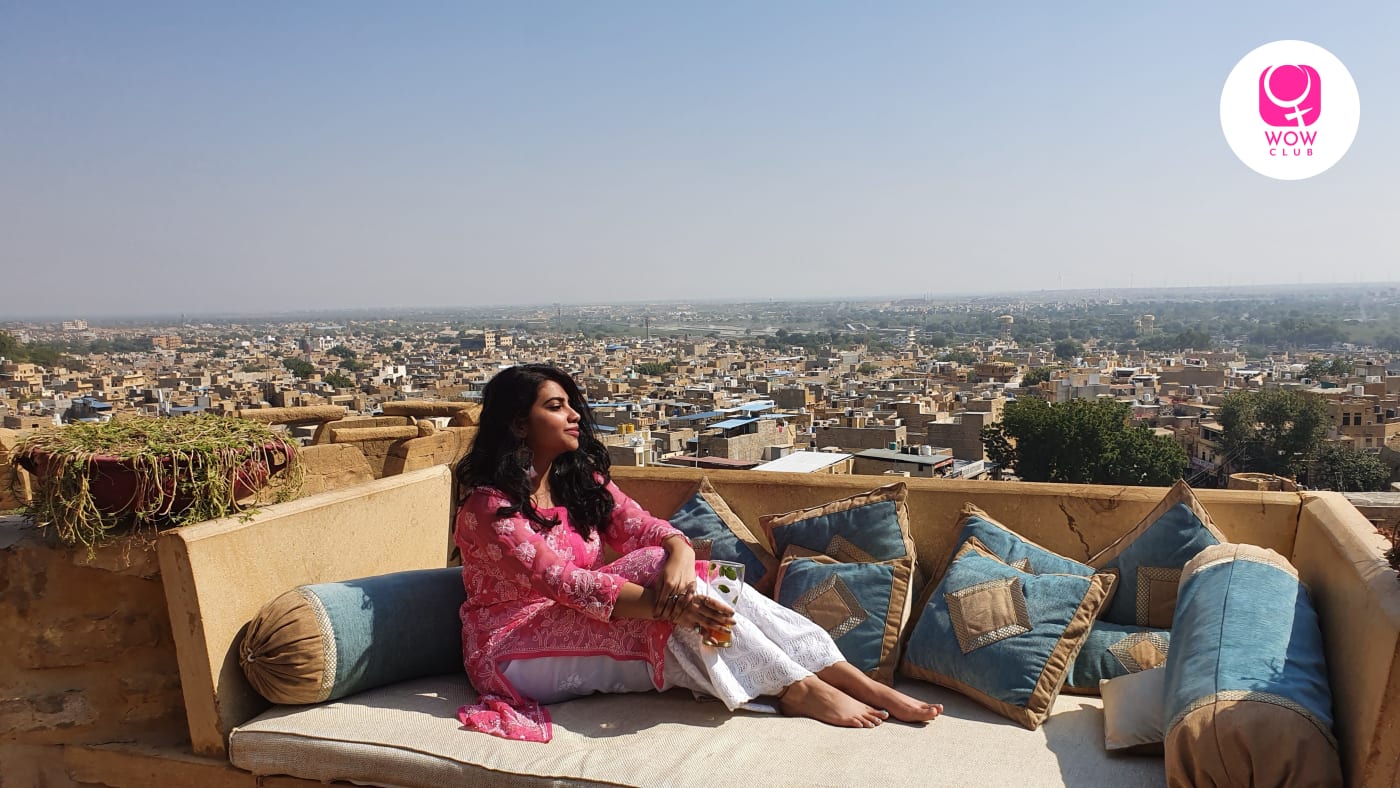 Best Time to Visit
The best time to visit Rajasthan is from October to March, when the Sun is not too fiery and intense. Winter season is the perfect time to visit most cities in Rajasthan.
Summer season in Rajasthan is hot and humid. Average temperatures can rise up to 45 degrees. Mount Abu is a good option for a summer visit to Rajasthan.
Monsoon stretches from July to September with increased humidity. Udaipur is the best place to visit in Rajasthan during monsoon season.
Routing and Getting Around
Rajasthan has so much to see, with long travel distances between top sites, that a trip here requires careful planning. Apart from the Golden Triangle which is Delhi- Agra- Jaipur (slightly overrated) you can add  Ranthambhore National Park and Bharatpur's Keoladeo National Park, a must-see for birders (though ultimately missable for most other folk).
The following routing will help you according to the no. of day you have. But for the basic two or 3 cities 1 week is enough.
Jaipur-Jodhpur-Udaipur: Fly into Jaipur. Take an overnight train from Jaipur to Jodhpur (5 to 6 hrs approx.), then drive from from Jodhpur to Udaipur (5 hrs approx.). Enroute to Udaipur from Jodhpur, you can also visit the splendid Jain temples of Ranakpur. This trip can be done the other way round too.
Jaisalmer-Manvar-Jodhpur-Udaipur: Directly fly into Jaisalmer from Delhi or Mumbai. Drive to Manwar (2 hrs 30 mins approx.). Next day morning drive to Jodhpur (2 hrs approx.) then drive from from Jodhpur to Udaipur (5 hrs approx.) If you have more time you can include a stop at Ranthambore National Park or the hippie-spiritual town of Pushkar. You can also take a train to Jaipur from Jodhpur and skip Udaipur all together.
Jaipur-Pushkar-Bikaner-Jaisalmer-Jodhpur-Udaipur: Fly into Jaipur and drive across all the way to Udaipur. You will be driving approximately between 3 to 7 hrs between these cities. After reaching Udaipur you can take a day trip to Kumbhalgarh (3hrs approx.) or you can head East to visit Chittaurgarh (2 hrs 30 mins approx.), Bundi and then move on to Ranthambhore National Park or head much further out West to Mount Abu (3 hrs approx.).
Within the cities, you'll find Udaipur, Jodhpur, and Jaipur has Uber. For the places that don't, you can easily travel around in the city with inexpensive rickshaws or tuk tuks. You can book buses through redbus.in for travelling across cities and do either a Volvo A/C reclining seat bus or you can do a sleeper bus.
Wow Pro Tip: If you are visiting for the first time, please note that you cannot cover everything in one itinerary due to the long travel distances. So plan your itinerary in such a way where you don't spend most of the time in just cars or buses.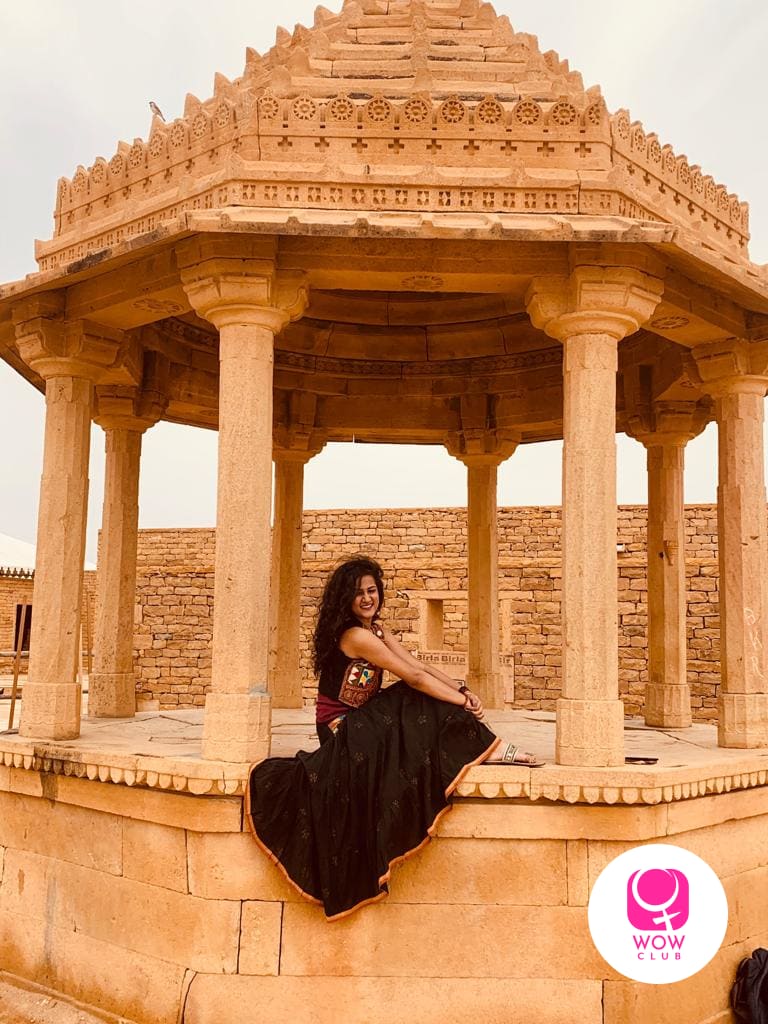 Accommodation in Rajasthan: Live like the Royals
Rajasthan is well known for some of the historical forts and most beautiful palaces in the world and narrate the fascinating story about its kings and kingdom. Most of the majestic fort and palaces have been converted museum or into five start heritage hotels and resorts. For the weekend luxury stay you can head to Neemrana Fort Palace or Hotel Pushkar Place.
Jaipur - You can stay in Fairmont, Samode Haveli or Palace, Narain Niwas Palace Hotel, Jal Mahal Palace, Chomu Palace, Rambhag Palace, ITC Rajputana, The Oberoi Rajvilas etc.
Jodhpur- Check out Ranbanka Palace, Umaid Bhawan Palace, Baksamand Lake Palace, Hotel Raas etc.
Jaisalmer- The heritage properties include Suryagarh, Hotel Rawalkot, Nayaran Niwas Palace, Hotel Rang Mahal etc.
Udaipur- The most beautiful luxury hotels are in Udaipur. Shiv Niwas Palace, Taj Fateh Prakash Palace, Taj Lake Palace, The Leela Palace and The Oberoi Udaivilas are the top royal stays in Udaipur.
Wow Pro tip: Weather you stay in heritage properties or not the one thing you must do is an overnight stay in tents/camps in Rajsthan. The best ones are: Aman-I-Khas- Ranthambore, The Serai, Jaisalmer, Manvar Desert Camps-Dechu and Dhora Desert Camp.
Delicacies of Rajasthan
Rajasthanis love their food and it is evident in their preparations. Dal Bati Churma and Laal Maans are the most famous dishes from the state. Every food enthusiast must have tasted them at least once. Some of the more dishes that you must try are Ker Sangri, Rajasthani Kadi, Mohan Maans, Aam ki Launji, Mohan Thaal, Ghevar, Kachoris and Bajra ki Roti with Lehsun Chutney.
Shopping in Rajasthan
Rajasthan offers some cool, traditional, and eye-catching stuff to buy. You will get the souvenirs at each tourist spot. But few things which you must buy are:
Paintings from Udaipur, Carpets from Bikaner and Ajmer.
Jaipur is known as the hub for regal blue-glassy pottery, Jewelry and Gemstones, textile and hand-looms.
Udaipur, Sawai-Madhopur, and Bari are the hotspot for buying puppets (kathputli) in Rajasthan.
Jodhpuri Juttis you can buy from Mochi Bazar or Coblet Market in Jodhpur.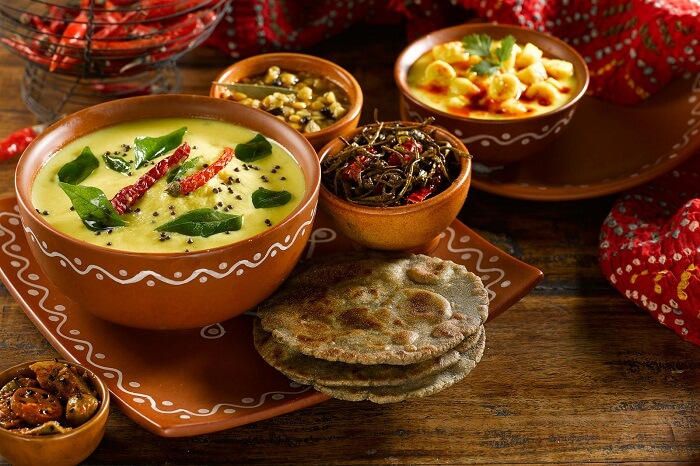 Rangeelo Rajasthan: Fairs and Festivals
The fairs and festivals of this place have often made it one of the biggest tourist attractions in the country. After all, these are the best forms of expressions of the colourful cultural heritage that has passed on through the generations of this state. As winter is around the corner the state also gets ready to host its many festivals.
5 Best Festivals of Rajasthan
You must try to attend at least one of the festivals from the following.
Rajasthan International Folk Festival, Jodhpur: RIFF is an annual music and art festival. More than 200 musicians from around the globe attend this festival, making it an absolute treat for music and art lovers. It is celebrated around Sharad Purnima in Mehrangarh Fort.
Pushkar Fair: The Big Daddy of all desert festivals, Pushkar Fair is a spectacular five-day camel and livestock fair held in the town of Pushkar. It a true cultural bonanza of art, music, dance, puppet shows, gypsy dance, races, and competitions.
World Sacred Sufi Music Festival: You know that it's going to be a fun-filled evening when the international artists gather together and produce the melodies. World Sufi Spirit Festival is an extravaganza held in Jodhpur each year for 3 days in January or February.
Ashwa Poojan: The Ashwa Poojan is celebrated to pay patronage to the horses. The Pooja commences with horses being decorated in the royal armor. he tourists and travelers can witness the horse racing, and the Rajputs also organize events to acknowledge the trust and loyalty of the horses towards their owners.
Elephant Festival: This festival of Pink City is celebrated  in the month of February or March. It is celebrated a day before Holi. For this event, many elephants are nicely groomed with colorful velvets and rugs. This festival is dedicated to elephant headed God, Lord Ganesha. Elephants are embellished with heavy silver jewelry like danglers and anklets.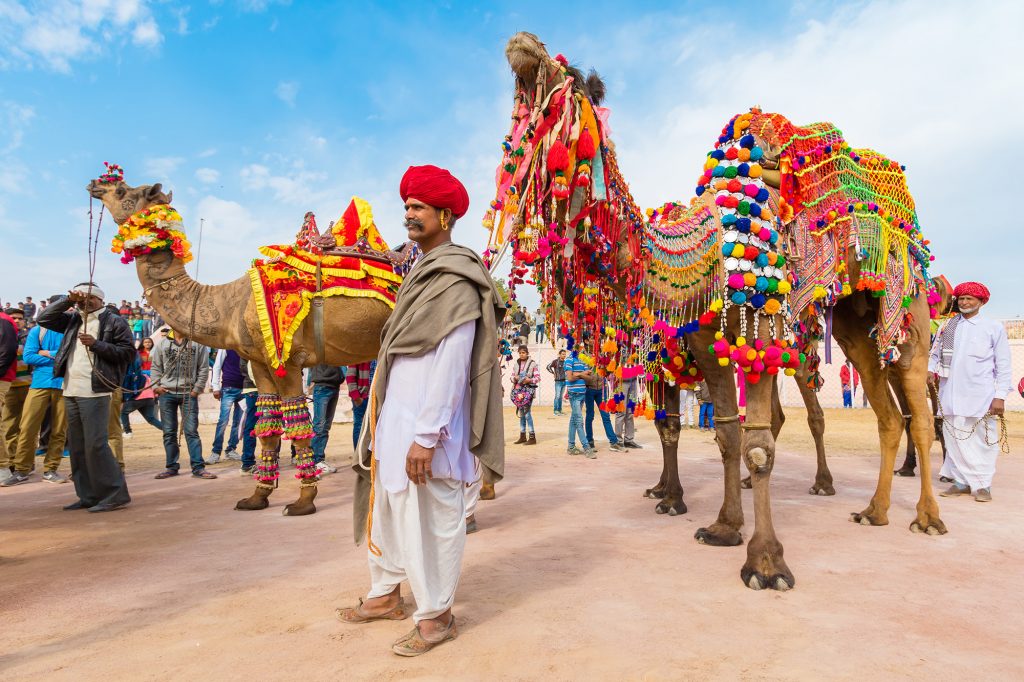 Unique Experiences
There are different ways in which you can travel to Rajasthan. The following trains which cater to tourists who wish to explore the rich cultural heritage of India in the lap of luxury.
The Maharaja Express Luxury Trains- This half-a-mile long train boasts of professionals prepared to meet the highest quality of hospitality, fully stocked bars, lavish suites, butler services and what not, and is one of the most expensive trains in India! It has 4 routes and is operational from October to April.
Palace on Wheels- Voted as the 4th best luxury train in the world. On the Palace on Wheels, your journey is full of exuberance and luxurious feeling. A perfect chance to relive the era when kings and queens ruled. Route: Delhi – Jaipur – Sawai Madhopur – Chittorgarh – Udaipur – Jaisalmer – Jodhpur – Bharatpur – Agra – Delhi.
Hope this blog helps you in planning your Rajasthan Trip.