The best time to visit Morocco is in spring, when the coldness of the winters have ebbed away. So this would be mid March to May. Later on September to October is autumn in Morocco and is also suitable weather for a visit.  But a lot depends on what you would like to visit Morocco for. The winter months between December and February are suitable in case you are keen on skiing. By foot or helicopter the High Atlas Range is one of the world's hidden ski gems.
When you look out from the peaks of the High Atlas, some thousands of meters below is the Sahara Desert. Quite a dramatic contrast isn't it?   Morocco is the gateway to Africa and a country of great diverse. So perfect for an intrepid traveller.
Contents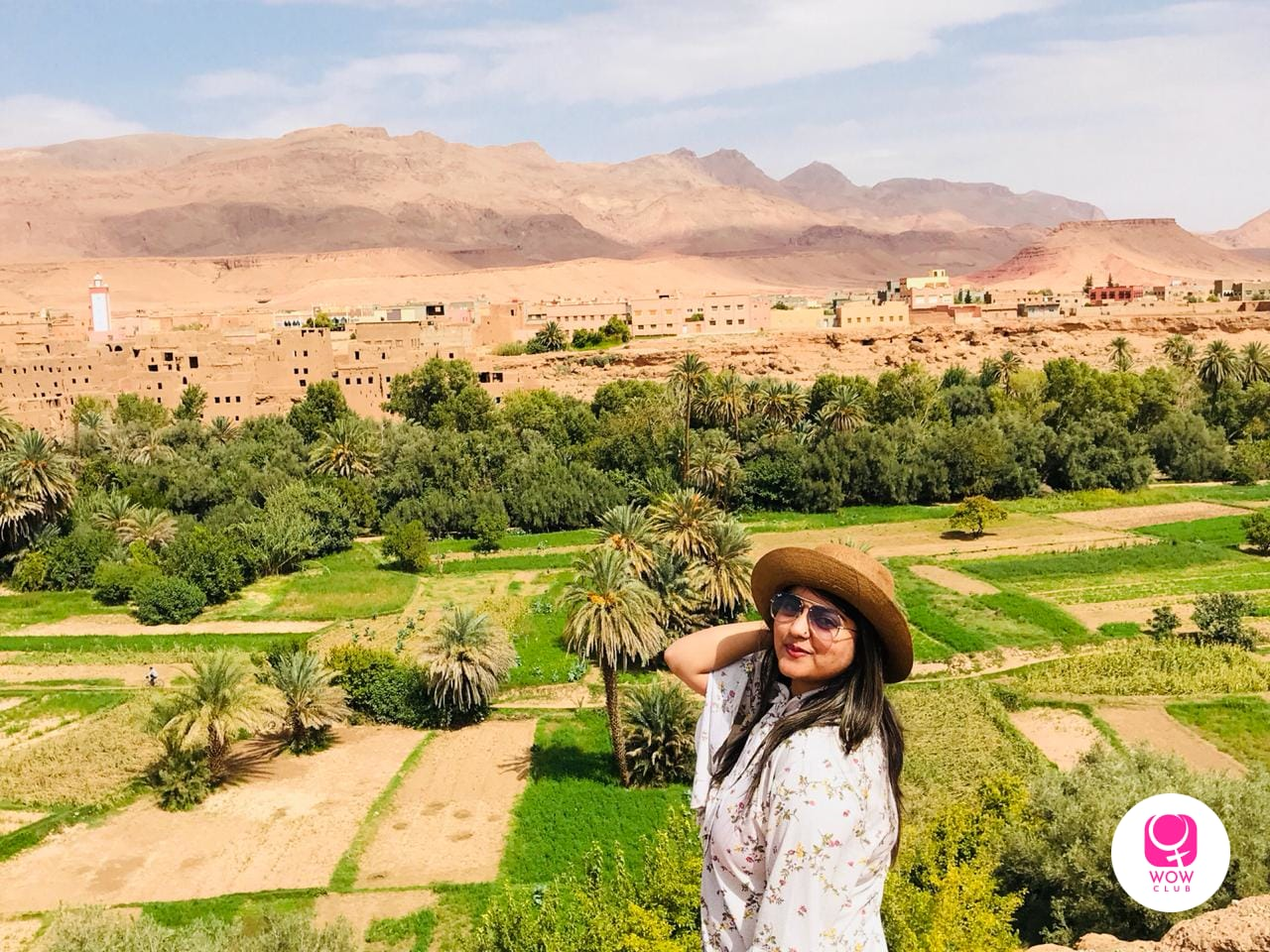 Things to do in Morocco
1) Explore Marrakesh : The Jemma El Fna has intrigued visitors for a millennium with its medley of musicians and chefs.  Plan to spend an evening at this vast open square in the heart of the medina. You must have the freshly squeezed orange juice, some barbecue stuff, observe the street entertainers, before you head up to a rooftop bar to enjoy the sunset.  
2) Visit Fez : The medina is the ancient and medieval part of Fez, filled with narrow streets, madrasas and mosques, craft shops, fresh groceries and huge crowds.  The leather tannery is one of the main reasons why tourists come to Fez, they have a strong smell, so you will be handed mint twigs to hold under your nose. Traditional shoes of every hue and colour are available here.  Hand woven carpets are also special here, but you need to haggle a lot.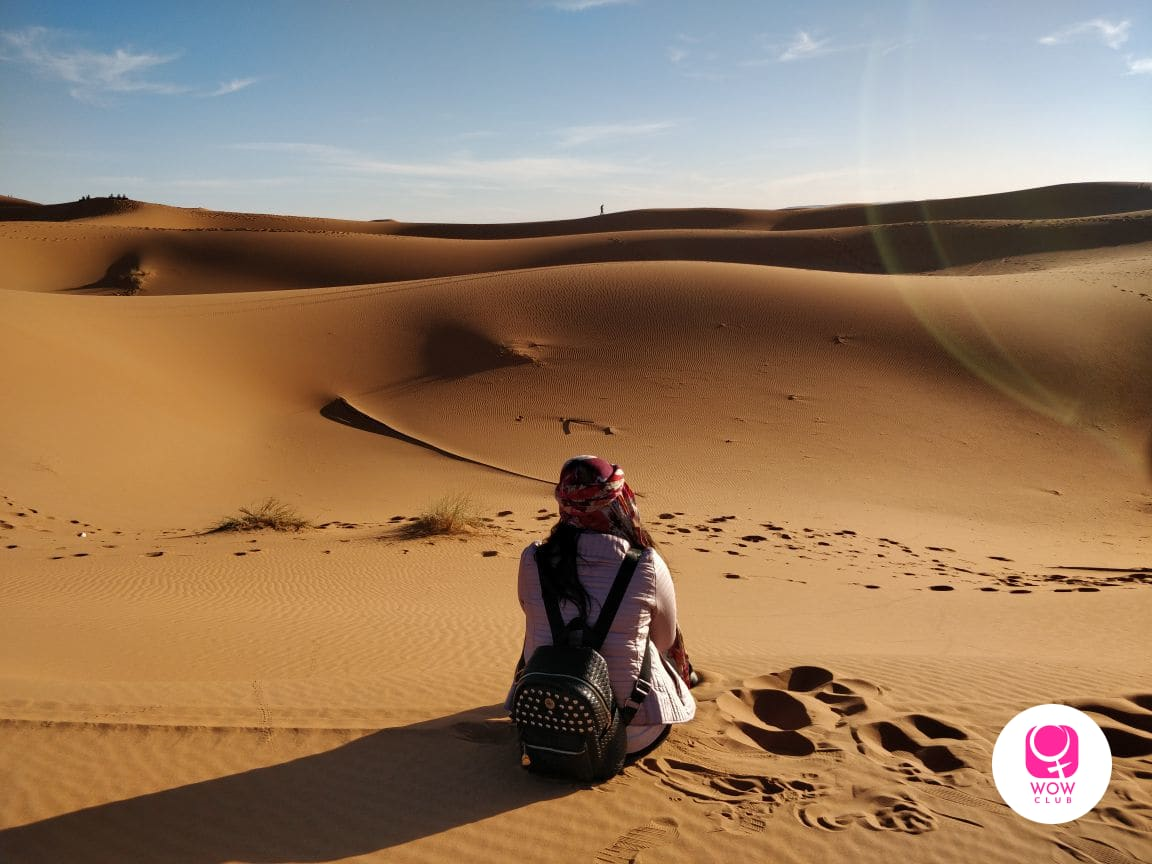 3) Sleep under the Stars : Believe it or not the Sahara desert is exactly the same, as you may have imagined it - vast, empty and stunning. You could spend a night at Merzouga, a small town in the Sahara Desert. Take up a tent near the vast expanse of the sand dunes at Erg Chebbi.  The local 'berber' guides, clothed in blue will take you to explore the dunes, either on foot or by camel.  
4) Explore Blue Chefchaouen : Nestled in the Rif mountains, Chefchaouen is the small 'Blue City' in Morocco that you simply must NOT miss even though it is very touristy. The brilliant blue colour follows you everywhere while you wander and click away. Plan on sipping the Moroccan mint tea. Sweet but refreshing.
5) What happens at a Moroccan Hammam?  It's primarily a steam room experience, involving very hot temperatures to cleanse the body. the wet steam bath is followed by exfoliation and sometimes massage. Styles vary and can range from very basic and cheap AND luxurious and expensive. So see what works for you.
Visit Morocco- What is the best season?
What is the best time- traveling to Morocco? It depends on your interests and what you would like to do in Morocco? During the summer months, you can surf at surfing beaches close to Essaouira, Rabat or Agadir.  Or try a summer hiking route through  the High Atlas mountains. In winter the High Atlas is one of the world's hidden ski gems, great for snowboarding too.
Summer in Morocco - starts from April to August. The minimum temperature is 14 degrees and maximum is 30 degrees during summer months.
Winter in Morocco - starts from November to March.  The minimum temperature during winter months is 7 degrees and maximum is 16 degrees.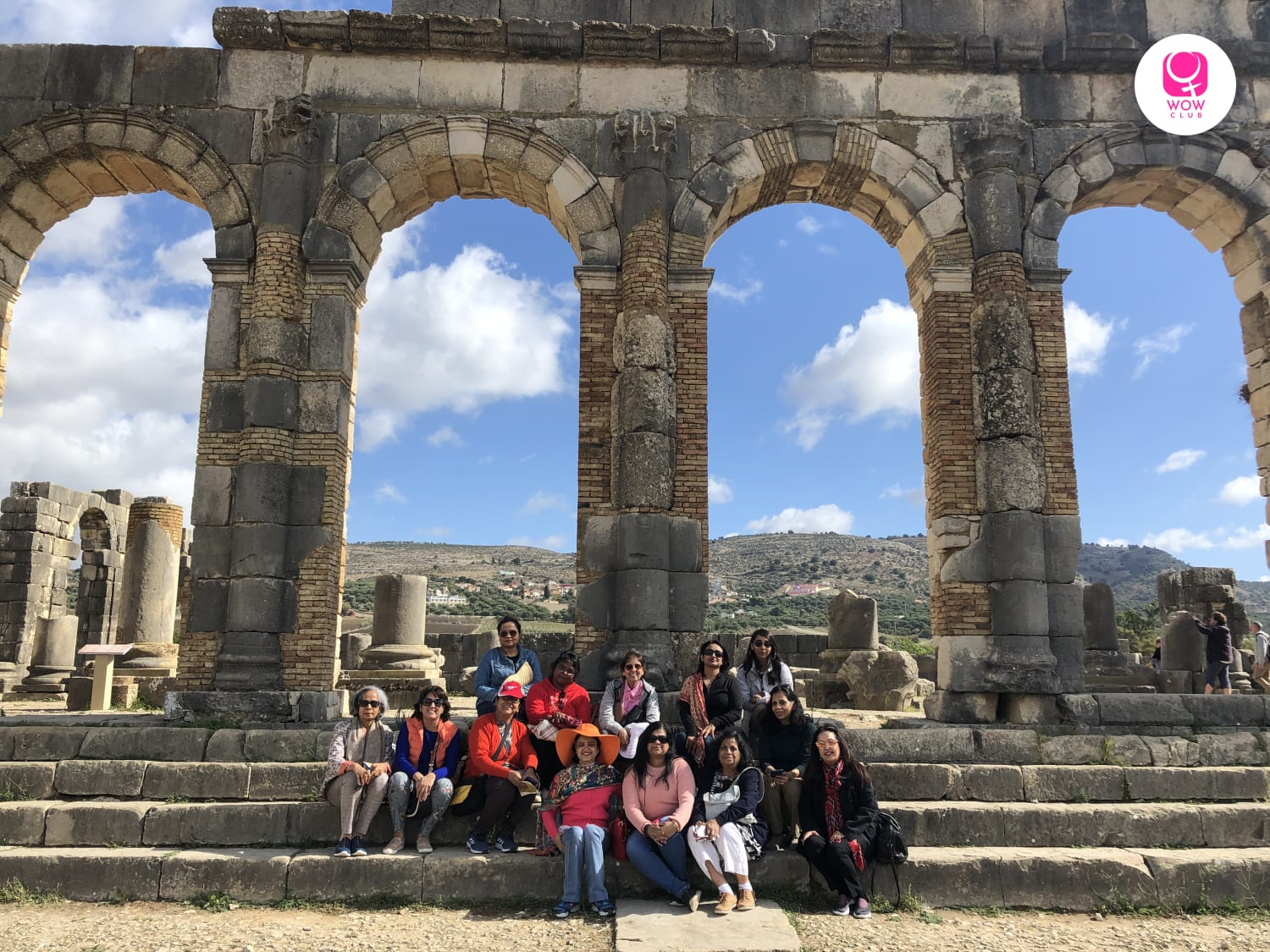 The FAQs about Morocco:
Is it safe to visit Morocco?    Yes it is very safe, for solo women too. However be careful of petty crimes like pickpocketing.
How should you dress in Morocco In terms of clothing,  better to opt for longish dresses with full sleeves, important that shoulders should be covered, specially when you are in and around medinas and mosques. Loose pants and loose T Shirts are also fine. Try to avoid plunging necklines or figure hugging stuff, you may invite unwanted attention. The sun is strong during the day, so long dresses and full sleeves will protect you from harsh sun rays.
What language is spoken in Morocco?  The working languages are French and English. Moroccan Arabic or Darija is widely spoken by the locals.
How can I get around in Morocco? The most inexpensive and efficient mode is public transport in Morocco. Trains connect many of the big cities in Morocco while the smaller towns are connected by local buses.
WOW PRO TIP : It is recommended to book your train/bus tickets well in advance as they run on limited schedules.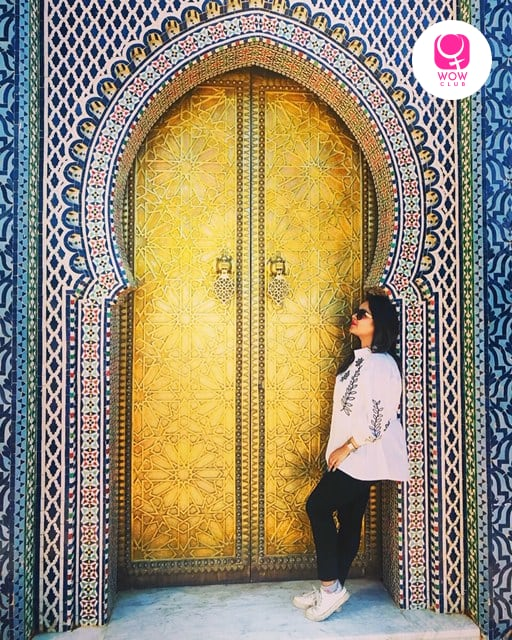 10 Perfect days- Where to go in Morocco?
A Suitable Itinerary:
Day 1 | Fly into Casablanca : Arrive into the largest city of Morocco, Casablanca. Visit the splendid Hassan II mosque (the only mosque in Morocco where Non-Muslims can enter). Explore the windswept corniche, it has some interesting cafes and bars.
Day 2 | Casablanca to Chefchaouen : Visit the small Blue town of Morocco, Chefchaouen. A great place for wandering and clicking away! Each point is so beautiful. Soak it all in with some Moroccan Tagine and mint tea. You can plan on a short summer hike through the Rif mountains, if you wish to extend your time here.
Day 3 | Chefchaouen- Meknes - Fez : Enjoy the panoramic drive to Fez via Meknes. One of your stops on the way is Volubilis, the Roman City and UNESCO World Heritage site.  
Day 4 | Explore Fez - Explore the Fez Medina and take a look at the lather tanneries. You must get on top of the fort/hill, to get a vantage view of Fez, a panoramic view.
Day 5 | From Fez to Merzouga - Finally the most exciting part of the trip. Spend your night camping under the stars.  Take a camel ride far into the distant dunes to watch a sun rise or sun set. Both are good.
Day 6 | Merzouga to Ouarzazate - Start your journey through the Road of a Thousand Kasbahs . The drive is spectacular - winding its way through the desert landscapes, villages, palm groves and gorges. Kasbah are multiple structured buildings which are behind a defensive wall or fort.
Day 7 | Ouarzazate to Marrakech - Start your journey and proceed to Marrakech, where you can stroll the markets looking out for crafted ceramics, lamps, leather shoes and silver Berber jewellery.
Day 8 | Explore Marrakech - Visit the magnificent Bahia Palace and bring in the evening at Jemaa El Fna the largest square of the Marrakech Medina.
Day 9 | Marrakech to Casablanca - Visit the famous Rick's Café, a restaurant and bar located in the heart of  Casablanca. Remember Ingrid Bergman and Humphrey Bogart? In the movie classic Casablanca ? Well it takes you back to this era - the piano player still plays.
Day 10| Farewell Morocco - Gather your memories and transfer to the airport for your flight home.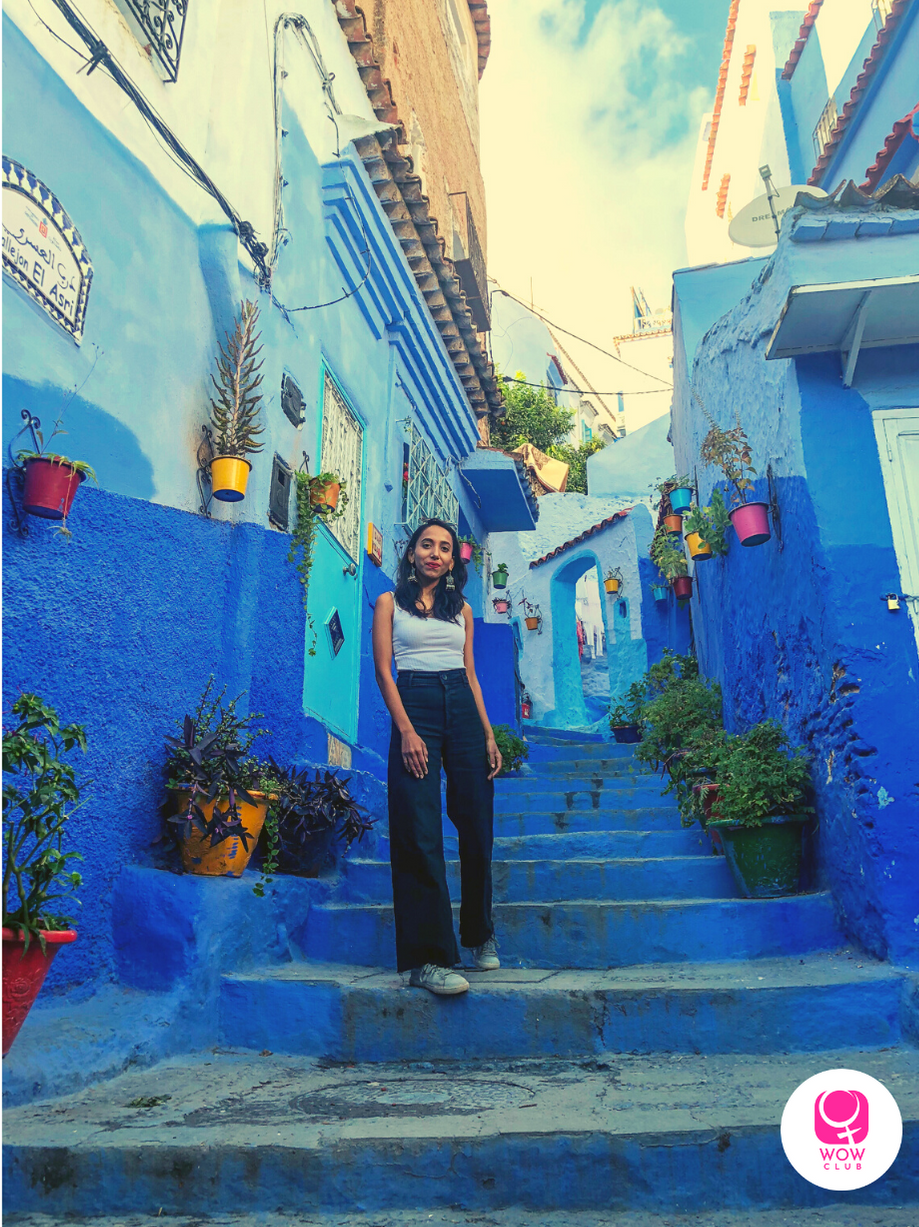 Best places to visit in Morocco - In no order of priority.
High Atlas - paradise for trekkers and skiers.
Sahara Desert - fabulous sunsets and dunes.
Essaouira -for Games of Thrones fans.
Rabat - stunning capital city
Meknes - the ninth century medina.
Casablanca - famous for its mosque and corniche.
Agadir - Seaside town for surfing.
Fez - the 1200 year old Maghreb City .
Tangier - European like, Moroccan city.
Ait Ben Haddou - Ancient ruins.  The movie Gladiator was shot here.
Marrakesh - bustling city with a large medina.
Chefchaouen - the Blue city that is a must do.
Tinghir in the Todra Valley - famous for the Todra Gorge
Rose Valley - for the fabulous blooms and fragrance.
Facts about Morocco. Did you know?
The Hassan II Mosque in Casablanca is the seventh largest mosque and also has the tallest minaret in the world.  The mosque is open to non Muslims as well and can accommodate 80,000 worshippers at one time.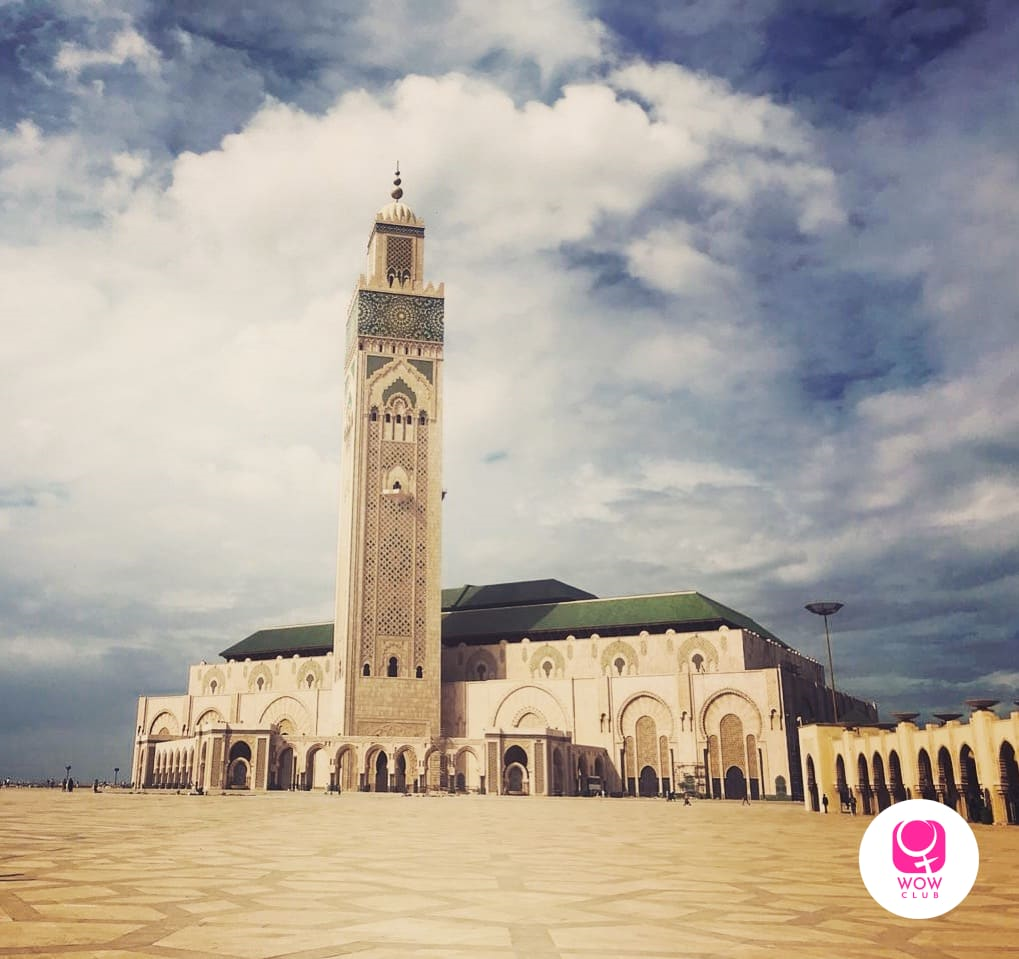 Rabat was made the capital city of Morocco in 1913 by the French because there was no fixed capital of Morocco at that time.
Islam plays a major role in Morocco's political, social, and spiritual life. Muslims make up almost 99% of Morocco's population.
The Moroccan King is the only monarch in a Muslim country who is both the national religious leader and head of its government.
Morocco has some of the richest cuisine with a combination of Arabic and Mediterranean influences.
Many Hollywood films and TV series have been filmed at Ouarzazate and Ait Ben Haddou.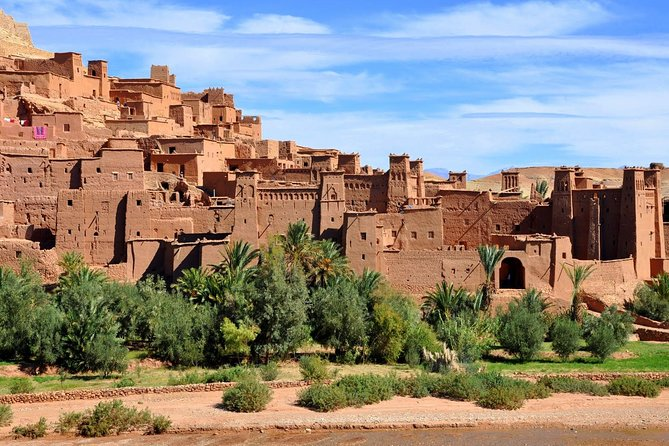 During a Moroccan wedding, the bride changes her dress, anywhere from four to seven times throughout the ceremony. Each dress represents a different culture or region of Morocco.
In Morocco, the typical local food is cooked and served in Tajine  which is a Moroccan Arabic clay pot.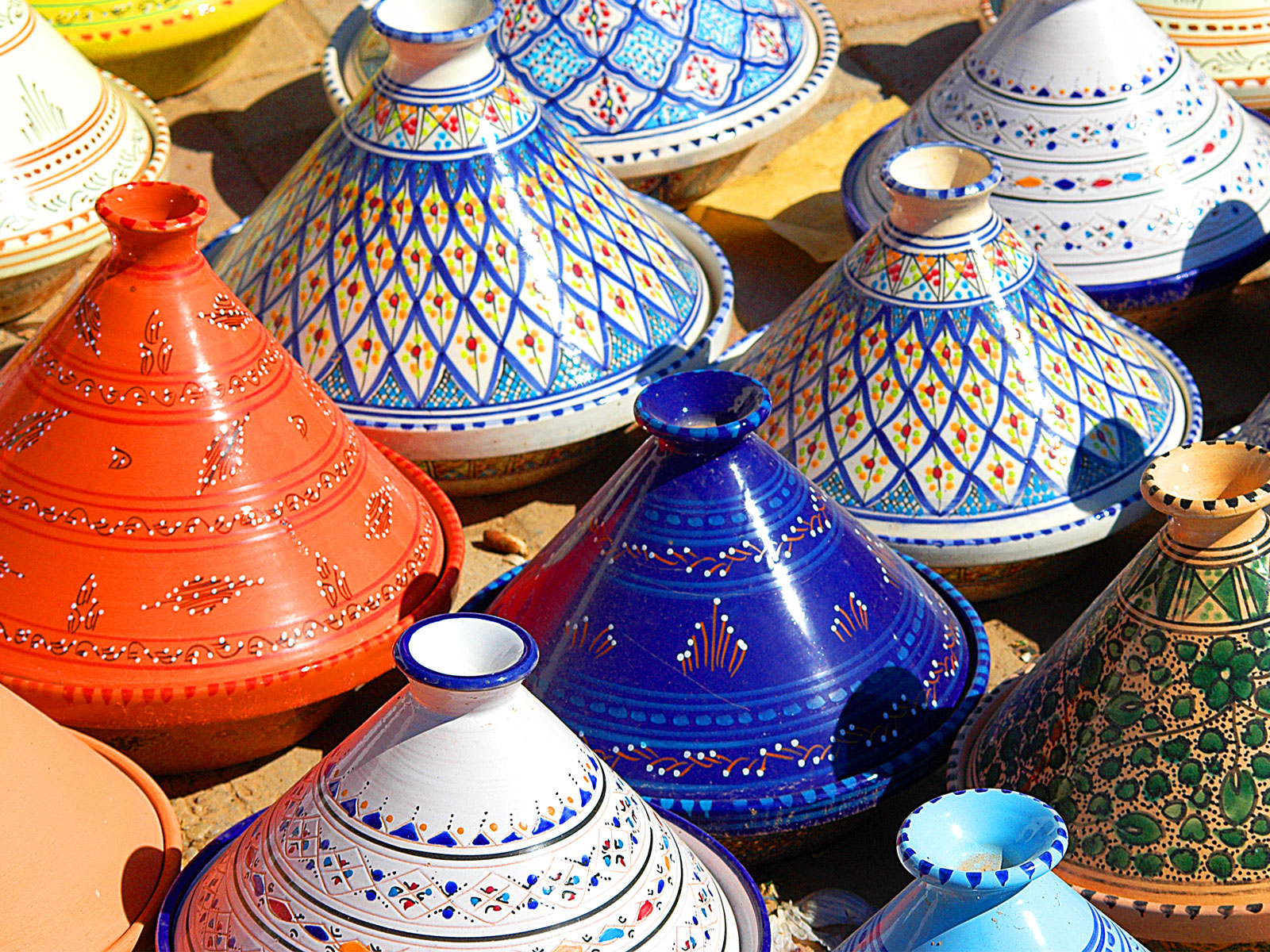 WOW PRO TIP : You must check out and bring home authentic Argan Oil, that is one of the essential ingredients for hair and skin care.  There is a food version of Argan Oil too - slightly nutty to taste, great to sprinkle on salads for flavouring.
Must try FOOD in Morocco
Tagine:  Tagine is a clay cooking pot with a conical lid, multiple dishes are slowly cooked inside such as chicken, lamb and vegetables with herbs and spices. Bland to taste, so ask for the 'harissa' a fiery Moroccan chilly sauce to go with it.
Fish Chermoula : A mix of various herbs and spices together is know as Chermoul. It is used for baking or grilling a fish or any seafood. It is served with a dipping sauce too.
Khobz : It is a crusty bread which is baked in wood- fired ovens and served with the meal.
Mint Tea : In Morocco, mint tea is traditional. It is a green tea served with lots   of mint leaves and sugar.
Couscous : Couscous is made from semolina, which is the hard part of the grain of hard wheat. Lamb, beef or chicken is stewed with a lot of vegetables and presented along with couscous.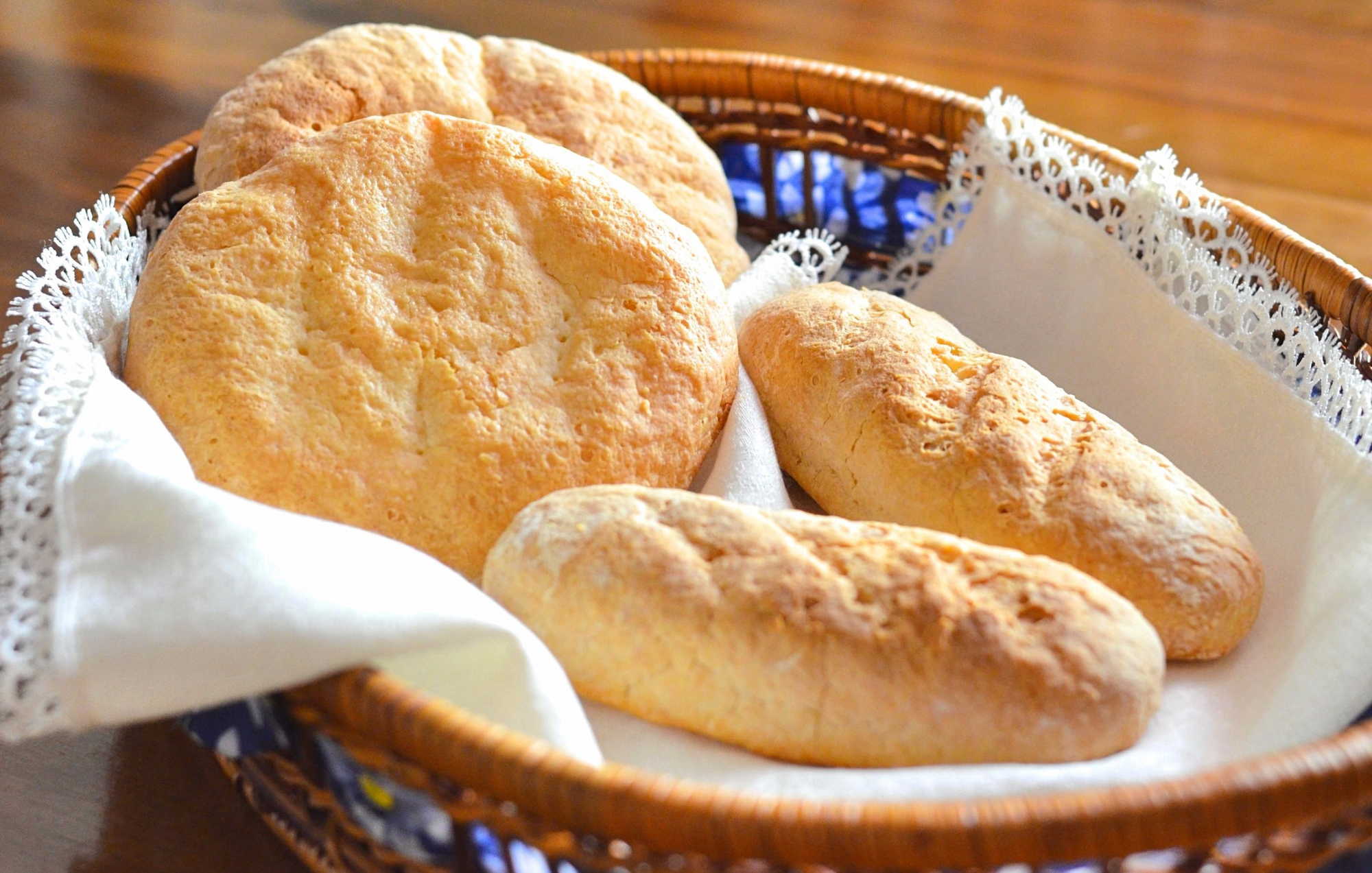 What to pack for a trip to Morocco?
Sunscreen
Hat
Insect repellant, recommended for Sahara desert.
Head wraps or Scarves that are necessary for visit to the mosque.
Long skirts or dresses.
Full pants and shirts
Comfortable shoes for the mountains.
Flip flops for the Sahara desert.
Swimsuit
Fleece/ thermals/sweater for winters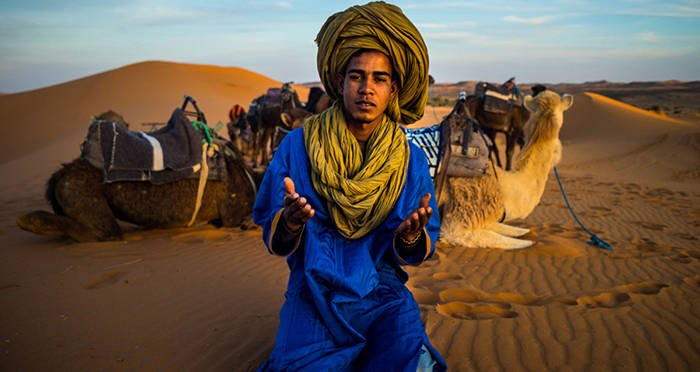 Some Travel tips:
Morocco is 4 hours and 30 minutes behind India which means, if it is 3:00 pm in India, it will be 10:30 am in Morocco.  
The currency in Morocco is 'Dirham'  though Euro and USD are also accepted.
Credit and Debit cards are accepted throughout the country, few ATMS are there in major cities and towns.  
There is a tip culture, so carry some change to tip when you want to appreciate services. Makes everyone happy.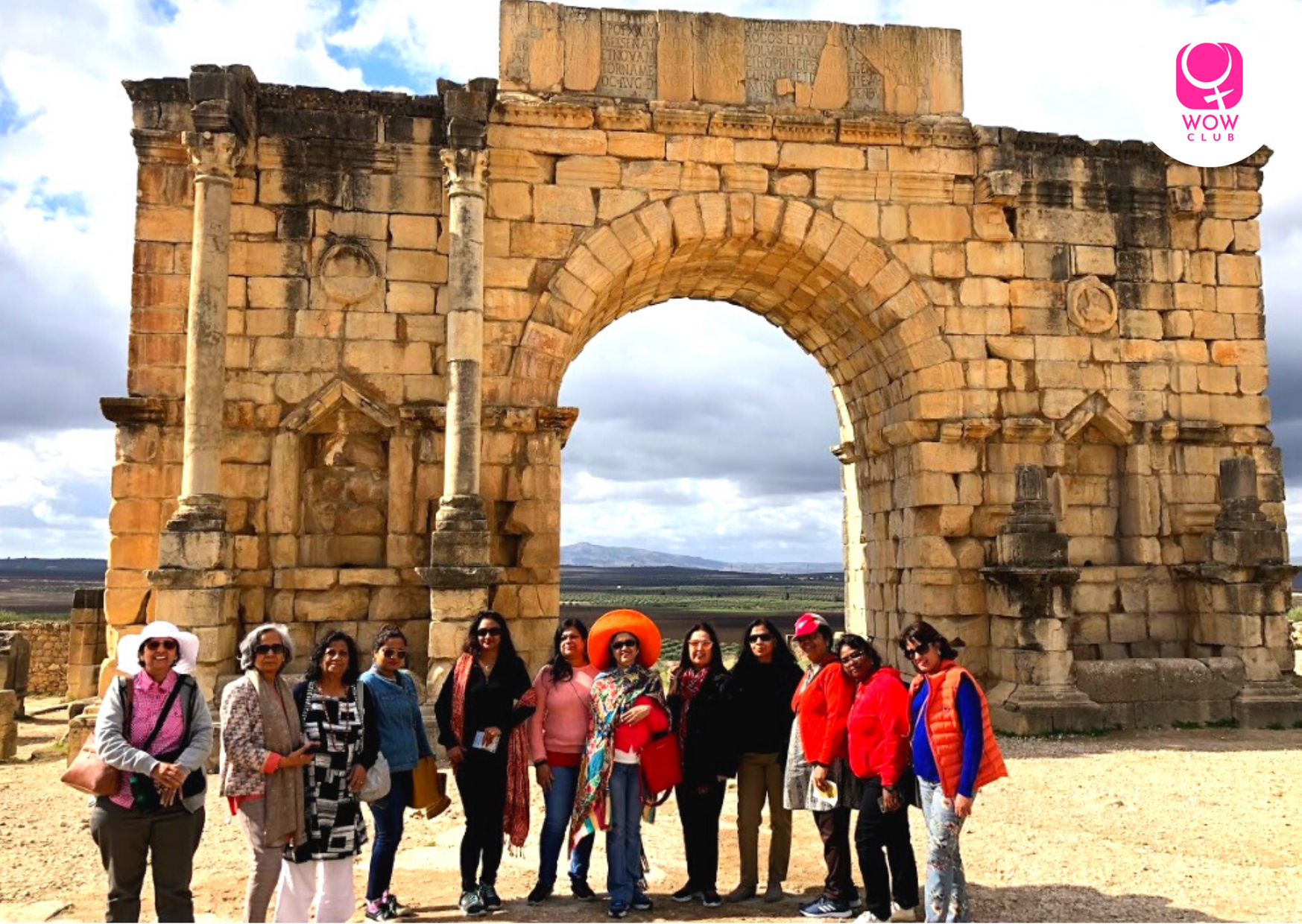 If Morocco is your kind of thing, all you need to is  Click here and share your travel dates. Leave the rest to us. Or you can even join our upcoming WOW trip  to Morocco here.
Keep Wandering  😃