South America, the fourth largest continent in the world is just the perfect destination for a lively vacation. With 12 sovereign countries, each having its own unique geography, culture and lifestyle,this continent is a promising getaway for travelers. In our endeavor to help you explore the best of South America in 3 countries - Bolivia, Brazil and Peru
Here in this blog we bring to you the exciting aspects of Bolivia that'll spur you to finally take the South America vacation.
Must Visit Places: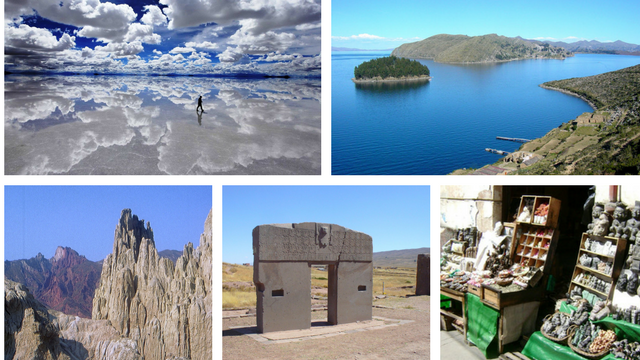 Clockwise from top: Salar De Uyuni, Lake Titicaca, Withc Market, Tiahuanaco Ruins, Valley of Moon
Tiahuanaco ruins: Located near the Southern shores of Lake Titicaca on the Altiplano,Tiwanaku is at an altitude of 3,850 m., in the Province of Ingavi.
The religious aperture of this city is carved out by a series of architectural structures that refer to different eras of cultural successions. Don't miss the Kalasasaya Temple and the Akapana Pyramid!
Valley of the Moon: Valley de la Luna (Moon Valley), isn't actually a valley at all, but a maze of canyons and giant spires. The formations, composed mainly of clay and sandstone, were created by the persistent erosion of mountains by the area's strong winds and rains. What remains is a serene setting, full of wonder and intrigue.
Lake Titicaca: It's often called the "highest navigable lake" in the world. With a surface elevation of 3,812 metres, Lake Titicaca is spread on both sides of the borders of Peru and Bolivia. By volume of water and by surface area, it is the largest lake in South America. Said to be the birthplace of the Incas, it's home to numerous ruins and more than 530 aquatic species. Its waters are famously still and brightly reflective.
Salar De Uyuni: Salar de Uyuni, in the midst of the Andes in southwest Bolivia, is the world's largest salt flat. It is believed that this salt flat are remains of a prehistoric lake that went dry, leaving behind a desertlike, nearly 11,000-sq.-km. landscape of bright-white salt, rock formations and cacti-studded islands. Its mystical expanse can be observed from the central Incahuasi Island. Though wildlife is rare in this unique ecosystem, you can still spot many pink flamingos here.
Witches Market: The Witches' Market, also known as La Hechiceria, is a popular tourist attraction located in Cerro Cumbre, a mountain clearing in La Paz. Most famous of all the items sold in The Witches' Market are the dried llama fetuses which are buried under the foundations of many Bolivian houses as a sacred offering to the goddess Pachamama to bring good luck and health to the household.
Unique Customs:
Bolivians have few unique and unusual customs, out of which we bring to you 3 of the most unconventional ones.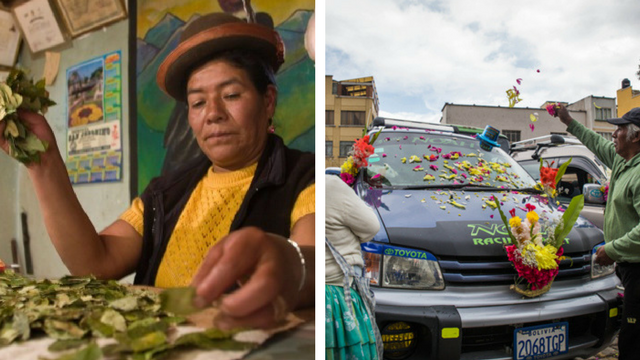 Left: Reading Coca Leaves, Right: Blessing for automobiles
Blessings for the automobile: Bolivian highways are infamous for its perilous curves and stretches. So driving safely in Bolivia requires invoking the blessings of the divine. Every day at 10am in Copacabana on the shore of Lake Titicaca, thousands of people gather to get their vehicles blessed by the head priest.
Miniatures to reality: In the month of January during the local festival Alasitas, people in Bolivia visit the Alasitas market in La Paz to buy the miniature version of things they wish to obtain in the upcoming year. They get this versions blessed by the priests so that their wishes come true.
Reading the future through Coca leaves: Numerology, Tarot, crystal balls are believed to predict future, but have you ever heard about Coca leaves helping you to know your future? Yes! It happens in Bolivia. The witch doctors or Yaataris as they are popularly known as, predict your future by tossing a handful of coca leaves in the air and studying how they land.
Must try Foods:
While in Bolivia, you cannot miss these local delicacies: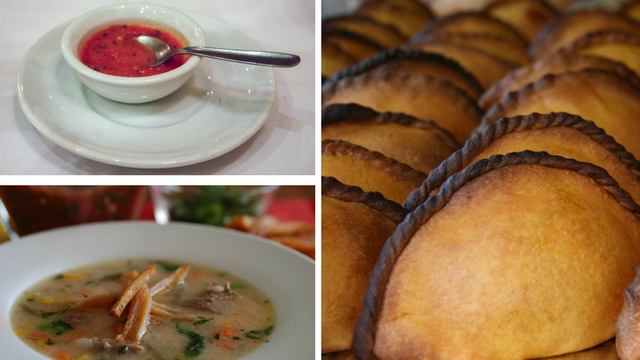 Clockwise from top : Llajwa, Saltenas, Sopa De Mani
Saltenas: The most perfect Bolivian breakfast, salteñas are a delicious, oven-baked pastry filled with peas, carrots, potatoes and meat, drowning in ample amounts of sweet and spicy gravy.
Sopa De Mani: A perfect blend of peanuts, vegetables, pasta and finely sliced potato makes it a great way to start a traditional Bolivian lunch.
Llajwa: Not a food in itself, llajwa pronounced as yak-wa is the essential Bolivian salsa. This famous spicy sauce features tomato, onion and hot locoto, making it the most welcome and tempting addition to any Bolivian dish.
---
The land of the Samba, football, rainforests, magnificent sprawling cities and unspoiled beaches – Brazil, is every wanderers dream. Some of the world's most exciting and alluring cities lie tucked away in these Tropical hideaways, in the perfect company of pristine white beaches and the mesmerizing blue Atlantic Sea.
With more than 1500 beaches and more than 500 picturesque island paradises, lively and dynamic culture and out of the world cuisines, Brazil is the perfect place for an ideal vacation.
Must Visit Places: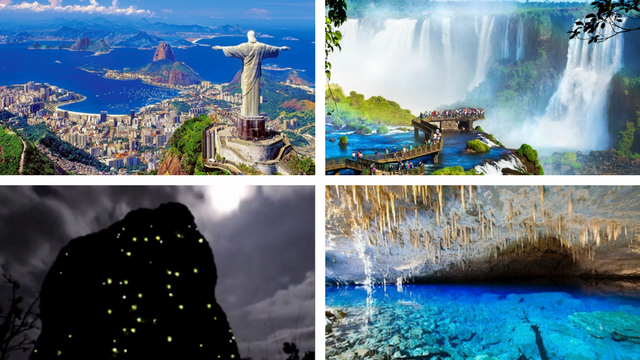 Corcovado Mountain:
Corcovado meaning "hunchback" in Portuguese, is a mountain in central Rio de Janeiro, Brazil. The 710-metre (2,329 ft) granite peak is located in the Tijuca Forest, a national park. Corcovado hill lies just west of the city center but is wholly within the city limits and visible from great distances. It is known worldwide for the 38-metre (125 ft) statue of Jesus atop its peak, entitled Cristo Redentor or "Christ the Redeemer".
Iguazu Waterfalls:
The name "Iguazú" comes from the Guarani or Tupi words meaning "water", and meaning "big." Legend has it that a deity planned to marry a beautiful woman named Naipí, who fled with her mortal lover Tarobá in a canoe. In a rage, the deity sliced the river, creating the waterfalls and condemning the lovers to an eternal fall. It is the largest waterfalls system in the world. The falls divide the river into the upper and lower Iguazu. For most of its course, the river flows through Brazil; however, most of the falls are on the Argentine side


Photo by Ignacio Aguilar / Unsplash
Gruta Do Lago Azul: The Blue Lake Grotto
Known as the Gruta Do Lago Azul, or the Blue Lake Grotto, the large cave is filled with a pool of astonishingly clear blue water. Estimated to be over 200 feet deep, the water turns to beautiful shades of blue when sunlight falls on it through a hole in the ceiling of the cave, and makes the water shimmer in the light. It is believed that the lake is fed by an underground river which is yet to be located.
Glowing Termite Mounds of Emas National Park
A Unesco World Heritage site, Emas National Park is a wonderland consisting of waterfalls, mountains and savannah. You can spot wolves, rhea (large, ostrich-like birds), tapirs, toucans and jaguars roaming around in this national park. And while any of these is worth the visit, the most breathtaking nocturnal sight is the series of glowing termite moulds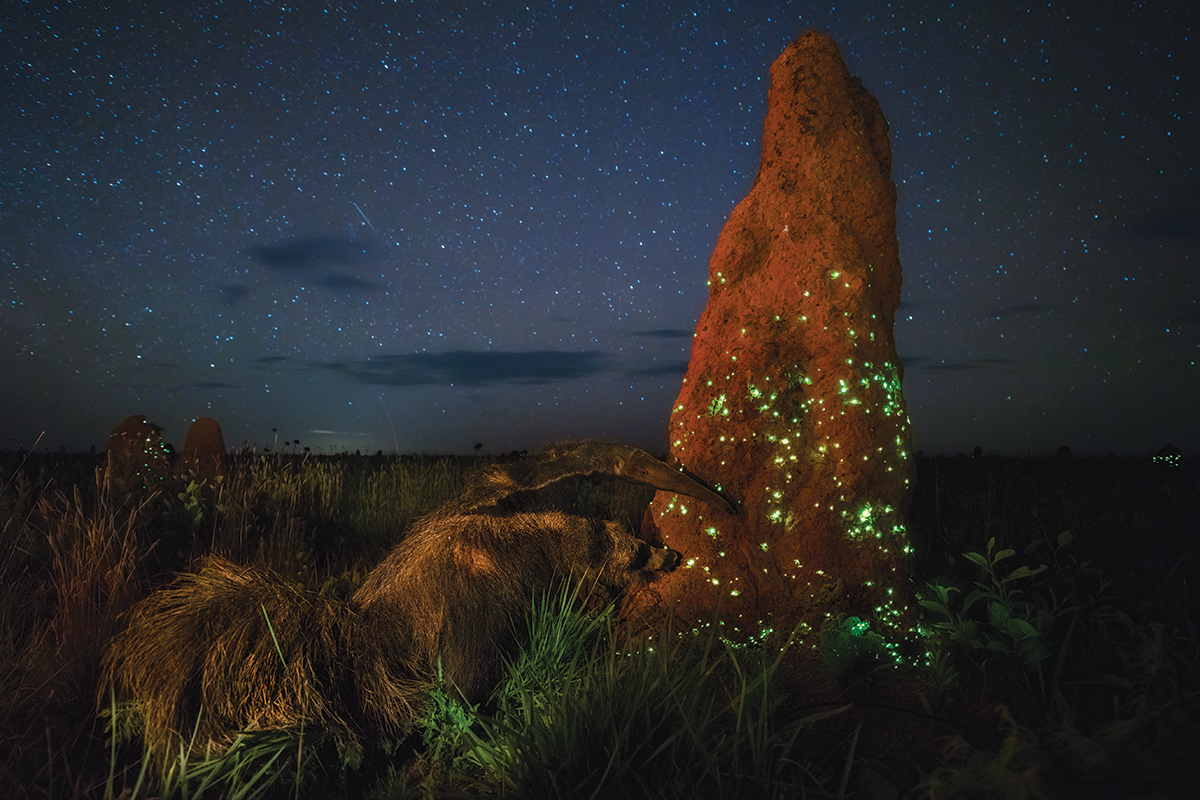 Coffee Palace:
In the initial part of the 20th century, coffee was Brazil's main export and source of money. Inaugurated in 1914, in the coastal town of Santos, the Coffee Palace is the place where that money was earned and the price of these coffee beans were determined.. It remained an active coffee trading centre until 1950. This wealth generated by coffee is clearly reflected in the grandeur of the nicknamed "Coffee Palace."
Unique Customs & Laws:
Feijoada Day:
Every Wednesday it is the Feijoada day in Brazil.Feijoada is a dish, and its recipe involves dark beans, pork meat, and a lot of spices to make the taste even stronger that it already is. It is served with rice, onion, vinegar and tomato salad, as well as some cabbage baked with bacon. This meal claims its origin from the dark times of slavery – the times when the poor slaves prepared their meal with the discarded meat pieces and some leftovers from their owners. Nowadays feijoada has become a delicious, traditional meal symbolizing Brazilian history.
Strange rule for Prisoners:
The Brazilian prison have some innovative programs for inmates to reduce their sentences there. One such program allows them to get a decreased punishment by pedaling a special bicycle that generates electricity for the town plaza. Another program that allows inmates to deduct four days off their sentence for each book they read, up to a maximum of 48 days. This "Redemption Through Reading" helps prisoners be better educated when they rejoin the outside society.
Being Late is very much acceptable:
If you've been invited to a Brazilian home, then you have the liberty to arrive little late than the decided time. Guests are expected to arrive up to fifteen minutes late, and if you're thinking of skipping out early scratch that too, as you'll be expected to stay for at least two hours.
Must Try Food/Beverages: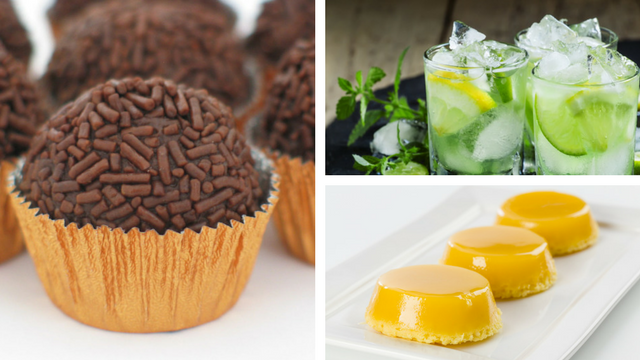 Caipirinha:
Caipirinha can be called the national cocktail of Brazil. It is a mixture of lemon, sugar and a kind of a Brazilian vodka called cachaça. Cachaça is made from sugar cane and is squeezed and brewed to make a strong and great drink.
In most Brazilian bars and clubs, you can choose the fruits and the vodka that you want to be used in your caipirinha, but the traditional one includes only lemon slices, lots of sugar, some ice to make it a bit less alcoholic and cachaça.
Brigadeiros:
The brigadeiro (Portuguese for "brigadier") is a common Brazilian delicacy, which was first prepared wayback in 1940. The brigadeiro is made from condensed milk, cocoa powder, and butter, and chocolate sprinkles to cover the outside layer.
Quindim:
It is a favourite Bahian delicacy. Quindim is a glossy yellow sweet made from eggs, sugar and coconut (with butter a common addition). Baked in cupcake-sized moulds, the bottom is toasted and golden, dense with grated coconut, while the top is a smooth, firm custard that melts in mouth.
With so many unconventional things to look forward to, a trip to Brazil should always be their in your must-do travel list. We have a trip to South America in August and Brazil is a part of our exciting itinerary.
---
Spectacular Andean landscapes, amazing Amazon wildlife, unique cultural experiences and delicious cuisines make Peru the perfect place. From Incan ruins, cosmopolitan cities, colourful culture, and tropical rainforests, Peru is one of the most exciting countries in the globe, complete with a dynamic gastronomic culture.
Must Visit Places: Here are our picks for five places which you cannot afford to miss out during your visit to Peru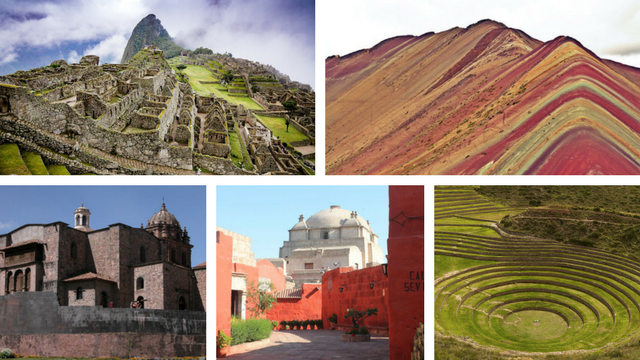 Machu Picchu
Machu Picchu is an Incan citadel set high in the Andes Mountains in Peru, above the Urubamba River valley. Built in the 15th century and later abandoned, it's renowned for its sophisticated dry-stone walls with huge blocks without the use of mortar. These unconventional buildings are believed to have built with astronomical alignments that provides panoramic views. Its exact use still remains a mystery.
Sacred Valley of Incas:
The Sacred Valley is a region in Peru's Andean highlands.Situated near the town of Cusco and the ancient city of Machu Picchu, it formed the heart of the Inca Empire. Stretching roughly 60 kilometers, it's an area of fertile farmland and Spanish colonial villages like Pisac and Ollantaytambo.
Koricancha Temple:
Koricancha is the most impressive example of how Inca and Hispanic cultures perfectly blended together. The remains of the ancient Peruvians' Sun Temple were used as foundations on which the Santo Domingo church and convent was built. The temple is a symbol of Western dominance. The site is a living example of the coexistence of Peru's history with European architecture.
Santa Catalina monastery:
The Convent of Santa Catalina de Siena was built in 1579 and is located in the historical center of Arequipa, Peru. The complex, which stretches over 20,000 square meters, is built from volcanic sillar stone and is organized into cloisters, living quarters, a plaza, a gallery, and a chapel.
Rainbow Mountain:
The painted Ausangate mountain is also considered to be holy and believed to be the deity of Cusco by local Peruvians. It is a site of daily worship and offerings by local citizens. Every year thousands of Quechua pilgrims visit the Ausangate Mountain for the Star Snow festival which takes place a week before the Corpus Christi feast.
Unique Custom: The customs and traditions of Peru are very unconventional and you would love reading more about it.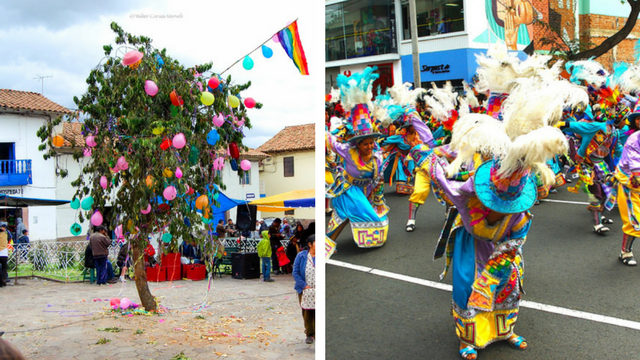 The custom related to potatoes:
During New Year, there's a unique ritual to place three potatoes – one peeled, one partially peeled, and one with its skin, under a sofa or a chair. At the struck of midnight, out of these 3 , one potato is picked up randomly without looking at it. The type of potato selected is believed to predict the financial year for the person. The potato without skin means no money, partially skinned means a regular year, and a potato with full skin means lots of money.
Ritual of the Yunza
The Andean highland ritual of the "yunza," known as "umisha" in the jungle and "cortamonte" in the coastal region, is an important aspect of Carnival. Those in charge of the festivities plant a tree loaded with gifts and decorations. When all of the guests arrive, everyone begins dancing around the tree. After a while, the couples of the household begin to chop down the tree with an ax or a machete. The couple who makes the final swing that brings down the tree make all the arrangements for that year's yunza.
Parades
Parades are one of the most familiar aspects of Carnival celebrations. Though each Peruvian city or region has its own specific elements and traditions, certain elements such as parades, costumes and dance are the same throughout the country. Families and neighborhoods get together to create metamorphical floats for the parades, and people wear brightly colored costumes and masks that represent traditional characters and events. A traditional Peruvian dance called the "pandilla" is one of the more common styles of dance performed during Carnival.
Must try Food: Some authentic food from Peru to satiate your taste buds.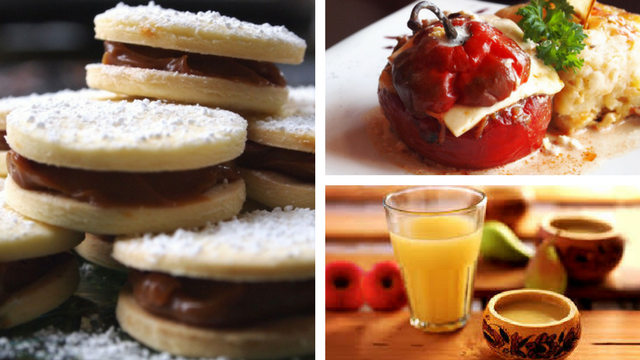 Rocoto Relleno
Rocoto is a type of pepper that is similar to red bell pepper, but spicy. Relleno means "filled." This dish is a rocoto pepper that is breaded, stuffed with meat and veggies, and then baked. It's often served with French fries.
Alfajor:
The cookie of South America. Alfajores come in all sorts of varieties, but they basically consist of dulce de leche (caramel) sandwiched between two thin cookies, often covered with powdered sugar or coconut flakes.
Chicha de jora
It is a corn beer chicha prepared by germinating maize, extracting the malt sugars, boiling the wort, and fermenting it in large vessels (traditionally huge earthenware vats) for several days. The process is essentially the same as the process for the production of regular beer. It is traditionally made with corn.
With so many unconventional things to look forward to, a trip to Peru should always be their in your must-do travel list. We have a trip to South America in August and Peru is a part of our exciting itinerary.
✈️ In case you want to explore and experience the beauty of these countries we have an upcoming trip planned to South America. Click here for the details!
Join the newsletter to receive the latest updates in your inbox.