Reckoned as Karnataka's treasured jewel, Hampi has an unearthly landscape of boulders, fascinating history in each corner, thousands of years old ruined temples and palaces - Virupaksha temple, Hemakuta hill, Vitthala temple & Matanga hill, unbelievable architecture - lotus mahal & queen's bath, green paddy fields and mischievous monkeys! :) Hampi let's you dive into history to experience the lost tales of South India's largest, wealthiest and the most powerful kingdom, Vijayanagara Empire.
Hampi is truly a land of fantasy. It is also considered to be photographer's delight and adventure junkies' paradise.  So, if you're looking to travel back in time into the middle of nowhere, cut out from all the buzzing, busy, fast city life and immerse yourself into tranquility and oneness with nature amidst the ruins and remains of an erstwhile ancient Empire, look no further than this travel guide to Hampi.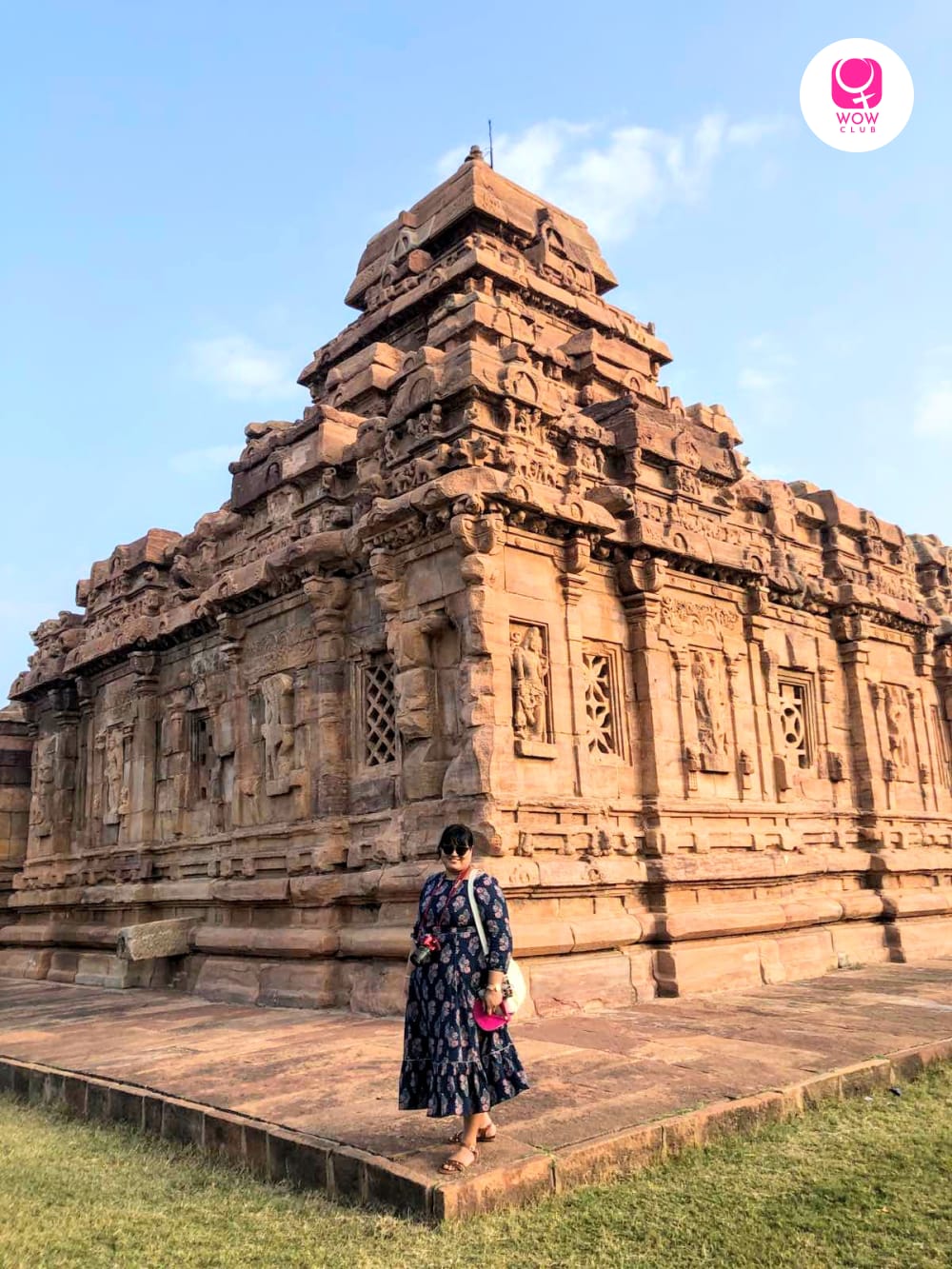 Contents
Where is Hampi?
The UNESCO World Heritage site, Hampi, is located in Karnataka at a distance of roughly 345 kms from the capital city Bengaluru. It is situated on the banks of Tungabhadra river. Hampi can serve as a great weekend destination in India.
Why should one visit Hampi you ask? Here's why!
If heritage and history is your thing, if you get intrigued by the stories of the past, then Hampi is a place that you must visit. Each stone in Hampi tells a story, be it stories about the Vijaynagar kingdom or the mythological stories.
If you like marveling at ornate architecture of the past, visit Hampi. The Virupaksha Temple and the Vittala Temple are the finest examples of intricate architecture . You will simply get awed by the craftsmanship of these structures.
If you are an adventure junkie, then Hampi is one of the best places to go for climbing boulders.
You just have to be there to feel it, to see it, to experience it and behold, this beautiful little town is so bewitching that it will make you want to visit it all over again.
How to reach Hampi?
By flight - The nearest airport to Hampi, Bellary is 60 km away from the temple town. Hubli Airport is another Airport which is 143 km away from Hampi. Also, JSW Vidyanagar Airport in Toranagallu is located approximately 40 kms from Hampi. You will need to hire a taxi from these airports to reach Hampi.  However, if you are a foreigner visiting Hampi, then you need to touch down at Bengaluru or Mumbai International Airport first. You can book domestic flight tickets from there to Bellary or Hubli. Alternatively, you could take a private taxi from Bengaluru Airport to your final destination Hampi, which is 350 km away from the International Airport.
By Train - The nearest Railway station is Hospet, which is around 12 km from Hampi. There are direct trains from Mysore and Bangalore for Hospet. For Hospet to Hampi, you can take either a auto-rickshaw (INR 150-INR 300) or local bus (INR 20). The buses run from 6:00 AM till 10:30 in the night.
By Bus - Hampi could be reached by bus from Bengaluru, Hyderabad or Goa. It takes roughly 7 hours from Bengaluru and 8-10 hours from Goa. There a number of bus services providing daily transportation from Bengaluru, Hyderabad or Goa to Hampi.
Best Time to Visit Hampi:
The winter months from November to February is the best time to visit Hampi. Monsoon Adds little greenery to the place but bouldering is not possible during this season. Summers are unbearably hot.
Here's a head's up if you're planning your trip to Hampi in the month of December- all the schools in and around Hampi have Christmas vacations from 20th December - 1st January every year, and it is during this time that the schools plan for day excursions to the heritage sites of Hampi. During this time it's common to find noisy school kids at almost all the sites. Best to plan your visit outside of this time frame.
Things to Do in Hampi:
Hampi is split into two sides, one is the ruin/ heritage side and other is the hippie island side of Hampi (across the Tungabhadra river).  Here's a list of all the things to do in Hampi, both on the heritage side & on the hippie island side.
The Heritage side of Hampi:
If you are keener on exploring the monuments, ruins, temples and history then the heritage side is for you. Heritage side of Hampi has dozens of monuments to be explored and the most comprehansive way of doing it is by dividing it into 3 trail series:
Virupaksha Temple Trail - starts from the Hampi Bazaar and leads to the beautiful Virupaksha temple, covering roughly 13 sites on the way like the temples of Hemakuta hill, Lakshmi Narasimha and Badavi Linga.
Vittala Temple Trail - there are over 10 monuments along this trail. The key attractions among them are the Vittala Temple, Stone Chariot, Mahamantapam comprising of the musical pillars and the King's Balance.
The Royal Enclosures Trail - On this trail you will go through the palaces and mansions of the nobles of the Vijayanagra Empire. This trail will cover the royal enclosures, Queen's bath, Elephant stables and Lotus Mahal.
Top Things to do in Hampi's Heritage side:
Visit Virupaksha Temple  - Unarguably, Virupaksha Temple is the most famous among all the monuments at Hampi. Dedicated to Lord Shiva, this temple is still functional and is one of the oldest living temple of India. The temple also has an interesting engineering marvel – working of one of the first pinhole cameras can be seen here. The entry for Virupaksha Temple begins from 9AM to 1PM, and then from 5PM to 9PM. Given the religious importance, the temple gets really crowded during the day with thousands of pilgrims across India. Best to visit during the early morning hours to avoid the crowd. Virupaksha temple has no entry fees.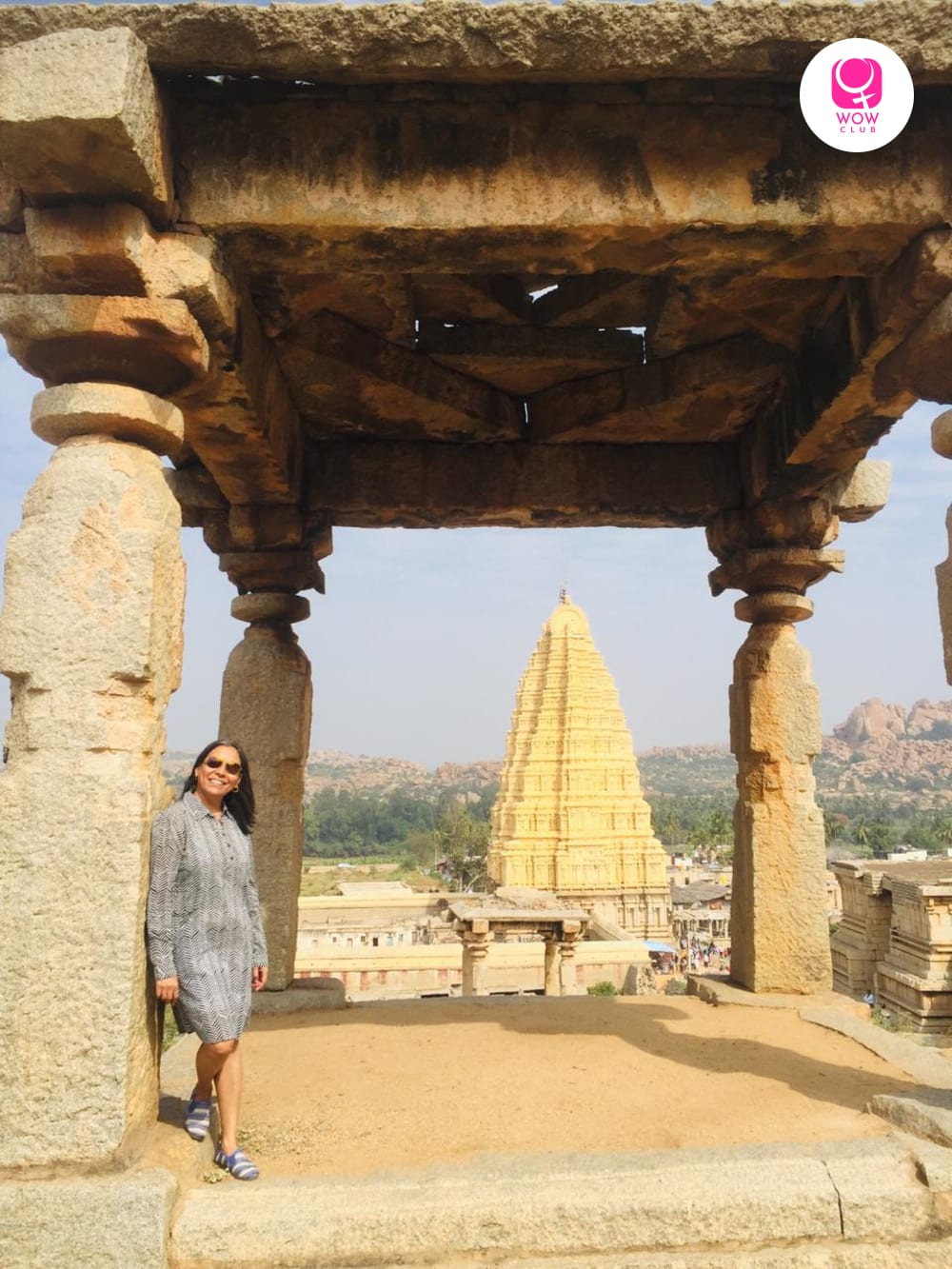 Explore Hemkuta Hill - Hemakuta hill is just a few minutes away from Virupaksha Temple. This hill provides a gorgeous sight of the Virupaksha Temple and other ruins of the Vijaynagar empire. There are many small temples scattered over the hill - Mustard Ganesh, Kadalekalu Ganesha (giant statue of Lord Ganesha that is carved out of a single stone.The belly of this statue resembles a Bengal gram - Kadalekalu, in local language and hence the name). It is a famous viewpoint for witnessing Hampi's mesmerizing sunsets. The hill has no entry fees.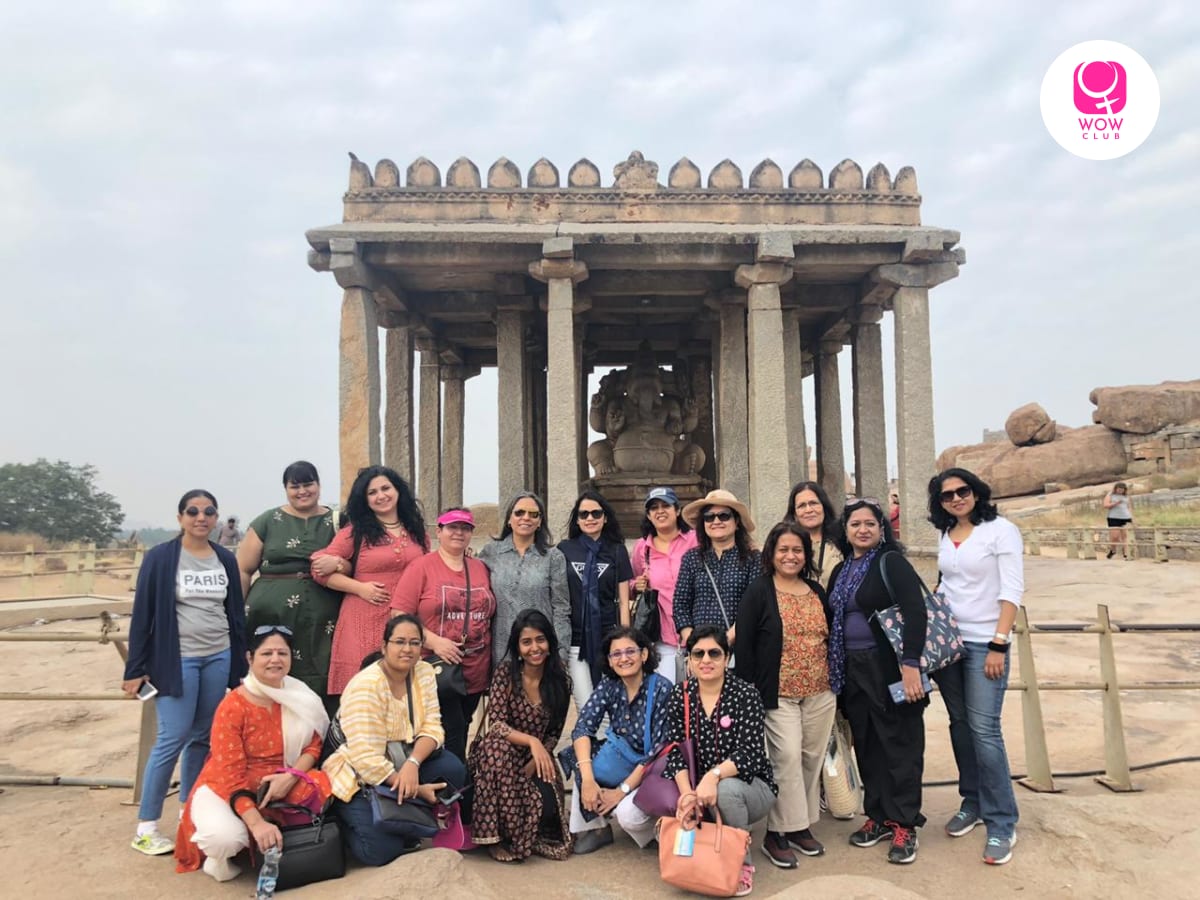 Walk around in the Hampi Market - Hampi market, near Virupaksha temple, is bustling village market filled with hippie clothes, jewellery, bags and beautiful rooftop cafes. During the ancient times, it is said that gems, pearls, gold and precious metals were sold in these streets.
Climb Matanga Hill for a mesmerising sunset/sunrise - Matanga Hill stands as one of the highest points of Hampi where travellers enjoy climbing and snapping down the panoramic view of the surrounding beauty. This place is also reckoned as a hotspot for all photography enthusiasts. If you want to make your experience one notch better, then climb up the Matanga Hill at 5:00 AM in the morning to see the first light of the day brightening the beautiful city Hampi. Imagine the aerial view of the giant boulders scattered between the paddy fields, banana plantation and coconut trees, the view is SURREAL. The climb uphill is easy and can take around 45 to 60 minutes depending on your speed.
Visit Lakshmi Narasimha and Badavi Linga - Lakshmi Narshima is the largest sculpture in Hampi and is also known as Ugra (terrifying form) Narasimha.  Narsimha is an Avatar of the Lord Vishnu which is a part lion and part man. Badavi Linga is the largest linga statue in Hampi and is always submerged in water as a water channel is made to flow through it. Badavi Linga and Lakshmi Narasimha are situated in the same compound and are a walkable distance from Hemakuta Hill. Both these monuments have no entry fees.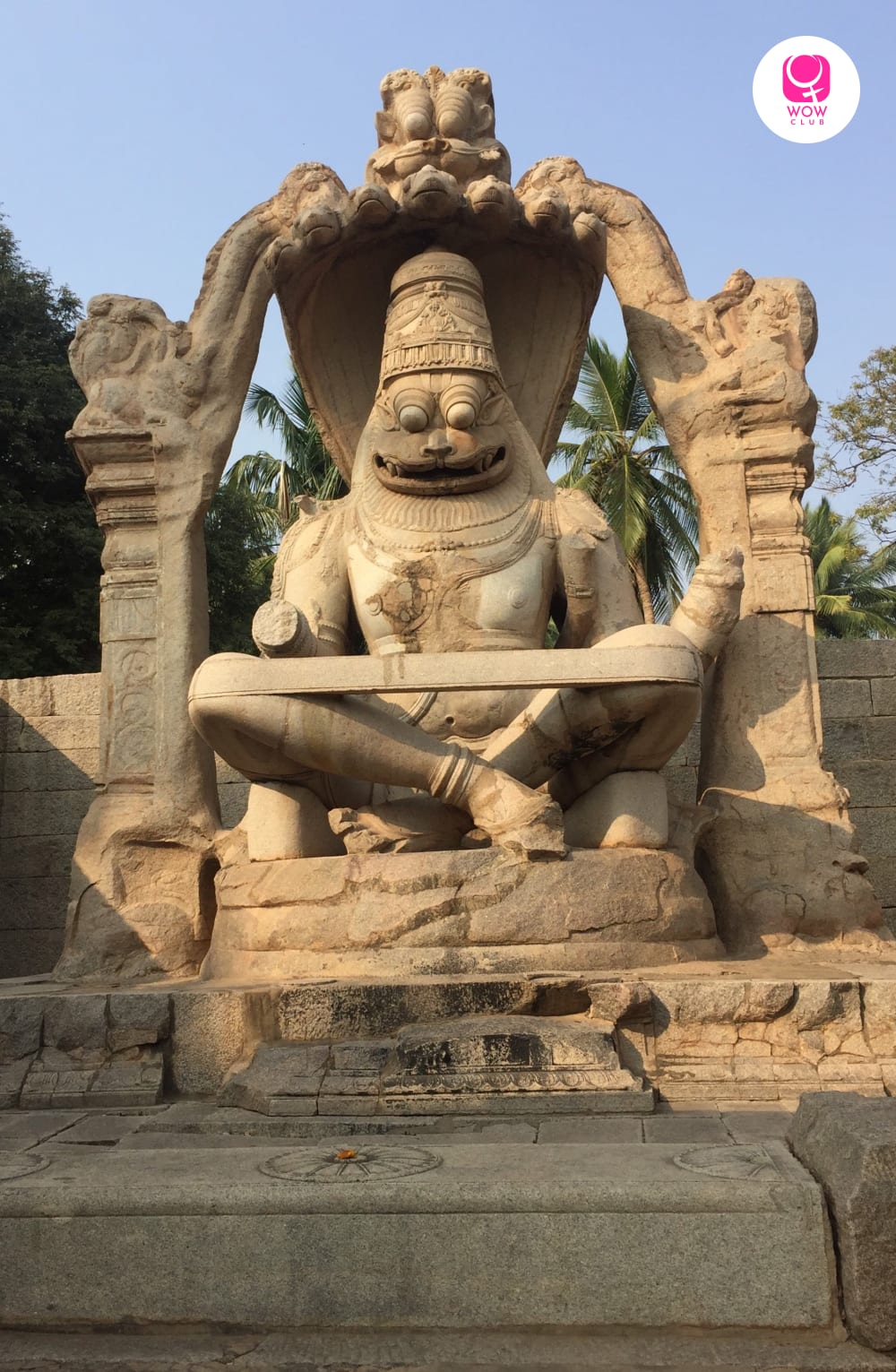 Observe the details of grand Vitthala temple - Dedicated to Lord Vitthala or Lord Vishnu, the Vijaya Vittala Temple is the most extravagant architectural wonder of Hampi which will make your jaw drop in wonder!. The temple is spread across a large complex where there are numerous pavilions & some beautiful stone structures, like the Stone Chariot and mysterious musical pillars.  Vitthala Temple entry fee for Indians is Rs 40 and for foreigners is Rs 500. The same ticket can be used for Lotus Mahal and Queen's bath.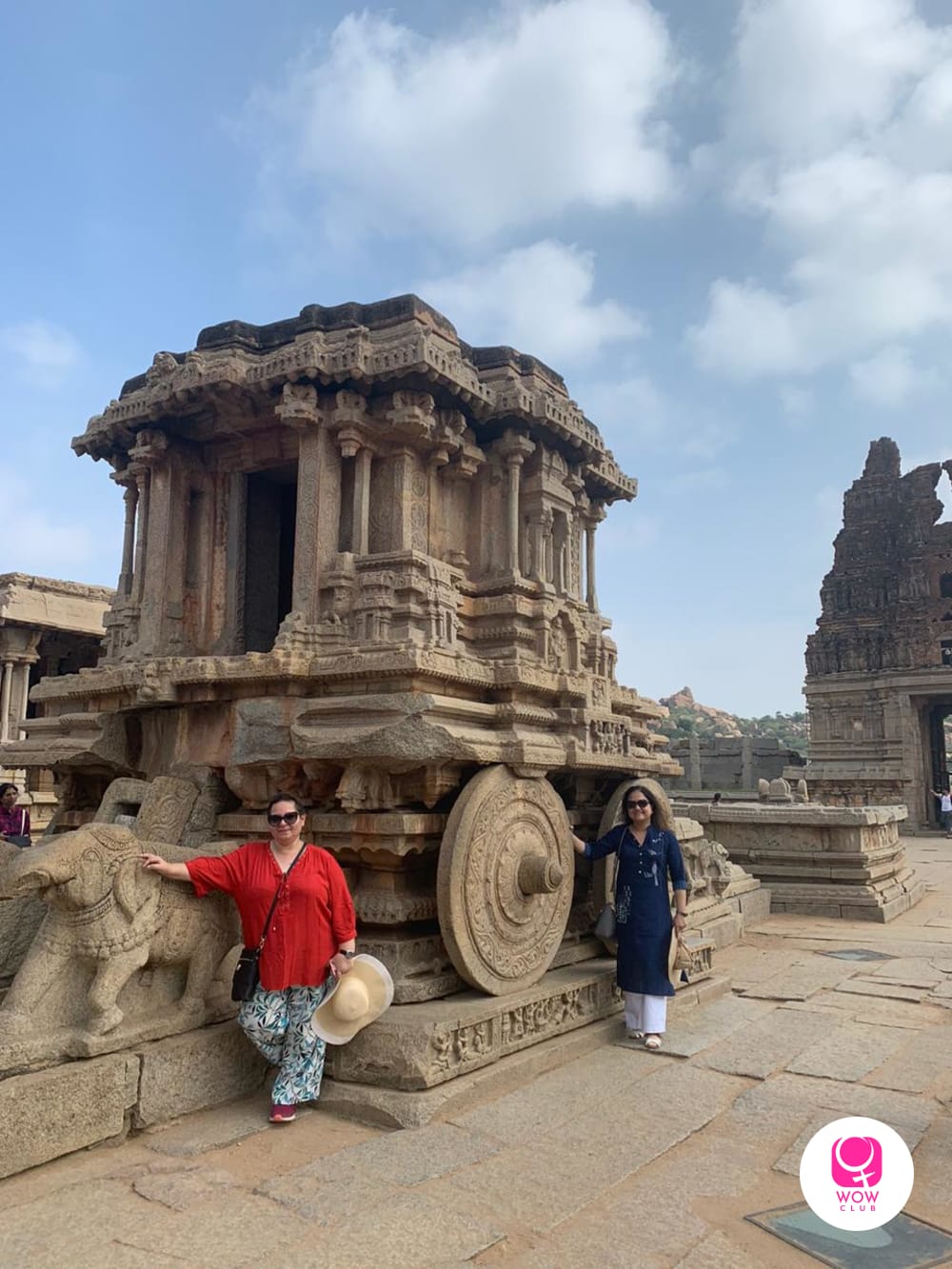 Visit Lotus Mahal, Queen's bath and Stepwell - These monuments are an example of complex ancient Vijayanagara architecture. Queen's bath was especially used for royal family bathing. Pushkerni was a sacred water tank attached to the temples. Queen's bath and Lotus Mahal have entry charges (Vittaha temple ticket can be used for Queen's bath and Lotus Mahal in case you visit all the three places on the same day). Step Well (also known as Pushkerni) has no entry charges. These places are around 3 km from Hemakuta Hills.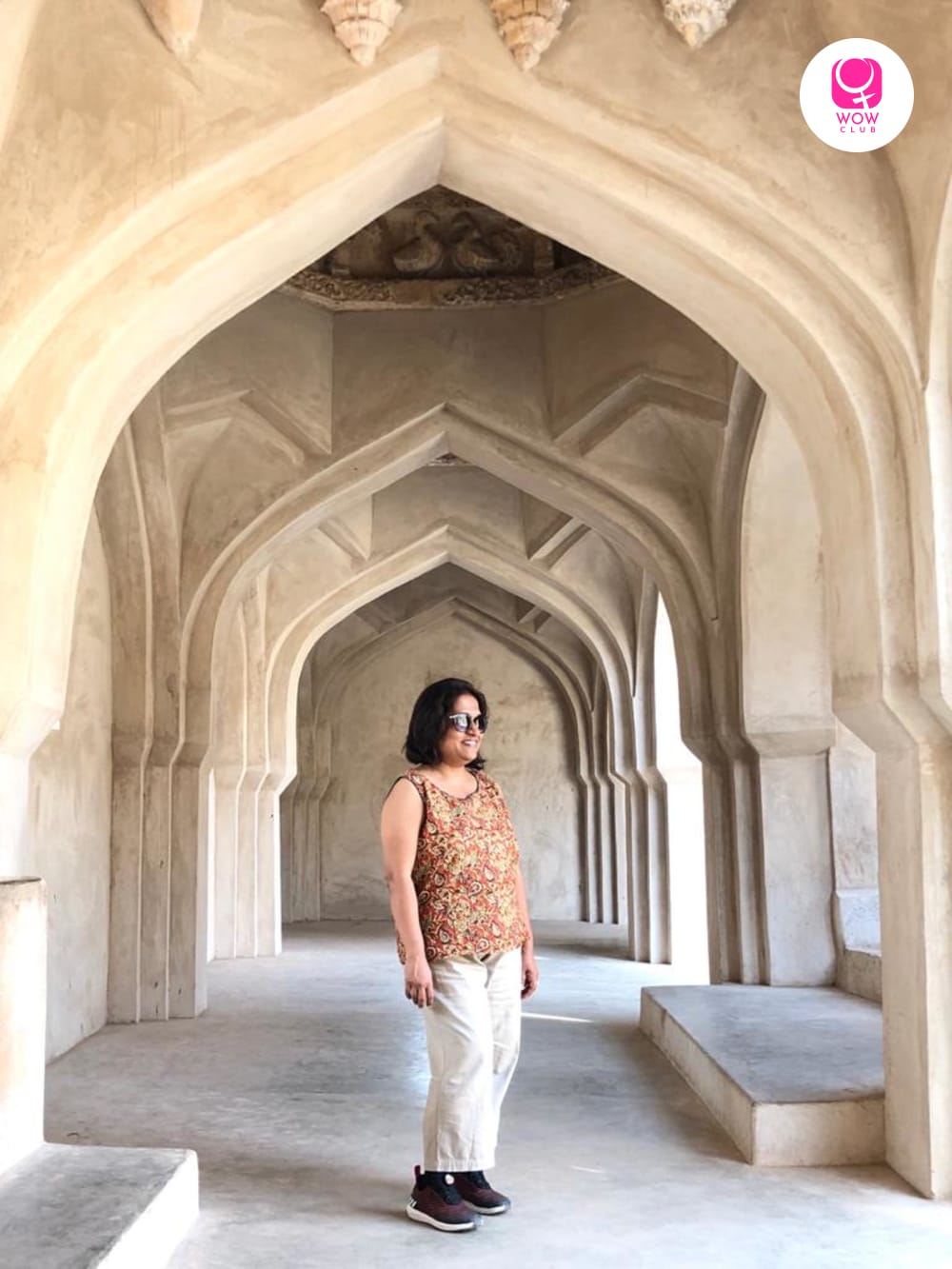 Take the traditional coracle ride in Tungabhadra river - This is something you HAVE to do when in Hampi  while you make a visit to the Tungabhadra river. For all those who are unfamiliar with this, coracle boats are traditional, lightweighted, small circular boats made up of bamboo and tree bark which can board around six to eight people at a time.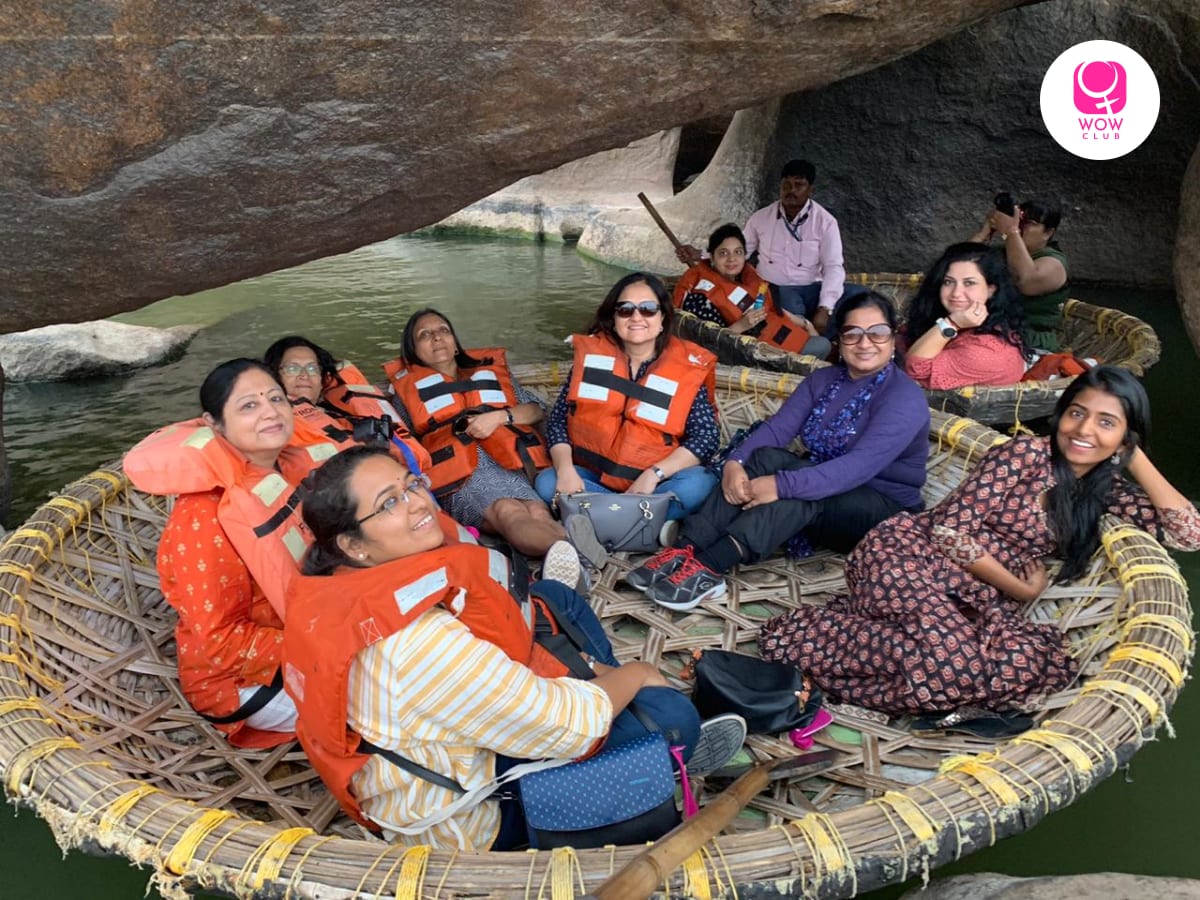 The Hippie Island side of Hampi:
Yeah, you read it right. Hippie Island. I'm sure the name itself makes you feel excited already. This is a nickname for a small river island known as Virupapura Gadde which is across the Tungabhadra river. The hippie island is gaining popularity among the young crowd due to its laid back, super relaxing vibes and loads of adventure activities it has to offer like bouldering, trekking and  cliff jumping. How to reach hippie island? The best way to reach Hippie Island is to cross the Tungabhadra river by boat (5 minutes ride) near the Virupaksha temple in Hampi.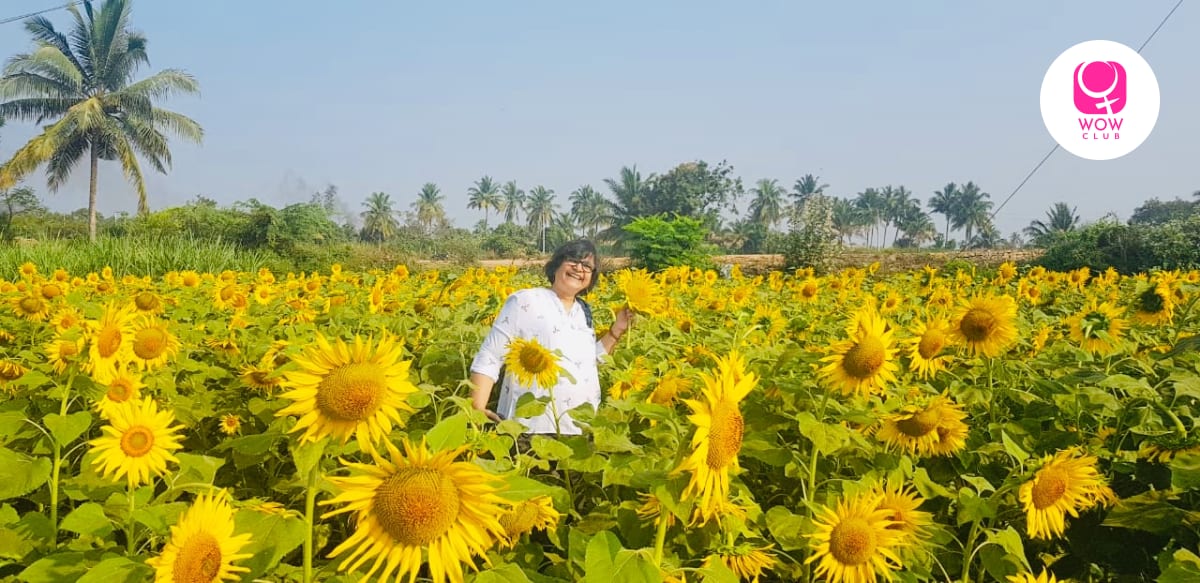 Top things to do in Hampi's Hippie Island side:
Hire a bicycle and roam around Anegundi Village -  You can hire a bicycle and ride around the nearby villages from Hippie Island. Alternatively, there are mopeds or scooters to serve your purpose. Anegundi is one such village and also a part of the UNESCO world heritage site. The route for Anegundi village passes through the Sanapur lake and gives the feeling of a fantasy movie set. Also, there are many craft centres in Anegundi which sell products made from banana fibre (much cheaper than the city stores). Try to check them out
Climb the Anjaneya Hills - Reckoned as Hanuman's birthplace, Anjaneya Hills resides at the centre of Anegondi area. Hilltop here presents an exquisite view making photographers fall in love with this place. Also, you can witness the puzzling look of paddy fields, sprawling coconut plantations and ruins that stretch all along the horizons. The Anjaneya Hill is believed to be the birthplace of Lord Hanuman. There is a temple on the hilltop dedicated to Lord Hanuman. To reach the summit, you will need to climb around 575 steps from where you can witness one of the best sunsets ever! Be careful with mischievous monkeys jumping around (that's why some people call it Monkey temple)!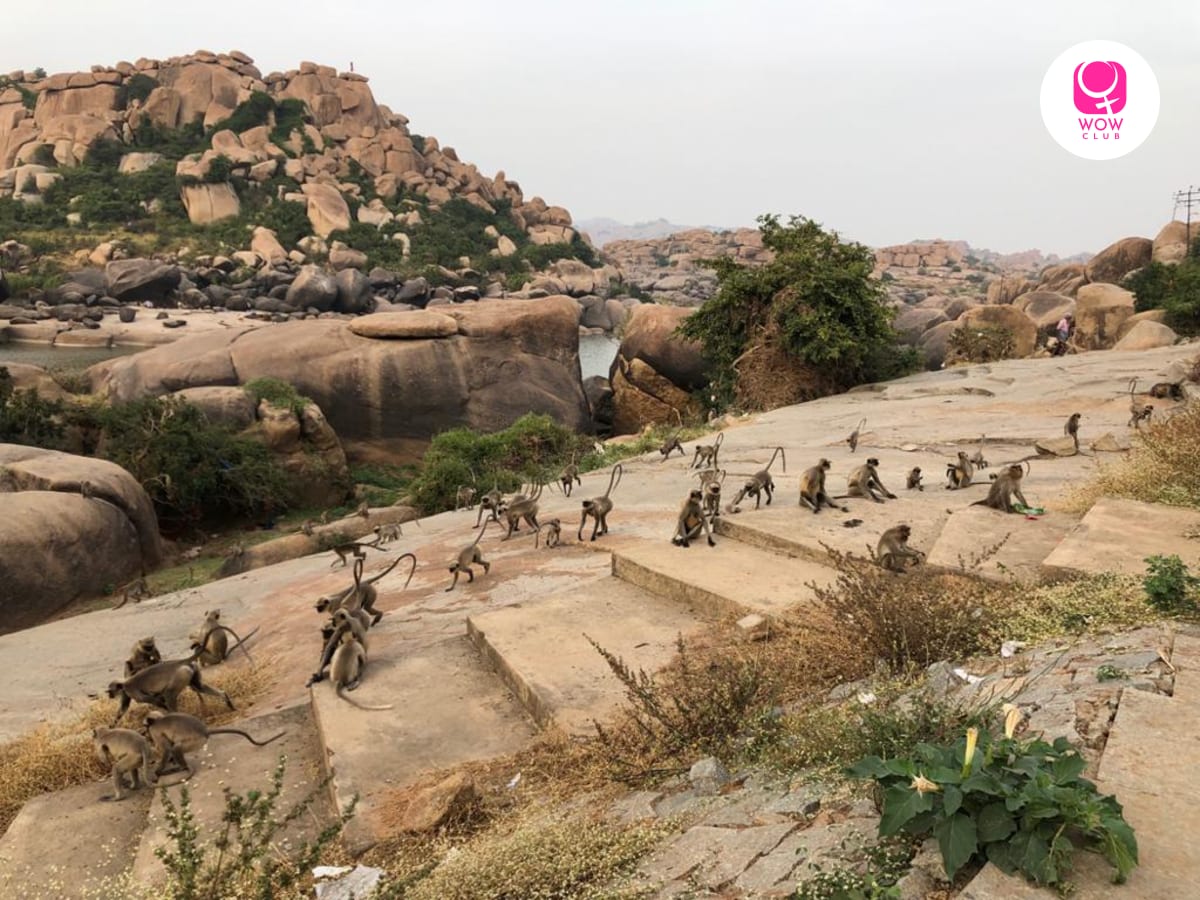 Go for cliff jumping at Sanapur Lake (Only if you know how to swim) - If you want to reap out the best from your list of Things to Do in Hampi, head towards Sanapur Lake for cliff jumping. All the way long, you will find signs meant for ensuring your protection from crocodiles. You can always take the assistance of locals to guide you with the cliff jumping. Be cautious as the adrenaline thrill might tempt you for a revisit. Cliffs here are not high enough but still reach a height of approximately 15 feet. The waters are pretty deep(around 20 feet) so hitting a rock should not be a concern, although do not jump too close to the rocks.
See sunset from sunset hill Point - Hampi is heaven for mesmerising sunsets with blissful orange and red sky. The magical lights bring out the spiritual side in you. The hill viewpoint in Hippie Island is famous for sunset among hippie travellers. Some come here to find their corner of solace, some for chanting mantras, and some for just absorbing the last lights of the day. The climb is really easy and costs nothing. Also, if you are visiting during the weekends, expect some crowd.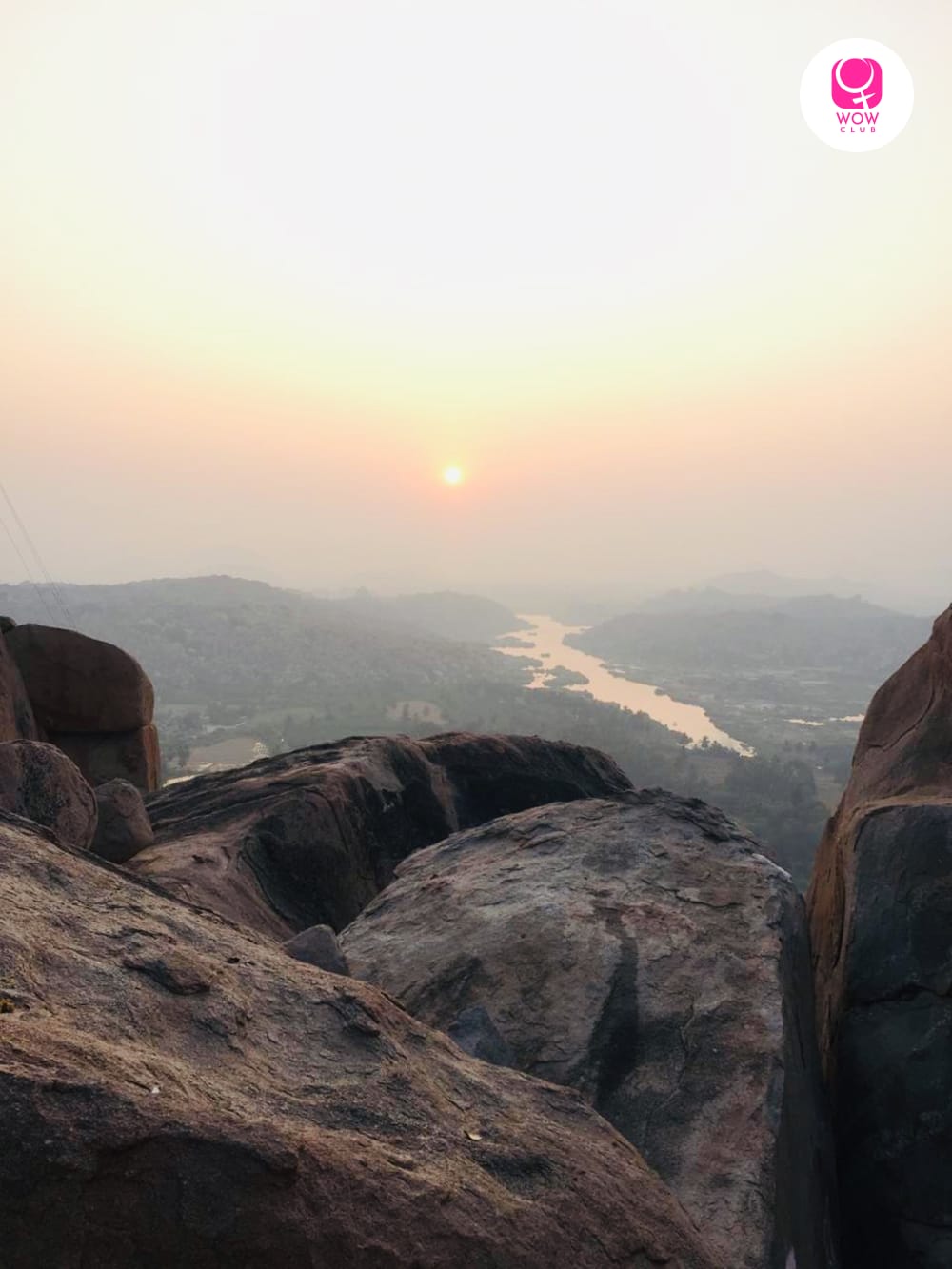 Go for world-class Bouldering - Bouldering is basically rock climbing done without any ropes, harnesses or equipment. If you're a veteran of this harness-free rock climbing sport, or even if you just want to try your hand at it, Hampi is the place to go. With its giant boulders that are split apart vertically, these rocks create ideal problems to climb. By the way, 'problem' here is used as a good thing – it is the equivalent of a challenge (we're brushing you up on bouldering lingo too!). There are many bouldering centres in Hampi. AVOID climbing during the rainy season and the peak summer.  In case you are a beginner, make sure you are trying it with an instructor.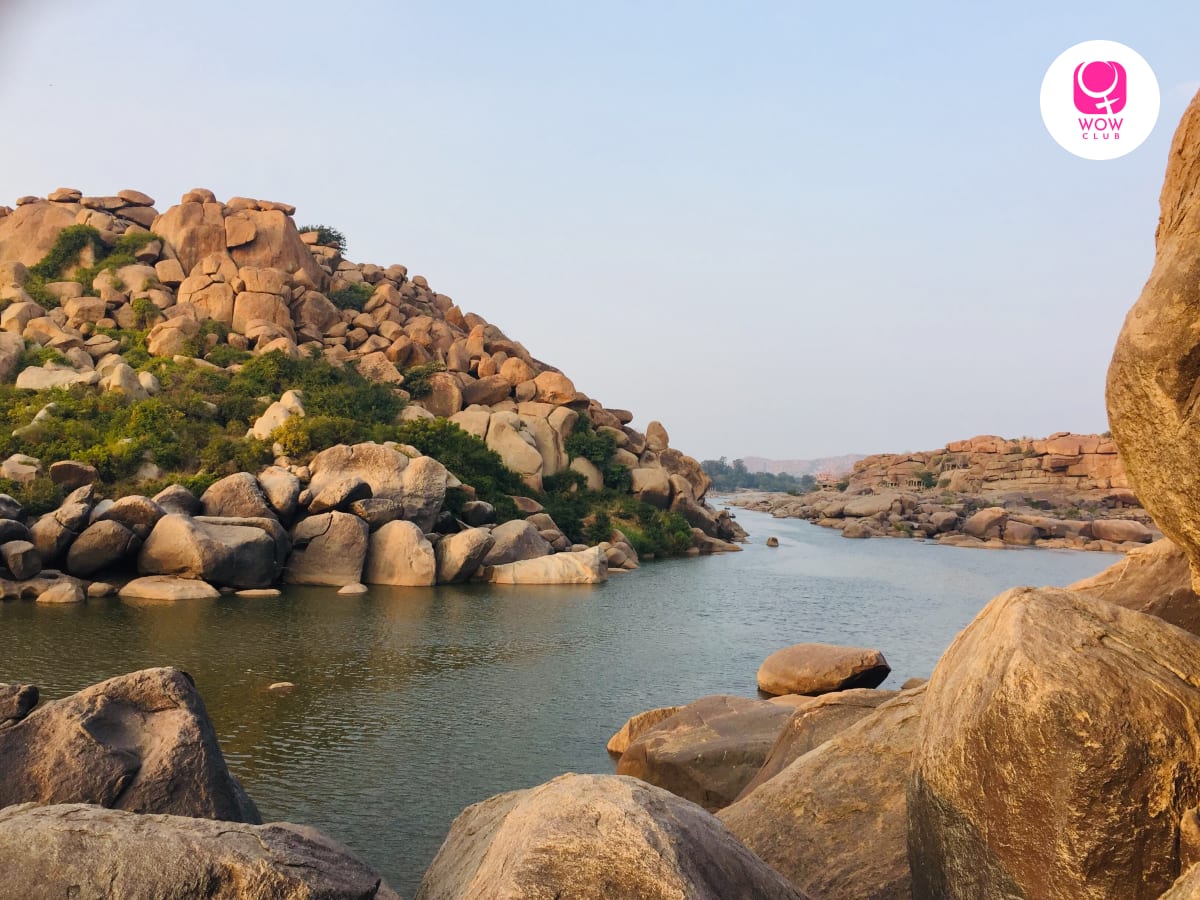 How many days are required for Hampi?
You will need atleast 4 days to explore Hampi - 2 days on the heritage side and 2 days on Hippie island.
Got more time in hand? You could extend your trip by a day to the heritage sites of Badami, Aihole, and Pattadakal - worthwhile to see monuments, caves and ruins from the Chalukya Empire, which ruled there between the 4th and 8th centuries.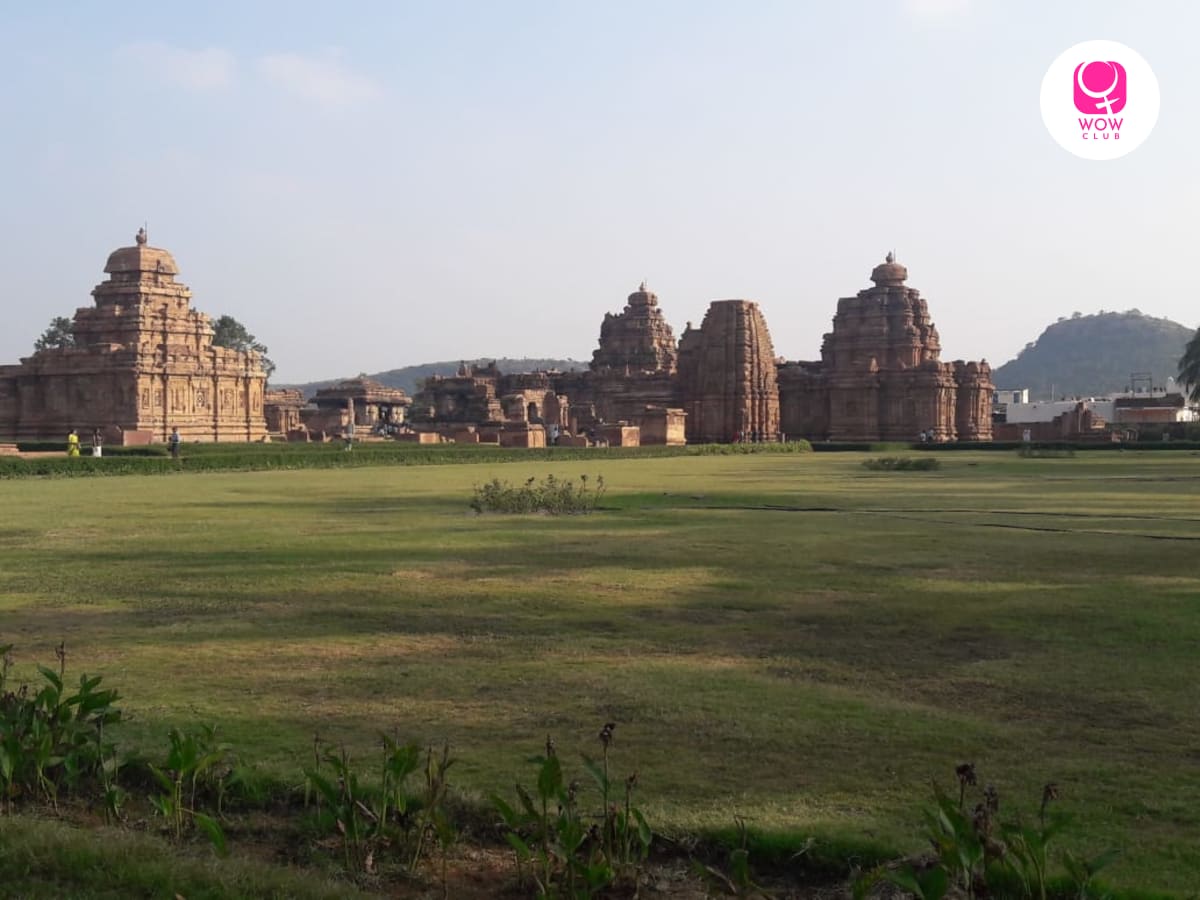 Where to stay in Hampi?
Best places to stay in Hampi for you will depend on the sort of experience you want to have. There are three main areas where you can find places to stay in Hampi:
If you enjoy the tranquility that a serene natural environment brings, the best place to stay in Hampi is Hippie Island. Staying in a basic but beautiful hut amidst the emerald green rice fields of the Hippie Island is recommended to experience Hampi's natural beauty at its very best.
If you'd like a flavor of the local life, the Hampi Bazaar area will be the best place to stay in Hampi for you. You'll be close to the temples and other ruins
Most of the hotels in the above mentioned areas are quite basic though, so if you prefer a more comfortable/luxurious stay look at the hotels like Clarks Inn, Royal Orchid, Hyatt Place or Evolve Back resorts which are a little further away from the ruins.
Where to Eat in Hampi?
Amidst the ruins of the Vijayanagara Kingdom, lies a huge variety of South Indian cuisine. But being a town of temples, non-vegetarian food is completely prohibited in Hampi. However, if you fancy a drink, you'll have to cross the river and go to the Hippie Island side to indulge.
Best Restaurants in Hampi:
Mango Tree Restaurant - Mango tree is Hampi's most famous restaurant between the locals and tourists. During the peak season, you might find a queue for lunch and dinner. Their scrumptious South Indian special thali is a must try!
Laughing Buddha - Laughing Buddha is in Hippie island (Virupapura Gadde) and is perhaps the most atmospheric place to eat, with serene river views that span beyond to the temples and ruins and a loyal crowd of diners. Its menu includes curries, burgers and pizzas but service can be slow.
Mango Café - Good for a south Indian thali meal and Mango Lassi. They have homemade mango jam as well! Though little away from the main area, it's a good stop for a quick lunch.
German Bakery/ Gouthami Restaurant – Known for Delicious bakery products - chocolate croissants, carrot cake, Cinnamon rolls and coffee are really yum!!
Top Secret Cafe -Good place to hangout at night. Candlelight dinner, good food, music and of course a lot of people with a different perspective to talk to.
Travel Tips you should know before visiting Hampi:
Hampi is a fabulous place for solo travellers. However, Crowded streets or markets and packed tourist sites are the places to be wary of; pickpockets work on foot or on scooters, disappearing before you've had time to react.
Hiring a guide is highly recommended as Hmapi has a lot to offer and sometimes, identifying the monuments and their stories on your own may be exhausting.
The weather in Hampi is hot and humid, so make sure that your clothing keeps you comfortable in this environment. Light cotton clothing that's breathable is one of your best bets. Long sleeve, thin shirts keep the sun off of you, and hats play a part in keeping sunburn away as well.
Since it is a Heritage site, you will be exploring the ruins by foot most of the times, hence carry comfortable walking shoes.
Hampi offers you great photographing options, so don't forget to carry your camera to capture the beautiful sites of Hampi.
Tipping is expected by most of the people involved in tourism in Hampi.
When it comes to shopping at Hampi, it refers to little takeaway trinkets that remind you of the wonderful place you visited. It is known for its handcrafted souvenirs, especially the handicrafts made of  banana fibre. There are stores outside Virupaksha Temple. Other than that you could find it at street corners or on carts alongside the roads lined up with artifacts.
While in Hampi, don't forget to try the local cuisine that includes dosas, savoury paddus and fluffy appams. Every restaurant has their own variety of rasam (soup). Try the south-Indian thalis for lunch if you want to get a feel of the region's culinary fare.
Last but not the least, the townspeople make any trip to this open-air museum even more memorable. Whether you're asking for directions, need a lift to a nearby spot, or simply in the mood for a passing conversation, the inhabitants here are attentive, always ready to help, and proud of their historical and cultural heritage. In a nutshell (coracle-shell?), Hampi offers an unforgettable holiday.
Too much to plan on your own? rest assured and join us on our next WOW Trip to Hampi
Hope this travel guide to Hampi helps. Happy travels :)