A visit to India is incomplete, without witnessing the national animal of India, the TIGER! The thrill of spotting one of these rare and elusive predators in their natural habitat is simply unmatched. While tigers are generally found throughout Southeast Asia and China, India remains the most prolific home of these magnificent animals, and boasts the highest population numbers thereof.
Wildlife tourism is an element of many nations travel industry centered around observation and interaction with local animal and plant life in their natural habitats. It has experienced a dramatic and rapid growth in recent years worldwide and many elements are closely aligned to eco-tourism and sustainable tourism.
Contents
Our Top 5 picks!
India monopolizes almost 75 percent of the world's tiger population so there's no reason why your hard earned trip should go without seeing one. Here are 5 National Parks in India that offer a huge possibility of spotting a tiger.  
Bandhavgarh National Park, Madhya Pradesh
Ranthambore National Park, Rajasthan
Jim Corbett National Park, Uttarakhand
Nagarhole National Park And Tiger Reserve, Karnataka
Tadoba Andhari National Park, Maharashtra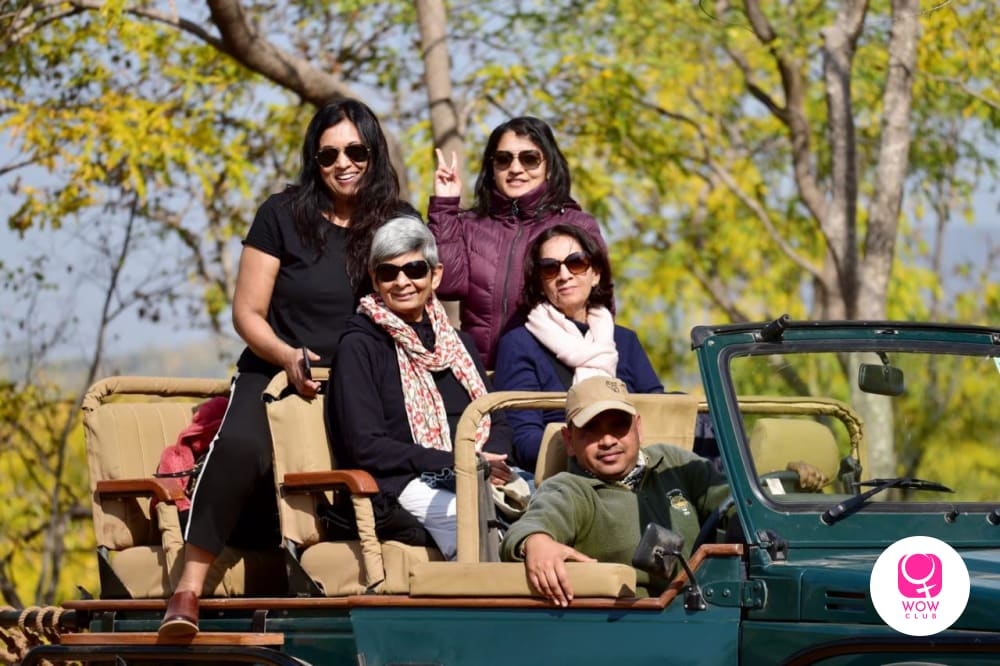 Bandhavgarh National Park, Madhya Pradesh
Bandhavgarh National Park is one of the most popular national parks in the world for its highest density of Bengal tigers. It attracts Indians and foreigners alike. Mapped somewhere along the north eastern border of Madhya Pradesh amidst Satpura and Vindhya ranges, Bandhavgarh National Park is home to over a 100 Bengal Tigers in the country, that meander around freely. Steeped in history with temples, 10th-century shrines and hand-carved hermit caves within tropical forests, steep rocky hills and valleys, this is one of India's most beautiful parks. Of course, the main draw is the healthy tiger population. There are plenty of other wildlife-spotting opportunities as well, thanks to muntjac, leopard (Tendua), wild boar, sloths, rhesus monkeys (Bandar) and 242 species of bird.
There are 04 different zones of the national park from where travelers can enjoy Jeep safari rides. Open Jeeps with groups of tourists, individuals accompanied by naturalist are allowed into the park at fixed timings. In winters, due to the shorter duration of daylight hours, the morning entry time is later and evening exit time is earlier. The jungle authorities coordinate on walkie-talkies, so that you do not miss any chance of spotting a tiger.
Bandhavgarh National Park brings many reasons to attract so many visitors from all around the world. Apart from the lush surroundings and large varieties of wild species, the most fascinating element in the Bandhavgarh vicinity is the ancient Bandhavgarh Fort, the oldest fort in India. Being spread across an area of 582 acres at an elevation of 811 meters above the sea level, this outstanding fort is believed to be built in the 3rd century. The Bandhavgarh Fort area is also filled with many temples where most of them depict the various reincarnations of Lord Vishnu. All these temples date back to around 10th century where one of these temples also has the carvings of Lord Ganesha. There are other three temples in the vicinity of the fort that reflect the 12th century architecture.
Best time to visit
November to February is the best time to visit. Bandhavgarh Tiger Reserve remains open from October to June months for visitors. So one can visit the park at any day during these months. In monsoon, July to September, Bandhavgarh Park remains closed for visitors.
Connectivity
By Air: The nearest airports for Bandhavgarh National Park are Jabalpur & Khajuraho. Jabalpur 200 Kms / 04 Hrs Drive & Khajuraho 250 Kms / 05 Hrs drive to/from Bandhavgarh. One can get regular flights for Jabalpur & Khajuraho from all major airports of India.
By Train: The nearest railway stations for Bandhavgarh National Park are Umaria & Katni. Umaria is 35 Kms (45 Minutes drive) & Katni is 100 Kms (02 Hrs drive).
WOW Pro Trip: Travel to Bandhavgarh National Park in February and catch the world famous Dance Festival in Khajuraho which happens this month, every year. Combine these two destinations for the perfect itinerary of 5 nights/ 6 days for a wonderful mix of nature & art.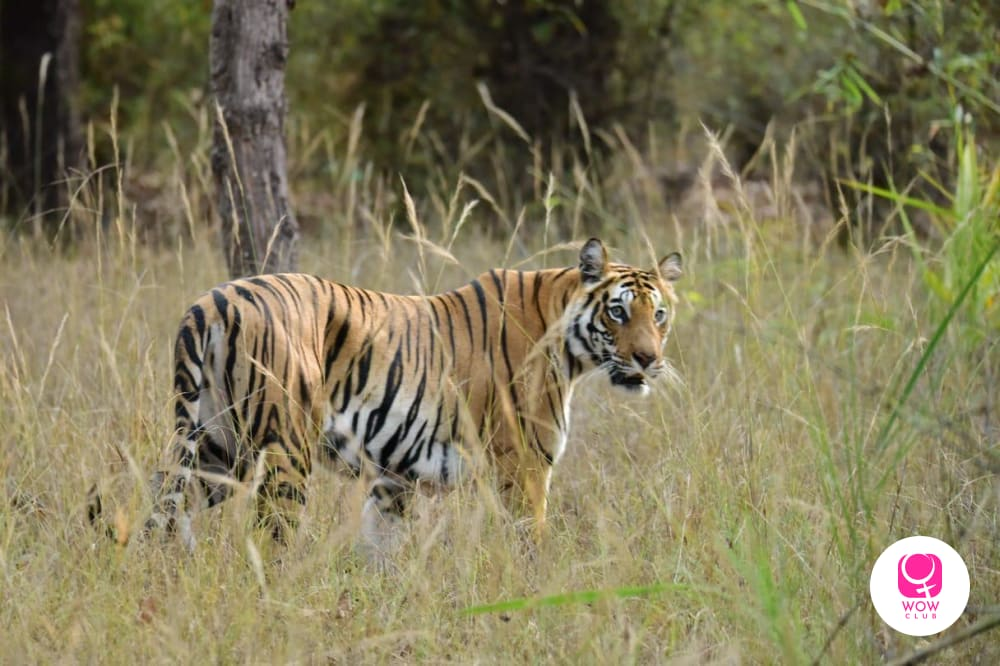 Ranthambore National Park, Rajasthan
Ever heard of the most photographed tiger in the world, Machali? Ranthambore was home to the world famous tiger queen for 19 years. National Geographic aired a documentary, "The True Story of Machli, the World's Most Famous Tiger" which got many accolades.
Ranthambore National Park is one of the biggest and most renowned national park in Northern India. Being considered as one of the famous and former hunting grounds of the Maharajas of Jaipur, today the Ranthambore National Park terrain is major wildlife tourist attraction spot that has pulled the attention of many wildlife photographers and lovers in this destination. Apart from the main attraction, Tigers, there are more than 270 bird species here.
There are 10 safari zones in Ranthambore National Park. The zones from 01-06 are the premium ones for tiger sighting in Ranthambore National Park. You can only choose the safari zones in Ranthambore National Park as per your preferences when booked one year prior to the trip, else the zones are randomly allotted by authorities when you visit.
Ranthambore Fort, is one is the most famous attraction for the tourists after the Jungle safari. One can't miss taking a look at the Ranthambore Fort which is located within the national park. The fort is the testimony to the glory of the Imperial era in Rajasthan.
The several lakes with ruins in the water are another attraction in Ranthambore. The Surwal Lake. Amidst picturesque surroundings, Surwal Lake is one of the best places to visit in Ranthambore. During winters this lake becomes a haven for different species of birds. If you seek tranquility, this is the place to be. The lake is also an ideal place for photographers to catch a stunning shot.
Padam Lake is the largest lake in the Ranthambore Wildlife Reserve. This beautiful lake is the main source of water for the animals in the reserve. A visit to this place is incomplete without visiting Padam Lake as it is counted among the top places to see in Ranthambore.
Best time to visit
December to February is the best time to visit. The winter months from October to March and summer months from April to June is when the park remains open Ranthambore National Park. The park remains closed during the monsoon season i.e, from July to September. It gets very hot during the summer months, but there are better chances of Tiger spotting.
Connectivity
By Air: The nearest airport is Sanger Airport in Jaipur which is located at a distance of approx 182 km from Ranthambore National Park.
By Train: The nearest railway station is Sawai Madhopur Railway Station which is located at a distance of approx 14 km from the national park.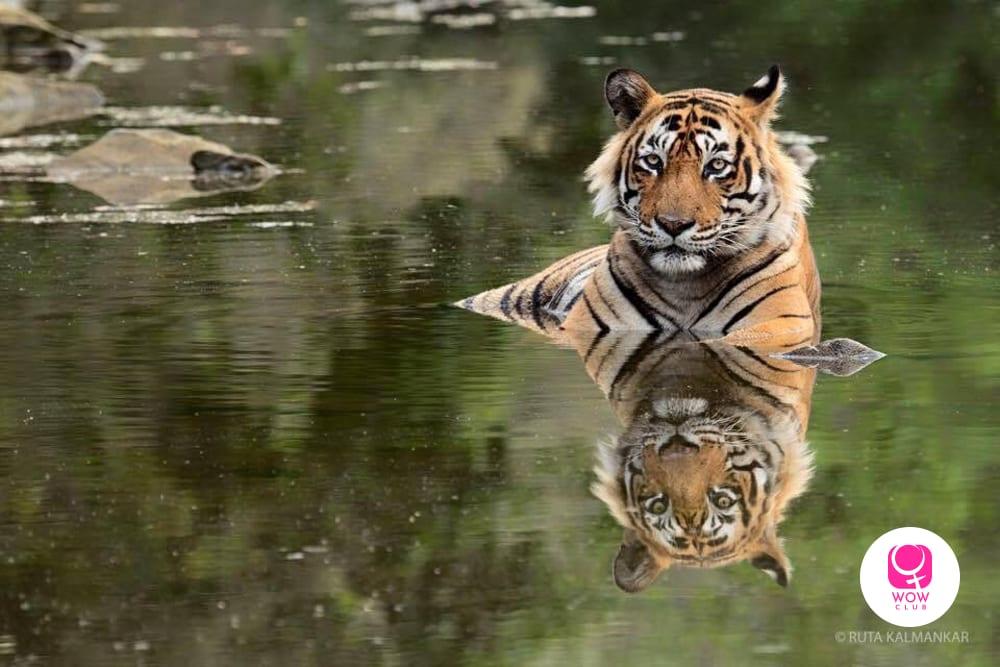 Jim Corbett National Park, Uttarakhand
This has the title of the "First National Park of India".
Corbett National Park, got its name in 1957 after Jim Corbett, the famous naturalist and photographer. The life and work of this legendary man are all about nature and wildlife. This is India's first national park and beyond doubt the most attractive Park in India. The Park is located in the foothills of the Himalayas, in the midst of lush greenery and uneven mountains with varying heights, ranging from about 1300 feet to nearly 4000 feet. The Jim Corbett National Park comprises of numerous ravines, ridges, minor streams and small plateaus secluded within the Lesser Himalaya and Shivalik. It exhibits a vast ecosphere that is bedded with moist deciduous forest and subtropical pine forest securing several and rare species of plant life.
Other than the Tiger, the other famous species being the barking deer, spotted deer, sambar, chinkara seen in this park. Another major attraction here is the aquatic reptiles; different kinds of crocodiles (Gharials) can be spotted here. Corbett National Park is divided into the five ecotourism zones for the proper management of the tourism activities in the tiger reserve area.
The Ramganga river is considered important source of water for the survival flora and fauna within the Corbett National Park. The river controls the entire biodiversity within the park. Fishing and Angling in Corbett National Park is offered in places like Ramganga River, Machula Bridge. Here you can easily find Golden Mahsher and Cat Fish.
The only park in India where you can stay inside! Jim Corbett National park authority provides facility of stay inside the park. Visitors can book various forest lodges to stay inside the park. Dhikala - Bijrani - Jhirna - Sonanadi - Durgadevi - Dhela the only option to stay inside the park. Prior booking is needed with all necessary formalities.
Best time to visit
With temperate weather, Corbett lets you visit the Park all year long, but the best time to visit Jim Corbett National Park is between November and February i.e, during the winter season when all the zones are open, and you can spot the most animals. Summers, though hot, isn't unbearable due to it being on the foothills of the Himalayas.
Connectivity
By Air: The nearest airport to the town is the Dehradun Airport, Uttrakhand, located at a distance of 156 kms from NH34. Indira Gandhi International Airport, New Delhi, is the second nearest and the major airport, located at a distance of 243 kms.
By Train: The railway station in Ramnagar receives trains from different major cities of India like Delhi, Moradabad and Bareilly. A direct train to Ramnagar runs from Delhi. You can check out for Ranikhet Express, Corbett Link Express and Kathgodam Express that takes you directly to Ramnagar.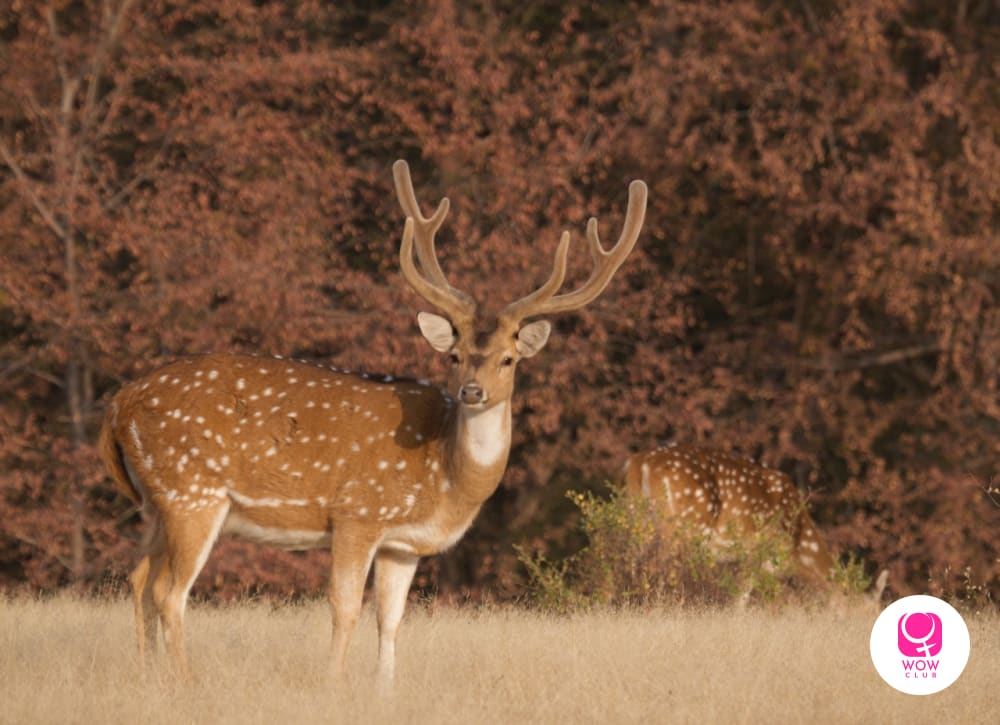 Nagarhole National Park And Tiger Reserve, Karnataka
Nagarhole national park has the highest density of herbivores in Asia. This park is best for spotting elephants, guar, tiger and bear. Nagarhole National Park is located in Kodagu district of Karnataka. It is a part of Nilgiri biosphere reserve and is now under the consideration for recognition as a heritage site. The park is filled with waterfalls, hills, valleys, streams and forests. The park is famous for its rich population of animals and birds. The park gets its name from the streams. Naga means snake and hole means streams.
Bengal Tiger, Indian Leopard, Sloth Bear (Bhalu), Striped Hyena are the predators that can be spotted in the park. Herbivores like Elephants, Chital, Sambar Deer, and Barking Deer is also spotted around the national park.
Best time to visit
Nagarhole National Park is open for public entry all the way through the year but the best time to visit is from April to May, when the waterholes are dry and the animals come out to visit the lake. Nevertheless, the weather conditions are more pleasing from November to February.
Connectivity
By Air: The nearest airport is Mandakalli Airport, Mysore that is located at a distance of around 98 km. This airport has regular flights connected to Bengaluru. The nearest international airport is in Bangalore, around 268 km from here.
By Train: The nearest railway station is Mysore Railway Station, 96 km from here. Regular trains connect this station to major cities in India. From here, taxis and buses and taxis are available to Nagarhole.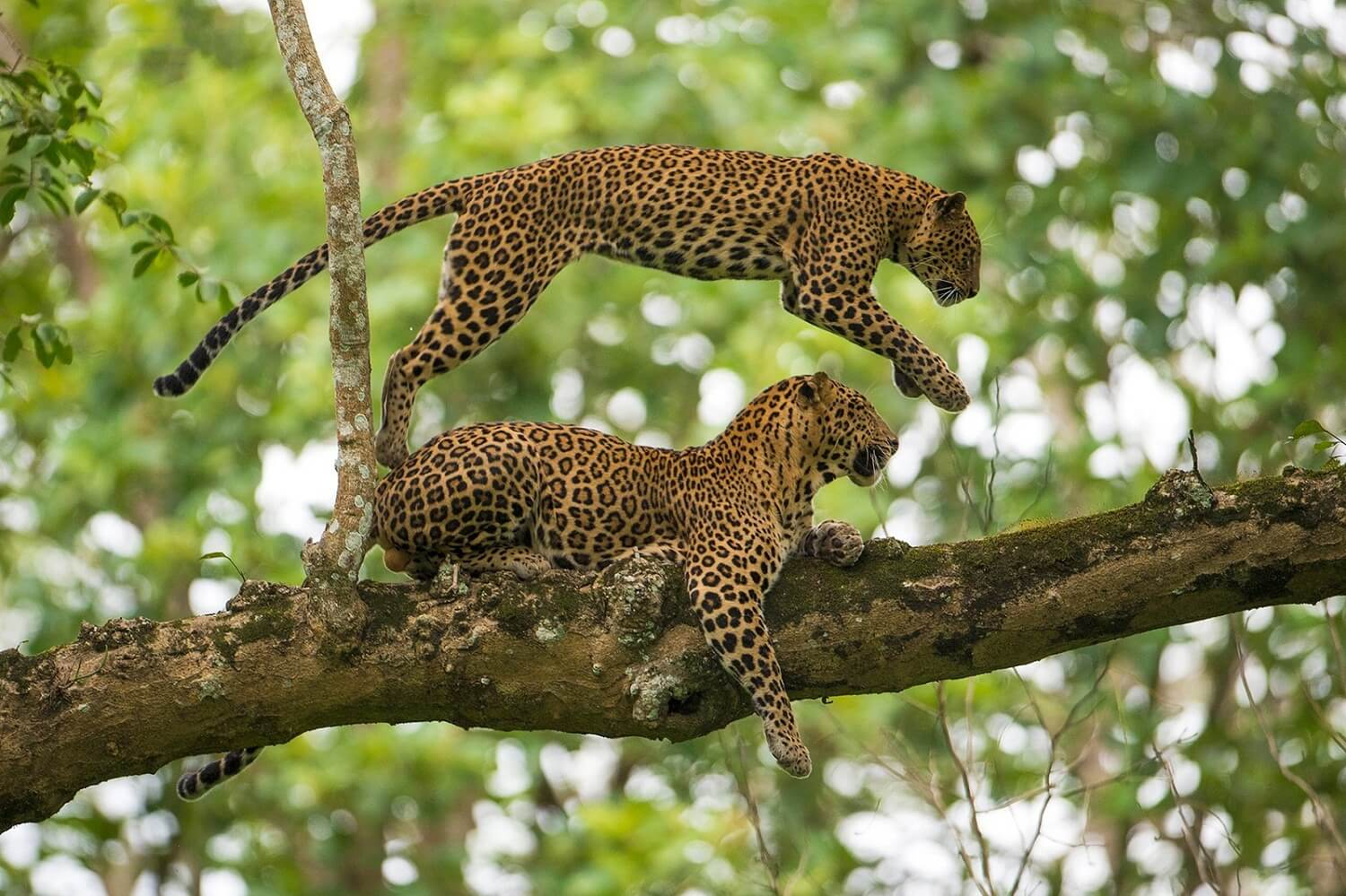 Tadoba Andhari National Park, Maharashtra
Notably Maharashtra's oldest and largest National Park, the "Tadoba Andhari Tiger Reserve" is one of India's 47 project tiger reserves existing in India. It lies in the Chandrapur district of Maharashtra state and is approximately 150 km from Nagpur city. The total area of the tiger reserve is 1,727 Sq.km, which includes the Tadoba National Park, created in the year 1955.
The Tadoba Tiger Reserve is rich in flora and fauna. Some of the famous and wildly seen flora of this park include, Teak, Ain, Bamboo, Bheria, Black Plum, and many others. Apart from this the list of animals noted in this part include, Tigers, Indian leopards, Sloth bears, Chital, Marsh Crocodile (Gharial), Indian Python, Indian Cobra and many more.
The reserve is divided into three zones, each having different access gates:
Moharli (Mohurli) Zone: This zone is known for the best tiger spotting and is also popular for offering good accommodation facilities to the tourists. The Moharli Gate is easily accessible from other two zone of Tadoba namely Tadoba Zone and Kolsa Zone.
Tadoba Zone: The Tadoba Zone is popular for offering diverse wildlife and scenic locations to the tourists. It is also accessible from four gates at Moharli, Navegaon, Kolara, and Khutwanda.
Kolsa Zone: The Kolsa Zone is much liked for its striking forest landscapes as the possibilities of spotting the wild animals are relatively lower in this zone. Entry to this zone is possible through gates at Moharli, Pangdi, and Zari.
Best time to visit
Tropical climate makes winter season (December to February) the best time to visit Tadoba National Park. However, the best season to sight tigers would be the hotter months (April to May). Post monsoon is also a good time to visit Tadoba Wildlife Sanctuary when the jungle becomes lush green and is filled with flowers.
Connectivity
By Air: The nearest airport to Tadoba is the Nagpur airport which is at a distance of around 140 km. It is connected to all prominent cities and towns. From there, you can easily hire a taxi to reach Tadoba.
By Train: Chandrapur Railway Station is the nearest rail-head from the National Park as it is at the distance of 45 Km. Chandrapur rail-head is well connected to other major cities like Delhi, Chennai, Hyderabad, Mumbai and Jhansi. Taxis and buses are available from railway station to reach the Tadoba Tiger Reserve.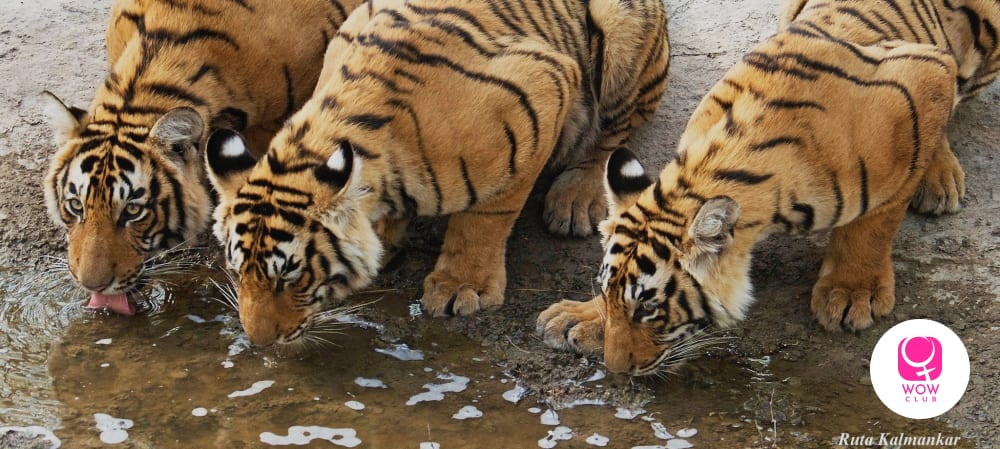 Jeep Safaris v/s Elephant Safaris
All the national parks mentioned above provide Jeep Safaris. However, only Corbett, Bandhavgarh and Nagarhole provide elephant safaris too. If you are an adventure lover, and want to have the closest look at the wild animals in their natural habitat, elephant safari is the answer as most of the national parks in India do not provide with a walking trail/ walking safaris.
Let's take a look on the major pros of carrying out an elephant safari…
You can explore the deepest beauty of the wild, which is not possible in any other safari.
An elephant safari is eco friendly as no unwanted secretions are released into the environs. Thus you make an indirect effort in saving the environment by choosing this mode of safari.
No noisy sound is produced when you travel on the mammoth's back and all that you get is free air. Thus, an elephant safari certainly provides you an exploration in a calm ambiance.
There is a sense of security while you are on an elephant safari. You will have a sense of safety on its top. The trained guides conduct these safaris hence all that you have to do is to relish the spectacle.
There is a perfect visibility of the forest when you are on the back of an elephant. The height of the giant helps in observing more area at an instance.
Let's explore some facts that make jeep safari worth undertaking for the wildlife lovers.
Jeep Safari is the safest mode of jungle excursion. It has speed and you will also feel safer from the attack of wild animals.
While exploring the wild, you will also need a comfortable ride. Jeep Safari renders spectacular views of forests in an extremely comfortable ride. You get to relish the vistas while sitting on a relaxing seat that gives you a unique sense of luxury amid nature's bounty.
While on the trip, maximum travelers have a certain limitations of time. Thus, time-consumption becomes the major factor while choosing a safari. As jeeps have speed, you can view maximum part of a park in lesser time; hence, it is a time saving safari.
Jeep Safari allows more flexibility in planning an itinerary. It will depend on your convenience.. While in case of the animal safaris, you have to take under consideration the animal's routine and needs as well.
More areas of the park can be covered through jeep safari than any other mode of jungle safari.
More people (Up to six) can travel in jeep safari at once.
Things To Know For Experiencing Wildlife To The Fullest
When it comes to wildlife destinations, every place has its own rules which tourists need to follow. Moreover, the rules are pretty strict in the case of national parks and wildlife sanctuaries.
1. Pindrop Silence
Animals do not like noise. So, maintaining absolute silence in a forest or wildlife destination is necessary. Too much noise and chaos disturb animals, and they might hide for escaping the situation. Sometimes, they also get frightened. Therefore, make sure to maintain silence when you are traveling through a forest. Talk in lower and hushed tones. Keep voices low as far as possible as no beauty is better than silence when you are in a forest.
2. Wear Light Colours
Choose light and sober colors for your outfits when you are planning to pack your bags for a safari. Animals, usually, are affected by bright colors. So, wear warm colors that are soothing to the eye and pack them according to the weather.
3. Don't Litter
Littering around in the forests and wildlife destinations is not proper in terms of aesthetics. Do not throw plastic, food, or other waste materials inside the forest. You need to preserve nature in a clean and pristine form. If you keep it clean, others may too. Likewise, your experience can be breathtaking and fresh.
4. Don't wear strong perfumes
Avoid using perfumes with a strong smell when visiting a forest. Strong odors can enrage animals as they are sensitive to smell. Some people do not consider these things and end up encountering unfortunate situations.
5. Photography tips
You need to keep various things in mind when it comes to photography. Avoid using flash as animals are sensitive to it, and they might react unexpectedly. Instead, learn other low-light photography techniques that can help you capture the best wildlife shots.
6. Proper analysis is a must
You need to research and analyze properly when planning for wildlife tours or safaris. Discover the right timings and seasons for wildlife safaris. Also, book your tickets well-in-advance if you are planning to visit during peak times.
If you are ready for your next wildlife tour, keep the points mentioned above in mind.
Add On Destinations
Khajuraho (Combine with Bandhavgarh National Park)
Khajuraho from Bandhavgarh is about 230 kms (5 hrs drive). Khajuraho enjoys smooth connectivity by roads to cities in Madhya Pradesh and all over India. State owned buses, taxis and private vehicles commute to the city.
During Central India tours, Khajuraho and Bandhavgarh national park are best clubbed package. Although both represents two different tourism categories, but together make a meaningful tour itinerary. Khajuraho is a UNESCO world heritage destination representing heritage and culture of Chandela dynasty who ruled in this region. Where as Bandhavgarh National Park is considered to be one of the best wildlife experiences in India.
To add on to the experience of beautiful temple tours in Khajuraho, is the world famous Khajuraho dance festival which takes places every year in the month of February.  It is celebrated in Western Group of Temples Khajuraho. The site being testimony to India culture and traditions is ideal to present the classical forms of dance. Spectators from all over the world attend the demonstration of art in the dance form.
Many popular classical dancers from all over India perform. Discover the glamour of Indian traditions, dance and music. The best known dance forms in India are presented in the festival. Performances of the intricate footwork of Kathak, highly stylized and sophisticated Bharathnatyam, soft lyrical temple dance of Odissi, the dance dramas of Kuchipudi and Manipuri, the ancient civilization and Kathakali stage fights with elaborate masks keeps the audiences spellbound.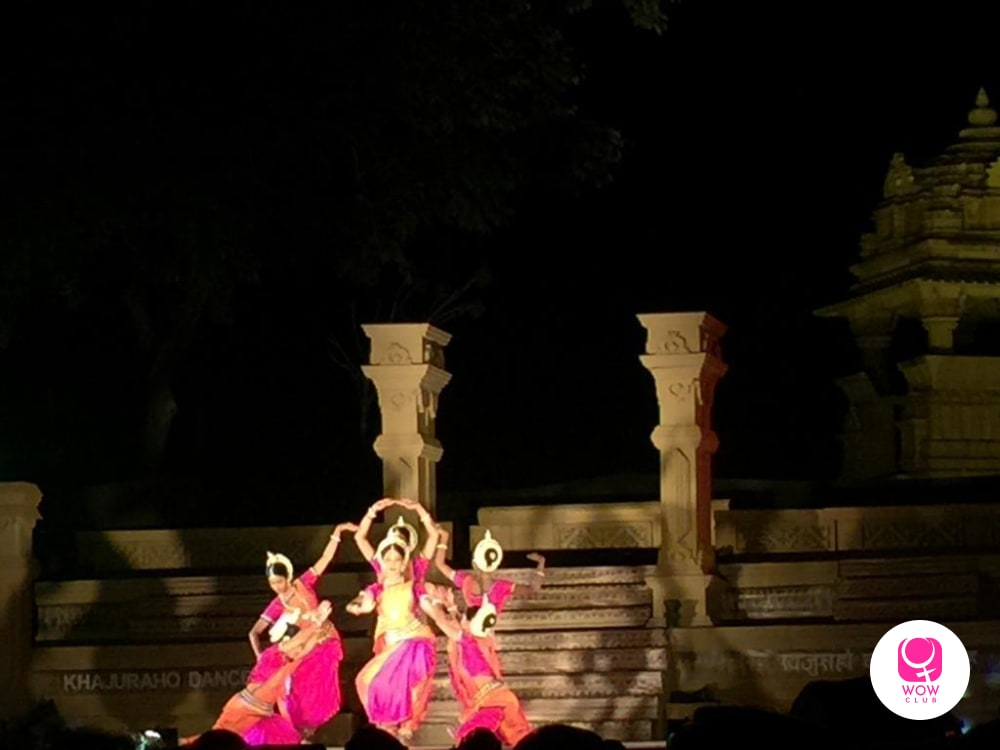 How to get to these National Parks?
Delhi, Mumbai & Bangalore international airports have frequent connectivity to various destinations around the world. From these 3 cities, one can take a domestic flight to the airports closest to the above mentioned national parks. Khajuraho has it's own airport as foreigners flock here all around the year, specially in the winter months (Dec-Feb).
Tiger Conservation Project, India
Tiger is the national animal of India, hence, the national pride too.
Back in the early 19th century, about 40,000 Royal Bengal Tigers were there in India. Within seven decades, Royal Bengal Tiger's population dwindled to a mere 1800. It was not only shocking and alarming but also a reflection of the neglect that was being heaped upon the National Animal of India. It was an undeniable failure.
The Government of India took a pioneering initiative for conserving its national animal, the tiger, by launching the 'Project Tiger' in 1973. The initiative is funded by the Union Govt. of India and administrated under the Ministry of Environment, Forests and Climate Change. National Tiger Conservation Authority (NTCA) is the immediate supervising agency which administers the Project Tiger completely. And for the same various conservation units have been established consisting of a field director and a group of technical people to assist.
These efforts paid off and India is now home to nearly 3,000 tigers, a third more than it had four years ago, according to the latest tiger census. Prime Minister Narendra Modi, presented the findings that the tiger population had risen from 2,226 in 2014 to 2,967 in 2018.
To conclude, National Parks are one of the best experiences, for the simple reason, that you are so up close to the wild in their wilderness, yet you achieve a sense of peace and calmness. The early morning safaris are nothing less than rejuvenating. And the realization, that you are "just one" of the many created by the creator, is absolutely humbling.
Hence, don't wait to plan your wildlife holiday soon as there is no other experience like being in the midst of nature and wilderness!!!
Well if all this sounds like too much of homework, then just sit back and click here.