A journey to Remember : The Trans-Siberian Railway
When was the last time you experienced a proper rail journey? Can't recall, right?
In this post we bring to you an interview with Sumitra Senapaty (The founder of the WOW Club), who is just back from her iconic Trans Siberian Rail journey.
A short introduction
The Trans Siberian Railway was built between 1891 and 1916, to connect Moscow with the far off city of Vladivostok. Covering a massive distance of 9,258km. (For perspective, India measures 3,214 km North to South),Trans – Siberian or Transsib is the name of 3 epic rail routes that traverse Siberia from Moscow.
Trans – Siberian connecting Moscow to the Pacific terminus of Vladivostok.
Trans – Mongolian connecting Moscow to Beijing.
Trans – Manchurian connecting through Siberia & Manchuria to Beijing.
And the best season to board the journey is from May to September.
Q. How did the idea of venturing out on the longest rail journey come to your mind?
Sumitra: I always like to take the road which is less travelled and I had read about this legendary rail journey in school. It was a dream come true for most of us when we started on this legendary rail journey. Also a rail journey is always the best way to explore a place and its culture and cuisines. It was for the first time WOW wanderers ventured out on this epic lifetime trip exploring a new perspective about Russia and its people.
We boarded the train at Novosibirsk in Siberia travelling to Mongolia through Irkutsk witnessing the largest and spectacular fresh water lake, Baikal. It was exciting to travel through 3 time zones Russia, Siberia and Mongolia in the 2 sections of the journey from Novosibirsk to Irkutsk and another from Siberia to Mongolia.

The WOW Club does the epic Trans Siberian Journey
Q.How are facilities in the train and also please let us know if the temperature is too cold for one to take on this journey?
Sumitra: The facilities inside the train and also in the stations are pretty much fine. The trains are always kept warm with the help of boilers which are installed at the right side of every entrance in each compartments. The boilers are operated by lighting coals and this helps to control the temperature in the compartment. On the trains the attenders or Provodnitsa as they are known in Russia is in charge of keeping everyone in check, the place clean, the heater stoked up with coal and making sure you are awake up in time for your stop. They do not allow the passengers to get down at every station and the compartments are kept locked by them.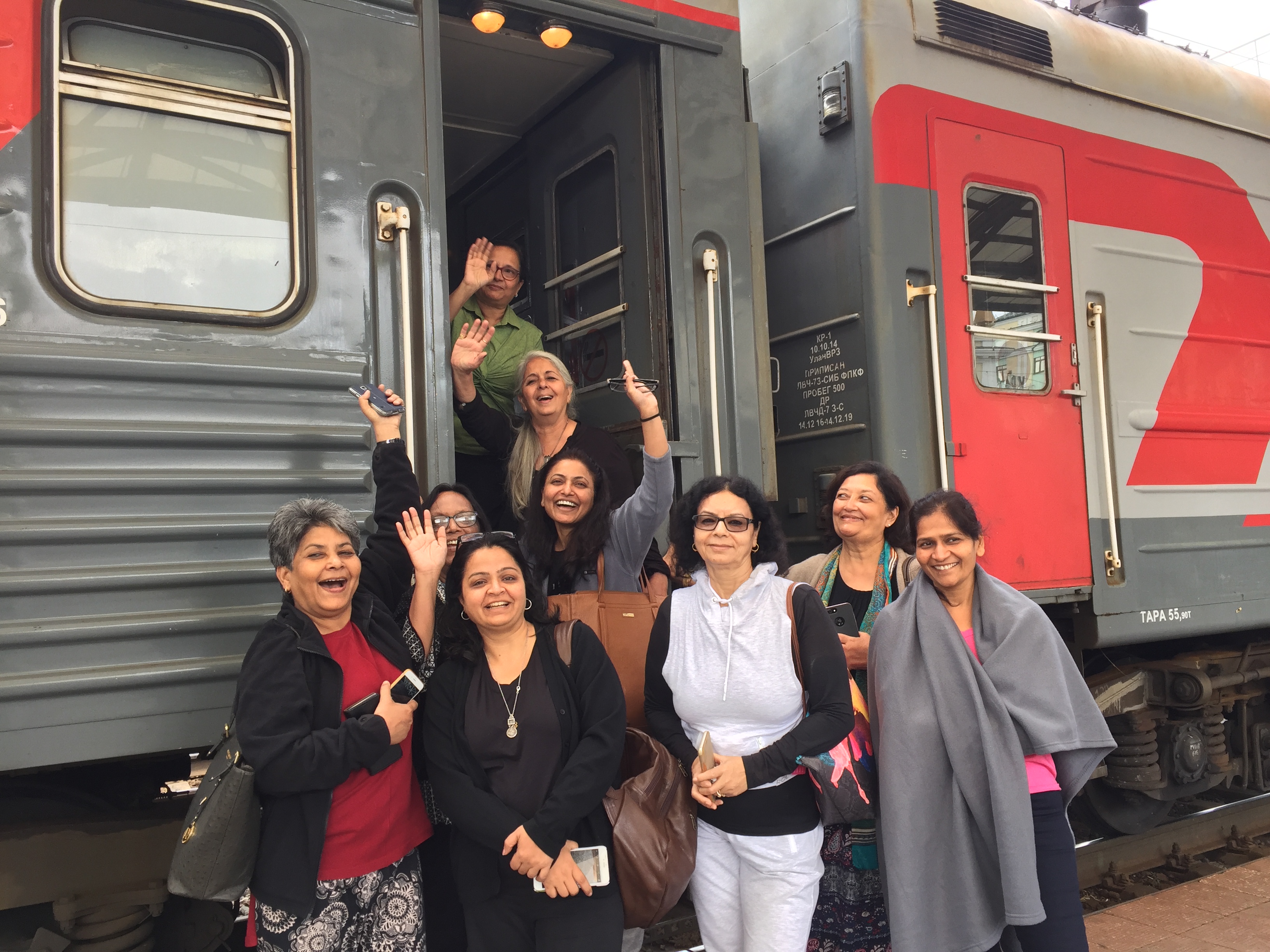 WOW Wanderers do tend to have an adventerous streak!

Q. What are the things for a traveler to carry on this epic rail journey?
Sumitra: It is better to carry snacks for oneself as few trains on those route might not have the dining facility and to make matters worse sometimes the trains reach the stations at very odd hours at night leaving no choice for food from outside.Also it is advisable for travelers to travel light in this rail journey as the compartments do not have enough space for luggage.
Q. Are there any age limit or required health conditions for a traveler willing to pursue this trip?
Sumitra: Yes it is possible for any age to embark on this epic journey. You need not be worried about so much about the weather if you are planning to take the trip sometime between may to September. You should only have an adventurous bent of mind. Also, don't expect luxury on this trip.
Q. According to you what is that one thing a wanderer should try (any specific local cuisine) or should visit ( any specific destination) in this epic journey?
Sumitra: We went to a Russian country house in Dacha and experienced some fresh Pelmeni, Russian dumplings, stuffed with chicken and meats, also with fresh cherries and sour cream. We also celebrated birthdays of our fellow wanderers and enjoyed Russian champagne and Beluga vodka. One must also try out authentic Georgian food and wine while on this trip.
Q. Any tips for solo wanderers who want to pursue this epic journey.
Sumitra: It is safe to travel in a group of at least 4 travellers. Though Russia is a safe country to explore but the train journey could be really boring if your co-passengers do not match with your level of thinking. And of course language is a barrier in the country so to make the trip exciting I suggest you travel in a group.
Q. Could you recount any specific incident on this trip which is etched as a lifetime memory in your mind.
Sumitra: The only one thing that comes to my mind is looking out at Lake Baikal while sitting beside the window.


Photo by Markus Spiske / Unsplash
A final note from Sumitra Senapaty:
Though not intended, this also became a journey of self discovery. The time spent staring out the window also led to some introspection and an inward journey, a journey of understanding the self. There is so much beauty in the world and so many interesting people, places and things, that one HAS to make this the priority. I urge you to go on your own journey and for all you know, you might discover a new you!
Join the newsletter to receive the latest updates in your inbox.