Train journeys are something that we look back at fondly. The hustle bustle of vendors as they sell their goods, bawling babies, kids running around while you just sit by the window and take in the landscape as it passes by you. The shared meals and the friends you make on the journey only make this experience even better.
Luxurious train trip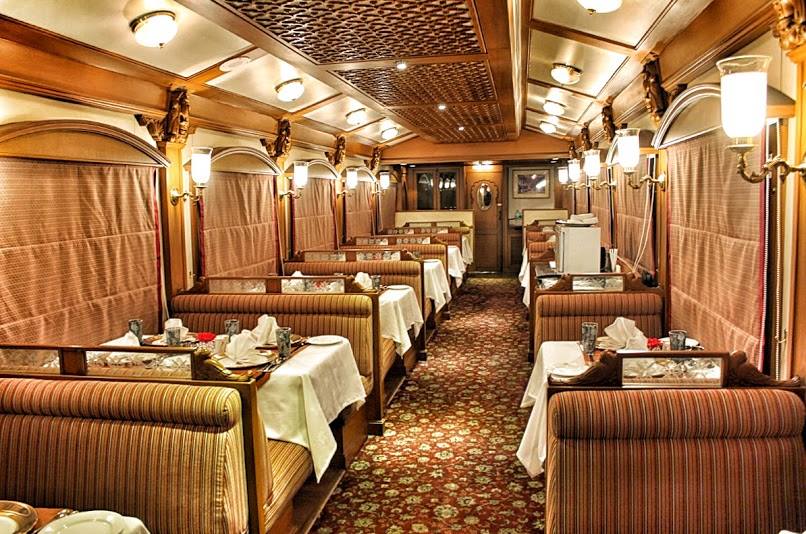 The restaurant inside Deccan Odyssey…
The luxury train, Deccan Odyssey wants to make this experience even better. They cater to people who love to be pampered in the lap of luxury and at the same time explore the country. It is almost like a cruise, only on wheels. The train takes one to the most beautiful and popular spots. The Indian Sojourn starts in Mumbai and makes it way to Delhi, while stopping on the way at Vadodara, Udaipur, Jodhpur, Agra, Sawai Madhopur and Jaipur.
The eclectic bag of destination makes this an interesting trip where people would relish on some royal delicacies, street food, shop and marvel at architecture all in the same breadth.
We start with the UNESCO World Heritage Site – Champaner and Pavagadh. There is tea at Laxmi Vilas Palace, boat ride on Lake Pichola, tour of the 'Blue City', a visit to the Taj Mahal – one of the seven wonders, a safari in the Ranthambore National Park, tour of the Pink City and much more.
Join the newsletter to receive the latest updates in your inbox.