Meghalaya, meaning Abode of the Clouds, is without a doubt, the most beautiful of the Seven Sister states of North East India. Surrounded by hills - the Khasi, Garo, and Jaintia hills, Meghalaya offers you an experience of unspoiled natural beauty.
Think pixie rainforests, living root bridges, roaring high waterfalls, mountain drives under dramatic clouds, spotless villages, mysterious natural caves, crystal clear rivers, bright blue natural pools, and the most ridiculously friendly people! If any of this sounds interesting, Meghalaya in northeast India is the place for you to be. Read on to know how you can go about planning a trip to this abode of clouds - Meghalaya.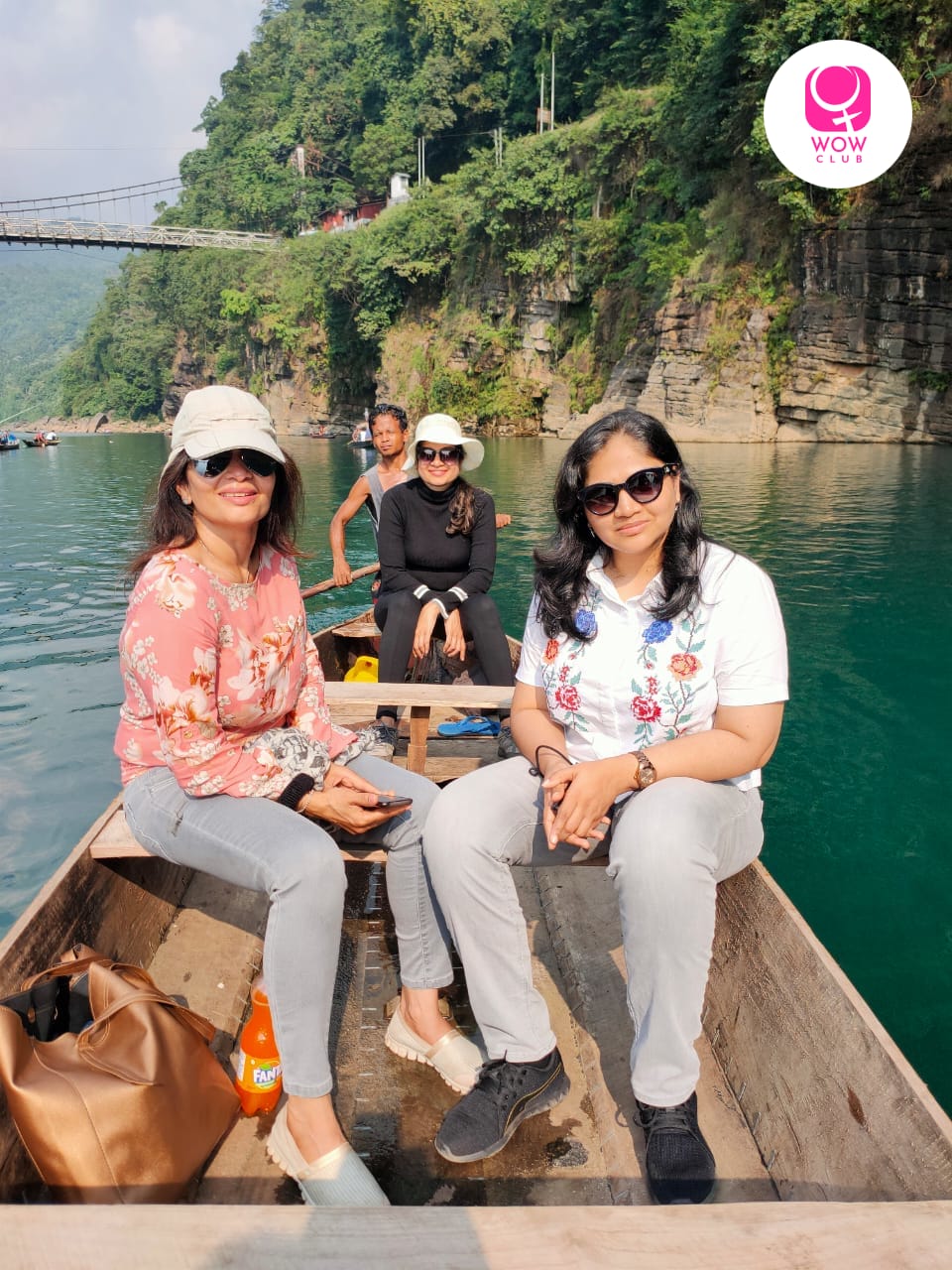 Contents
What is the best way to reach Meghalaya?
The best way to reach Meghalaya is to reach Guwahati in the Assam state of India. Guwahati has an international airport - Lokpriya Gopinath Bordoloi International Airport which is well connected by road, rail, and frequent flights from various parts of India. Once you reach Guwahati, you can take a private cab or shared cab to Shillong (capital city of Meghalaya) which is roughly 120 Kms or 3 hours away.
💡
WOW Pro Tip: It is advisable to take a private cab for the entire duration of your trip to Meghalaya right from Guwahati airport which will be far more comfortable and time-saving than looking for shared cabs or government buses at every point.
Note: Shillong, the capital city of Meghalaya does have a civilian airport 30 km away from the main city but the frequency of flights here is very low and they tend to be costlier. Flying to Guwahati and taking a cab to Shillong would cost you much less than taking a flight to Shillong.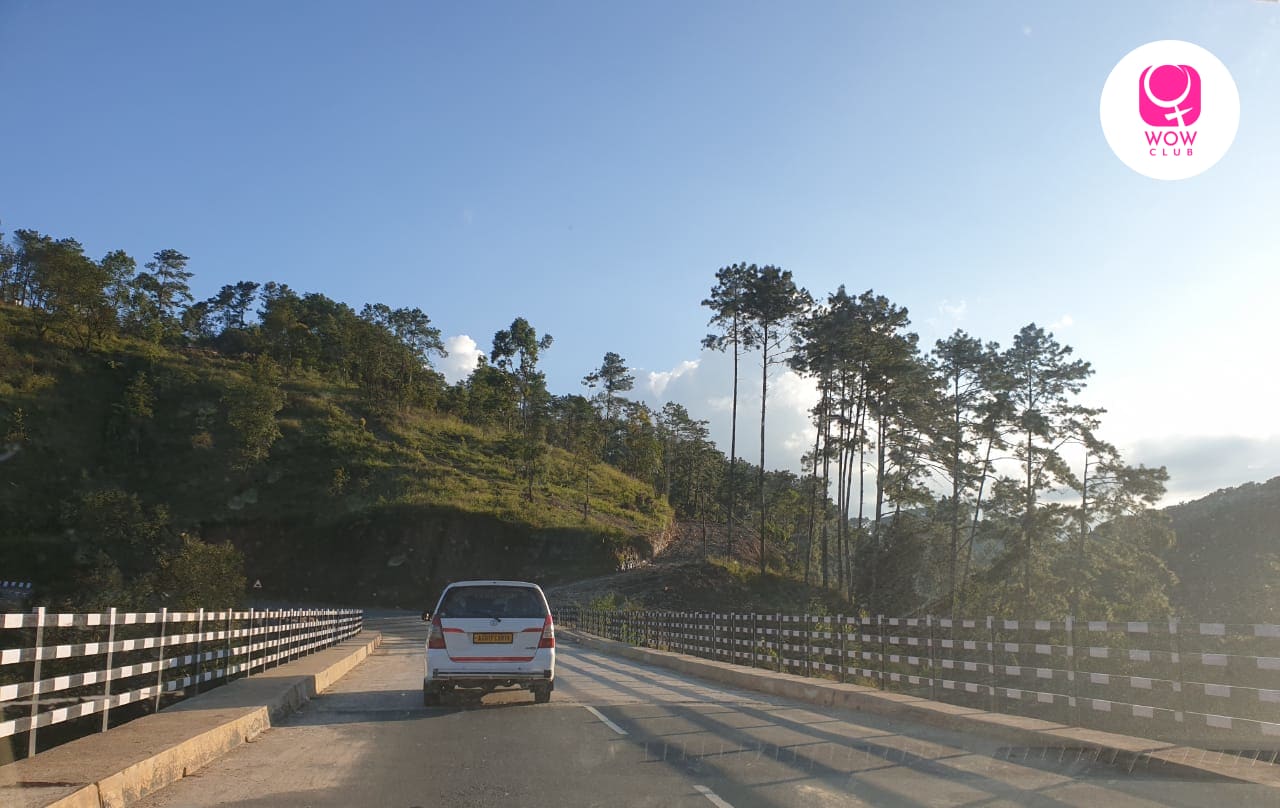 Which is the best month to visit Meghalaya?
The best time to travel to Meghalaya would actually depend on what you want to do there. Refer to the division of the calendar year below, to make an informed decision about the best time to visit Meghalaya.
Meghalaya in April– June - The sun kisses this showery state, making this time of the year perfect for explorers. The comfortably warm weather lets you satisfy your curiosity as you venture out.
Meghalaya in July – September - The state is drenched in showers of rain at this time of the year. The cascading waterfalls are in their full might. Most people might feel uncomfortable due to heavy rains but is the best time to visit if you are looking to kick back, relax and revel in the beauty of this rainy state while avoiding the crowd.
Meghalaya in October – November - This is the perfect time to witness the beauty of the state in its prime. Autumn also brings with it, mesmerizing cherry trees in full bloom. Adorned with pink and white flowers in this season, you will almost feel like you are in a Japanese garden.
Meghalaya in December – February – If you love the view of fog amid scenic surroundings, you must visit at this time of the year.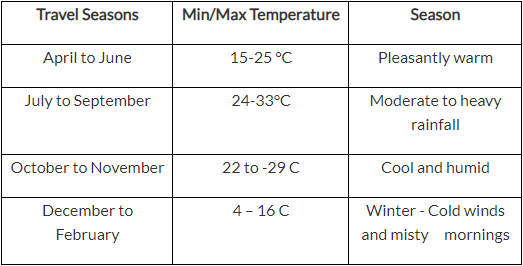 Which is the most beautiful city in Meghalaya?
Meghalaya will surprise you with the countless amount of attractions it has in store for you. Escape to lush green valleys and forests of Meghalaya, a pine-fresh mountain state in the Northeast. Here are some best places you MUST visit in Meghalaya in a span of 5-6 days.
Shillong
The capital city of Meghalaya state, Shillong, is truly a nature's paradise and should be on everyone's itinerary.
Due to its resemblance to Scotland, the British rulers famously named Shillong the "Scotland of the East."
Shillong is the most urban place you will find in the state of Meghalaya. Though it tends to be much colder than other parts of the state and is relatively crowded, especially because of roads are narrower.
Shillong does have some good places to see. A minimum of 2 full days would be required to cover Shillong and it is better to ensure Sundays are not part of it as many places such as all museums are closed on Sundays.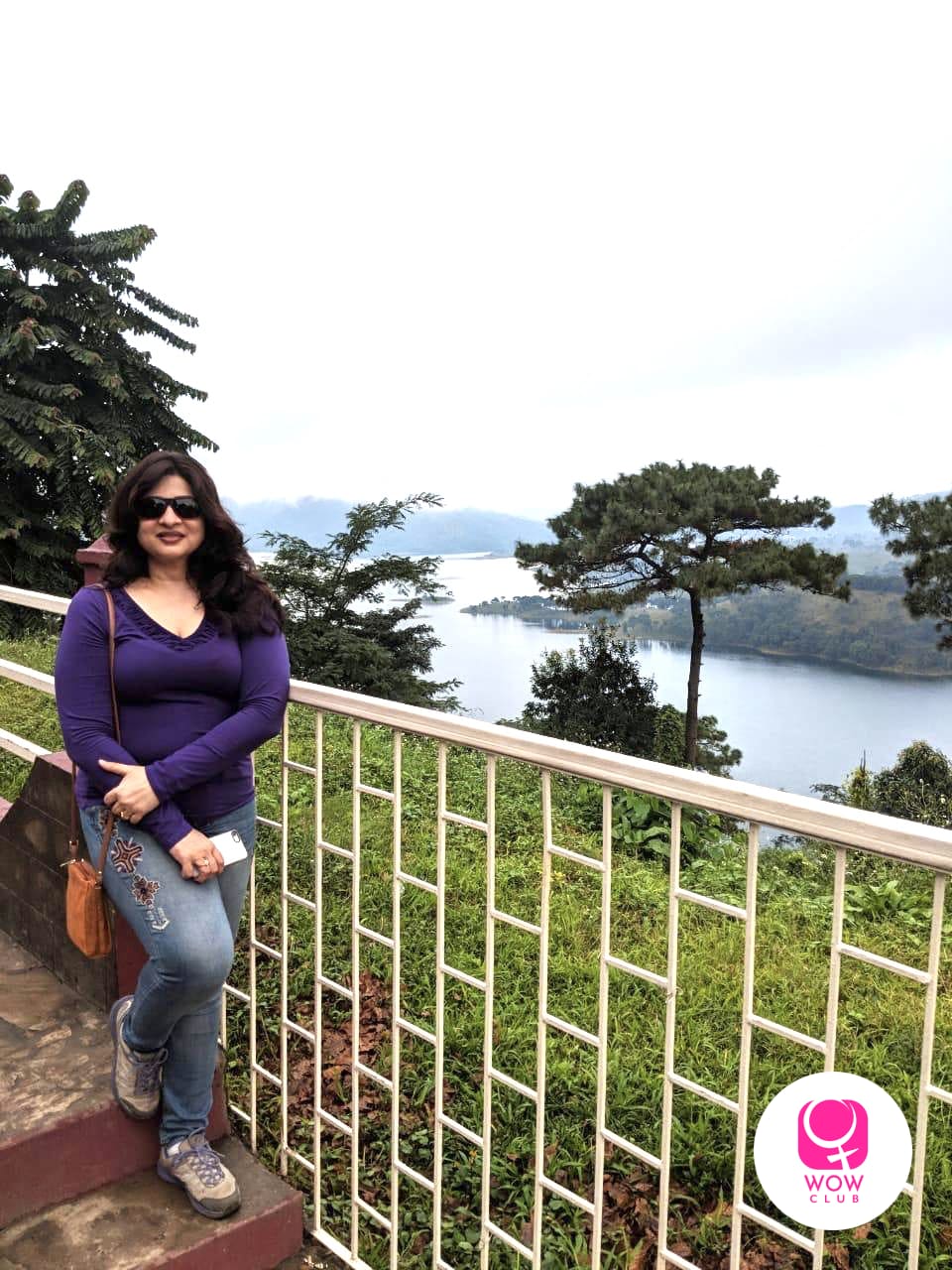 Why is Shillong famous?
Museums like Don Bosco museum - Feature art galleries, wide collections of handicrafts, artifacts, attires, ornaments, and weapons used by various tribes of North-east India. This is a seven-story building with seventeen different galleries, Air force museum - For The Patriotic Souls. Ever living museum & Rhino heritage museum
Lakes like Ward's lake - Perfect For Soaking In Tranquility and Umiam lake - Popular as Badapani, this is a sprawling man-made water body, formed by damming the Umiam River.
Waterfalls like Elephant falls -  a three-tier cascading beauty and the most spectacular waterfall in the city and Sweet falls.
For stunning views visit Shillong Peak - which happens to be the highest point of Shillong and Laitlum Canyon - literally translating into the "end of the hills", and is an ideal place for trekking enthusiasts, nature admirers, and peace seekers. Visit this hilltop viewpoint, and enjoy stunning views of gorges, distant hills, valleys, and zigzagging hilly roads.
Interested in Shopping? Areas around the Police bazaar and Lewduh market in Shillong are very popular for those interested in shopping. You can find winter clothes, handicrafts, handmade jewelry, and organic produce to take back home with you.
💡
WOW Pro Tip: Umiam Lake lies on the way from Guwahati to Shillong. It is roughly 20 kilometers away from the main city of Shillong. It's best to visit Umiam Lake as a stopover on your road trip from Guwahati to Shillong. Also, please note that the entry to Umiam lake closes at 5 pm.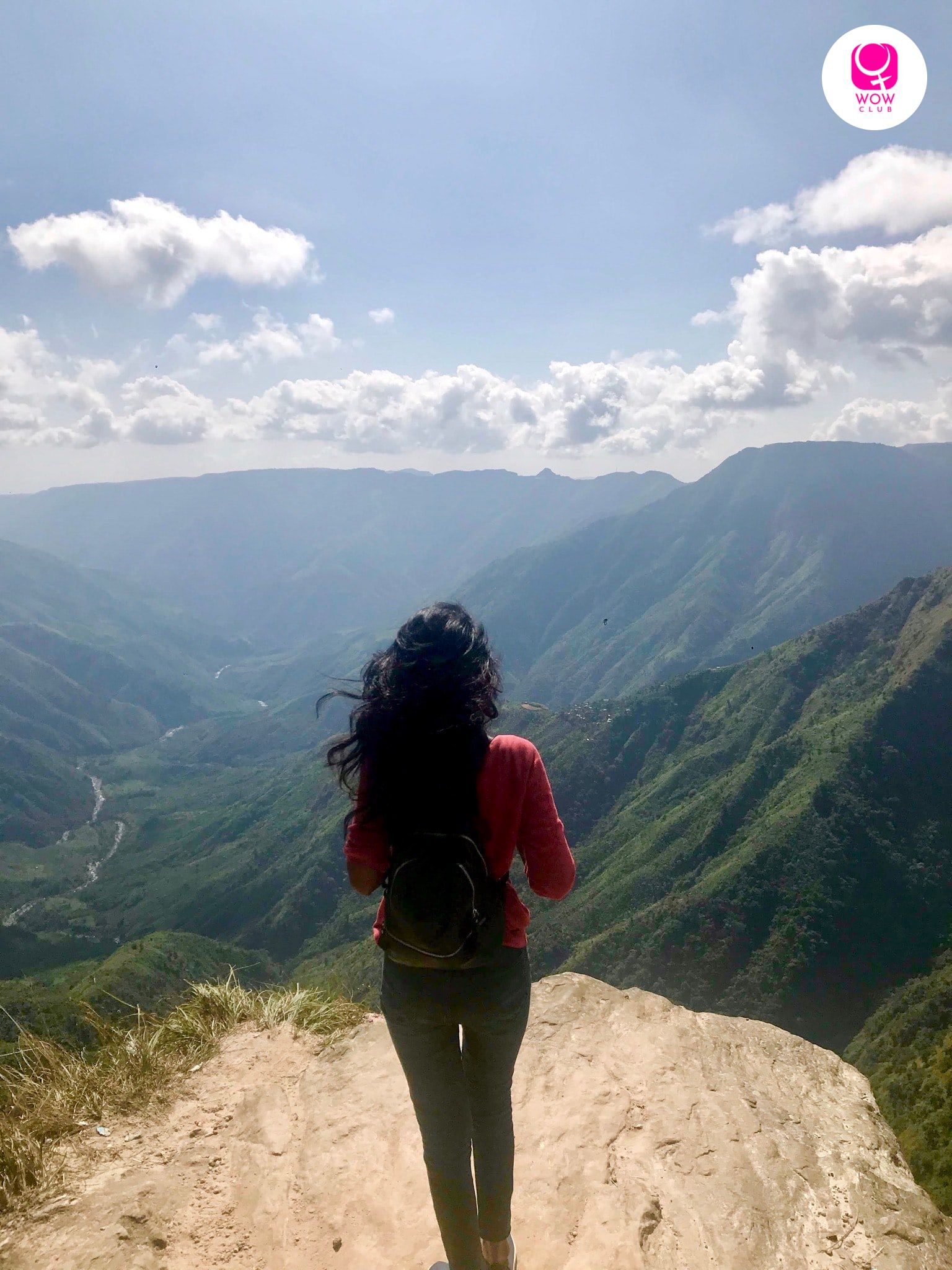 Cafes in Shillong
Jadot is a quaint little café that offers authentic Khasi delicacies. With plenty of vegetarian and non-vegetarian options, you can pick and choose the dish that calls out to you.
Cafe Shillong and Dylan's Cafe are good options for some downtime and to tune in to some rock playlist. (Shillong isn't called India's rock capital for nothing!)
💡
WOW Pro Tip: On your way from Guwahati to Shillong, break for lunch at Jiva Pure Veg restaurant on your way from Guwahati to Shillong.
Cherrapunjee / Sohra : The Rain Capital of the World
Nested deep within the heart of Meghalaya, the beautiful town of Cherrapunjee (also called as Sohra), known to be the second wettest place on earth.
It is endowed with vast stretches of verdant beauty, which houses some of the highest waterfalls in Asia along with mesmerising forest trails which are sure to to rekindle the spark of adventure in you.
Cherrapunjee would require a minimum of 2 full days - one for regular sightseeing and one for double decker living root bridges of Nongriat. Out of all the incredible places that Cherrapunji harbours, these are some you should not miss out on!

What is the famous of Cherrapunji?
Double Decker Living Root Bridge - The living root bridges are an ingenious mix of human innovation and natural wonder.
Nohkalikai Falls - Nohkalikai Falls in Cherrapunjee is the country's third highest waterfall, plunging from a dizzying height of 1,120 ft. You can not miss out on this one!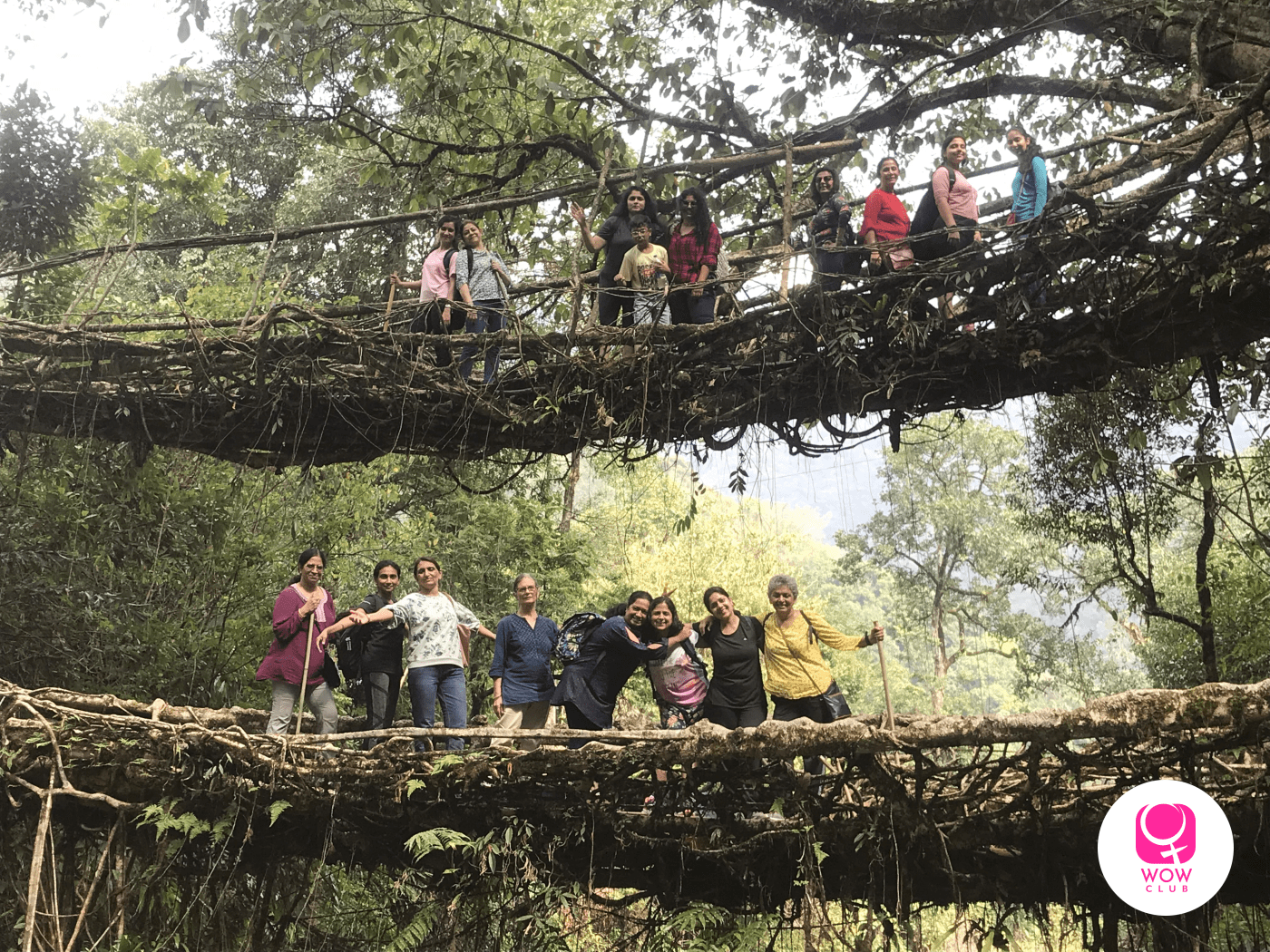 Seven Sisters Falls - It is essentially a cluster of seven different waterfalls, adjacent to each other. Locally known as Nohsngithiang Falls or Mawsmai Falls, this 315 meters high thunderous cascade is the fourth highest plunge waterfall in India and is one of the most magnificent places in Cherrapunjee.
Feel the Indiana Jones vibe while exploring prehistoric fossils within ancient caves like those of Mawsmai - if you've only just ventured into the world of cave exploration, Mawsmai Cave is an ideal place to start with.
Arwah - The cave features limestone formation, and fosters fossils of marine animals that go back several millions of years!
Krem Mawmluh - Fascinatingly, five different rivers flow within the walls of the cave and merge near the entrance to create a small pool. Krem Mawmluh is perfect for you if you are an adventure seeker and packs enough thrill to get your heart racing.
Apart from waterfalls and caves, Anthropological museum at Ramakrishna Mission, Thangkharang park etc. give some diversity to the type of sightseeing places Cherrapunjee has to offer.
💡
WOW Pro Tip: Be warned, it's approximately 5-6 hours trek from the base, Tryna village to Nongriat Village, where the double-decker bridge is located. It's roughly 3,500 steps journey one way. You can also choose to proceed to see the Rainbow Falls, a further 2 hour trek uphill.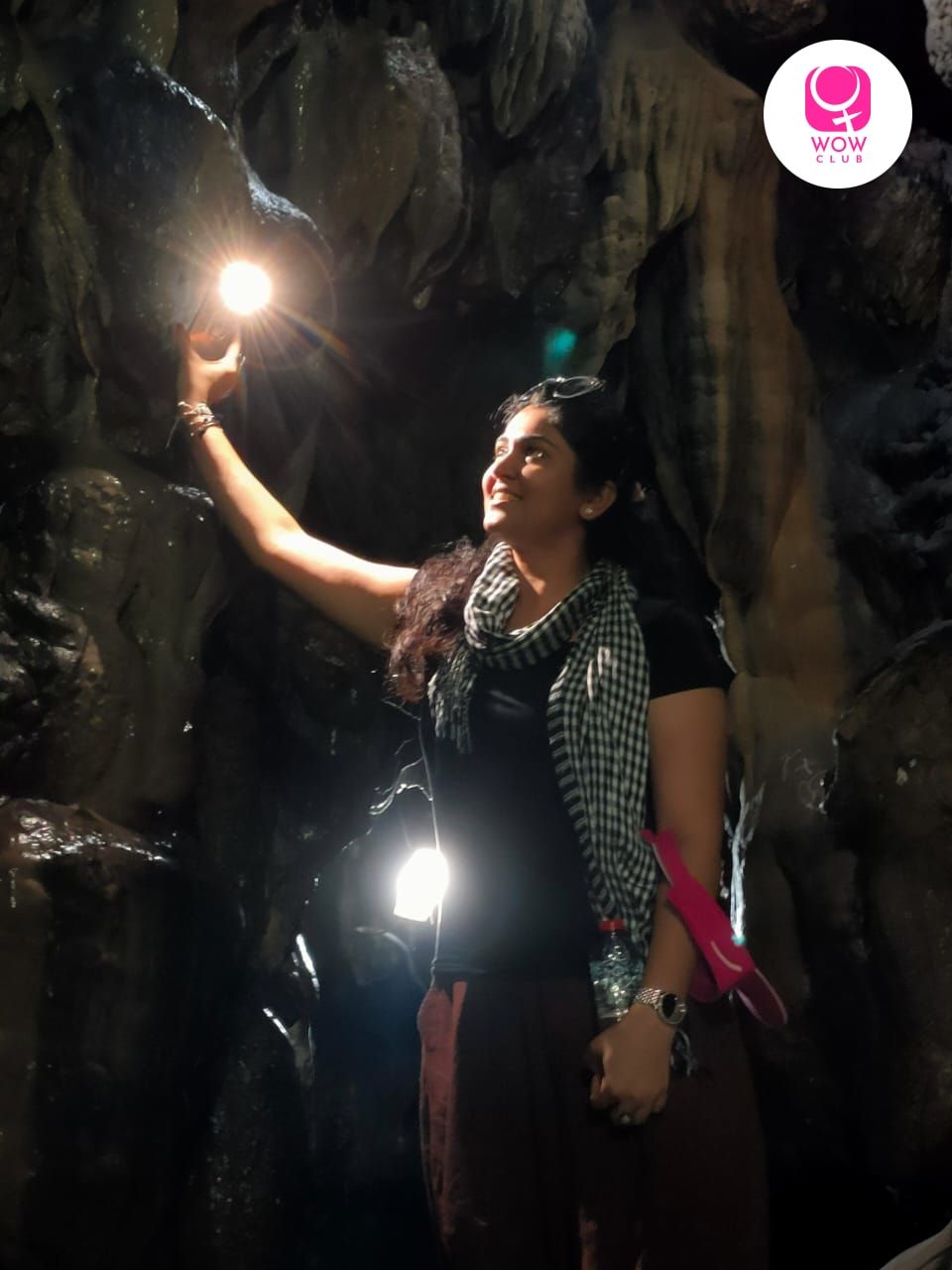 Best restraunts in Cherrapunji
Sky Grill, the in-house restaurant in Polo Orchid Resort - An all-day dining venue, this well-maintained café will soak you well, thanks to its spacious seating arrangement and the splendid view of the surrounding spiraling hills and cloud-covered valleys
The restaurant in Coniferous Resort is also a fine option if you are looking for a plate of ethnic Assamese or Khasi food.  The traditional Khasi décor of the restaurant will add more to your memory of this place.
Jiva Grill, the in-house restaurant in Jiva Resort - a MUST TRY for it's perfect location, delicious food and great hospitality!
How about an exclusive vegetarian restaurant in the middle of Cherrapunjee? Say hi to Orange Roots, the undisputed champion of vegetarian food in Cherrapunjee, specializing in combo meals, plate meals and thalis.
Mawlynnong Village
This village was adjudged as the 'Cleanest Village in Asia' in 2003 by Discover India magazine and later popularized by BBC in 2005. This place is 81 km (2.5 hrs) away from Cherrapunjee. There are numerous root bridges around the village. The highlight of this village is the Sky Watch - a bamboo structure that is quite high and enables you to view the Bangladesh plains from atop.  2-3 hours are more than enough to explore this village.
💡
WOW Pro Tip: Mawlynnong village, no doubt is very beautiful but has become very commercial and touristy now. Every second house of the village is now a homestay. The area looks more like a well maintained garden with village based theme. There isn't much to do at Mawlynnong Village, but if the prospect of visiting 'Asia's cleanest village 'excites you, then stop by on your way to Dawki from Cherrapunjee.
Dawki
2 hours away from Mawlynnong Village, is the Indo-Bangladesh border town of Dawki. Dawki also stands as a connecting point of two major hills which are Jaintia Hills and Khasi Hills.
Why is Dawki famous?
A  town famous for its magnificently clear river river waters, where during most times of the year, one can see with their naked eye straight to rock bed beneath because of its clarity! The tiny island by the river serves as an open border and you can see Bangladesh on the other side of a flimsy flag post indicating the border. You can spend some time boating over the crystal clear water of Umngot River.
Fun Fact: People stand at the imaginary border and buy snacks from the local Bangladeshi  vendors from across the border before being schooled by a BSF officer to come back into India!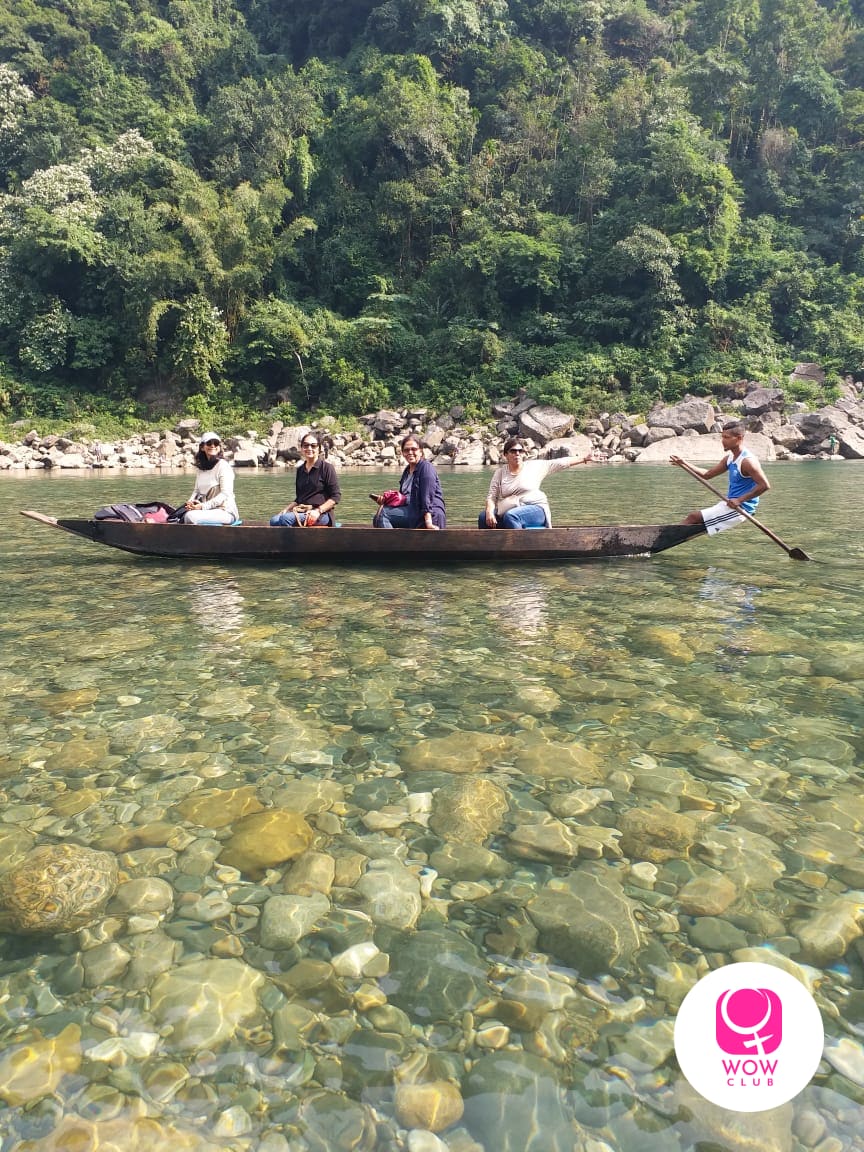 Shnongpdeng
7 kms ahead of Dawki lies another small village, Shnongpdeng which is where you can spend a night besides Umngot river and enjoy doing some adventure sports. Shnongpdeng has become an epicenter of adventure activities.
Lot of campsites have cropped up in Shnongpdeng and a village before it called Darrang. These campsites usually offer water sports such as country boat rides, kayaking etc.
Note that it is strictly forbidden to use any motor driven boat on Umngot river. One can also choose to stay in couple of homestays available here. This area is also famous for annual water sports festival that happens around Feb-April.
Add-On Destinations:
This was the tiny glimpse of Meghalaya over a period of 5-6 days, but here are some other recommendations for you to look up if you have more time in the beautiful State!
Mawphlang
Mawphlang is enroute from Shillong to Cherrapunjee and is mainly famous for its sacred forest.
You can also spend some time at Khasi heritage village and Mawphlang dam. The famous David Scott trail also starts from this region and if interested in trekking, you can do it if it is not too rainy. Mawphlang would require 2-3 hours of sightseeing time plus 4-6 hours of trekking time if you wish to do it.
Mawsynram and Mawlyngbna
Tagged as the wettest place on Earth, Mawsynram is a peaceful little village lapped in the East Khasi Hill district, about 15 km from Cherrapunji.
The only thing you can do here is visit Mawjymbuin cave and get a photo clicked with the sign board saying wettest place on earth.
But once you go little further around 15 kms from Mawsynram, you will reach Mawlyngbna village. Areas around this village have quite a few interesting things.
It has Umkakhoi which is a lake surrounded by interesting boulders and their formations. You can do some adventure sports such as Kayaking and Zip lining here.
The famous carnivorous Pitcher plant is a common sight here, Split rock is interesting and you can also take Luri-Lura trail for trekking. While there is no need to stay at Mawsynram, one night stay in Mawlyngbna would be adequate for all activities and trekking here.
Jowai in Jaintia hills
There are few places of interest all around Jowai (capital of Jaintia hills) such as Monoliths and Durga temple in Nartiang, few lakes and caves etc.
Recommend  waterfalls: Krang Shuri waterfalls would blow you away and make your detour to Jaintia side of Meghalaya worth it. While spending one night around Jowai would be recommended, you can spend few hours in some key attractions and go ahead to next destination in case you have less time.
Kaziranga National Park
How about spending this extra time by clubbing your holiday in Meghalaya with Kaziranga in the Assam state? Sounds like a great idea, isn't it?
Famed as a haven for the one-horned rhinoceros, one of India's great wildlife emblems, Kaziranga National Park encompasses grasslands, wetlands and forests for about 60km on the south side of the Brahmaputra River.
Its 2400-plus rhinos comprise 70% of the world's population and you're highly likely to see some on any safari in the park (usually grazing peacefully). You'll probably also spot some of the park's 1100 elephants, and if you're very lucky, a tiger (over 100 live here).
Apart from this, Kaziranga is home to 35 species of mammals which include these rare large mammals: the wild water buffalo and eastern swamp deer. Kaziranga is also the home to about 500 species of birds.
A birding enthusiast will find the greatest treats of their life and enjoy every moment of exploring the park.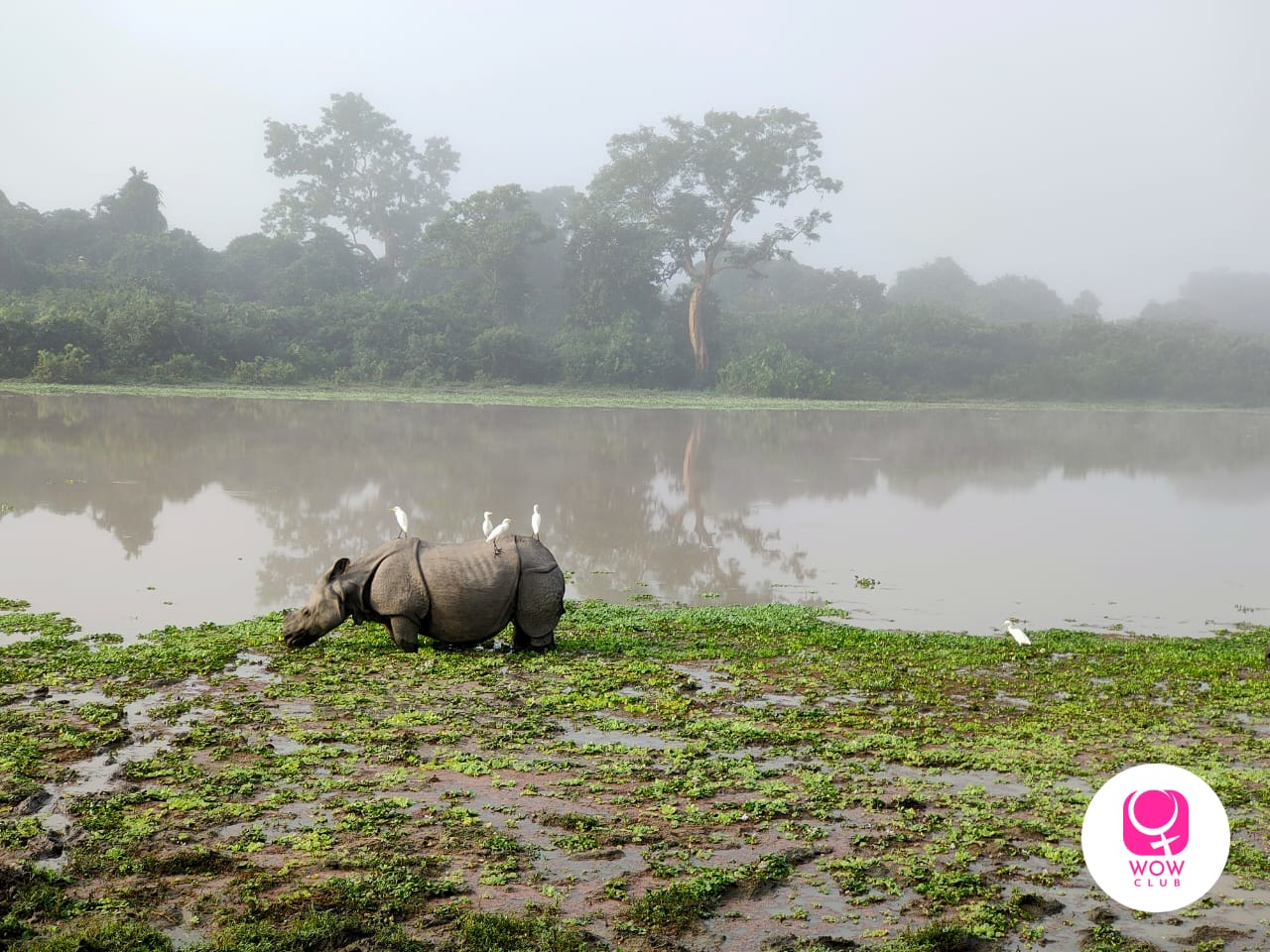 Safari Options:
Kaziranga National Park has divided its Safari Routes into three distinct zones. These routes are the Western Range, Central Range and Eastern Range.
Kaziranga Forest is probably the only national park in India which provides three Safari options. You can take a jeep safari, elephant safari and even a boat safari (only in the eastern rage)  as a part of your exploration. The park remains open for the safari in between 05:30 AM to 04:00 PM only. The Elephant Safari starts at 05:30 AM while Jeep Safari starts at 7:30 AM.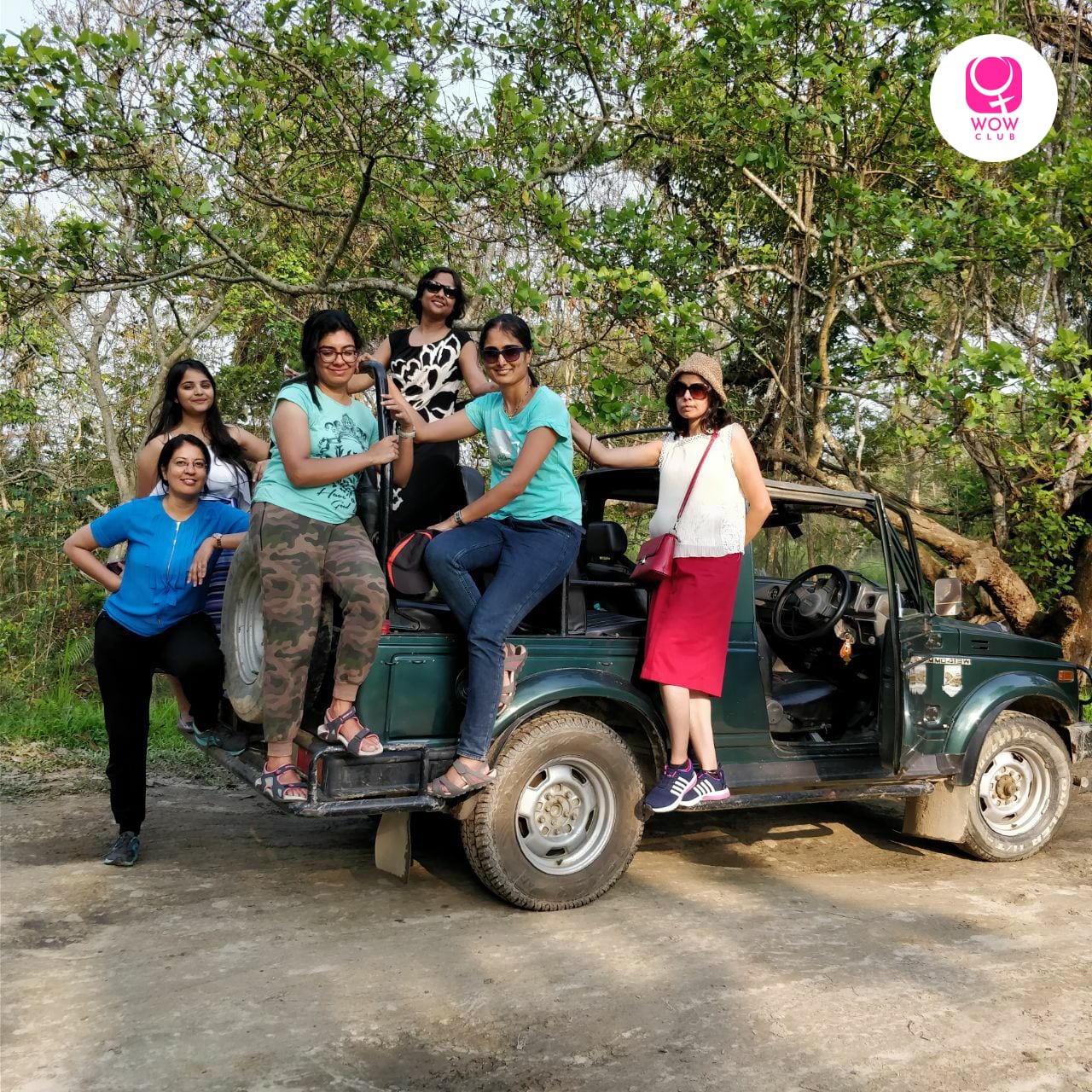 Best Time to Visit Kaziranga National Park
Kaziranga experiences tropical climate; thus the best time to visit for a wildlife tour would be either Summer - April to June which is very hot and humid or Winters - November to January when Kaziranga experiences warm days and cold nights. One should avoid visiting here during the rest of the months which is monsoon season as this is when the water of the Brahmaputra River floods the park. Also, the park remains closed for visitors from 1st May to 31st October.
How to Reach Kaziranga National Park
By Road – If coming from Guwahati - it is at a distance of 5 hours. If coming after your trip to Meghalaya - it is at a distance 6-7 hours from Cherrapunjee.
By Flight – Guwahati Airport is the closest airport which is at a distance of 5 hours from Kaziranga National Park. A lovely scenic drive takes you all the way to this beautiful heavenly destination
By Train – Guwahati Station is connected with the major cities of India. You can find trains from Mumbai, Bangalore, Delhi on daily, weekly and bi-weekly basis.
How can I prepare for Meghalaya trip?
Ensure you have woollens as Shillong tends to be the coldest place in state. Cherrapunjee or other places closer to Bangladesh are relatively warm due to plains nearby
Shillong seems to be struggling with rising population and traffic on roads.  It is hence recommended you start early in morning to get in or out of city. If you start after 9AM, it can take you an hour or so (depending on where you start from) to get out of the city on your way to your next destination. Also remember that sun sets very early, at around 4 pm in the North Eastern states of India. Make sure you plan your sightseeing according.
Smoking and usage of plastics are strictly banned in Mawlynnong. Even the tourists are urged not to throw their plastic bottles in the waste bins and to carry them out of the village themselves.
You should get ATMs in most of the state but carrying more cash would be advisable as credit cards would not work in most rural areas
Bamboo decor pieces, Shawls & stoles and organic produce are the shopping specialties of this place. Look out for the variety of jams and jellies made of Sohiong, peaches and pineapple.
Hope this travel guide to Meghalaya helps you plan your trip better. And if planning it yourself sound like hassle, then just hop on and join us on our next trip to Meghalaya and Kaziranga to get the best of both worlds.
Join the newsletter to receive the latest updates in your inbox.