The road to Ladakh is a surreal journey taking you to place where the sky is a palette of vivid blues which contrasts magically with the surrounding colorful prayer flags, snow-brushed mountains, tremendous scenery with green villages and friendly locals. Ladakh is both cold and dry, it faces a long winter from October to April of frozen landscape but yet very beautiful, and a short, hot summer from May to September when the precious glaciers melt. The beauty of this place is beyond words, you yourself will be speechless once you're here!
The land of high passes is a union territory and surrounded by Karakorum ranges in the north and Himalayan ranges in the south. Ladakh has 2 districs mainly - Leh & Kargil.
Contents
How to Reach Ladakh
The connectivity is through Air and Road. They have the Kushok Bakula Rimpochee Airport, Ladakh airport is one of the highest airports in the world situated at 3,256 m above mean sea level operating domestic flights. By Road there are two options available, firstly Manali to Leh Highway and secondly Srinagar to Leh Highway.
WOW Pro Tip: As very few cities have proper connectivity through air to Leh, it's a good option to come to Delhi or Mumbai as there are daily direct flights from these 2 cities.
Now, let's get to know about the two different road options :
A road trip should be done on the onward journey and return via air which gives you a chance to experience the road trip and as well as a relaxed way of returning home towards the end of the journey. It is possible to hire a vehicle that may be picked up from Srinagar or from Manali till Ladakh. The following rates are mentioned to provide an idea to hire a car like Innova.
Manali - Sarchu - Leh @ Rs 29,000/- for 02 Days.
Srinagar - Kargil - Leh @ Rs 23,000/- for 02 Days.
A. Manali - Leh : This route remains open from the starting of June till mid October with a distance of 473 km. On your drive you'll be crossing Tandi Keylong, Jispa, Darcha, Baralacha La etc. You can hire a car/gypsy/jeep or opt for a public transport like Buses which run between Manali and Leh are managed by Himachal Pradesh Tourism (HRTC).
Manali - Sarchu (225 kms) : Leave for Sarchu driving in the greater Himalayas and your first stop will be at Rohtang Pass. Resume your drive crossing Tandi Keylong, Jispa, Darcha and Baralacha La Pass. The driving time will be approximately 8 hours.
Sarchu - Leh (250 Kms) : Drive to Leh crossing Lachulung La Pass, Pang Village and Taglang la Pass. The driving time will also be approximately 8 hours.
WOW Pro Tip : For a road trip to Ladakh, preferrable months are July to September as these are the peak summer months and probability of finding snow on highways is very less.
B. Srinagar - Leh : This route remains open from mid June till November with a distance of 434 km. The highway of NH1-D connects Srinagar to Leh. For this option too you can hire a car/gypsy/jeep or opt for a public transport like Buses managed by Jammu & Kashmir State Road Transport Corporation (J&K SRTC) between Srinagar and Leh. Here's a WOW Itinerary offering you the captivating Kashmir along with Ladakh.
Arrival at Srinagar : Arrive early morning to Srinagar and begin your sightseeing in Srinagar of Mughal Garden, Nishat Garden & Shalimar Bagh. Later enjoy Shikara ride on Dal Lake in the evening. You can even choose to stay overnight in a houseboat.
Srinagar - Kargil (210 km) : Begin the drive to Kargil for approximately 6 hours , soon after leaving Srinagar you'll enter Sonmarg, which means "Meadow of Gold", continue the journey via Zoji La Pass (11,575 ft). On the Road to Kargil, also visit Vijay Samarak (Kargil War Memorial) and the legendary Tiger Hill.
Kargil - Leh (224 km) : Start the journey for Leh and enroute visit Lamayuru Monastery which is one of the oldest monastery of Ladakh. The monastery is famous for its rich wall paintings, Murals, scriptures and Statues of different forms of Buddha and other Buddhist Dities. Further drive and visit Alchi Monastery, Sangam which is the confluence of two rivers and Magnetic Hill. The drive will be for approximately 5 hours.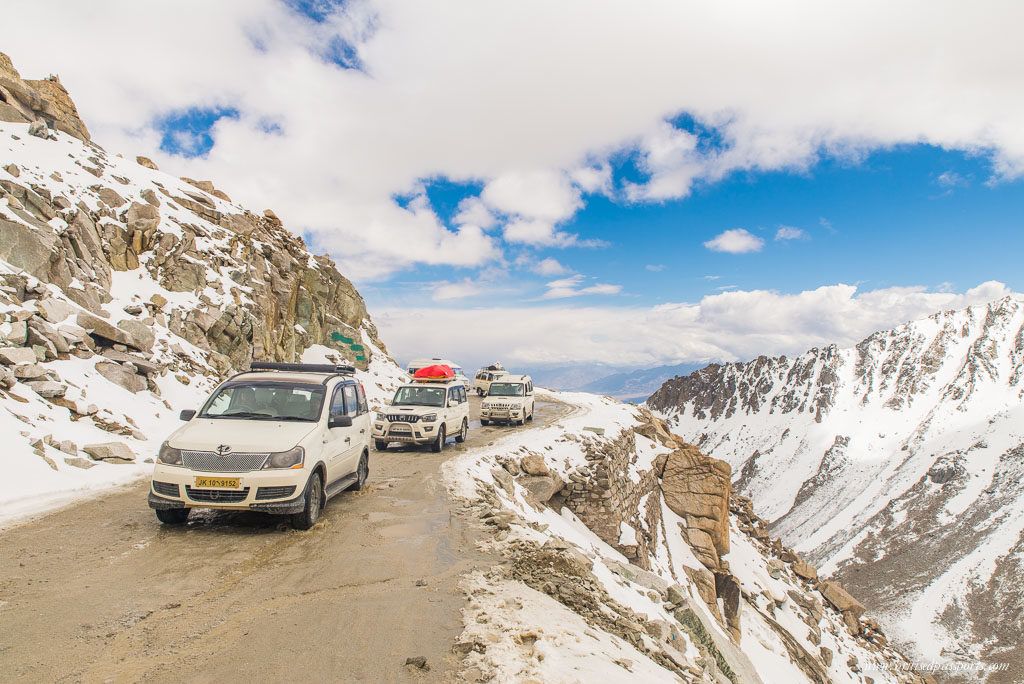 Which route for road trip to choose...Manali to Leh or Srinagar to Leh?
As you must have heard before that Leh Ladakh trips are not about the destination but about the journey which is absolutely true! Both the routes have got eye catching and jaw dropping nature views. These kind of trips also challenge you to be physically and mentally strong throughout the rugged terrains and slightly unpredictable climatic conditions. Driving up to Leh, is a very nice method of getting acclimatized gradually as you drive through the valleys and mountain areas, your body slowly gets used to the atmosphere as compared to when you suddenly land up at Leh airport.
Manali to Leh
Best to go for if you're an adventure junkie
Challenging terrain that leads up to Leh
Most biker groups commence their journey from this route so as to experience the thrilling ride
Choose to do camping at Jispa or Sarchu, take nature walks and sing classic campfire songs together
Srinagar to Leh
Best to go for if you wish to explore Jammu and Kashmir as well
The Altitude increases in a gradual manner and your body gets more time to get acclimatized
Low risks and more comfort
Less distance to be covered
Incase you don't want to bear all the tension of framing an itinerary or booking places, just let us know, we're here for you. Just click on this link.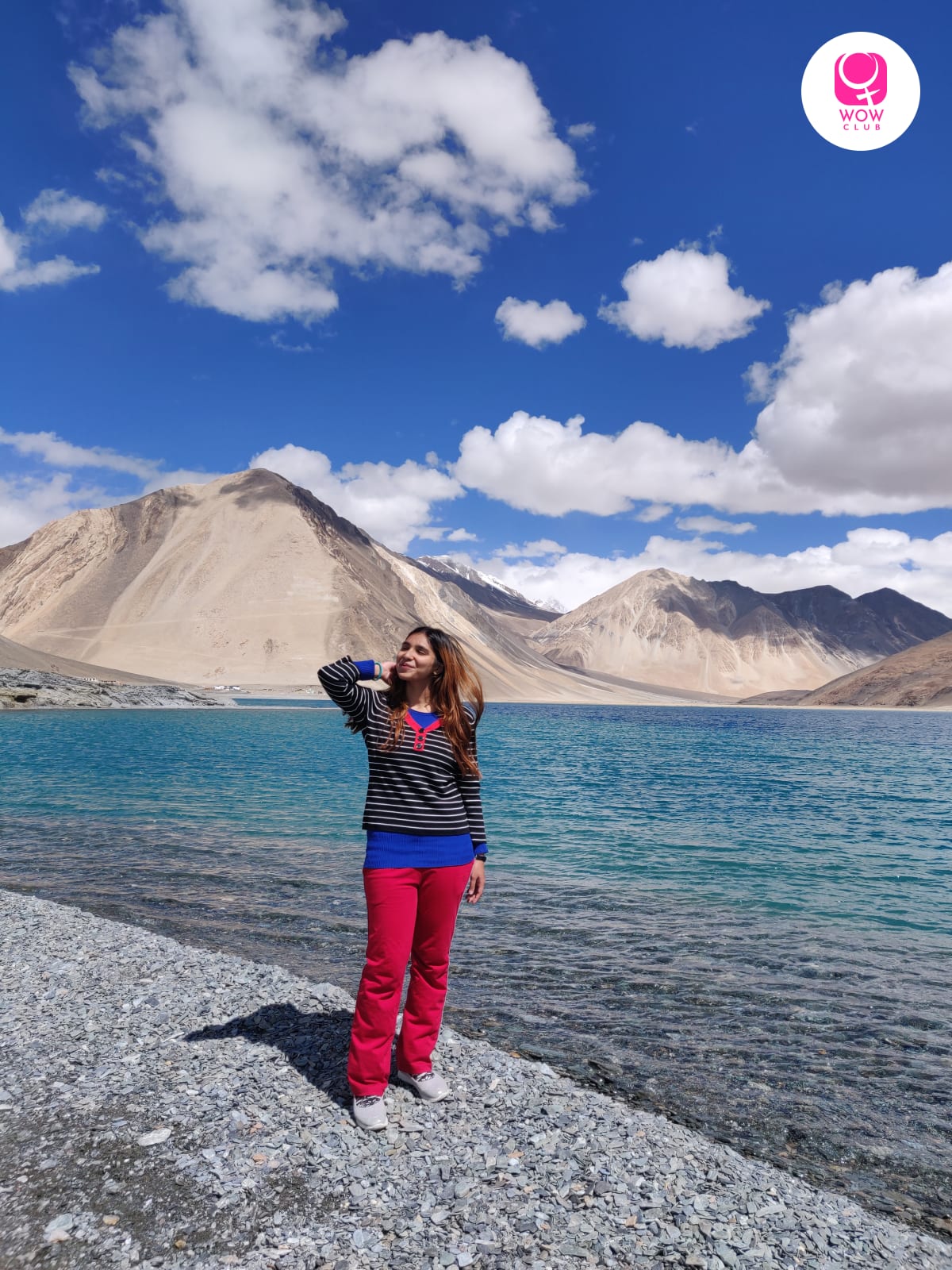 Ladakh Travel Health guide
One of the most common sickness noticed among first timers is Acute Mountain Sickness (AMS). It extends by ascending the mountain ranges, AMS is led due to reduced oxygen levels and air pressure, if AMS is not taken care of then this will spoil your whole journey. Symptoms of AMS are headache, vomiting, sleeping difficulty, dizziness, shortness of breath, fast heart rate. Few precautionary tips :
A. Number one rule is to stay hydrated by drinking plenty of fluids.
B. Strictly avoid intake of alcohol.
C. Camphor acts like a portable oxygen cylinder and clears up your mind every time you inhale it. Carry Camphor in a small piece of cloth and inhale it or else carry Vicks Inhaler as camphor is present in it.  
D. Walk Slowly, best to take baby steps and avoid running.
E. Eat regularly and eat light.
F. Carry chocolate or energy bars, chewing gums and have them regularly in the journey to avoid nausea or tiredness.
G. Keep medicines like Diamox (For AMS) also for headache, stomach ache or for an upset stomach, Volini Spray.
E. Do not spend more than 20-30 minutes on Khardung La Pass or Changla Pass' top as it can trigger altitude sickness.
Hotels in Ladakh
Picking a hotel is an essential part of planning a trip cause after a tiring day you just want to lie down and relax in a comfortable environment.
Spic n Span Hotel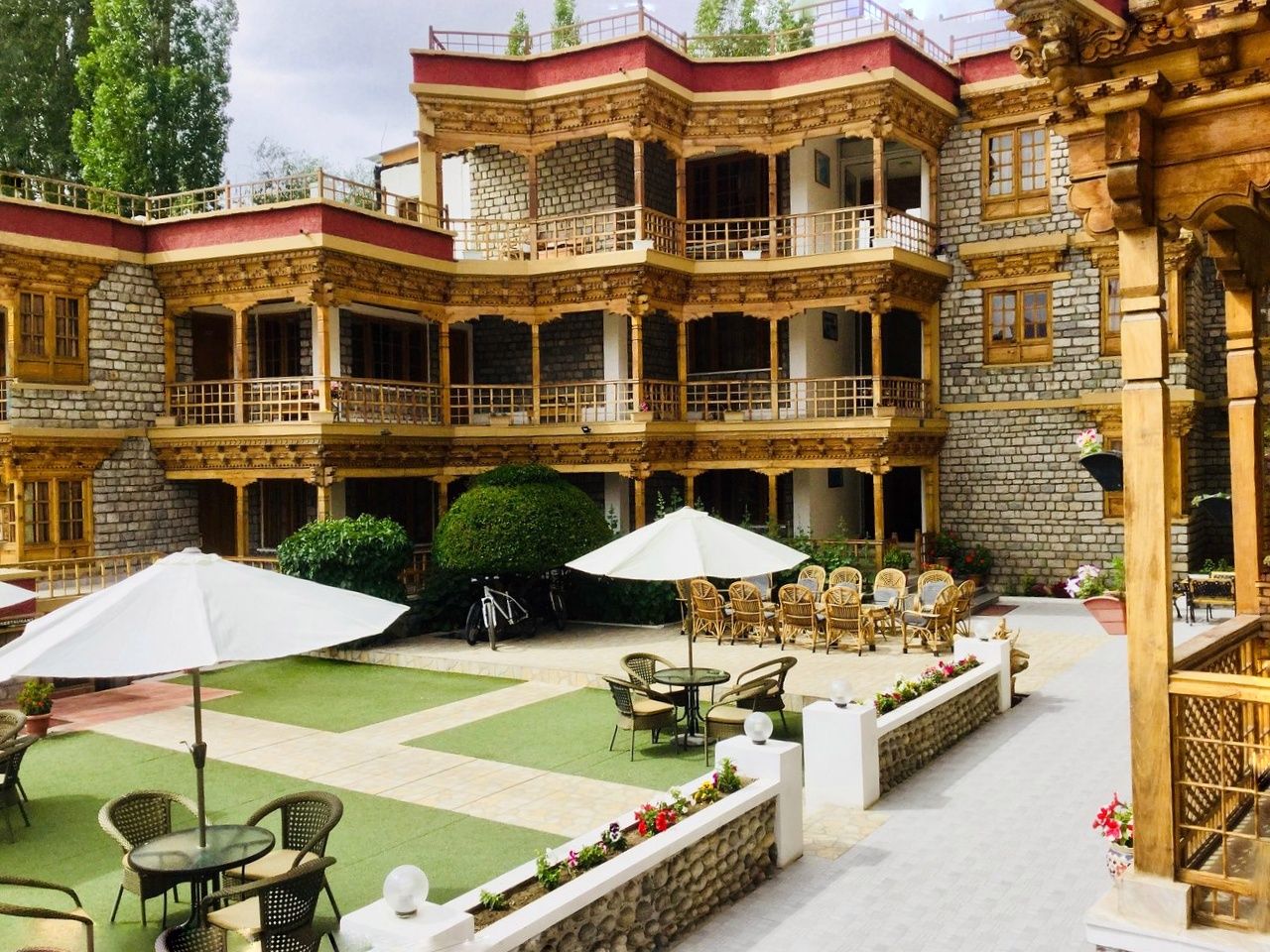 Spic N Span is one of the oldest in Ladakh, they redefine Ladakh Hospitality. Check out their website to know more about them.
2. The Abduz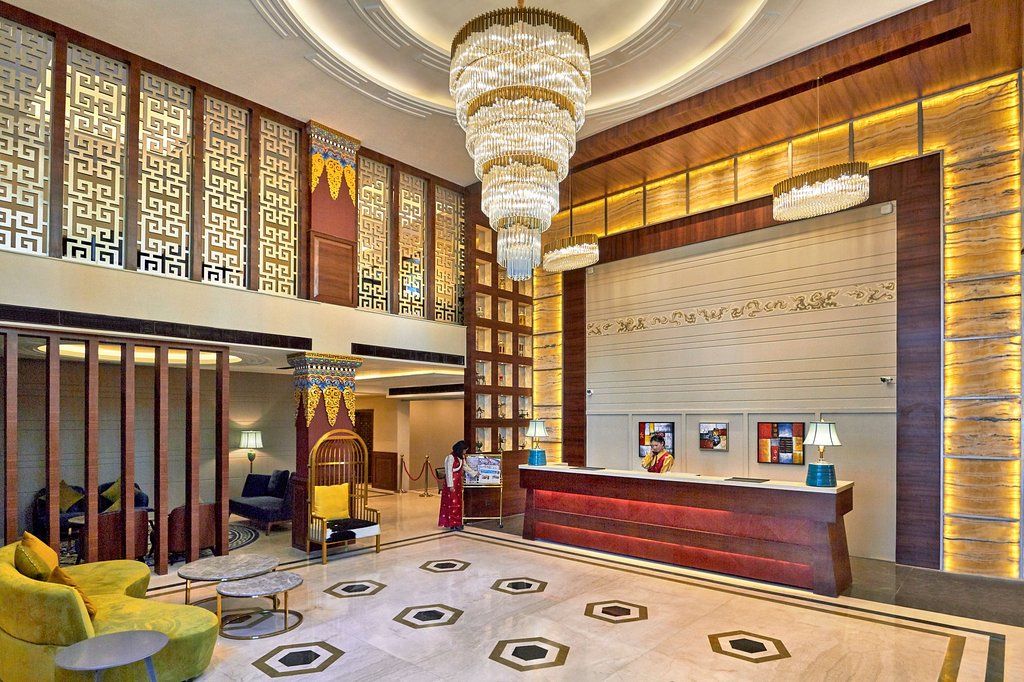 A part of the Spic N Span group and a newly constructed property offering comfortable yet luxurious stay in Ladakh. Check out their website to know more about them.
3. The Grand Dragon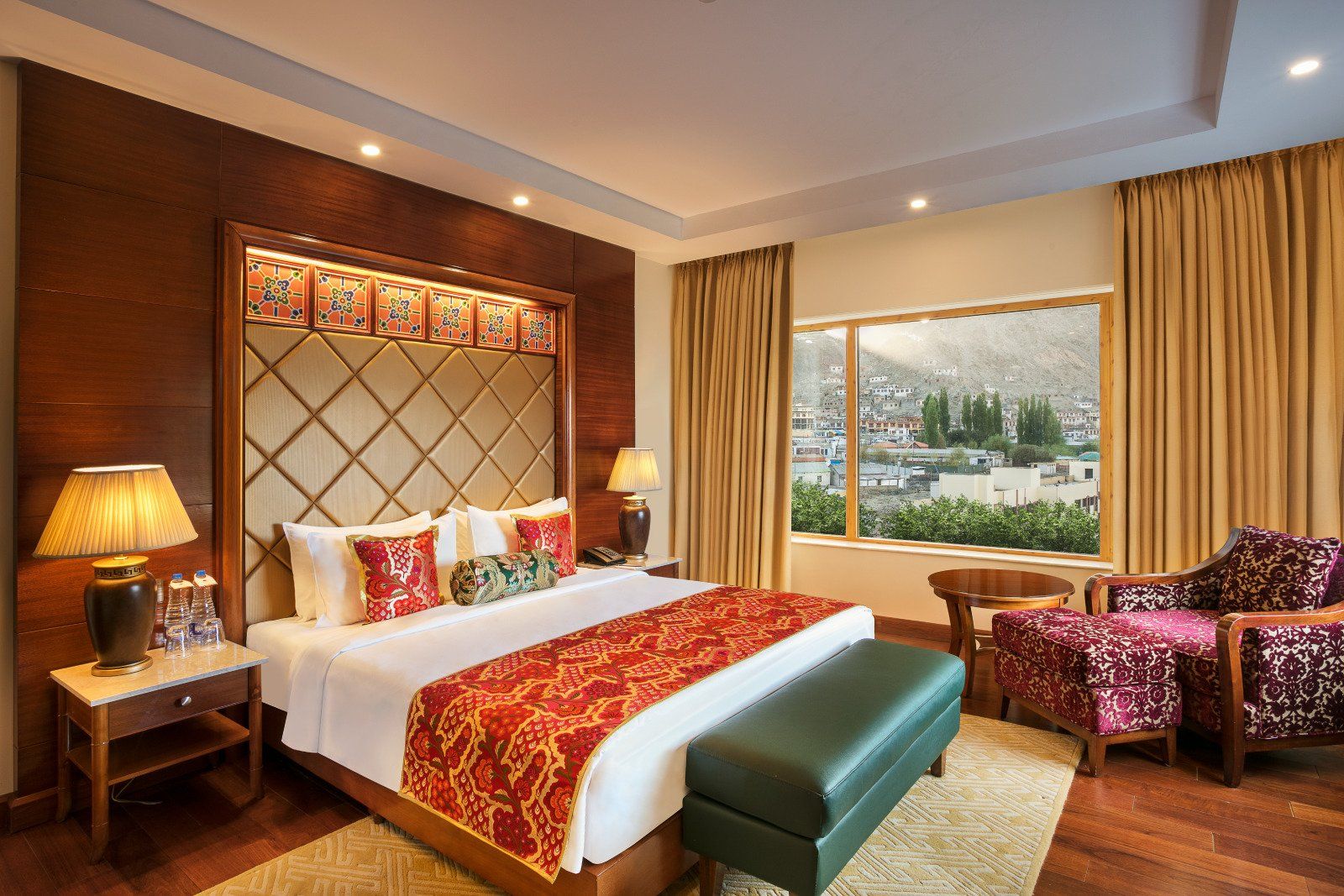 The Grand Dragon hotel offers spacious rooms with mountain views. Check out their website to know more about them.
Few other suggested hotels are :
Grand Himalaya
Royal Ladakh
Hotel Ladakh Palace
Go on and transfer to a world of complete solitude admiring the mountains, the snow covered peaks, the streams flowing by and the deep valleys. Monks in maroon robes, men trailing behind herd of sheep and the lilting mountain music, are some of the common sights and sounds of Leh & Ladakh.