Pondicherry, is a quaint little place located 160 kms south of Chennai, Tamil Nadu. True to its tourism tagline - 'giving time a break', Pondicherry provides its visitors calm, quiet and peaceful atmosphere. From yoga and meditation to pottery or just sitting by the beach, there are numerous ways to unwind in Pondicherry.
There's a little piece of France in India and it's called Pondicherry. The French colonized the place a long time ago but some of that allure still hovers in this union territory. As you walk around, especially in the town's old French quarter, you might have a momentary lapse as to whether you are in India or France! The architecture is intriguing, to say the least and is mostly French-inspired.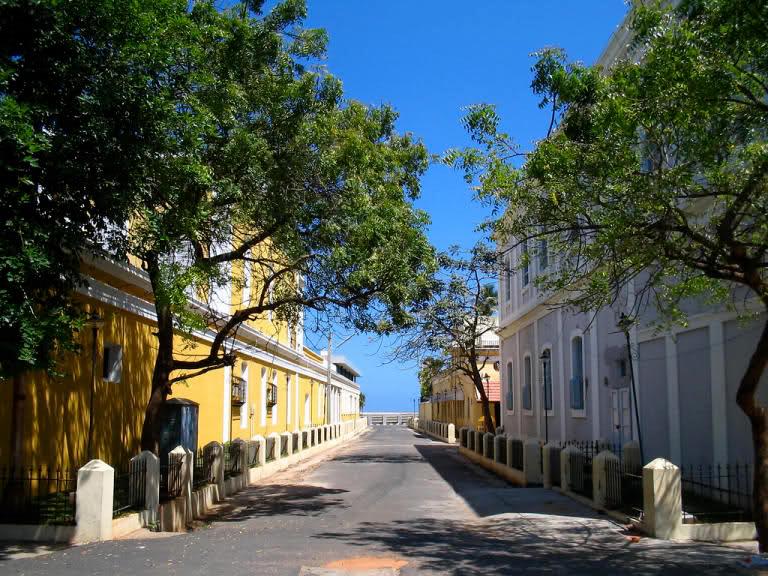 If you're still not convinced that you should be visiting Pondicherry soon, here's a travel guide to Pondicherry and a list of 9 BEST things to do in Pondicherry that will change your mind:
Contents
Best Things to do in Pondicherry:
Brimming with unspoiled beaches, heritage buildings, French and Tamil quarters, ancient temples and churches and a colonial ambience, Pondicherry has a plethora of things to do and see. Irrespective of who you visit with and what you seek, Pondicherry will never disappoint the explorer in you! Here are our recommendations.
1. Soak up the sun and salt at the beaches - Pondicherry boasts unblemished, serene beaches, where beach lovers can kick back, relax, soak up the sun and sand and watch the world go by. For those looking for water sports, Paradise Beach and Karaikal Beach are perfect, for those wanting to go surfing, Serenity Beach is the best spot, while for those looking for a quieter stretch of sand, Mahe Beach is for them.
And, if you're for  looking for ample space to sit back, relax or stroll through the long walkway surrounded with a myriad of sea-facing cafes, restaurants and food carts bordering it, Promenade Beach is ideal for them. Plus, watching the sunset at this beach is heavenly, when glorious orange and pink hues reflect the turquoise waters.
WOW Pro Tip - Paradise Beach is accessible only via a boat ride of 10-15 minutes from the Chunnambar boathouse. This boathouse lies along the highway between Cuddalore and Pondicherry. Also, please note that chunnambar boat house closes at 4 PM, after which you cannot get a boat for paradise beach.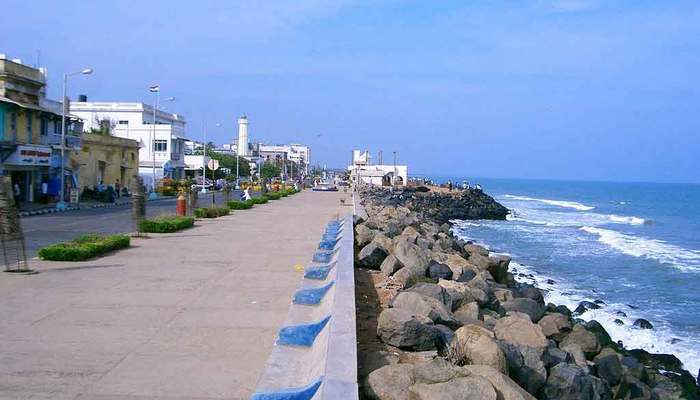 2. Go scuba diving - Scuba diving is one of the most enthralling and fun things to do at Pondicherry. In fact, Pondy is the only diving spot on the eastern coast of India. The place is characterized by natural coral reefs, rocky pop-ups, man-made folds, and a plethora of marine creatures which includes sea snakes, corals, moray eels, triggerfish, manta rays, lionfish, angelfish, parrotfish and kingfish. Plunging to depths of 5 to 40 metres, the diving sites in the city are perfect for both novices and pros. The best diving sites in Pondy include Aravind's Wall, 4 Corners, The Hole, Coral Shark Reef and Temple Reef, with the best organizer being the Temple Adventures, a five-star rated PADI Center.
3. Enjoy the breathtaking sunset at Ousteri Lake - There are some things in life that you can never get tired of, and watching the sunset is right on top of that list. If you want to behold a magical sunset, then you have to be at Ousteri Lake. This is a man-made lake characterized by mudflats and marshy lands. In addition, the lake is populated with a wide variety of residential and migratory birds, which makes it a paradise for bird lovers. Keep your eyes peeled for golden orioles, egrets, white ibises, openbill storks, greater flamingos and white-breasted water hens.
4. Explore the Heritage/White Town - A part of the city is historically preserved by the name of heritage town or French Quarters. This area is also known as the white town. It has buildings and houses lined in quiet and shady streets that date back to the French Colonial era. This is where you can find the most 'instagrammable' bright yellow and white walls, arched gates lined with bougainvillea, and clean European-style streets. It is also home to some of the best restaurants and cafes in Pondi and taking a stroll through White Town is a must for any person visiting Pondicherry. This is where the vibe of the city lies.
You can also explore this town through guided bicycle and heritage walking tours which are provided by various operators. This journey takes you through the Tamil quarters, the French colonies and the Green quarters (also called Muslim quarters), followed by various historical and cultural places like the Pondicherry Museum, Old Lighthouse, Gandhi statue and the French War Memorial.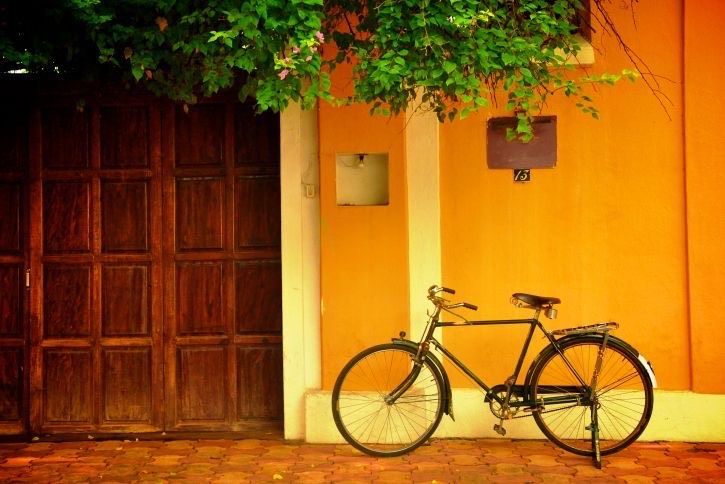 5. Visit the temples and churches - Pondy is home to numerous temples and churches. Some are architecturally brilliant, while others stand out in their serenity and simplicity. Must-visits include the Sri Gokilambal Thirukameswar Temple, which features a colourful exterior and ornate sculptures; the Manakula Vinayagar Temple, known for its elephant blessings, huge golden chariot and ornately carved stone walls; A church is the most expected sight from a colonial town and not to disappoint Pondy has its own share of churches. Among all of them the Sacred Heart Basilica stands out for its Gothic architecture.
6. Get spiritual at Sri Aurobindo Ashram - The ashram was founded by Sri Aurobindo in 1926 when he decided to withdraw from public view and continue with his spiritual growth. The place is now visited by thousands of spiritual seekers from all over the world. If inner peace is what you seek, this is where you should be headed. The ashram gives a lot of importance to yoga as it helps in transforming body and mind.
7. Explore Auroville - Located about nine miles from Pondy lies the 'City of Dawn', Auroville. Sri Aurobindo's spiritual collaborator, Mirra Alfassa, also known as the Mother, founded Auroville in 1968. Her aim was to create a universal town where people from across the world, irrespective of caste, creed, culture or country can live and work together in harmony and peace. The highlight of this region is the Matrimandir, where devotees meditate. Even for the casual visitor, Auroville is an enchanting place.
WOW Pro Tip: If you're planning to go inside Matrimandir in Auroville,  make sure you get your pass in advance. You have to go there in person to collect the passes (upto 3 days before).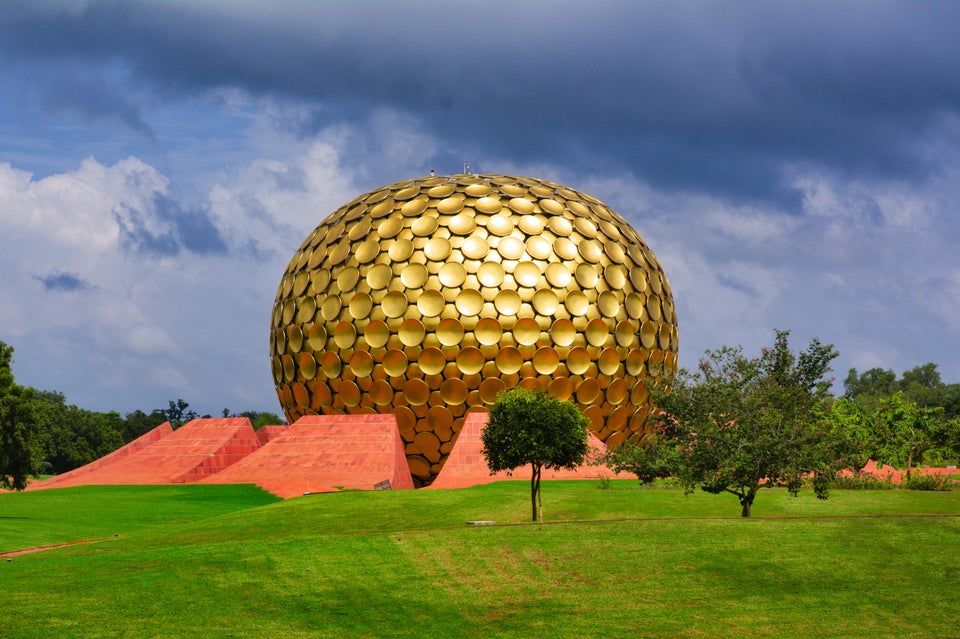 8. Indulge in some Food and Drinks extravaganza! - Pondicherry is a foodies' paradise!  Pondi cuisine is the perfect blend of different cultures and customs, with wide variety of delicacies available ranging from South Indian specialties to a lot of seafood like fried fish, prawn bhajji and the very desi 'paratha'. And thanks to the French influence, good steak and wine are served in most restaurants. Alcohol is cheap and free of certain taxes – Yes, you heard that right!  The few popular food joints and bars in Pondicherry are:
Baker Street: for Authentic French Delicacies. A popular upmarket French-style bakery that does delectable cakes, croissants and biscuits. The baguettes, brownies and quiches aren't bad either. Eat in or takeaway.
Farm Fresh: Situated in the town of Auroville, as the name suggests the food served by Farm Fresh is indeed fresh, and is served farm to table.
Appachi Chettinad: Appachi Chettinad breaks with the stereotype of everything in Pondicherry being associated with the French. The thatched rooftop and the tamilian styled entrance pillars give the feel of a local home, and the traditional mouthwatering Indian delicacies that are served add to this ambiance.
Kofi Bar: Kofi Bar is hard to miss. The décor is rustically styled, with its hut-like entrance and it's wooden furniture that is handmade by the in-house chef.
Toxic: A rooftop bar that is wallet-friendly is an unusual combination, but in Toxic at the Hotel Atithi you can enjoy open air drinking without having to worry about the cost it normally takes to indulge.
L'Aqua: L'Aqua is one of the most popular bars in Pondicherry among tourists, for the sole reason that it is situated on the town's beautiful rock beach. The fresh breeze and sound of waves create the perfect mood for relaxing and taking in the surroundings over a drink. These include an excellent range of innovative cocktails and local beers.
WOW Pro Tip: Bars and eateries in the town shut down by 11.00pm. Given this fact, Nightlife in Pondicherry may not be as happening as it is in Goa, but you can certainly look forward to a good share of fun.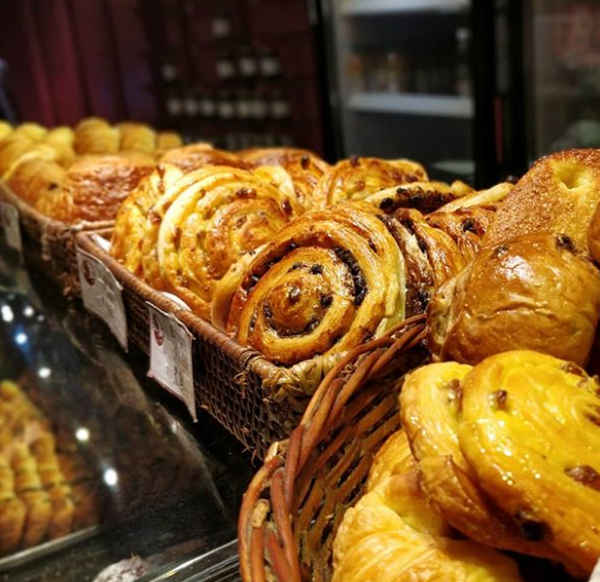 9. Shop till you Drop: When it comes for shopping at Pondicherry, it refers to little takeaway trinkets that remind you of the wonderful place you visited.  Pondicherry is a shopper's delight, offering an array of shops, boutiques and department stores. Here are some shopping suggestions.
Auroville's best outlet- Kalki: Where you browse for super non leather footwear, hand-painted silk clothing, perfumed candles, incense, oils, ceramics, jewelry, and handmade paper items to the accompaniment of artsy, esoteric music. It's not that cheap, but the atmosphere and selection is fantastic.
Casablanca: One of the most popular and trendy spots to shop in Pondicherry, Casablanca is a great place to shop for international brands of home décor items, linen and leather goods. Also on display is a wide collection of Hidesign products. If you love linen, head straight upstairs and peruse the gorgeous Gecko stock.
Boutique Auroshree : sells clothes and handicrafts from all over India; it has a small selection of silver jewelry, paintings, and handcrafted bronze, brass, and sandalwood items.
La Boutique d'Auroville: with plenty more goods from Auroville, including lovely pottery and handmade paper to original garments, and unbelievably well-priced leather items
Sri Aurobindo Ashram: Aurobindo Ashram houses a small souvenir shop that offers books, greeting cards and other memorabilia and is quite popular with visitors. There is also a factory outlet near the Ashram where one can shop for a variety of souvenirs, incense sticks, perfumed candles, handmade paper items and other unique products.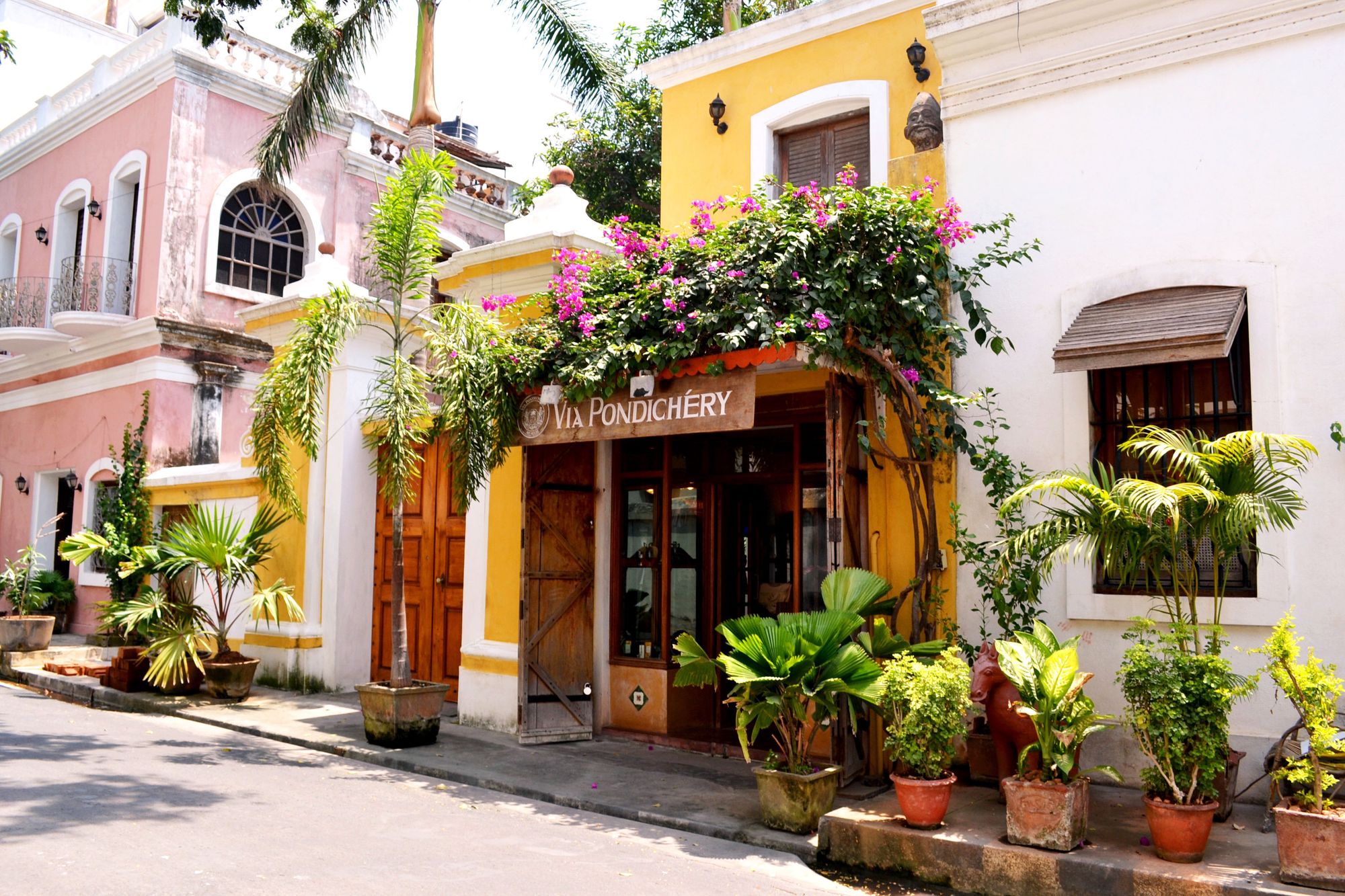 How to Reach Pondicherry?
By Air: Chennai is the nearest international airport which is approximately 135 kilometres away from Pondicherry. Chennai airport is well connected to all major cities across the globe. Once you reach Chennai airport, you can hire a private taxi to reach Pondicherry. Please note that Pondicherry does have an airport but it can accommodate landing of a small aircraft only and has flights coming in from Bangalore and Hyderabad.
By Bus: There are several buses that ply frequently from Chennai, Thanjaur, Trichy, Coimbatore, Bangalore and Madurai to Pondicherry. Both private and state-owned buses are available.
By Train: The nearest rail station from Pondicherry is Villupuram, which is about 35 kilometres away from the town. The railhead is well-connected to cities like New Delhi, Kolkata, Mumbai, Chennai, and Trivandrum. Two of the most popular trains are New Delhi Pondicherry Express and Nagarcoli Express. Once you reach at the station, you can hire a taxi that will drive you to the city.
Road/Self Drive: Pondicherry falls on the National Highway 45, which connects it to major cities of South India such as Chennai, which is about 150 kilometres away and Bangalore, which is 320 kilometres away. You can hire a taxi or get behind the wheel to drive to Pondicherry from these nearby cities. Note that the drive from Chennai to Pondicherry, that is, on the East Coast Road is particularly scenic and offers fantastic views of the Bay of Bengal.
Best Time to Visit Pondicherry:
Although Pondicherry has a warm climate, October to March can be considered as the best time to visit Pondicherry. However, the town has different charms in different seasons. Here's a monthly breakup of Pondicherry's climatic conditions so that you can plan when to go:

October to February: These months constitute the winter season in Pondicherry starting from October and February. It is during this time when the climate is comparatively cooler and also perfect for sightseeing, beach fun and water sports. Light woollens should be sufficient as during winters, the temperature usually doesn't go below 17 degree Celsius here.

March to June: Pondicherry is at its hottest during its summer months starting from March to June, with the highest temperature usually not going beyond 41°C. However, the crowds are less, making it a good time to enjoy a peaceful vacation in this little town. Even water activities can be enjoyed as there is less number of people swarming at the beach.

July to September: These months constitute the monsoon season in Pondicherry. The town receives heavy to light rainfall every year. Those who love to soak in the rain; this is the best time to let your hair down and experience the lush-green landscape of Pondicherry. Also, it is a good time to visit the city during the month of August as Sri Aurobindo's birthday celebrations are held when the city is at its vibrant best.
Add-On Destinations:
3 Days are sufficient to explore the places in Pondicherry. But if you've got more time in hand, then consider exploring these places around Pondicherry:
Mahabalipuram
Mahabalipuram or Mamallapuram is a small beach town around 60 kilometres south of Indian metro city - Chennai along the Bay of Bengal. This town is a popular weekend getaway for the people in Chennai and a great stopover for people travelling to or coming from Pondicherry.
It is often called a "Lost City" as it is believed that there were seven pagodas or temples on the shores of Mahabalipuram in its heyday around 1300 years ago. All but one (Shore Temple) is what is remains now and rest are submerged in the sea. The town is known for its monuments with intricate stone carvings that date as far back as the 7th century AD. Many of the monuments have been designated as a UNESCO World Heritage Site. Today, this town offers its visitors not just a peek into the history but a fabulous beach experience too.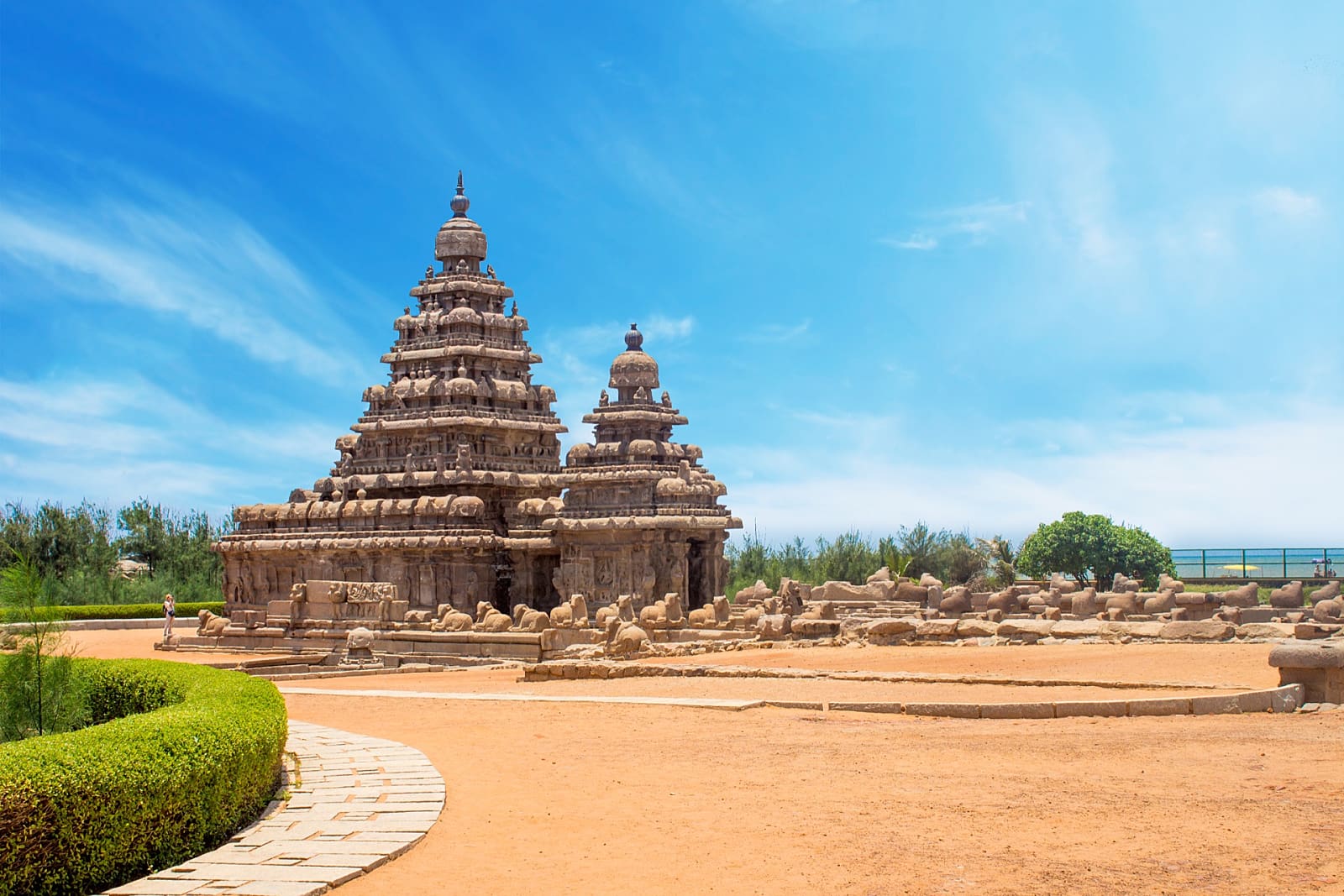 Tranquebar - The Little Danish Town
Fondly called the land of the singing waves, Tranquebar is a 3-hour drive from Pondicherry and can be your perfect weekend getaway.
Tranquebar or Tharangambadi  is one of the best-kept secrets of Tamil Nadu. This tiny beach town used to be a trading post of the Danish East India Company. The town remains a glorious tribute to architecture from across the world. Tranquebar is reputed to have the thickest ozone layer in India which is ideal for relaxation as it rejuvenates and helps all those who want to prolong their life.
From beautiful shores, adorned with majestic architecture overlooking the sea, to temples, churches and museum-this regal remnant of the Dutch has something refreshing to offer to every traveler. So, if you are genuinely looking for an offbeat vacation untouched by commercialization, this is perhaps where you should head.
If you're looking to give your stay in Tranquebar a touch of luxury, then look no further than The Bungalow On The Beach - a restored heritage bungalow which gives you your personal encounter with the sun, sea breeze and spray. Time becomes irrelevant here when you stand facing a glorious sunrise with : a 14th century Pandya temple on your left and a 17th century Danish fort to the right.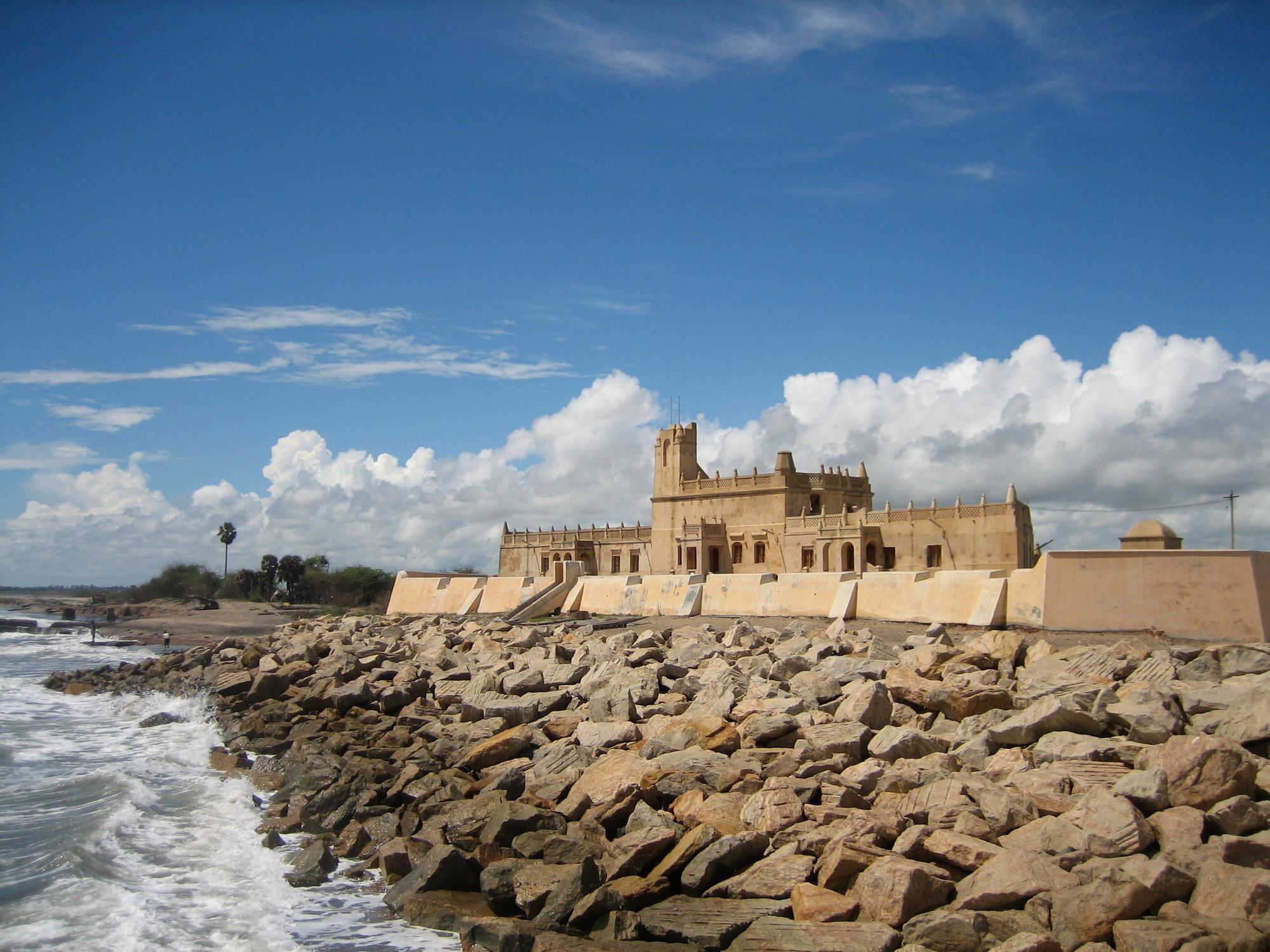 Pichavaram
You can be forgiven if you didn't know about Pichavaram mangrove forest, despite it being one of the world's largest mangrove jungles (along with the Sundarbans National Park in West Bengal and Bhitarkanika in Odisha). After all, it's not on the tourist trail. However, this remarkable and fascinating place is definitely worth visiting.
Close to Chidambaram in Tamil Nadu are the Mangrove forests of Pichavaram, which is one of the largest in the world. Backwater country boat rides take visitors into the dense forests for unparalleled experience. Pichavaram mangrove forest are the second largest mangroves in India after the Sunderbans. Pichavaram is 78 Kms from Pondicherry. The backwaters of Pichavaram are a great place for water activities such as kayaking.
Arikamedu
Ruins of ancient era – Arikamedu, the only site to have confirmed Roman Empire connections in India. Arikamedu, the ancient Roman trade centre is 4 Kms. south of Puducherry on the right bank of Ariyankuppam River. In it's time this place must have been an important center for jewelry and glass work. The town of Arikamedu is an excavation site where the Roman artifacts displayed in the Pondy museum were found. Though abandoned, this site attracts curious visitors.
Things to keep in mind before you visit Pondicherry:
Make sure you carry your driving license in case you plan to bike your way or rent a car to go in and around Pondicherry.
Though alcohol is available at cheaper prices, drinking or smoking at public places such as beaches, parks, museums, etc. is completely prohibited.
Wear cotton clothes – it's usually hot in Pondicherry!
Don't make your itinerary very hectic. Leave some time to relax and explore.

"The French Riviera of the East", Pondicherry is not just a typical holiday destination, it's much more than that. Go on and unearth its many charms on your own or just join us on our next trip to Pondicherry ; you'll be enchanted, for sure.