Why you should travel to Vietnam soon?  Where should one even begin? With its vibrant energy, fascinating landscapes,  history and tasty cuisine, Vietnam will pull you in from all angles -  millions of scooters, green rice terraces, Vietnamese hats and coffee, the teeming helpful locals and enjoying a bowl of Pho somewhere on chaotic Train Street -  Close to the place where Anthony Bourdain and Barack Obama sat on plastic stools to eat noodles and drink beer together. Honestly! Vietnam feels like a trip you've never taken before!
Our blog will give you an insight, not only about the places to visit in Vietnam but highlight the best places to visit in Vietnam along with the top things to do in Vietnam.
Contents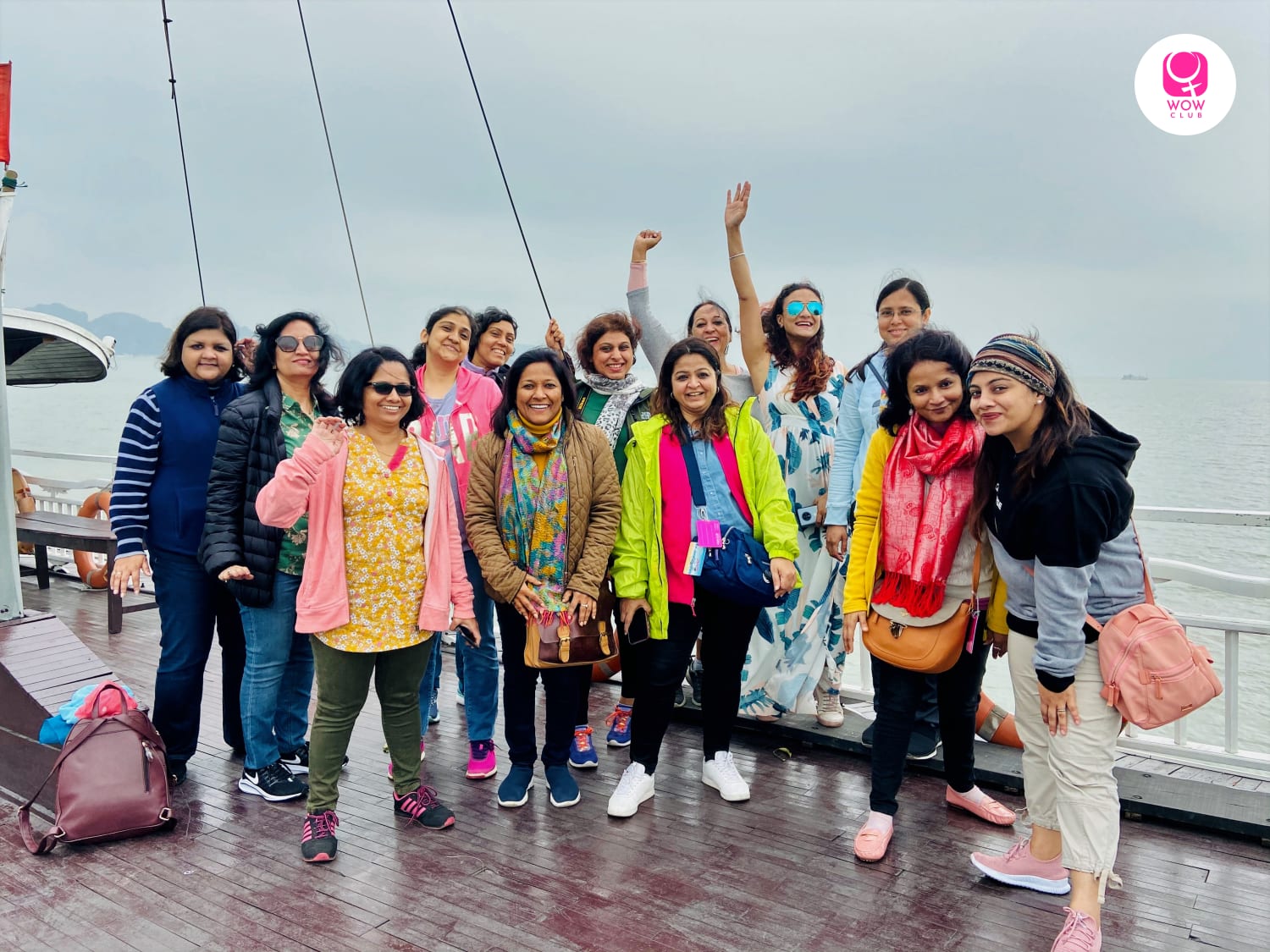 Spend 7 Perfect Days in Vietnam
Hanoi|  Once you land in Hanoi, you can start with visiting the Hanoi Old Quarter, which is considered the city's business hub and main tourist destination. In the evening, you can enjoy a water puppet show, a representation of a traditional Vietnamese theater show that dates back centuries.
Hanoi - Halong Bay| Enjoy an overnight cruise and witness more than 3,000 limestone islands rising majestically out of the turquoise bay. Enjoy a  lunch and dinner on-board, while enjoying the beautiful sights of the Sail Island, Fighting Cocks Island, Dog  Stone Island, Thien Cung Cave - biggest and most beautiful cave on the bay.
Halong Bay - Hanoi | Explore the glorious and magnificent caves such as Sung Sot, Thien Cung, Dau Go, Trinh Nu to admire mother nature. Later in the evening, hop on to the same cruise for going back to Hanoi.
Hanoi City Tour| Explore Hanoi by visting Mausoleum of President Ho Chi Minh, Presidential Palace and Ho Chi Minh's house on stilts, One Pillar Pagoda, The Temple of Literature and The Ethnology Museum which gives an excellent overview of the country's ethnic groups, their customs and ways of life. Later, take an evening flight to Ho Chi Minh City/Saigon.
Full day tour in Ho Chi Minh City| Today you can explore the Cu Chi Tunnels - an elaborate underground network of 250 km of tunnels/chambers below the city and explore the maze of tunnels to see how the Vietnamese survived in this underground network during the twenty years long Vietnam War. Thereafter visit, the Reunification Palace of the President of South Vietnam, the Notre Dame Cathedral, The Saigon Central Post Office, a classic French colonial structure which is still a functioning post office today followed by visiting War Remnant Museum. You may end your day, by visiting Ben Thanh Market, an icon of the city, from tourist kitsch to true bargains, it is a definite must-see.
A day around Mekong Delta| Head south to My Tho, Tien Giang Province. Take a boat trip along Mekong River, also referred as 'the rice bowl of Vietnam' and explore around the fishing village and 4 islands of Dragon, Unicorn, Turtle and Phoenix for sightseeing. You may also visit Quoi - a bee farm, handicraft workshops and listen to traditional music by local inhabitants. You may enjoy the nightlife in the vibrant Ho Chi Minh City which is famous for its clubs.
Departure| Take an evening flight out of Vietnam, and utilize the first half for shopping in Ho Chi Minh City which has all the popular luxury brands available.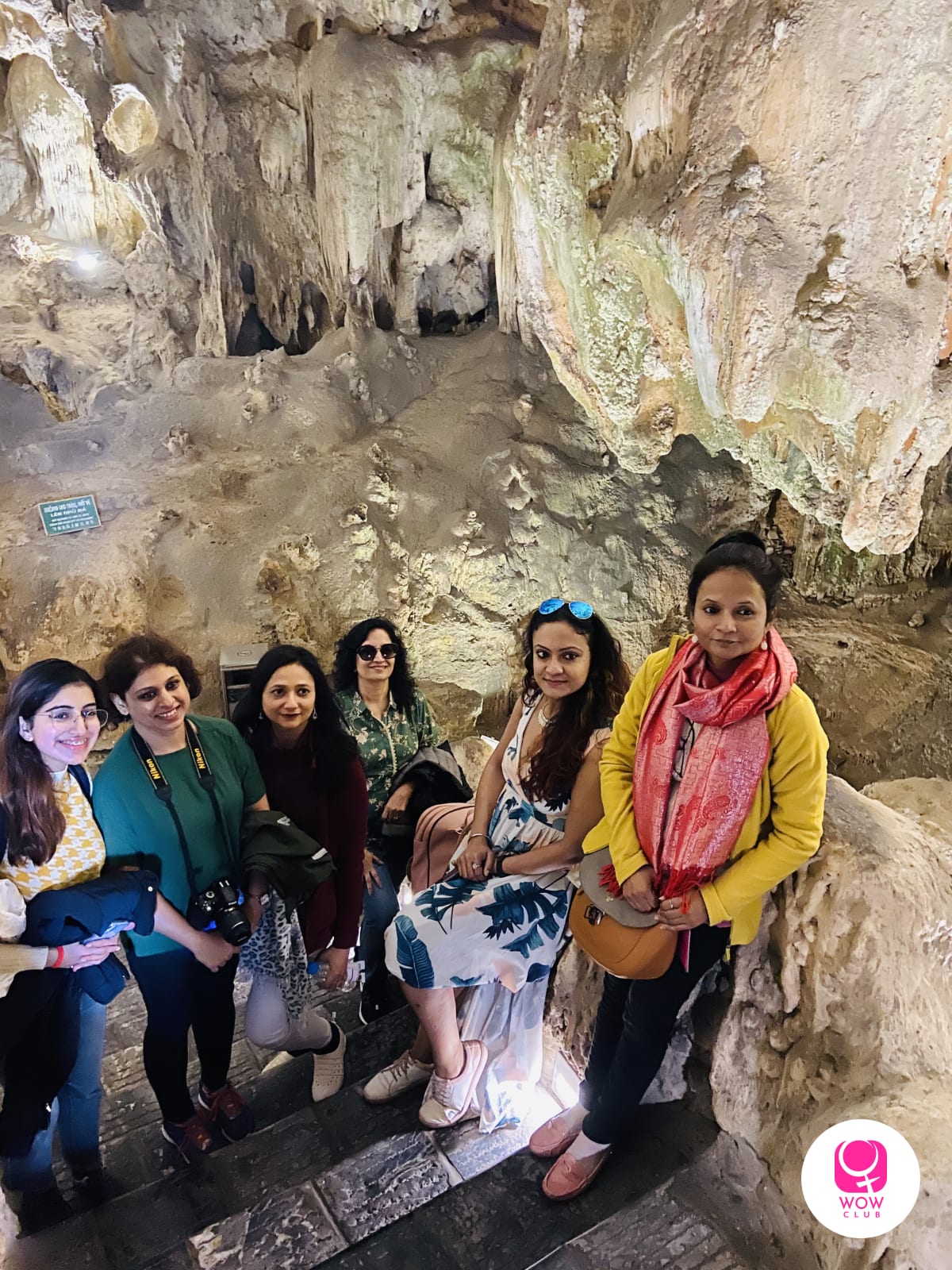 Best Places to Visit in Vietnam
. Halong Bay: The unique beauty of the bay, with its towering limestone karsts, make this a natural wonder worthy of a UNESCO World heritage listing. There are a lot of caves that can be entered including the Hang Sung Sot, with three mammoth sinkholes, and the Hang Dao Go. The limestone in this bay has gone through 500 million years of formation in different conditions. Few of the highlights include-
-Day, overnight, and multi-day cruises
-Nearly 1,700 mostly deserted islands
-Scenic seaplane fights
-Kayaking, swimming, cycling
. Ho Chi Minh City: Also known as Saigon is the largest city in Vietnam, named after Vietnam's beloved revolutionary leader, Ho Chi Minh. While Hanoi is the historic capital of Vietnam, Ho Chi Minh City is its beating heart, where modern skyscrapers overlook tree-lined boulevards, the winding Saigon River, and lovely colonial-era heritage buildings. Here are few of the highlights of the city-
-Ben Thanh Market
-Central Post Office
-Reunification Palace
-Bui Vien Backpacker Street
-Cu Chi Tunnels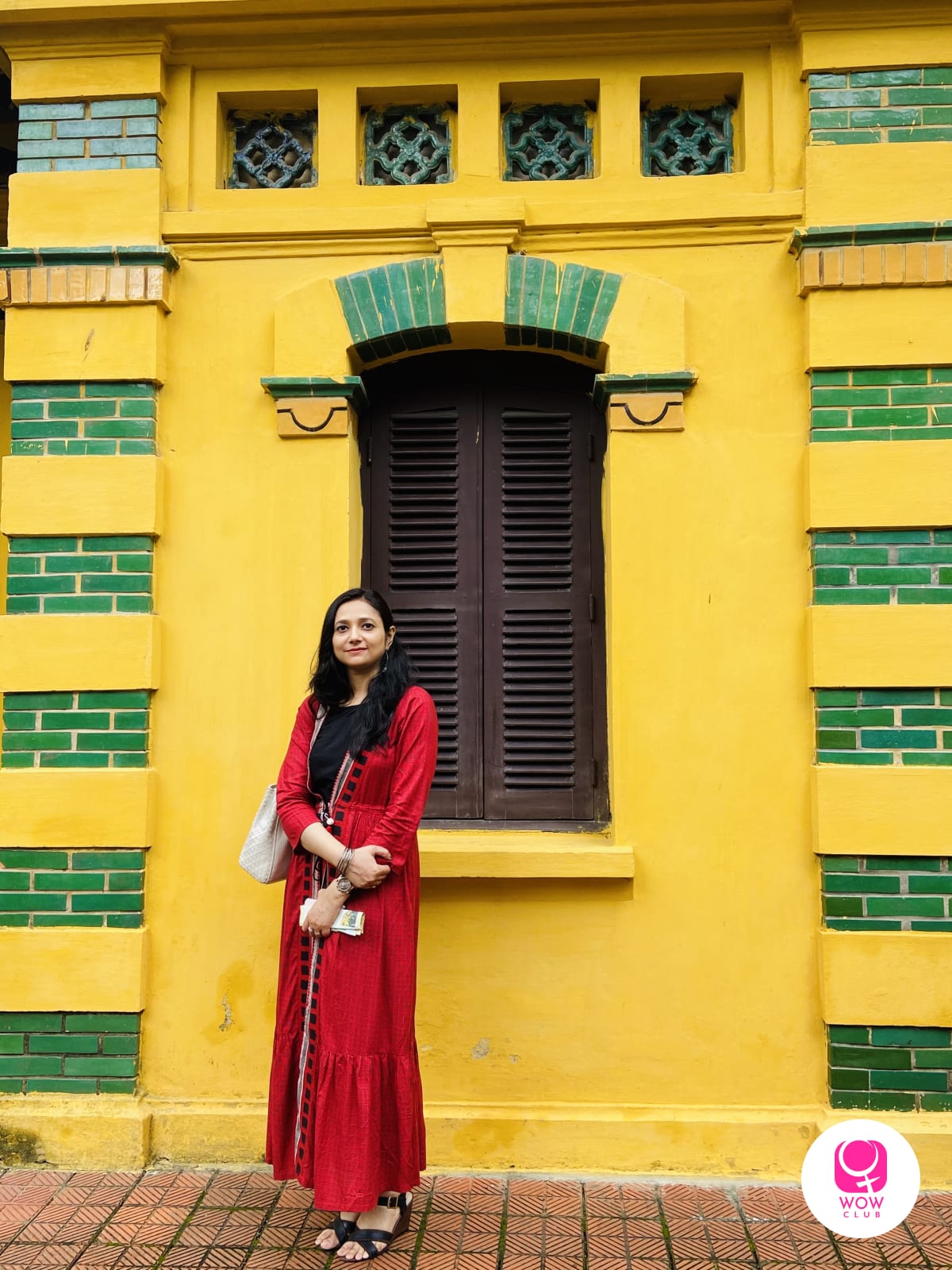 . Hanoi: The seat of Vietnam's legislature for the majority of a thousand years, Hanoi is permeated with old history. There's increasingly present day history to be found in its French pilgrim period legacy structures, including the ravishing Hanoi Opera House. The Ho Chi Minh Mausoleum is a grave landmark to Vietnam's most darling pioneer whose very much saved body can be seen inside. Few highlights of the city are-
-Old Quarter
-Imperial Citadel of Thang Long
-Ho Chi Minh's Mausoleum
-Hoan Kiem Lake
-Hanoi Opera House
-Temple of Literature
. Hue: Pronounced as 'hway', this profoundly reminiscent capital of the Nguyen heads comes under central Vietnam. A nature lover will appreciate exploring the mountains, sea shores, and tidal ponds while history buffs can take their pick from supreme tombs and sanctuaries to Vietnam War-time battlegrounds. It's additionally said that most of Vietnamese dishes began here in Hue. Few highlights of the city are-
-Royal Tombs
-Boat Trip on the Perfume River
-Imperial Citadel
-Thien Mu Pagoda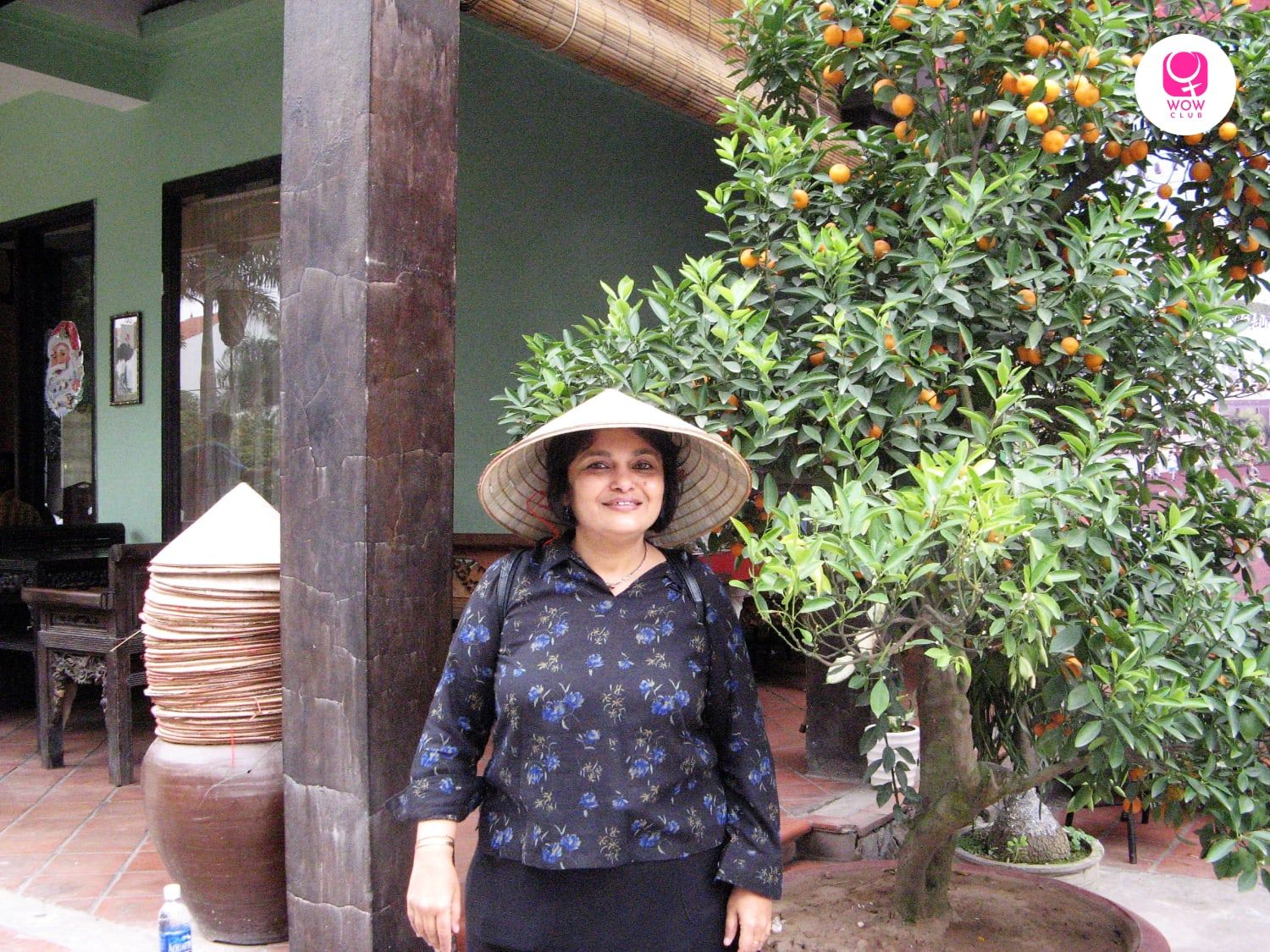 . Hoi An: Graceful, historic Hoi An is Vietnam's most atmospheric and delightful town. Once a major port, it boasts the grand architecture and beguiling riverside setting that befits its heritage.  It's also blessed with quiet beaches, idyllic countryside, and literally hundreds of talented tailors and leather craftsmen, all within a compact area. Few highlights of Hoi An are as followed-
-Cua Dai and An Bang Beaches
-Historic Ancient Town
-Japanese Covered Bridge
-Hoi An Night Market
-My Son Temple Complex
Top Places to Visit In Vietnam
. Reunification Palace: This Palace was the base of Vietnamese General Ngo Dinh Diem until his death in 1963. It made its name in global history in 1975. A tank belonging to the North Vietnamese Army crashed through its main gate, ending the Vietnam War. Today, it's a must-visit for tourists in Ho Chi Minh City.
. Saigon Notre Dame Cathedral: Built in the late 1880's by French colonists, is one of the few remaining strongholds of Catholicism in the largely Buddhist Vietnam. Located in Paris Square, the name Notre Dame was given after the installation of the statue 'Peaceful Notre Dame' in 1959.
. The Central Post Office: This Post office in Ho Chi Minh is a beautifully preserved remnant of French colonial times and perhaps the grandest post office in all of Southeast Asia. The building was designed by Alfred Foulhoux and features arched windows and wooden shutters, just as it would have in its heyday in the late 19th Century.
. Cu Chi Tunnels: These tunnels are now an iconic attraction of the city and is an elaborate underground network of over 120km of underground tunnels, with trapdoors, living areas, kitchens, storage facilities, armory, hospitals, and command centers. This historical site will help us explore the maze of tunnels to see how the Viet Cong survived in this underground network.
WOW Pro Tip: Wear comfortable shoes/ sneakers as one has to walk a lot through the muddy jungle. Carry a hand sanitizer for maintaining hygiene after exploring those tunnels and a travel size face-wash & hand towel too to quickly refresh yourself in the humid weather even in the winter months.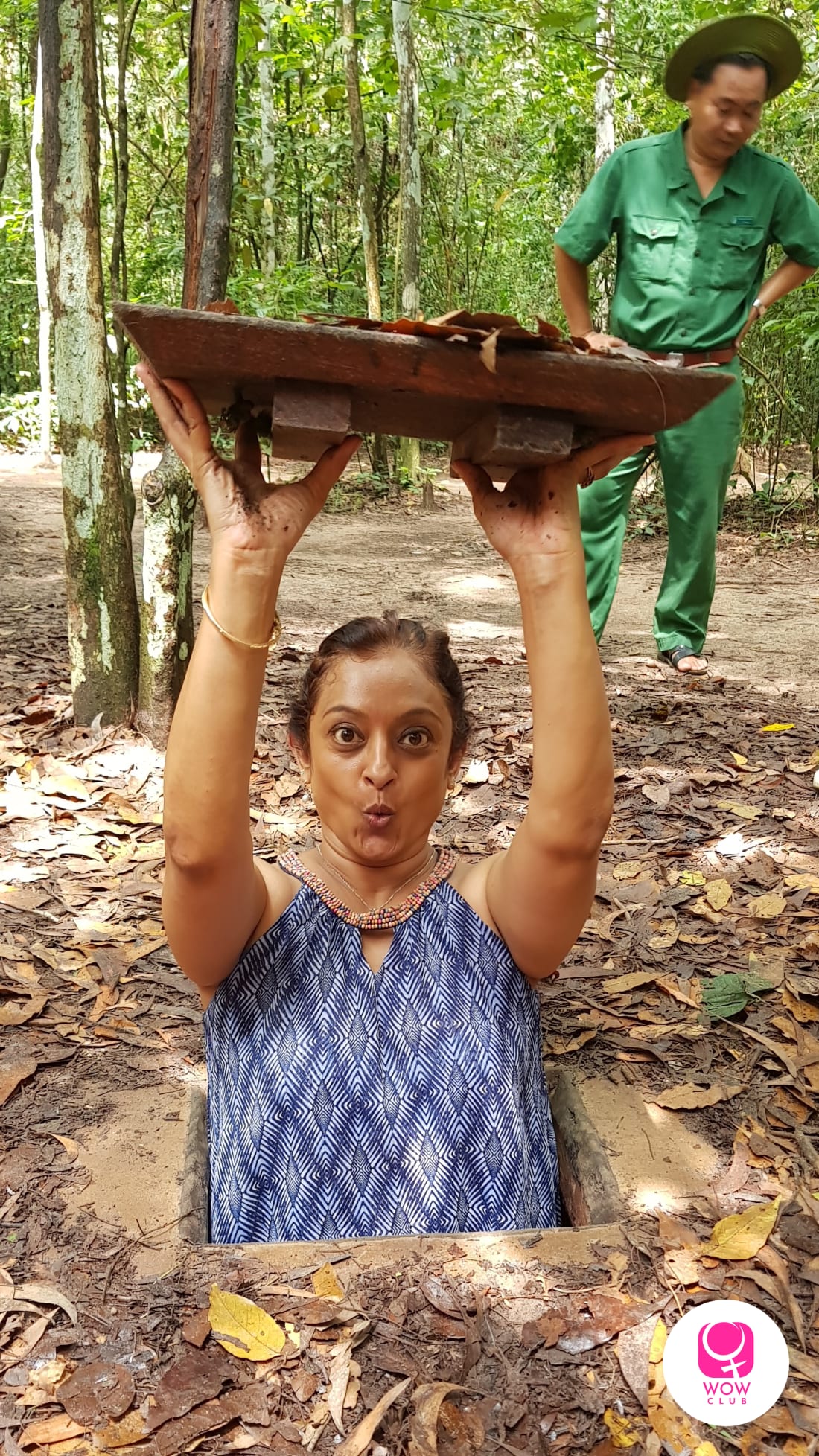 . Mekong Delta: Also known as the 'rice bowl' of Vietnam, carpeted in a dizzying variety of greens. It's a water world that moves to the rhythms of the mighty Mekong, where boats, houses and markets float upon the innumerable rivers, canals and streams that crisscross the landscape like arteries.
WOW Pro Tip: Be very careful while sitting on the long boats through the Mekong Delta and do not dip your hand in water which has snakes & other reptiles. Wear comfortable clothing to be able to enjoy the ride completely.
. Da Nang (Golden Bridge): Stroll along the Han riverfront and you'll find spectacular bridges now span the river, and in the north of the city, the landmark new D-City is rising from the flatland. The city itself still has conventional sightseeing spots for travelers, a few days enjoying the city's beaches, restaurants and the amazing nightlife. The city's street-food scene also deserves close investigation.
The highlight of Da Nang is the Golden Bridge.  This beautiful golden bridge with two hands hewn out of rock overlooking the mountains seemed to capture everyone's imagination. The bridge is everything you'd expect and more. As you make your entry by cable car, you'll just about see the bridge in the distance as you approach atop the mountain. More than likely if you have come early morning it will be shrouded in fog. As soon as you walk out the doors you'll realize that they couldn't have picked a better spot. You'll enjoy the longest cable car in the world (over 5km) and is also the highest elevation by cable car from start to end.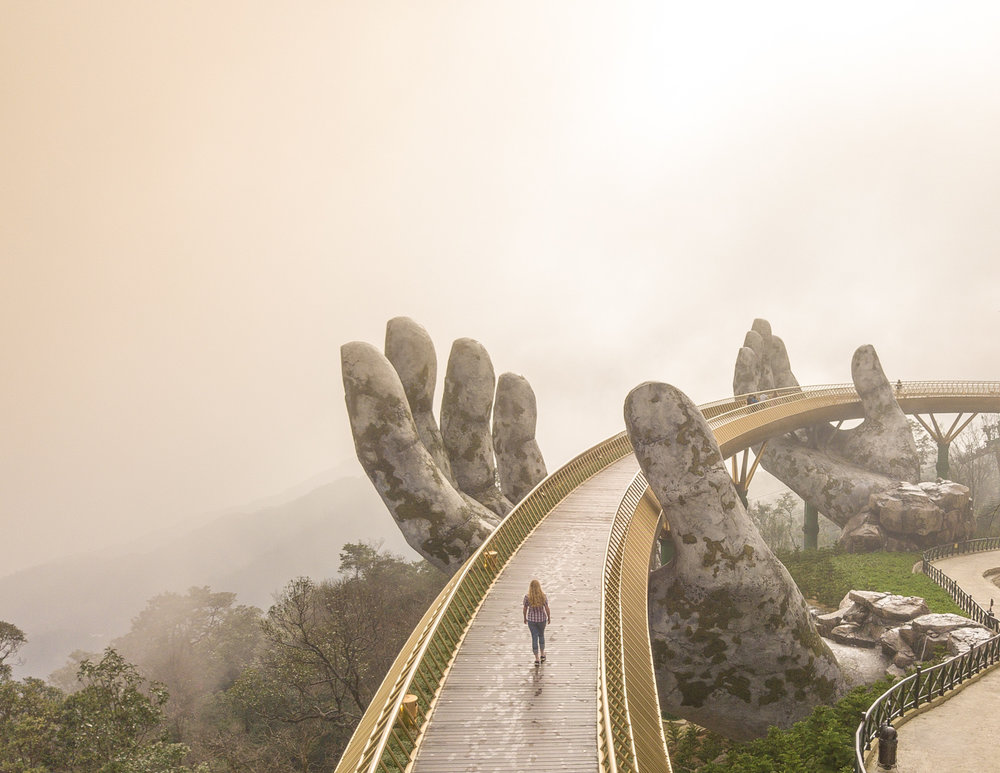 . Ben Thanh Market: This is the city's biggest, most authentic market. You can find almost anything you need here, from basic supplies to souvenirs. The food is outstanding and the people-watching is great even if you don't buy anything. At 06:00 PM, the doors close to this universe but then another one opens, the Ben Thanh Night Market. Nearby is the famous Street-food Market – with a wider array of local and fusion dishes. There are clubs and bars or cafes and parks – You may enjoy it all at the best of  your mood and taste.
Travel Tips for Vietnam
1. Vietnam is home to several distinct climate patterns from north to south. Best weather to visit Vietnam is from November to February where the temperatures are cooler than the rest of the year. Hanoi is cooler than Ho Chi Minh, where you might require a light jacket during early mornings & late nights, in the winter months.
WOW Pro Tip: Carry a light jacket for Hanoi & around and breathable cottons for Ho Chi Minh, Mekong Delta & Cu Chi tunnels.
2. Money matters! The Vietnamese currency is the Vietnamese Dong which should be used for local markets, coffee shops, sim cards, local food purchases etc which will help you bargain in the best possible way. USD is the most widely and easily exchanged currency in Vietnam, as it is in the majority of Asia, with the Euro as a distant second. British pounds, Canadian dollars or Australian dollars are not widely accepted in either banks or hotels, and where they are the exchange rate is unfavorable.
3. Visa. Indian passport holders need a visa in order to travel to Vietnam. Vietnam has recently allowed e-Visa and visa-on-arrival facility for all Indian passport holders, this special and swift facility is intended to boost tourism by making procedures hassle free and simple and lucid to understand and follow.
The visa on arrival facility however is available only on entry in Vietnam by air, all other modes of entry currently do not permit visa on arrival facility, hence, in case of arrival by sea/road/rail, you need to apply for an e-visa.
- An e-visa of Vietnam is valid for 30 days with single entry, and "visa on arrival" is the option you should choose for multiple entries or a stay in excess of 30 days.
- In order to get visa on arrival at international airport of Vietnam, you must get visa approval letter from Vietnam Immigration via a travel company or your partner in Vietnam.
Why you'll fall in love with this Destination
Don't leave Vietnam without trying these five authentic experiences:
.Watch a cultural show: Don't miss Hanoi's famous water puppets or the bamboo contemporary circus by Lune Productions.
. Nightlife in Saigon: Ho Chi Minh/Saigon is a city that never sleeps. You may think the city is amazing and bustling during the day, but the night takes it to a whole new level. Downtown in District 1, rooftop bars, high rolling casinos and smooth jazz bands are the choice forms of nightlife entertainment in Saigon. But move a few kilometers west into District 3 and the backpacker street of Pham Ngu Lao, with its boisterous street bars, cheap eats and good time vibe, is certainly the place to be when night falls.
WOW Pro Tip: Ho Chi Minh is not considered very safe at night. Hence, it's recommended that you do not carry a lot of money or passport during your visiting the clubs in the night, and carry a cross shoulder sling bag.
. Take a motorcycle ride: This is a must-do all over Vietnam but especially in Ho-Chi Minh City, with its endless energy and beautiful city lights.
.Vietnamese coffee: As the second biggest producer of coffee in the world, the Vietnamese coffee comes with sweetened condensed milk. It's also an integral part of the culture, served in cafes and drum-roll..on the street, of course.
.Visit a pagoda: Vietnam has a fascinating spiritual history told through a vast range of temples, pagodas, churches and spiritual places.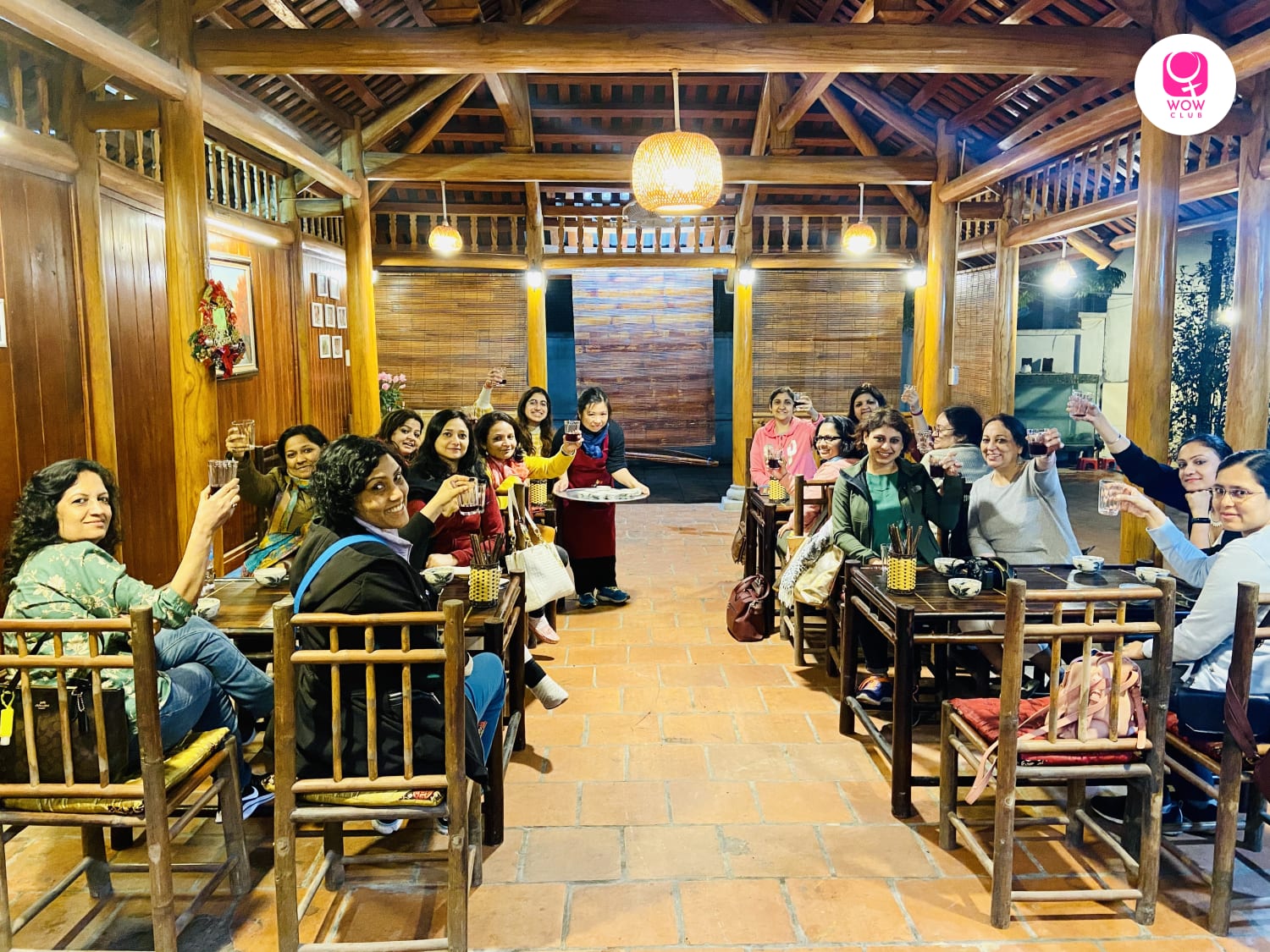 Facts about Vietnam
. Vietnam War continued for as long as 20 years. If you are a history buff, you can read books on the Vietnam War or catch a movie. Top movies: We were Soldiers, Platoon, Born of the Fourth of July. Top Books: A Rumor of War, The things they carried, The sorrow of war, The Fields of Fire.
. The world's second largest caves are situated in Vietnam: The Son Doong caves are so big that a Boeing 747 could fly through its largest cavern.
. Vietnam has a literacy level of 97.3% : Even though Vietnam is a very poor country, they proudly boast with a literacy rate of 97.3% for adults aged 15 - 50 years of age.
. Vietnamese flag with a meaning:  Consisting of a golden star with five points, the different points represent farmers, workers, intellectuals, youth and soldiers. The red background pays tribute to the bloodshed during the wars.
. Vietnam is the best place for coffee lovers: They are the second largest producer of coffee in the world and own approximately 20% of the coffee market share.
Ultimate Guide to Shopping in Vietnam
Some folks love Vietnam shopping for the clothing while others love the trinkets. Here is a taste of what to buy in Vietnam so you can get an idea of what to spend on.
. Silk Clothing, Embroidery, and Fabric: One thing foreigners love about Vietnam markets is a wide variety of vibrant silk fabrics everywhere. Look for scarves, pants, shirts, and dresses.
. Paintings and Artwork: Vietnam has no shortage of amazing artists selling lacquer or sand paintings.
. War Relics: History lovers will love browsing the combat boots, uniforms, helmets, Zippos, and other war surplus gear.
. Lacquer-ware and Ceramics: Between dishes, vases, and tea sets, you'll have trouble closing your suitcase with all these ceramic or lacquer things to buy in Vietnam.
. Conical Hats: These traditional hats date back 3,000 years so you'll probably want to snag one on your Vietnam shopping adventure.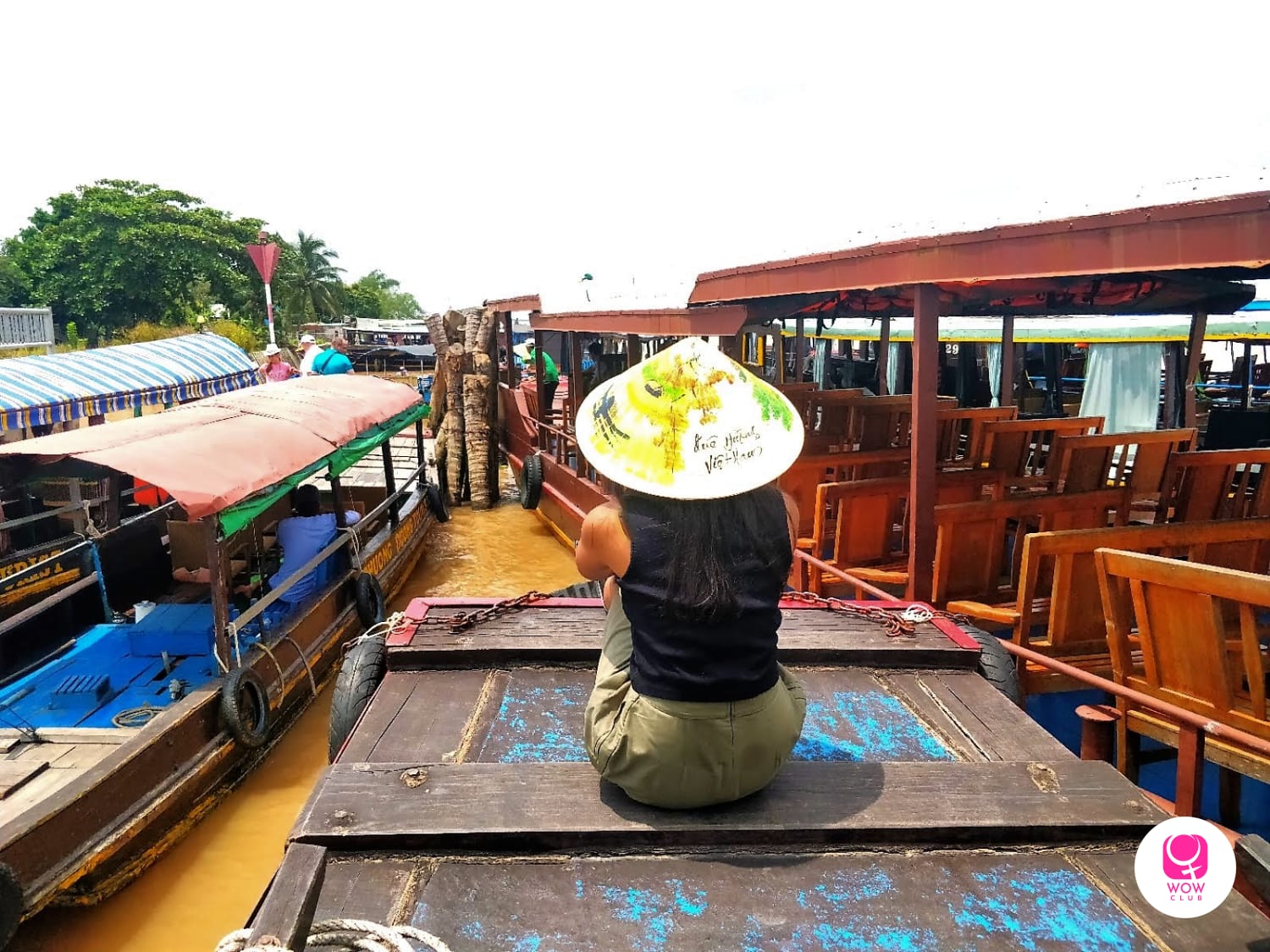 . Unique Paper Products: Post cards, pop-up pictures, and bamboo notebooks. These interesting things to buy in Vietnam are definitely worth the small amount of money.
.Wooden Clogs: You don't see Vietnamese people wearing these too often outside of ceremonies, but they make a pretty cool souvenir.
Savor the Vietnamese Cuisine
Travel around Vietnam, and you'll find that tastes and dishes vary from North to South. In the capital, locals may lunch on bún chả with slices of pork belly, while the Saigonese wolf down bánh xèo (crispy pancakes) rolled with greens and dipped in sweet-and-sour fish sauce. In the former Imperial City, meaty bún bò Huế is a breakfast favourite, while in Hội An, you can't beat a bowl of toothsome cao lầu noodles for a quick snack.
WOW Pro Tip: Do NOT miss the most popular dish in all of Vietnam, Pho. Phở is a Vietnamese noodle soup consisting of broth, linguine-shaped rice noodles, a few herbs, and meat. It is a popular street dish in Vietnam and the specialty of a number of restaurant chains around the world. Pho is primarily served with either beef or chicken.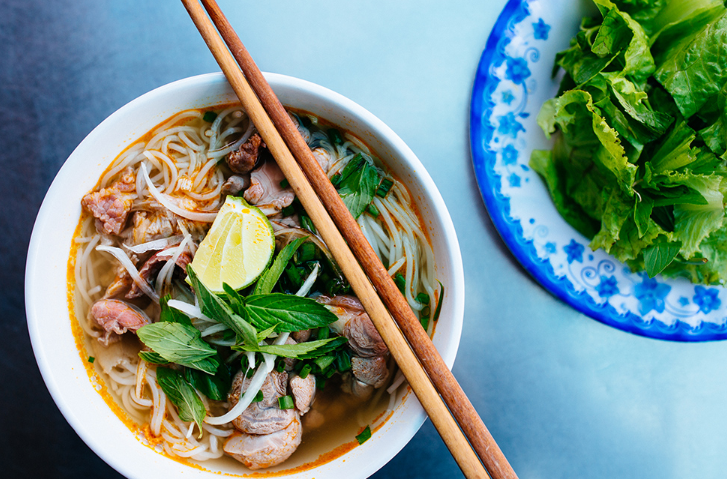 Add on Destination
While you're visiting Vietnam, it is a fabulous idea to team it up and visit it's very interesting neighbor, Cambodia! Cambodia is well known around the world, for it's ancient temples and rocking nightlife. There are frequent flights to Cambodia from both Hanoi & Ho Chi Minh city. Read more about Cambodia on our blog, The Wonders of Ancient Cambodia.
For Vietnam, it's a country strong, alive, proud, and cheerful. Vietnam, is an anomaly from every perspective. One who has been there will never forget it!
Tạm biệt!
Well if all this sounds like too much of homework, then just sit back and click here.