If you are a history buff, you CAN'T miss this land of wonder, Cambodia! The awe-inspiring and jaw-dropping temples with centuries old stories, will surely question your knowledge of history.  There's a magic about this charming yet confounding kingdom that casts a spell on visitors. In Cambodia, ancient and modern worlds collide to create an authentic adventure. Despite being much smaller than its neighbors Cambodia's unique Indian-influenced Khmer culture has remained very much intact. The base for exploring the temples of Angkor is the provincial capital, Siem Reap. The modern day capital of Cambodia is Phnom Penh, once considered one of the most beautiful cities of the Orient. Nobody leaves Cambodia disappointed. The exotic land of the Angkor Kings lies waiting to be explored.
In this travel guide, you'll figure out, why it's a gem tucked in the middle of Southeast Asia along with the things to do in Cambodia.
Contents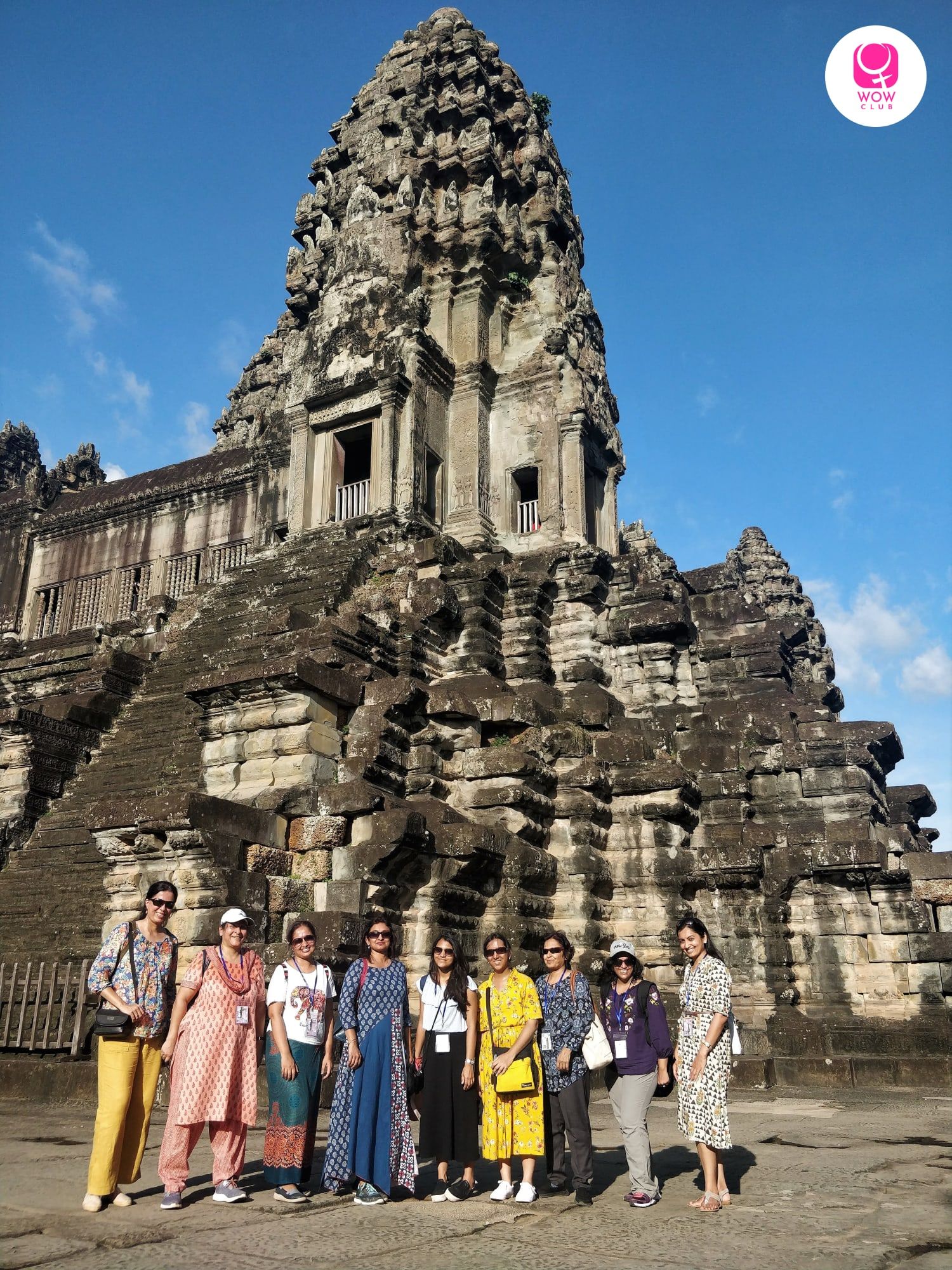 5 Perfect Days in Cambodia
Siem Reap| Once you arrive in this city which is home to many ancient temples, you can't hold back the history buff in yourself. But take it easy in the first half and enjoy a relaxed lunch, because later on you'll have to walk a lot in and around the vast &  boundless Temples of Cambodia. After lunch, you can visit the a silk farm in Siem Reap as Cambodian silk is very famous & there are a variety of products available. In the evening, you can visit the bustling with life, Pub Street. Pub Street, officially titled Street 8, is the culinary and nightlife hub of Siem Reap – sort of the city's answer to Bangkok's famed Khao San Road. You can find various cuisines at the Pub Street and some amazing gelato shops too. Tuk Tuk's are readily available and a fun & convenient way to commute from hotels to pub street and vice versa.  
Siem Reap Temple tour| One cannot miss the sunrise at the Angkor Wat which is experienced by millions every year. Set your alarm clock & make sure to catch the sunrise at the stunning Angkor Wat Temple at 5am and we assure that you will not regret waking up early. Later, explore the city of Angkor Thom, Bayon Temple - the Terrace of the Elephants, the Terrace of the Leper Kings, Baphuon, and the Royal Enclosure. Then visit the Ta Prohm, one of the most spectacular temples where gigantic trees are jutting out of the temple ruins. You will be taken back in time for sure. In the afternoon, visit the famous Angkor Wat,  the largest and best-preserved temple at the site, followed by visit to the Phnom Bangkeng temple and enjoy a sunset view over the Angkor Wat. In the night, shake a leg at the Hard Rock Cafe, Cambodia and bid adios to Siem Reap.
Tonle Sap Lake - Phnom Penh| In the morning, make your way to the The Great Lake Tonle Sap. The lake located about 15 km south of Siem Reap town; you can make your journey from Siem Reap to the lake by taking a tuk tuk or a taxi to the village of Chong Khneas & then take a boat ride from there on the lake. Tonle Sap is the Cambodia's largest freshwater lake. You will love spending the rest of the morning at one of the largest floating villages on the lake which is called Kompong Phluk. Later transfer back to Siem Reap and take an evening flight to Phnom Penh.
Phnom Penh City Tour| There are many things to do in Phnom Penh. However, the best things to do in Phnom Penh are, a visit to the Tuol Sleng Genocide Museum, which was used as the Security Prison 21 (S-21) by the communist Khmer Rouge regime. Followed by Wat Phnom Temple, the birth place of Phnom Penh and visit the National museum. In the afternoon, don't miss to visit the famous Royal Palace which was built in 1866 under the French protectorate and the National Museum, a treasure chest of Angkorian and pre-Angkorian artifacts. Enjoy a short walk along the riverside around 10-15 minutes (starting point Royal Palace) to the boat pier where you can enjoy the sunset view and observe the life of the locals along the Mekong River on boat cruise (1 hour).
Bye Cambodia| Today is all about taking it easy and shop till you drop, before you head back to your home country.
WOW Pro Tip: Tuk Tuk commute is not only fun but very cheap too. Bargain up-to fifty percent on tuk tuk prices.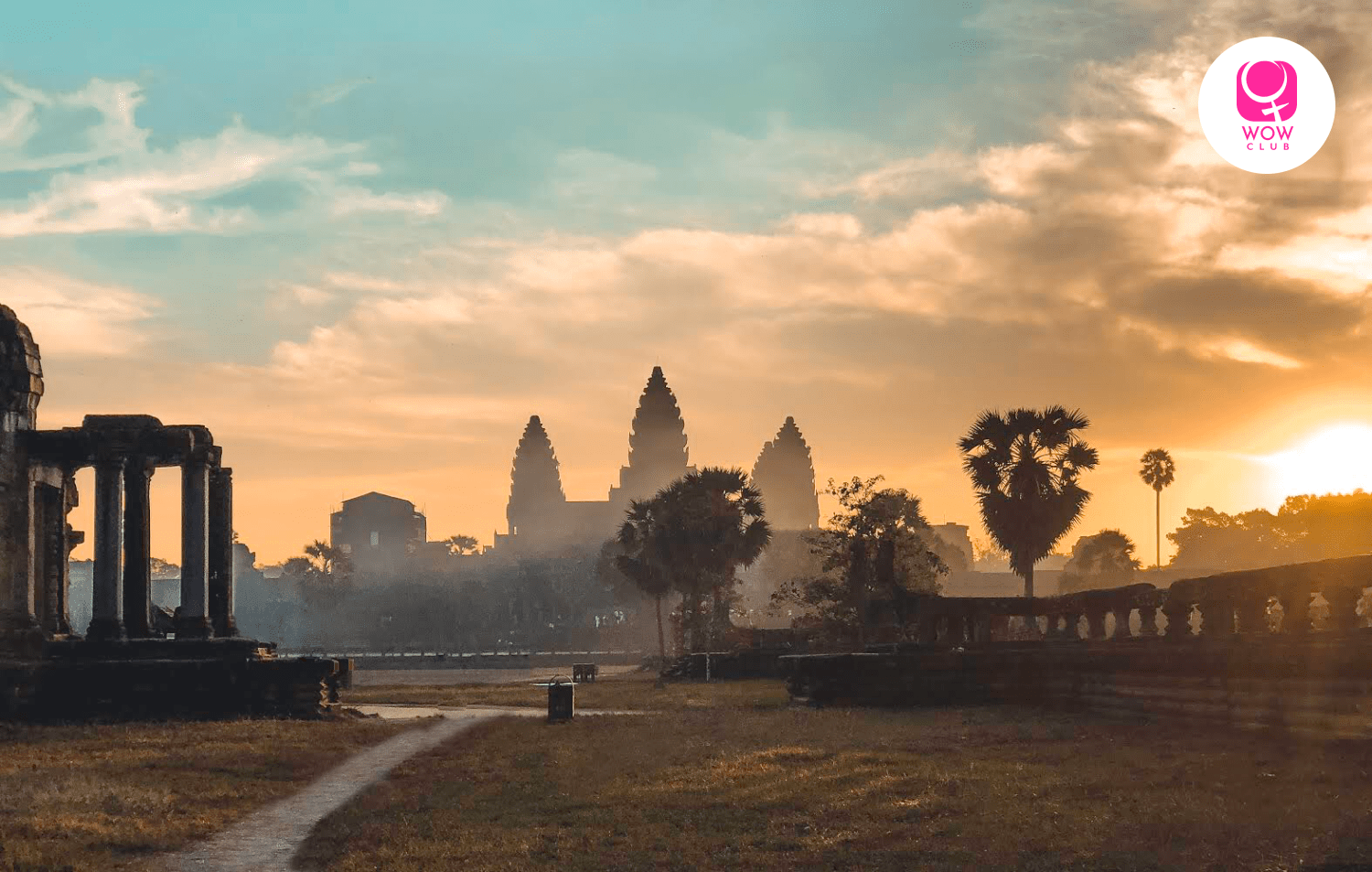 Top things to do in Cambodia
There is never a dull moment when one starts exploring the goodness of this country. Since there's loads to do in Cambodia, we have listed for you, the best things to do in Cambodia.
. Angkor Wat| The highlight for most travelers visiting Cambodia is "The Angkor Wat". Angkor Wat in Siem Reap is the largest religious monument in the world. It was originally built in the first half of the 12th century as a Hindu temple and is spread across more than 400 acres. Its name, which translates to "temple city" in the Khmer language of the region, references the fact it was built by Emperor Suryavarman II, who ruled the region from 1113 to 1150, as the state temple and political center of his empire. Originally dedicated to the Hindu god Vishnu, Angkor Wat became a Buddhist temple by the end of the 12th century.
. Bayon| Several centuries before Leonardo Da Vinci created the enigmatic smile of his Mona Lisa, hundreds of serene faces displaying equally enigmatic smiles were carved into the famous temple now known as Bayon. Bayon is in the heart of the ancient city of Angkor Khom, which was the symbolic center of the Khmer empire. The Bayon vies with Angkor Wat is the favorite monument of visitors. the two evoke similar aesthetic responses yet are different in purpose, design, architecture and decoration. Dedicated to Buddha by King Jayavarman VII, this state temple was originally called "Jayagiri" (which means "Victory Mountain") but was renamed "Banyan Temple" sometime after the period of French occupancy. The Buddha is said to have attained enlightenment after a long period of meditation beneath a banyan tree.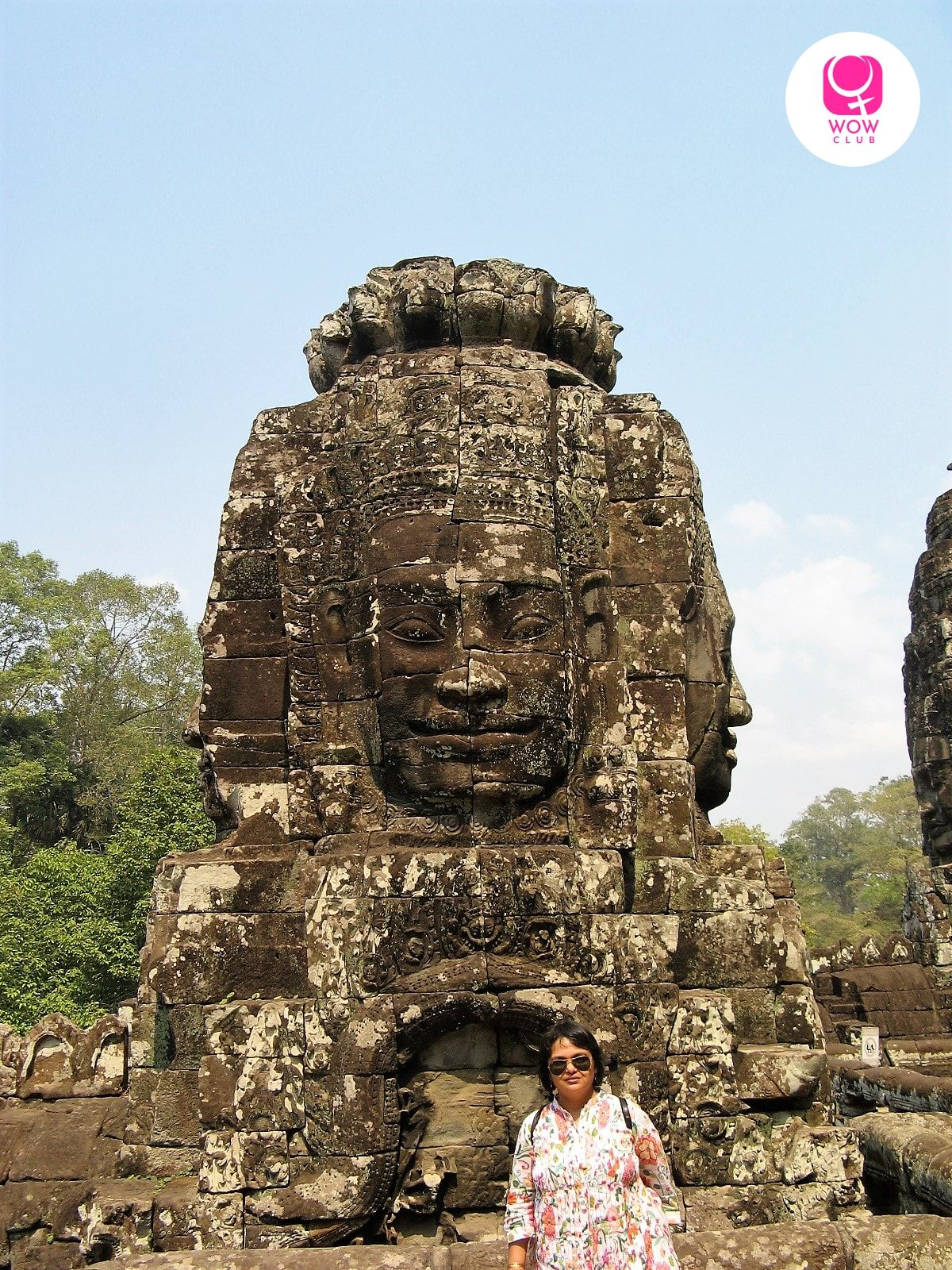 . Ta Prohm| The so-called 'Tomb Raider Temple', Ta Prohm is cloaked in dappled shadow, its crumbling towers and walls locked in the slow muscular embrace of vast root systems. Undoubtedly the most atmospheric ruin at Angkor, Ta Prohm should be high on the hit list of every visitor. Its appeal lies in the fact that, unlike the other monuments of Angkor, it has been swallowed by the jungle, and looks very much the way most of the monuments of Angkor appeared when European explorers first stumbled upon them. Ta Prohm is a temple of towers, closed courtyards and narrow corridors. Many of the corridors are impassable, clogged with jumbled piles of delicately carved stone blocks dislodged by the roots of long-decayed trees. Bas-reliefs on bulging walls are carpeted with lichen, moss and creeping plants, and shrubs sprout from the roofs of monumental porches. Trees, hundreds of years old, tower overhead, their leaves filtering the sunlight and casting a greenish pall over the whole scene.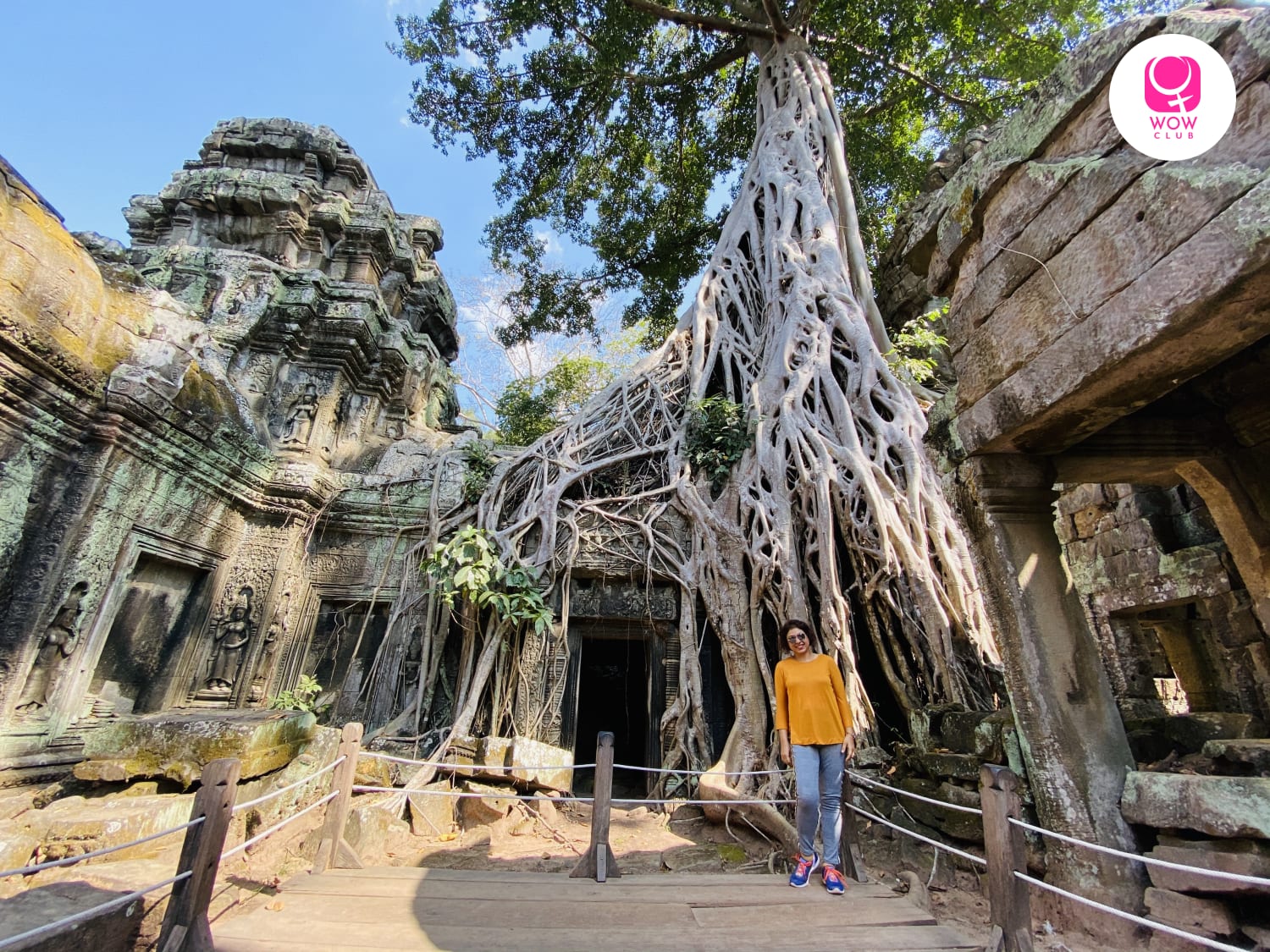 . Royal Palace| Home to Cambodia's official royal residence, the grounds of Phnom Penh's Royal Palace and Silver Pagoda are awash with regal structures, intimate temples, collections of gifts from foreign leaders and murals that paint a picture of the country's past. Identified by the iconic high yellow walls that shelter the site, the Royal Palace and Silver Pagoda are one of the most popular tourist attractions in the city. Locals like to bask in its beauty every day – flocking to the small patch of grass that sits in the shadows of the palace's Moonlight Pavilion to feed the birds, enjoy snacks or place offerings. Buildings that are open to the public include the golden-spired Throne Hall, which is painted yellow to symbolize Buddhism – the main religion in Cambodia – and white to represent Hinduism, the dominant religion during Angkorian times. There are five doors to the front of the hall, with the central one reserved for royalty.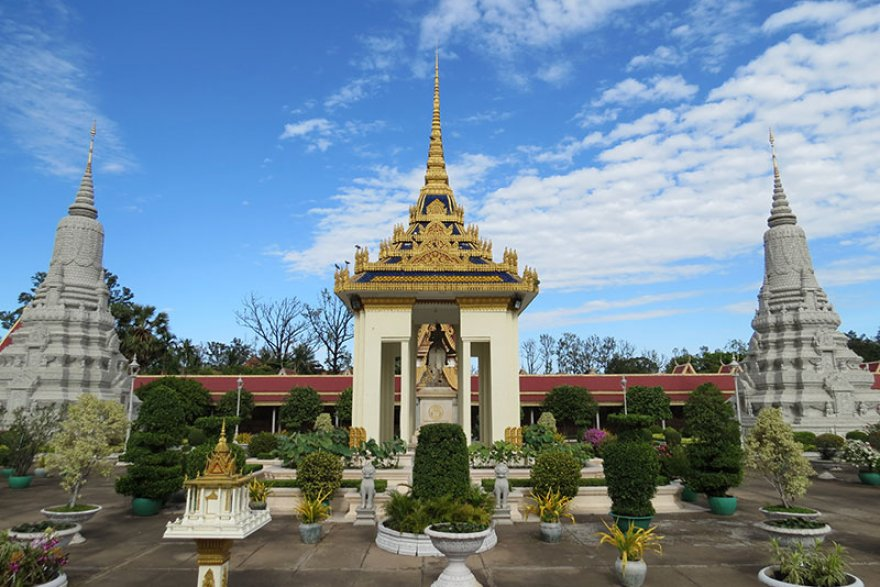 . Sihanoukville| Also known as Kampong Som, this is a coastal city and the capital of a southwestern province with the same name. It is flanked by a string of beaches along its entire coastline bordering the Ream National Park in the east. The most notable beaches include Victory, Serendipity, Independence, Sokha and Otres. The good thing about these is that they are comparable to their counterparts in neighboring Thailand.
. Koh Rong Island| Situated close to the coast of Sihanoukville, this idyllic island is famous for its stunning natural sights and exciting man-made facilities. Travelers often describe it as an 'island paradise' because of its sugary white sandy beaches, warm crystal-clear waters, and a pleasantly warm tropical climate. Many people visit Koh Rong for the awesome beach experience alone, the pristine beach create a vibrant party ambiance, with lots of chic hotels, bars, and night clubs.
. Banteay Srei| Considered by many to be the jewel in the crown of Angkorian art, Banteay Srei is cut from stone of a pinkish hue and includes some of the finest stone carving anywhere on earth. Begun in 967 CE, it is one of the smallest sites at Angkor, but what it lacks in size it makes up for in stature. The art gallery of Angkor, this Hindu temple dedicated to Shiva is wonderfully well preserved, and many of its carvings are three-dimensional. Banteay Srei means 'Citadel of the Women', and it is said that it must have been built by a woman, as the elaborate carvings are supposedly too fine for the hand of a man. It is one of the few temples around Angkor to be commissioned not by a king but by a Brahman, who may have been a tutor to Jayavarman V.
WOW Pro Tip: Wear comfortable sneakers as you have to walk a lot in order to explore the vast expansive Temple complexes. Don't forget a hat and sunglasses as even winter months are quite sunny.
Fun Things to do in Cambodia
1.Biking – Explore Siem Reap on a bike| Riding through quiet trails of the countryside amidst breathtaking natural scenery lets travelers escape the crowd and busy roads.
2. Apsara Dance – Witness The Khmer Performance| For the lovers of art, theatrics, & dance, the Apsara Show or the traditional Khmer performance revolves around a storyline which it narrates through the attractive, flexible movements of the performers and their colourful, eye-catching attires and makes it one of the top things to do in Cambodia.
3. Cruising – Spot Dolphins And Enjoy The Sunset| Cruising the Mekong is one of the most exhilarating experiences for travelers visiting here and one can also easily spot the Irrawaddy river dolphins in the water, the rarest of all aquatic mammals.
4. Beaching – Relax At the Laid-Back Beaches| Enjoy the sandy, pretty beaches of Sihanoukville, Kep, Koh Rong, and Ream which provide travelers with every bit of comfort and splendid views. Travelers can bask in the sun lying comfortably on hammocks and recliners, get a massage, dine at the beach shacks, go snorkeling in Cambodia, fishing & boating and many more other things.
Cambodian Cuisine – Gorge On Fresh Seafood And Amok
One of the major attractions of Cambodia that drive people to visit this paradise is its food. A typical Cambodian meal consists of rice and a fish item. Often called the 'cuisine of contrasts', Cambodian food involves a lot of variations which travelers fall in love with. Among the range of dishes one must try dishes that will surely get your taste buds tingling! Few of them include - Fish Amok (steamed coconut fish in banana leaves), Samlor Machu Trey (sweet and sour soup with fish), Nom Banh Chok (Khmer noodles), and the Num Anksom Sach Chrouk (sticky rice cake). Also, with its vast range of seafood, Cambodia is one of the best places for seafood lovers.
Where to eat: Khema in Phnom Penh, Genevieve's Restaurant in Siem Reap, & Holy Crab in Kep are some of the best restaurants in Cambodia.
WOW Pro Tip: Challenge yourself to sip every drop of those really huge Cambodian coconuts with the sweetest water and keep yourself hydrated at all times.
Travel Tips for Cambodia
1. Cambodia is warm all year, but it has a monsoon climate that creates two distinct seasons, rainy and dry. The cooler part of the season between November and March is the peak time for tourism and the best time to visit Cambodia. Mild enough to explore temples in comfort but warm enough to sunbathe by the coast.
WOW Pro Tip: Carry breathable cottons for this very humid land even in the winter months.
2. Money matters! The best thing about Cambodia is that everywhere you can use USD and do not have to bother about exchanging money to local currency.
3. Visa. Indian passport holders need a visa in order to travel to Cambodia. Indians can obtain an E-visa online or a Visa on Arrival at Phnom Penh or Siem Reap international airports only, for a maximum stay of 30 days. You must have a passport-sized photo, sufficient funds to cover your stay in Cambodia, and travel documents like a completed visa application form and confirmed flight tickets.
Cambodian souvenirs you would love to take back home!
This country is a wonderland of handmade products, all thanks to the extraordinary workmanship of the locals. You can literally shop till you drop in Cambodia. Take a look at the shopping options:
. Weaving silk| The Cambodian weavers use traditional methods in which the silk thread patterns were dyed before woven. Silk products featuring typical Cambodian fashion range from scarf, clothes, dress and purse. This type of fabric is super silky, flimsy and easy to pack into suitcase.
. Silverware| Cambodian silver jewelry is extremely diverse and exquisitely handmade by skilled local artisans. Silverware is uniquely designed in Khmer patterns, a representative of the truly stunning Cambodian culture. Varying from large plates, ornaments and carved decorative statues, silver items are intricately designed in various shapes and sizes.
. Sculpture works| Thanks to naturally inherent skills of craftsmen, reproductions bear a resemblance to the authentic ones that might fool some experts' eyes. Conveying Khmer spirit into artworks and reminding of hidden charm of Cambodia, the mini versions imitate familiar Cambodian symbols like the glorious Angkor Wat, the pristine countryside, Buddha's heads and Apsaras.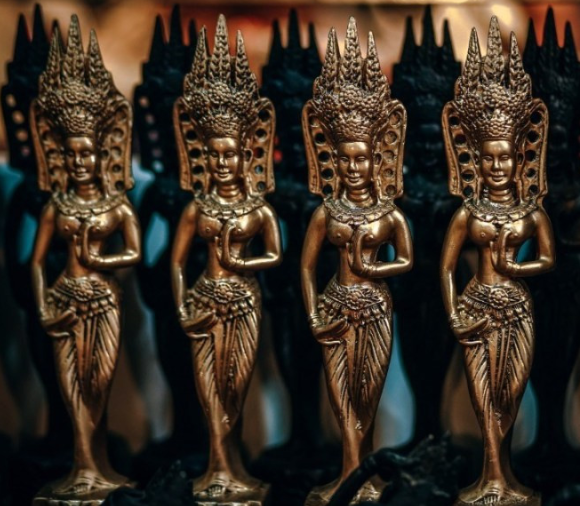 . Kampot Pepper| One can't leave the land of giant pepper productions without a pinch of Kampot Pepper in your luggage. This is considered to be the world's best pepper used by top chefs across the globe. Not only does Kampot Pepper enhance flavor but also improves health conditions of digestion, weight loss, bio-availability and metabolism.
. Krama| This means 'scarf' in Khmer language, is the best memento imaging Cambodian traditions and customs. Krama is originally in red and white but today it is redesigned in various catchy colors and patterns. Krama, an amulet of fortune and peace to local residents, is highly popular among wanderers and adventurers.
. Eco-friendly handmade products| Cambodia is expert at producing homemade products such as organic soaps, bath salts, body creams, lip balms, massage oils, perfumes, candles, incenses. Instead of using chemical substances, they have been mastered the art of cultivating local plants and minerals into green ingredients.
All you need to know about The Cambodian Handicraft Association
The Cambodian Handicraft Association offers women with disabilities (from landmines or polio) a new skills base in handicrafts, tailoring, weaving and running a small business which will allow them to return to their communities and lead an independent life. The products are absolutely beautiful and the majority of the silk is sourced from a local village, where it is all hand woven. The costs of running the project are covered by selling the artist's work in the shop, they receive no grants or aid.
Cambodian Handicraft Association aims to:-
-Help and support landmine victims, polio and women with vulnerabilities
-Provide vocational training
-Provide education, health care and life skills
-Assist the disabled participants to integrate back into the community and society in a meaningful and dignified way
-Promote motivation for individual's self-sufficiency
Add on Destination
While you're visiting Cambodia, it is a fabulous idea to team it up and visit it's off-beat neighbor, Vietnam! There are frequent flights between Cambodia and Vietnam from various airports. Read more about Vietnam on our blog, The Best of Exotic Vietnam!
From exploring the ancient temples of Siem Reap, to riding through temples on bikes, to venturing on an unstoppable shopping spree, to partying hard at the Pub Street, to discovering villages on the lake, to enjoying tuk tuk rides, to watching the best sunrise at the Angkor Wat, there's a promising adventure awaiting every kind of traveler that visits this ancient kingdom - Cambodia!
Well if all this sounds like too much of homework, then just sit back and click here.
Join the newsletter to receive the latest updates in your inbox.