Ever visited a country that gauges its progress with Gross National Happiness? You MUST travel to Bhutan and discover its secrets to happiness if you haven't already. Bhutan also takes pride in the fact that, while many nations are struggling to reduce their carbon emissions, the Kingdom of Bhutan is already carbon negative: it takes more greenhouse gasses from the atmosphere than it emits.
Join us on a journey across Bhutan's best places: Thimphu, Punakha, and Paro to explore the treasure box of traditional Himalayan Life. Find our detailed itinerary below: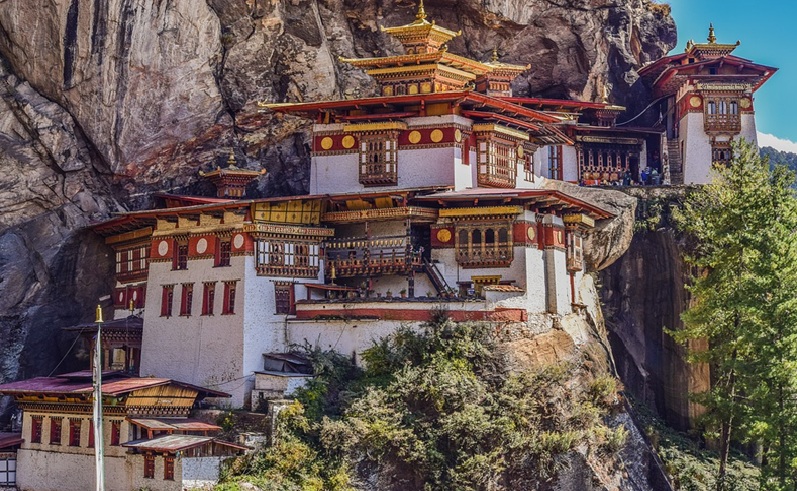 If you wish to slow down your fast-paced city life and relish a moment or two in the lap of the Himalayas, Bhutan is the place for you! The charms of this isolated Himalayan Kingdom are knitted strong within its cultural realms. The government takes all measures to preserve its culture, history, and rich tradition. Explore the dzongs and the legendary ancient monasteries, marvel at the stunning landscapes, eat chilies and cheese, learn about Buddhism, festivals, and most of all its authenticity, and have one of the most unique travel experiences of your life.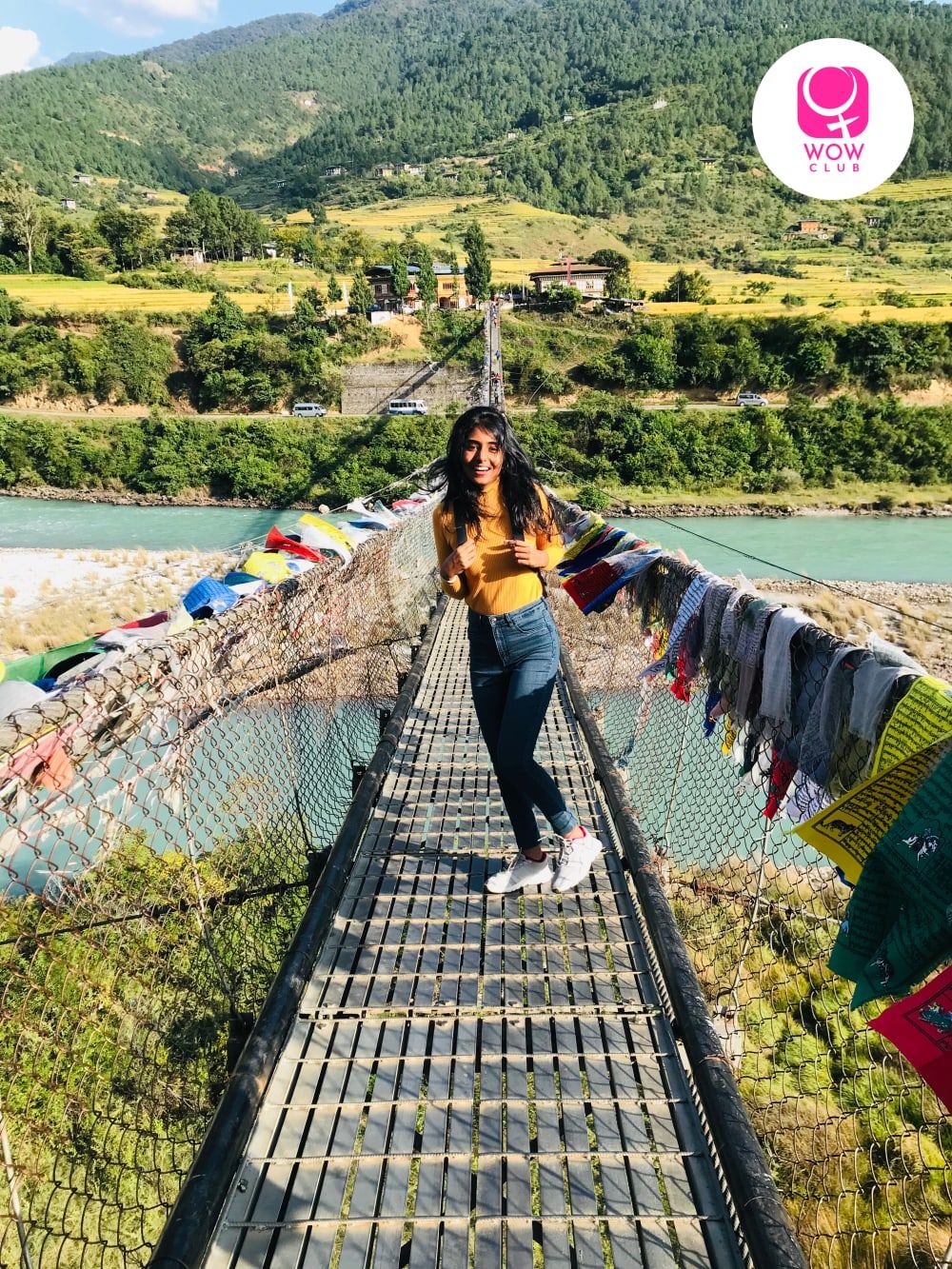 If you're wondering how to plan your Bhutan getaway, then look no further and read on...
Contents
How to Reach Bhutan
By Air: The best way to reach Bhutan is by air. The only international airport in Bhutan is Paro. The National Air Carrier of Bhutan, Druk Air is the only airline that operates regular flights to and from Paro. Direct flights to Bhutan can be found from the Indian cities of Kolkata and Delhi.
You can also take a direct flight from Kathmandu to Bhutan. In fact, this journey is quite exciting by air as you can see four of the highest mountains in the world - Mt. Everest, Makalu, Lhotse, and Kangchenjunga, from the airplane.
By Car: Travelling to Bhutan by car is a popular way to reach Bhutan, especially for those people who love going on road trips. India has three border points - Jaigaon – Phuentsholing Border, Gelephu, and Samdrup Jongkhar. Phuentsholing is the preferred option for those trying to reach Bhutan by road. It is around 170 km from Bagdogra in West Bengal. It is easily accessible and you can even halt here before you head on toward Bhutan.
You can hire private taxis from various places such as Bagdogra Airport or Siliguri stand and the fares can be between 2000 to 3000 INR.  Once you reach Phuentsholing, the journey to Thimpu can be around 5 to 6 hours. The journey is rather scenic as you cross various sub-tropical areas or even the alpine zones. For those who love the idea of the journey being as vital as the destination, a road trip can be quite an exhilarating way to reach Bhutan.
By Bus: Indian tourists can travel to Bhutan from Kolkata by bus. There are direct buses from Esplanade Station in Kolkata which will take you directly to Phuentsholing. Do be warned though, the bus journey is around 18 hours from Kolkata but around 4 hours only, from Siliguri. The trip is quite comfortable as the buses are maintained in good condition as are run by the Royal Bhutanese Government.
By Train: It is not possible to reach Bhutan by train but visitors can reach stations like Siliguri, Hasimara, New Alipurduar, etc., and then take a taxi or bus to reach Bhutan. Hasimara is only 17 km away from Phuentsholing.
Visas and Permits required for Bhutan
Note that it is mandatory for all visitors to book their travel through an authorized local tour operator in Bhutan. All the tour operators in Bhutan are licensed by the government. To confirm that they are authorized tour operators of Bhutan, you can ask for their license copy.
For Indian, Bangladeshi, and Maldivian Travelers:
Indian, Bangladeshi, and Maldivian nationals coming by air can obtain an Entry Permit by producing a valid passport with a minimum of 6 months validity (Indian nationals may also use their Voters Identity Card). Indians coming to Bhutan by road are required to obtain an 'Entry Permit' on the basis of a valid Travel Document from the Immigration Office of the Royal Government of Bhutan at Phuentsholing
The 'entry permit' allows an Indian tourist to visit Thimphu and Paro only. However, any tourist going beyond Thimphu and Paro needs to acquire a 'special area permit' from the RGoB Immigration Office at Thimphu on any working day (Monday to Friday)
Earlier, nationals of India, Bangladesh and Maldives visiting Bhutan were only required to carry the valid travel documents necessary, and did not have to pay an entry fee. Ending this provision of free entry for Indian, Bangladeshi and Maldivian tourists into the country, Bhutan recently announced that it will levy a daily fee of Rs 1,200 per person from July 2020.
For other International Travelers:
All other tourists must obtain a visa clearance prior to the travel to Bhutan.  Visas are processed through an online system by your licensed Bhutanese tour operator directly
International tourists (except India, Bangladesh, and Maldives) have to pay approximately $250 (Rs 18,000 approx) as a minimum charge per day per person as a tariff. This $250 charge also includes a $65 "Sustainable Development fee" and a $40 visa charge.
Your payment needs to be wired to the Bhutan National Bank before your visa will be issued. This fee is mandatory. There is no negotiating down the price of the tourist tariff.
Best Places to Visit in Bhutan in a span of 7 PERFECT days:
When planning a trip to Bhutan, it is best to have at least one week of time in hand for a wholesome experience. Wondering what to see in Bhutan in a span of 7 days? Don't worry, we've got you covered.
Day 1
Arrive at Paro International airport and head straight to the capital city, Thimphu which is lesser than 2 hours drive
On the way stop and walk across the 600 years old, Tachogang Lakhang bridge which is the oldest iron bridge in Bhutan, located just off the Paro-Thimphu highway.
You could also stop at Chuzom which is the point of confluence of two key rivers of Bhutan.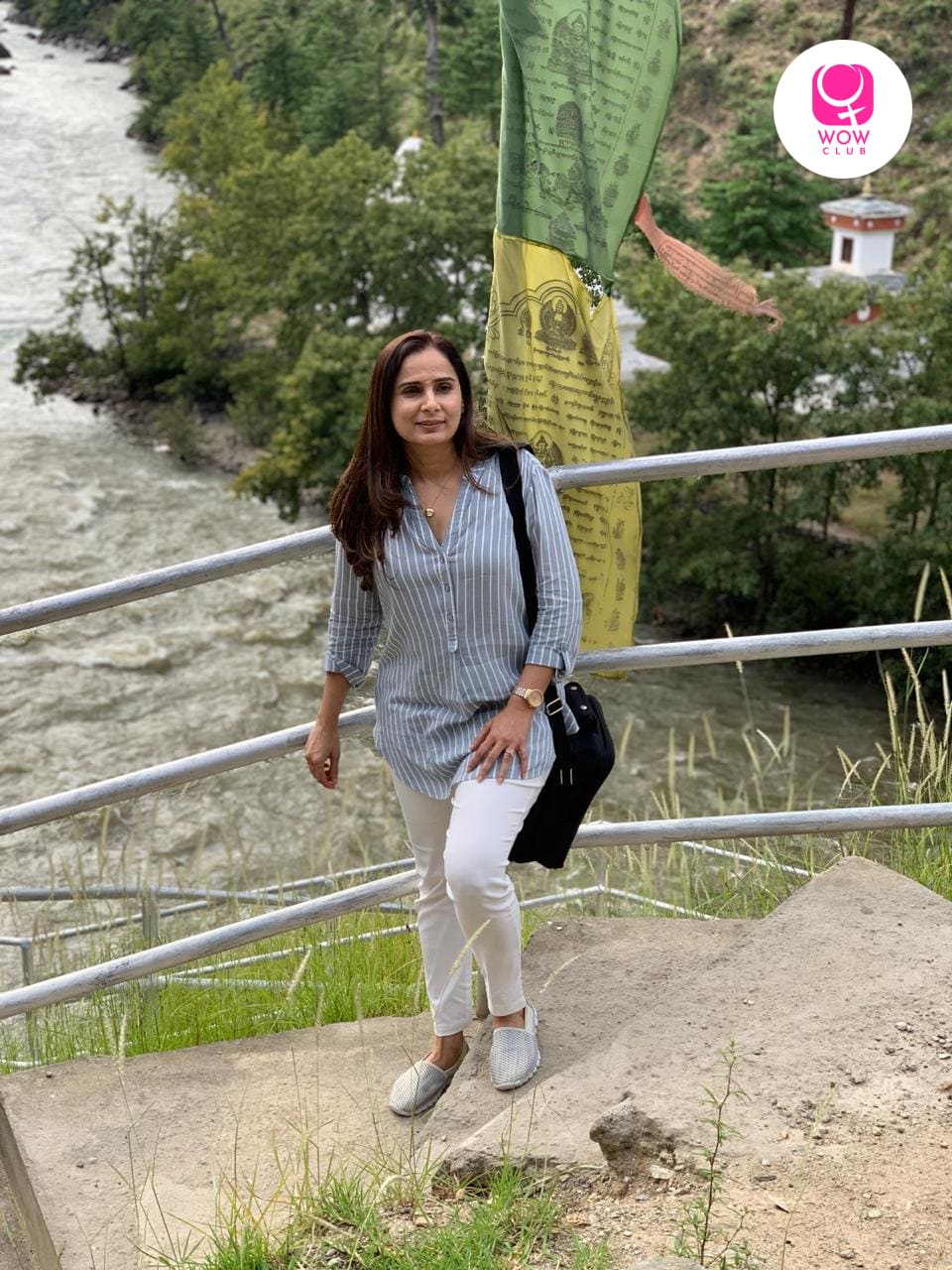 Day 2
Visit the oldest temple in the valley, the Chang Gangkha monastery
Marvel at the Buddha Dordenma Statue - This is a massive, golden Buddha sitting atop a gilded meditation hall. Inside of this 169 foot Buddha Dordenma statue, there are 125,000 miniature Buddhas encapsulated inside of its enlightened bronze chest, ranging from 8 to 12 inches tall. This means that in Thimphu, which has a population of around 115,000, there are more Buddhas than there are human beings.
Visit The Zilukha nunnery
WOW Pro Tip: From here, the spectacular view of Tashichho Dzong can be captured in a camera to make for a beautiful photo album. (Tashichho Dzong has been the seat of the government since 1952 and presently houses the throne room and offices of the king, the secretariat and the ministries of home affairs and finance)
Pay a visit to the Textile Museum where you would be transported to another time and place.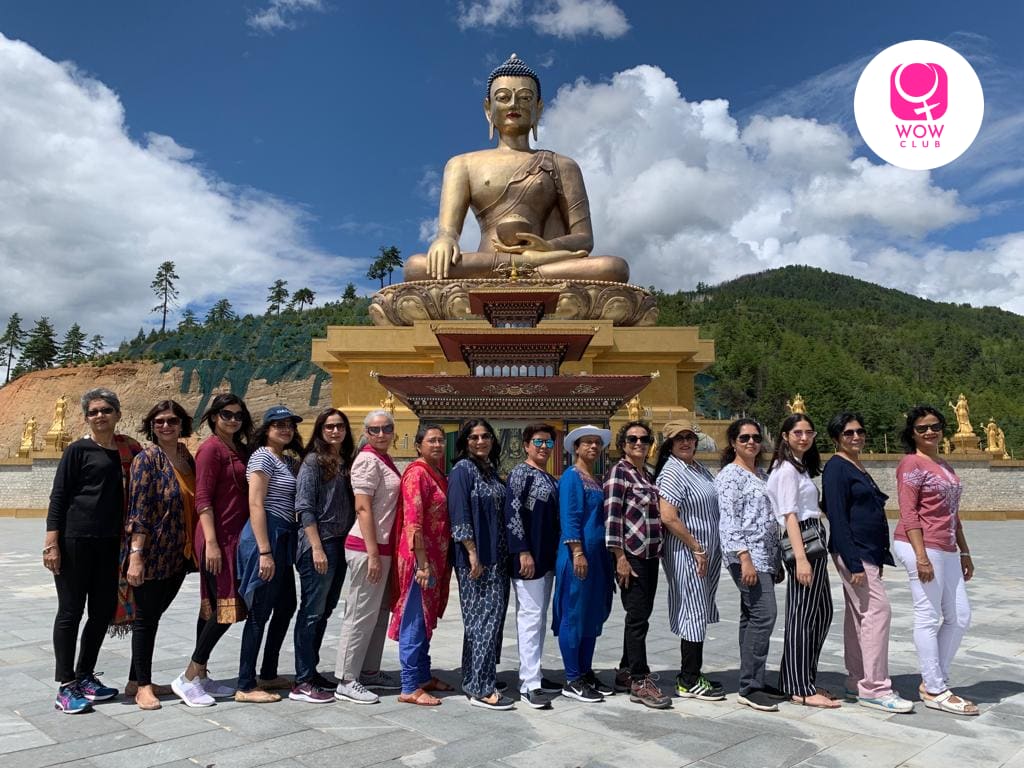 Day 3
Drive towards the beautiful valley of Punakha passing by Dochula pass - It is the highest point of the road at a height of 3150m and is adorned with chorten, mani wall, and prayer flags. If the sky is clear, you can enjoy a beautiful view of the highest peaks of Bhutan at a sight that stretches almost 180 degrees.
Did you know? Punakha is still the winter residence of  Je-Khenpo, the religious head of Bhutan.
Visit Chimi Lhakhang - known to the English-speaking world as The Fertility Temple and is mostly visited by several childless couples from in and around Punakha District. It has become a popular tourist destination with visitors flocking in from all across the world to witness the unusual traditional and cultural ceremonies performed here. The monastery is exquisitely built with ancient Thai-themed architecture with paintings and carvings of phalluses on all walls.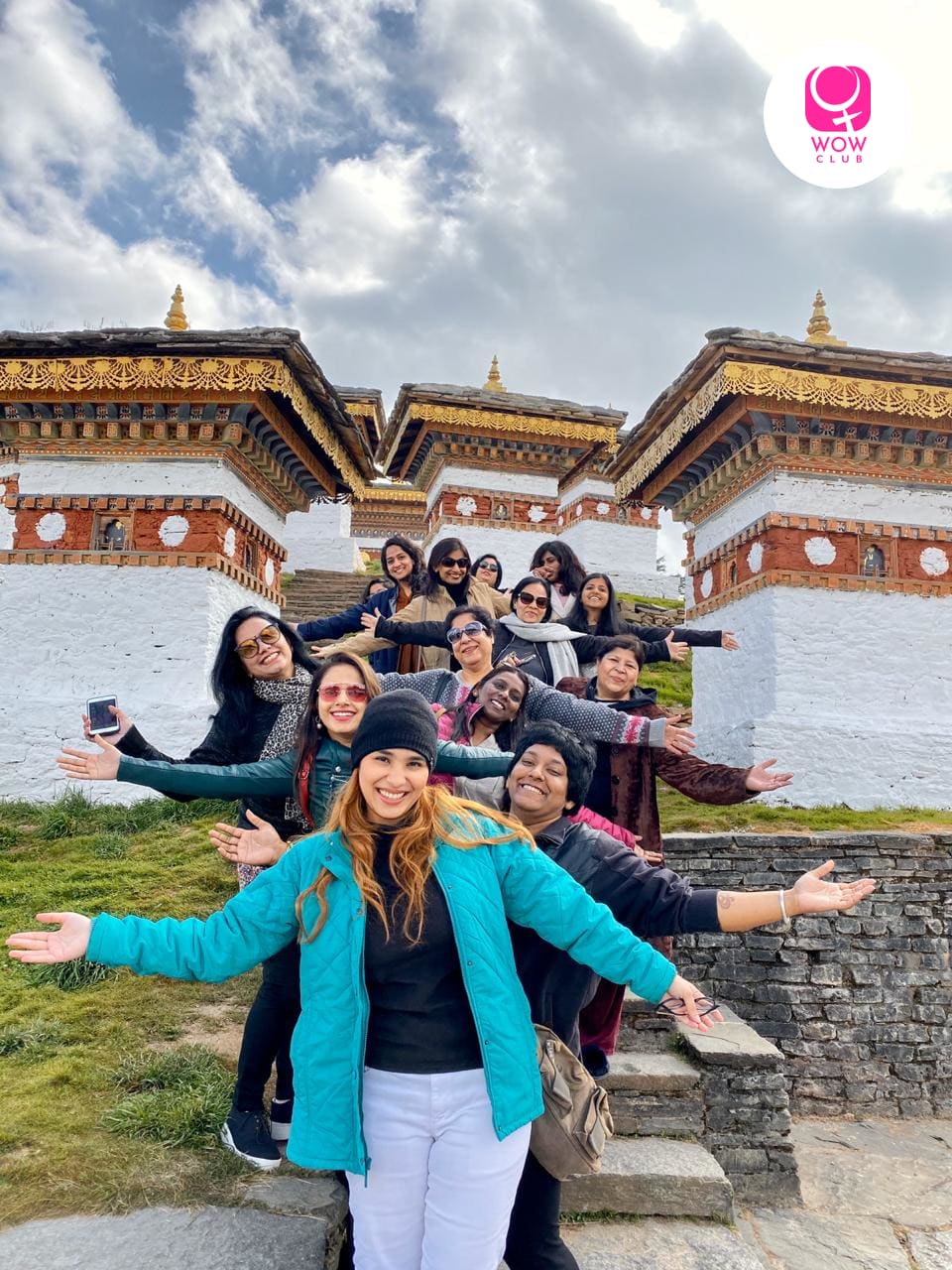 Day 4
Hike the Khamsum Yulley Namgyal Chorten - This Chorten/Stupa was built by the Queen Mother of Bhutan, with hopes to bring peace and remove the negative forces.
It's about a one-hour hike that goes up the hill to the chorten. Make the hike count by going on the 4th floor of the chorten and seeing the magnificent view across the Mo Chhu River towards the Ghasa Peaks and also beyond them.
Go River Rafting - float down the river while soaking in the surrounding beauty and moving through some modest yet exhilarating rapids at the famous river rafting sites Po Chu River and Mo Chu River.
Walk through the Suspension Bridge - This colorful overpass is one of Bhutan's longest suspension bridges.
Visit the Punakha Dzong - also known as the Palace of Great Happiness. This fortress sits at the confluence of the Mo Chhu and Pho Chhu Rivers and is arguably the most scenic fortress in Bhutan.
Day 5
Drive from Punakha to Paro - This town located on the banks of the River Paro retains its age-old charm with colorful wooden shopfronts and restaurants lining the streets.
Visit the Paro dzong built here which anchors the town and also the local museum which gives a sense of Bhutanese history down the ages.
Paro remains one of the best Bhutanese towns to explore on foot and is worth an hour or two's stroll at the end of a day of sightseeing. Shop for some souvenirs and their famous peach wine, Zumzin to take back home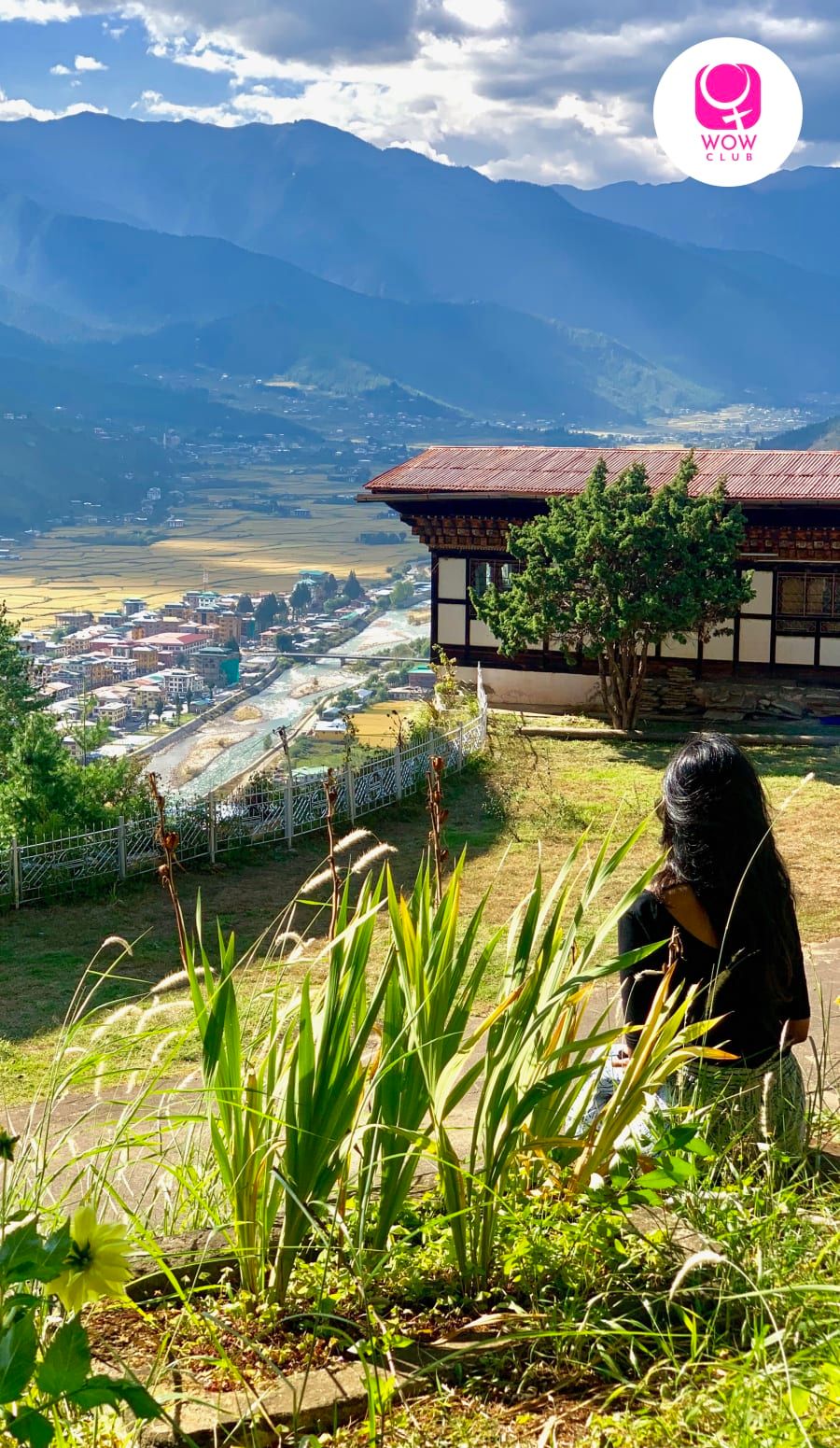 Day 6
Trek to Taktsang Monastery  - Also known as The Tiger's Nest Monastery,  is one of the Himalayas' most incredible sights, miraculously perched on the side of a sheer cliff 900m above the floor of the Paro valley. Visiting is the goal of most visitors to Bhutan and while getting there involves a bit of uphill legwork, it's well worth the effort. The monastery is a sacred site, so act with respect, removing your shoes and hat before entering any chapels.
WOW Pro Tip: Plan your trek as early as possible in the morning to enjoy the perfect weather.It is an arduous trek that can be covered in 2-3 hours one way, so make sure to wear a pair of sturdy shoes.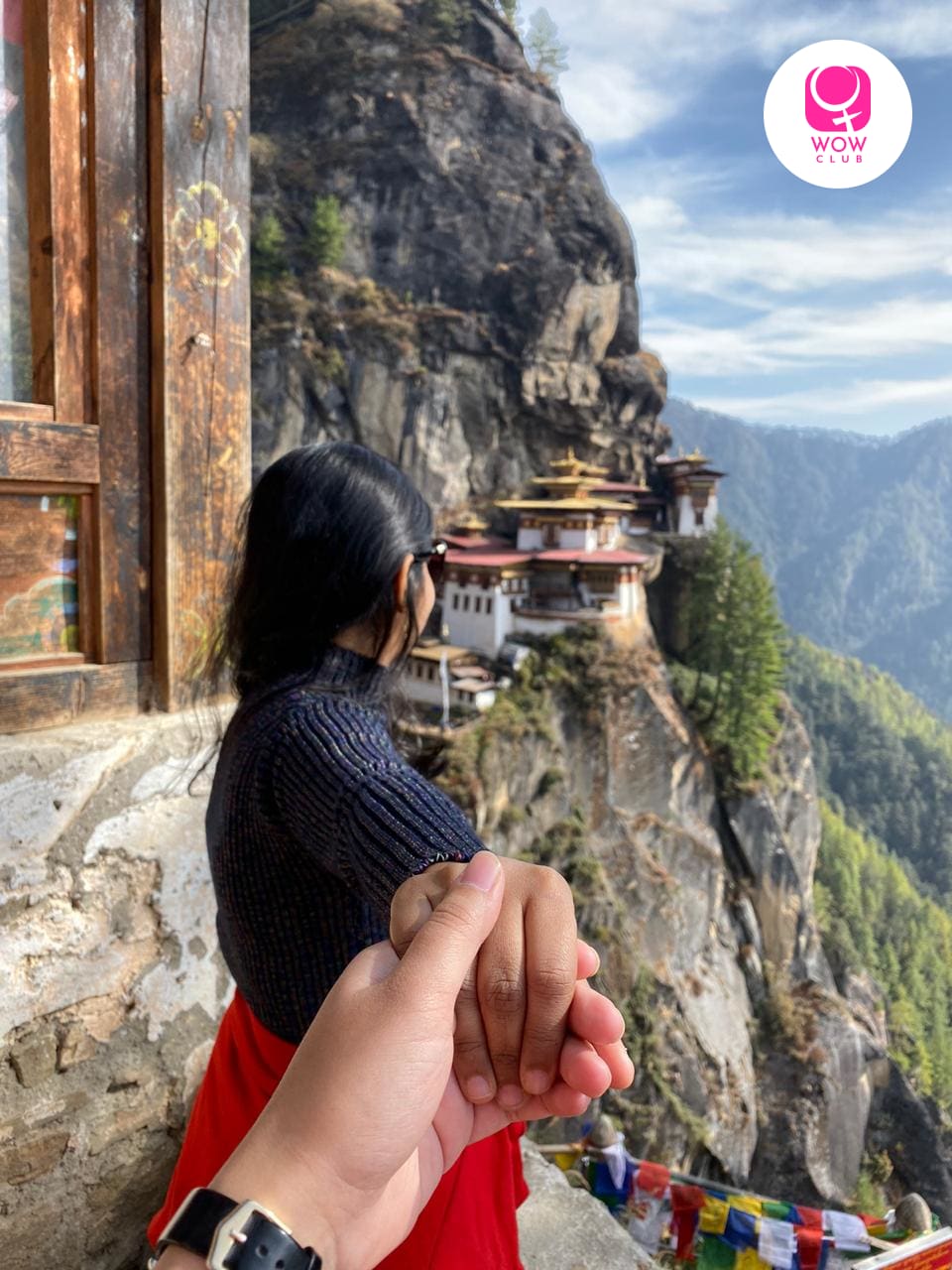 Day 7:
Gather your memories and catch your flight back Home
Add-on Destinations:
Got more time in hand? Want to explore more of Bhutan? If yes, then how about you give the following thought?
Phobjikha Valley
Phobjikha Valley is an expansive bowl-shaped glacial valley, meaning a glacier flowed through the valley centuries ago giving it the present U-shape. It is also sometimes called Gangtey valley after the name of a monastery that is located on a ridge of a mountain above the valley. Phobjikha/ Gangtey valley separates Western Bhutan from Central Bhutan. The valley houses miles and miles of flat fields that are so picturesque that even a photographer will be confused about what to click and what not! Phobjikha is home to the rare black-necked cranes that migrate to the valley from Tibet every winter. Phobjikha/ Gangtey valley is still untouched by excessive tourism and is strictly a place for nature and trek lovers. One can witness the raw beauty of nature and the people while traveling through the valley.
Phobjika Valley is approximately 135 kilometers from Thimphu, the capital city of Bhutan, and 80 kilometers away from Punakha, the former capital town of Bhutan. No buses run to Phobjikha/ Gangtey valley. Hence, the best way to reach Phobjikha is by hiring a car. It takes around 6 hours to reach Phobjikha from Thimphu city.
Bumthang  
The town of Bumthang lies in the district also named Bumthang. Bumthang is located in central Bhutan and is considered to be the religious heartland of Bhutan. It is located at an altitude of 2800 meters from sea level. Bumthang has the most temples and historic sites than any other city/ town in Bhutan. Bumthang valley and several temples and monasteries form the places to visit in Bumthang. Bumthang also has a domestic airport connecting it to Paro.
Treks in Bhutan
A journey to Bhutan will be as spiritually rewarding as it would be adventurous and exciting. If you love to be outdoors, then trekking is the best thing to go for. Bhutan consists of numerous trekking trails, of which Jomolhari Trek is the most famous. Dochula Pass, the Druk Path, Snowman trek routes, and Dagala Thousand Lakes, there are many such trails all around the country with exciting paths and scenic beauties. Read more about Bhutan treks here.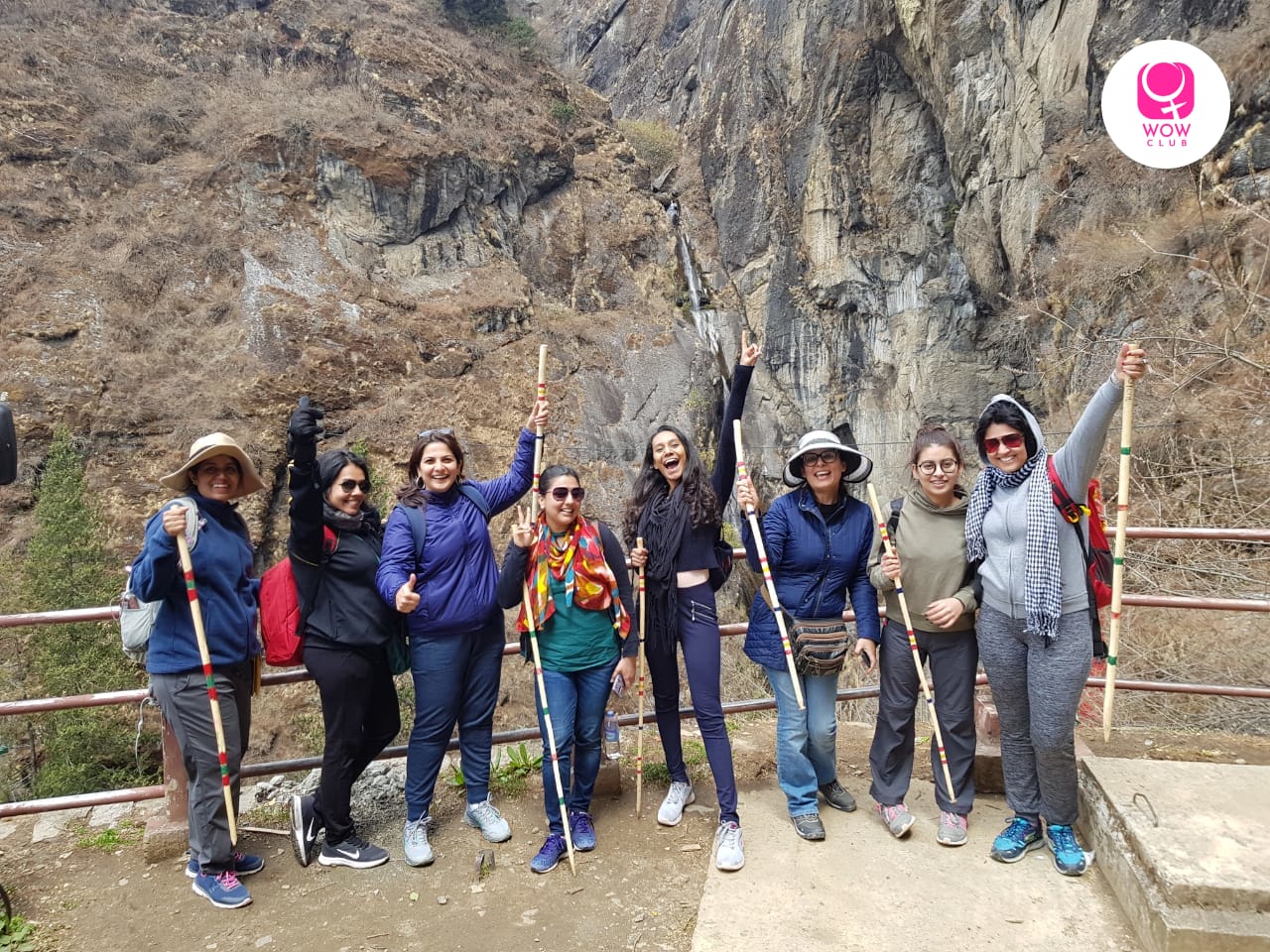 Apart from the above-mentioned major places, passes  Chelela Pass (Haa district), valleys like Haa Valley (Haa district) and Trongsa valley (Trongsa district), and forts like Wangue Phodrang Dzong (Wangdue Phodrang district) and Trongsa Dzong (Trongsa district) are popular places of visit. Eastern Bhutan is less frequented by tourists and is relatively underdeveloped with few facilities. However, it also means it is raw and pure in terms of its natural and cultural beauty.
Best Things to do in Bhutan
While there are a lot of guides that talk only about the popular things to experience in Bhutan, we instead wanted to customize and present to you a mix of both, popular and offbeat things to do in Bhutan. Read our comprehensive guide on the Best Things to do in Bhutan here.
Best time to visit Bhutan
The best time to visit Bhutan is during the spring months of March to Mid June and the fall months of September to November.

Bhutan During Spring season:
Spring in Bhutan starts in March and extends up to Mid June. Spring is perhaps the best season to visit Bhutan, an ideal time to witness the country draped in colorful bloom. The weather is dry and less humid with perfect conditions to indulge in some trekking activities. Don't forget to carry woolen along, as it can be pretty cold.
Why should you visit Bhutan during spring? This is the time the Jacaranda flower blooms in Bhutan in the month of May. Also, treks to Jomolhari and Drukpath commence and the Paro Tshechu festival unfolds in full swing. Paro Tshechu festival is the best chance to meet Bhutan's king, where you can see him taking part in the festivities.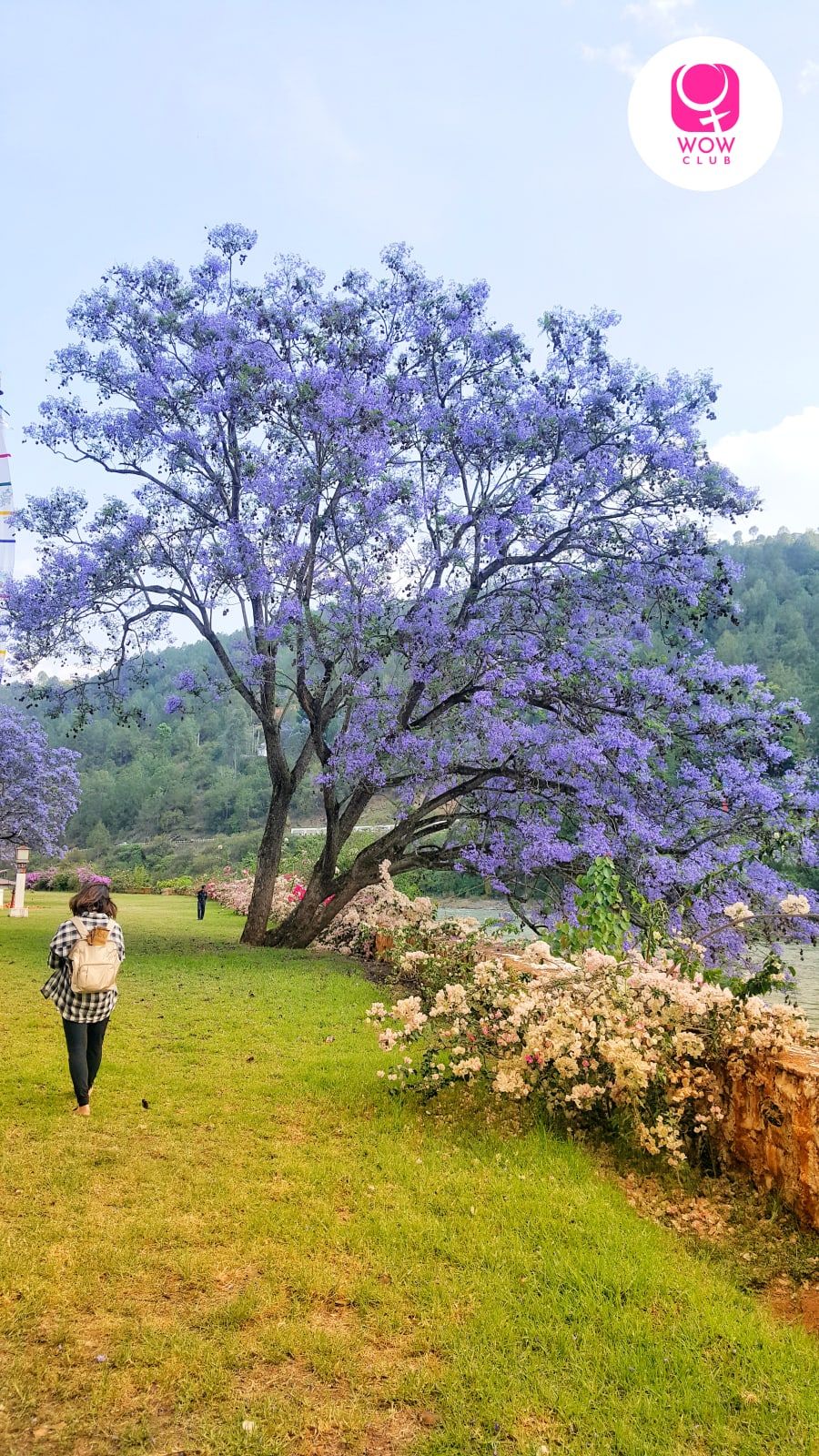 Bhutan During Fall season:
Another popular time to visit Bhutan is the fall season, which starts in September and lasts up to November. The weather is mildly sunny and chilly during this time, making it the second-best season after spring to visit Bhutan. There is no rainfall and nature is equally majestic and rewarding at this time.
Why should you visit During the Fall season? During this time, festivals like the Black-Necked Crane Festival that happens around the gorgeous Phobjikha Valley and the Thimphu Tshechu around Thimphu unfold in full swing. The climate provides a grand view of the tallest unclimbed mountains, the solitude dzongs, and monasteries. Photographers can have the best photography opportunities of shedding nature, green mountains, valleys, and lush green forests.
Bhutan During Monsoon/Summer season:
Summer starts at the end of June and extends up to August. The beginning of summer in Bhutan brings with it heavy rains. It's best to avoid planning a holiday to Bhutan during this season.
Know before you visit: This season witnesses a low influx of tourists, making to see places in a more relaxed way and speak to the locals and get to know more about the culture and traditions of their communities. Summer marks the onset of the Haa festival, which is celebrated amidst high-altitude alpine forests, meadows, and lakes and is usually the celebration of the Bhutanese way of life, local cuisines and delicacies, and cultures.
Bhutan During Winter season:
The winter season in Bhutan begins in December and lasts till February. Winters in Bhutan are beautiful and less crowded. Days are sunny, though evenings and nights can be very cold. This season is not recommended for a holiday in Bhutan.
Know before you visit: It is easier to secure a great deal on hotels during this time of the year because it's off-season. This is the time you also have the chance to experience snowfall in Bhutan.
Where to stay in Bhutan
The peak tourist seasons are Spring: March - Mid June and Fall: September - November. In particular, March, April, October, and November are especially busy. If you're considering visiting during these months, it's best to book your hotels and flight tickets at least 3 months ahead to ensure your reservation. Here's a list of hotel suggestions in every category to suit your preference:
Thimphu:
5 Star: Hotel Taj Tashi & Le Meridien
4 Star: Terma Linca Resort & Ramada Valley
3 Star: Hotel Amodhara and Dorji Elements
Punakha:
5 Star: UMA by COMO & Dhensa Resort
4 Star: RKPO-Green Resort & Four Boutique
3 Star: Punatsangchu Cottages & Meri Puensum
Paro:
5 Star: Le Meridien & Hotel Zhiwaling
4 Star: Nak-Sel Resort & Raven Nest Resort
3 Star: Tenzinling Resort & Mandala Resort
Phobjikha/Gangtey Valley:
5 Star: Amankora & Gangtey Lodge
4 Star: RKPO-Green Lodge
3 Star: Hotel Dewachen & Gakiling Guest House
Top 15 Travel Tips for Bhutan: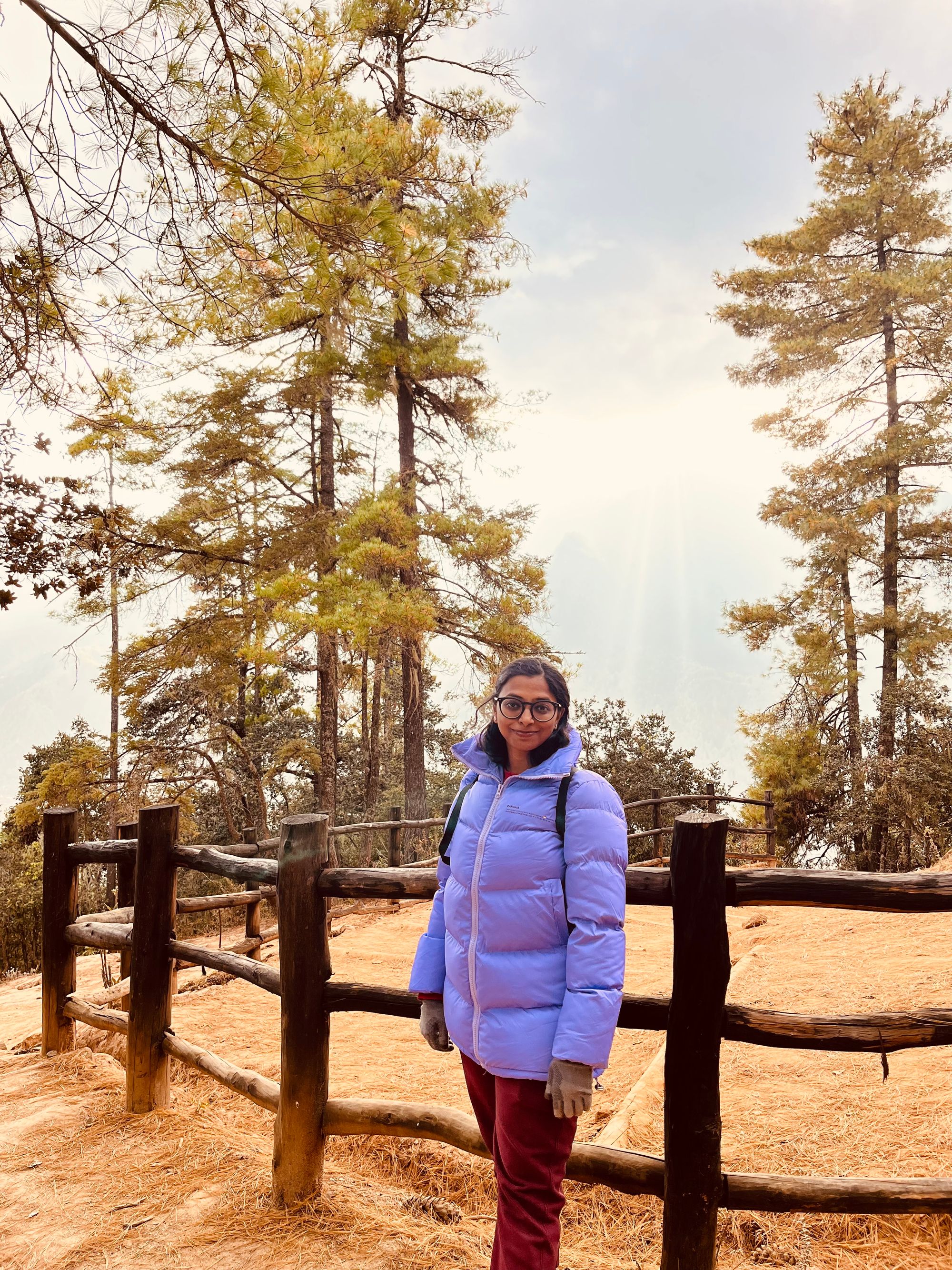 Recommended restaurants in Bhutan and the best dish they serve
- Druk kitchen(momos, Noodles, chilli chicken)
- Mountain cafe(pasta, momos)
- Brioche cafe(homemade ice cream, pastries)
- St Restaurant(local thali)
Most hotels have WiFi, but if you need more connectivity you can get a local SIM card from Tashi Cell or B-Mobile and top up with prepaid cards.
The official language of Bhutan is Dzongkha, but most Bhutanese are fluent in English as that is the medium of education so communication shouldn't be a problem.
The local currency is the Ngultrum, which is pegged to the Indian Rupee. i.e, INR 1 = Ng 1.
As the tour packages are prepaid, you'll only need money for your own personal expenses - souvenirs, tips (for the driver & guide), and drinks.
Recommended places to shop from in Bhutan: Paro market, craft Bazar Thimpu, textile museum shop
Main spots to visit for good pictures or views/ Top places to visit  in Bhutan: Tiger nest, buddha point, kumzun valley, punkha zong
Bhutan is the only country in the world that has banned the consumption and sale of tobacco, resulting in smoking being largely disallowed in public places. Having said that, consumption is not completely prohibited in Bhutan so if you want to smoke, bring your own cigarettes and ask your guide where you can light up.
Tuesdays are considered the national 'dry day,' with the sale of alcohol prohibited.
In Bhutan, the sale of meat is banned on the auspicious days of the 8th, 15th, and 30th of every Bhutanese month; on the 4th day of the 6th month; on the descending day of Lord Buddha and during the whole of 1st and 4th months of the Bhutanese calendar.
Do pack warm clothes, especially if you're traveling between the months of November and March. As a general tip, it would be wise to always have a jacket when traveling in Bhutan regardless of the seasons as you will experience huge changes in elevation, with certain valleys colder than others. It's best to be prepared!
Bhutan offers some unique handicrafts and authentic items which are perfect to bring along as a souvenir. Must-buy souvenirs in Bhutan are - Bhutanese Wooden Carved Masks, Bhutanese Thangka Paintings, Lungta Prayer Flags, Bhutan's local whiskey called K5 / Misty Peak, and the local peach wine called Zumzin.
The roads tend to be windy so if you are prone to motion sickness, bring Avomine or other medication to prevent nausea as you will be spending a lot of time in the car traveling around Bhutan.
In Bhutan, wearing caps or hats around is not a big issue. However, when entering a temple or Dzong, you need to take off your headwear to show respect to deities in the temple or officials in the Dzong.
Why is Bhutan safe for solo women to travel?
People are kind-hearted, they possess strong beliefs about showing respect to other people, they can go alone in the evening to explore(make sure it's not too late), and crime is extremely rare in Bhutan.
Hope this Bhutan Travel Guide helps :) Happy Wandering in the much-claimed happiest nation of the world!
Read more: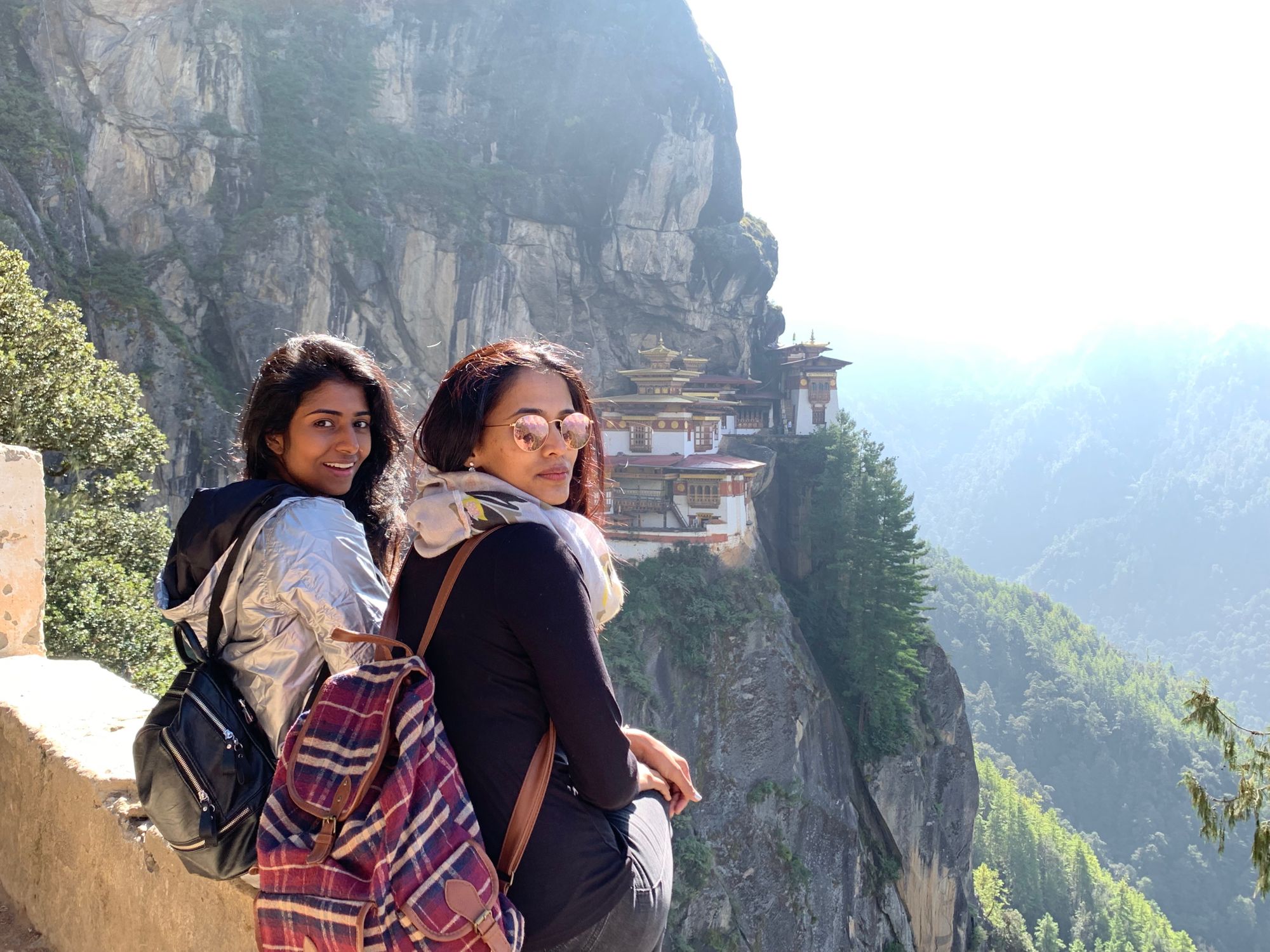 Join the newsletter to receive the latest updates in your inbox.