If you are somebody who veers off the beaten track and somebody who seeks happiness in adventure, then trekking in Bhutan is for you!  Whether you're looking for some of the most challenging high-altitude treks in the world or easy rambles through the wilderness, Bhutan has it all. Whether you're an experienced hiker or a novice, there's a multi-day trek in Bhutan to fit your needs.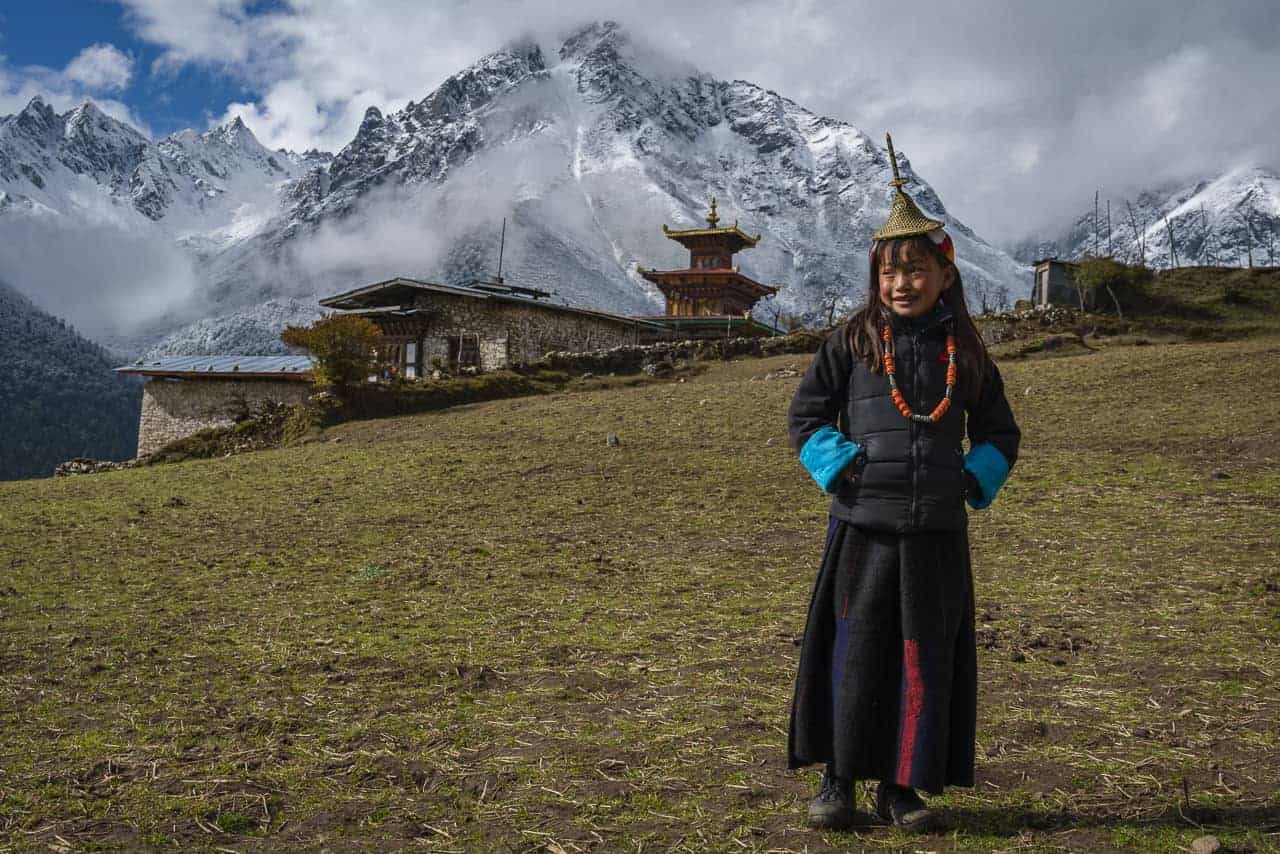 This post will act as your trek guide and give you choices of some of the country's finest treks!
Contents
Note: Trekking routes in this article are general guides only. They are not to be used for navigation. Consult your trek guide, as he is the expert on the route to take.
Best Seasons for Trekking in Bhutan
Spring and autumn are indeed the best Bhutan trekking seasons, and that's it's apt to plan your trip either between March to May, or September to November. The temperature during this time ranges from 20C to -10C, wherein the days are brighter and warmer, and the nights are colder.
Gangtey Trek
It is a short and relatively easy trek with several beautiful villages and monasteries en route. The trail winds through forests of juniper, bamboo, magnolia and rhododendrons and over small streams of cold, clear mountain water. If you are not accustomed to trekking in the mountains, then this trek is an excellent choice for you as it offers beautiful views of the country with mostly gentle, forested slopes.
Difficulty: Easy
Highlight: This is the best trek in Bhutan for begineers, and offers beautiful views of Phobjikha Valley.
Best Season: April, May, September to November
Altitude: 2250 m - 3120 m
Duration: 3 days
Route: Phobjikha - Zasa - Chorten Karpo - Jangchulakha - Jimelang Tsho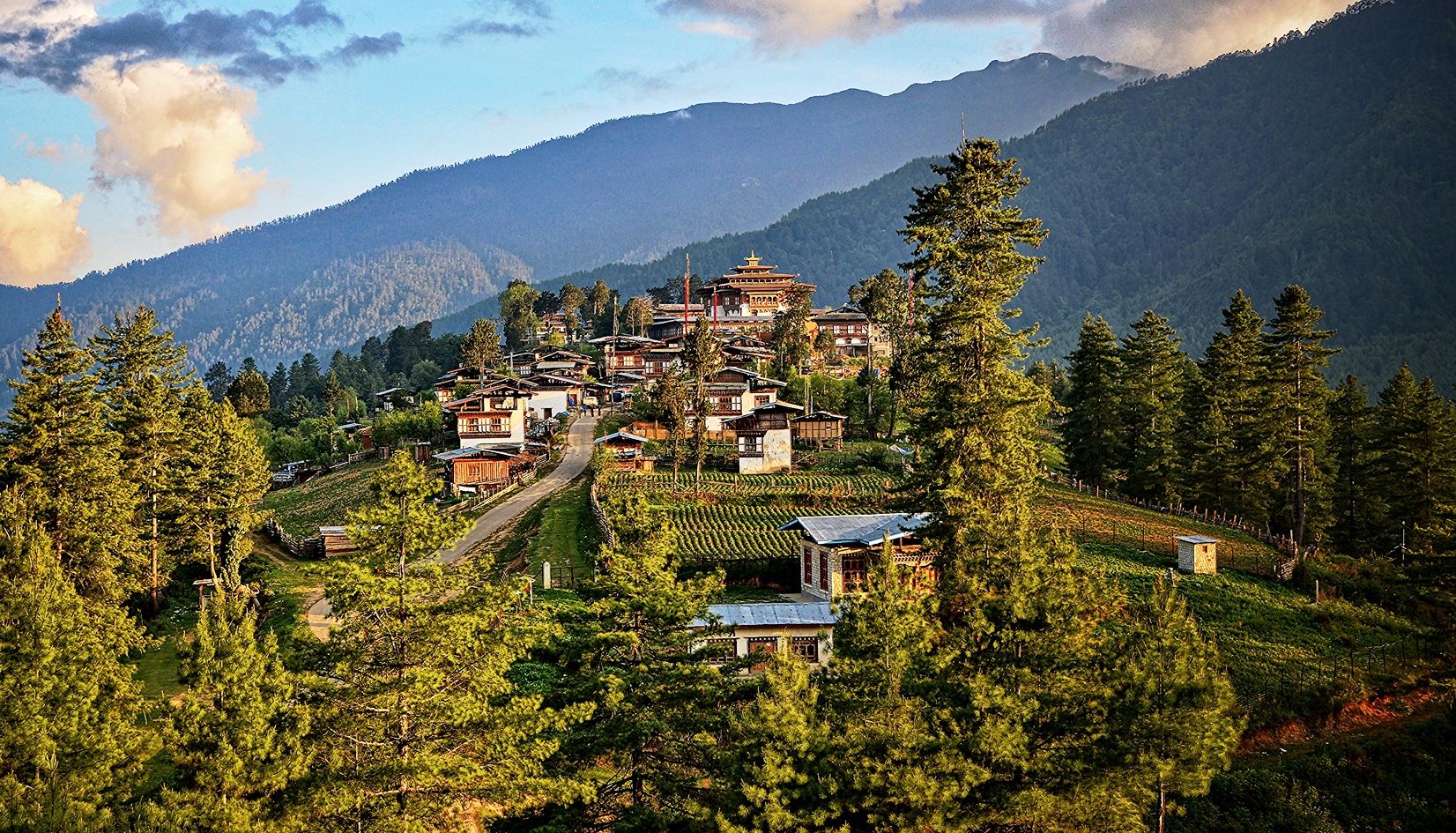 Samtengang Winter Trek
This four day trek is a short and pleasant journey from Punakha to Wangduephodrang Dzongkhag. It is a fairly easy trek and the climate is warm throughout the hike. The path takes you through forests of rhododendron and oak, through the villages of Sha and Chungsakha and across the longest foot bridge in Bhutan. The trail is approximately 54km in length.
Difficulty: Easy
Highlight: Rhododendron forest; Sha village and its people
Best Season: March, April, September, October
Altitude: 1100 m - 1900 m
Duration: 4 days
Route: Punakha – Limukha – Chhungsakha – Samtengang – Chhuzomsa
WOW Pro Tip: Make sure you are carrying enough water as you won't find any on the way to Limukha.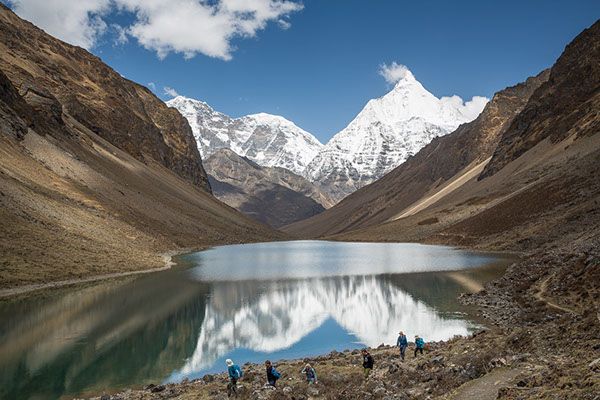 Druk Path Trek
This trek starts from Paro and takes you up to the mountains of Thimpu. It is a six day trek which lets you spend adventurous time in the lap of the abundant nature and offers the glorious view of Mt. Gangkar Puensum, the world's highest unclimbed mountain peak.
Difficulty: Medium
Highlight: This is the best trek for beginners, and is also popular for offering gorgeous views of Mount Gangkar Puensum, the world's highest unclimbed mountain.
Best Season: March to June &  September to November
Altitude: 2400 m - 4200 m
Duration: 6 Days
Route: Paro - Jili Dzong - Jangchulakha - Jimelang Tsho - Simkotra Tsho - Phajoding - Mothithang - Thimpu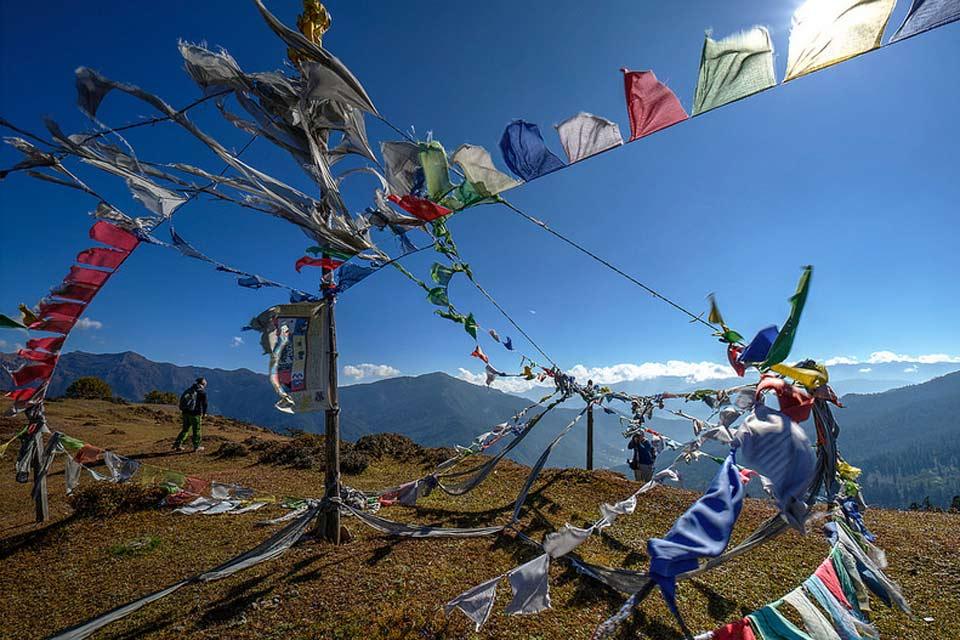 Jomolhari Trek
This nine-day trek takes you past Bhonte La pass, which is 16,000 feet and Tak-hung La pass, which is 14, 829 feet above, and is known for its moderate level of difficulty. If you're up for this route, try scheduling it around the Jhomolhari Mountain Festival, the annual event that celebrates the local culture of the nearby villages. This is definitely one of the best Bhutan trekking which you must experience on your next trip.
Difficulty: Medium
Highlight: Being one of the most popular & moderately challenging trek, Jhomolhari is known for offering mind-boggling views of Mount Jomolhari.
Best Season: June, September, October & November
Altitude: 2500 m - 5000 m
Duration: 9 Days
Route: Drukgyel Dzong - Sharna Zampa - Sharna Zampa - Thangthangkha - Jangothang - Lingshi - Shodu - Barshong - Dolam Kencho - Dodena
FYI: Jumolhari Trek permits are not issued for Indian Nationals due to the border issue with China.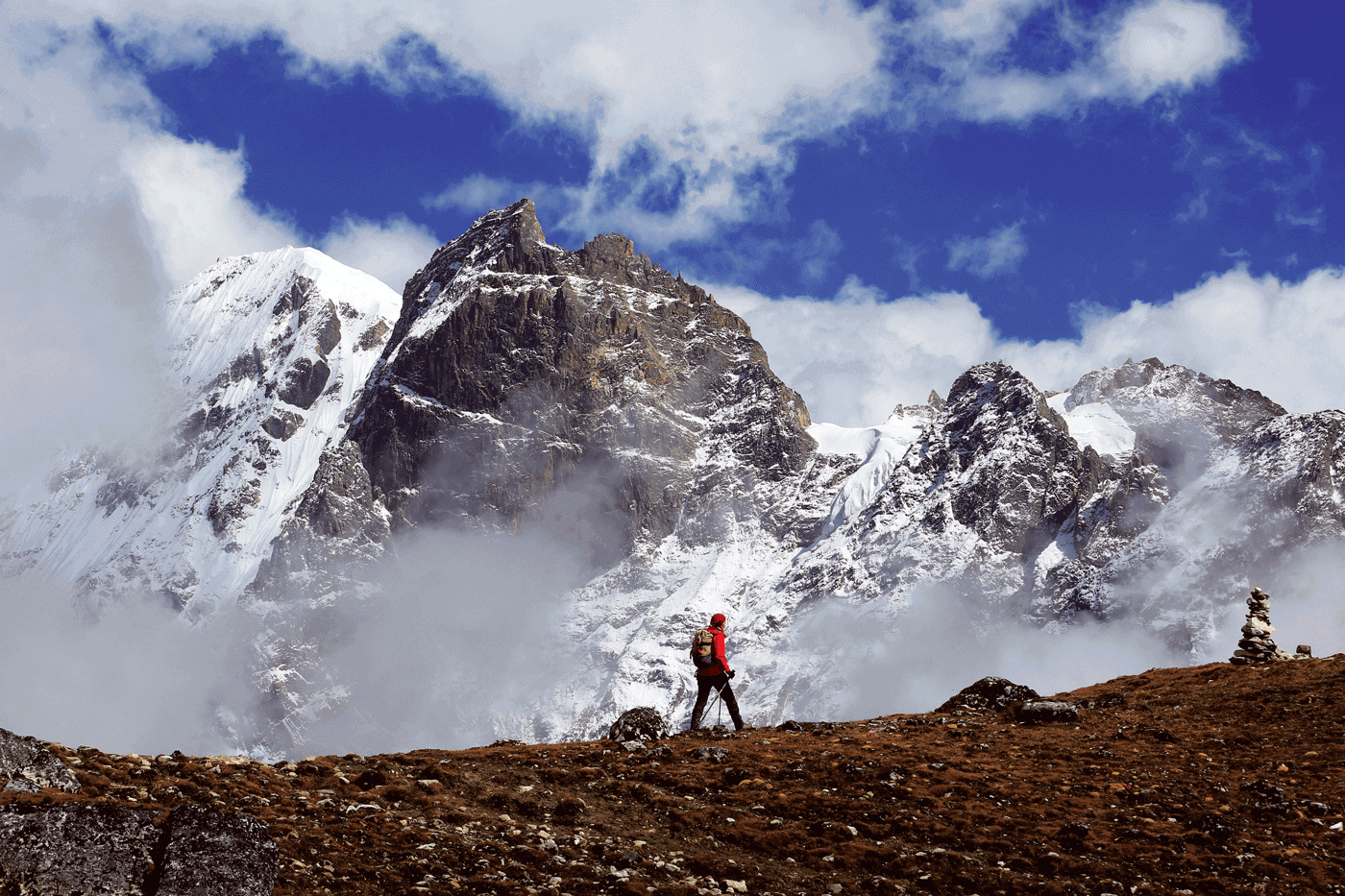 Snowman Trek
The most difficult in Bhutan and one of the most difficult in the world, Snowman Trek is only for seasoned trekkers. It has been named so for the 6 mountains above 23,000 feet that the trek passes beneath. The first and the foremost requirement is to be fit, physically and mentally. It takes one through Lunana, one of the remotest regions of Bhutan. It starts from Paro valley in Western Bhutan and passes along the Bhutan – Tibet border ending at Sephu Village in Central Bhutan.
Owing to its high altitude, long distance and difficult terrain, this trek is right on top on the difficulty level scale and takes 25-30 days to complete. Roughly 2 days are required for acclimatization. The expedition crosses 11 high passes including Nye La, Gobu La, Jare La and Shinge La. 9 of these passes are over 15,000 feet.
Difficulty: Difficult
Highlight: This famous trek is known for its difficulty and being the most ideal for experienced hikers.
Best Season: June to October
Altitude: 2850 m - 5320 m
Duration: 25 days
Route: Gunitsawa Village - Sharna Zampa - Sharna Zampa - Thangthangkha - Jangothang  - Lingshi - Chebisa - Shodu - Barshong -  Shomuthang - Robluthang - Limithang - Laya - Rhodophu -Narethang - Tarina - Woche - Lhedi - Thanza - Tshorim - Gangkhar Puensum Base Camp - Warathang - Duer Tsachu - Tshochenchen – Duer Village
WOW Pro Tip: Snowman Trek permits are not issued for Indian Nationals due to the border issue with China.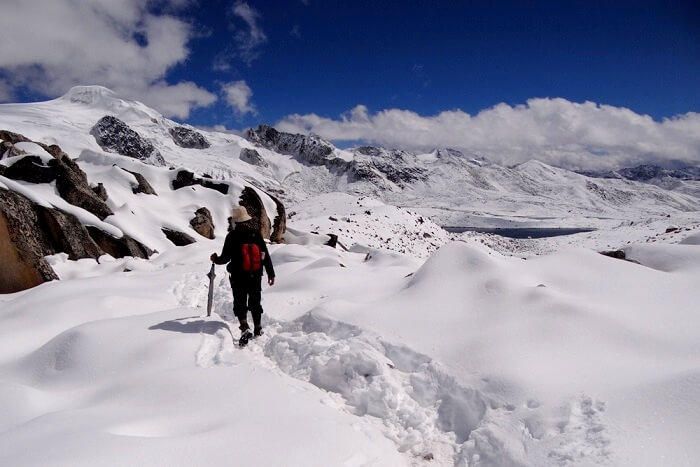 Does your physical fitness matter?
Your physical fitness matters on the level of difficulty of  trek. For most of the treks you have to walk for a minimum of 5-7 km. You can try the following tips before your trip:
Start preparing yourself with a slow pace of running or jogging and then keep increasing your pace day by day. This makes your lungs strong and it also helps the body to acclimatize better when you are at the higher reaches.
Add flexibility training to your workout which will able the muscles to relax and stretch easily.
Stretching improves your posture and helps to prevent lower back pain.
WOW Pro Tip: If trekking seems too challenging, there are multiple one day hikes like Tigers Nest,Chimi Lakhang and Khamsum Yulay Namgyal Chorten which will boost your spirits with amazing views.
Things to keep in mind while you pack for your trek:
Carry all the necessary trekking gears which are required for the trek.
Get yourself checked medically to evaluate your fitness level.
‌‌‌Know the season you are arriving in and then plan your trek accordingly.‌‌‌‌
Eat a healthy and balanced diet and avoid all sorts of junk food.‌‌‌‌
Carry protein bars, snacks, and dry fruits.‌‌‌‌
Prepare yourself for altitude sickness and carry the necessary medicines.‌‌‌‌
Pack enough clothes, including thermal wear, as it can get cold.‌‌‌‌
Keep enough cash as sometimes the ATM's do not work.‌‌‌‌
Do not forget to keep sunglasses and sunscreen handy to protect your skin from harsh sun rays.‌‌‌‌
Choose to carry lightweight and quick-drying clothes.
Read more: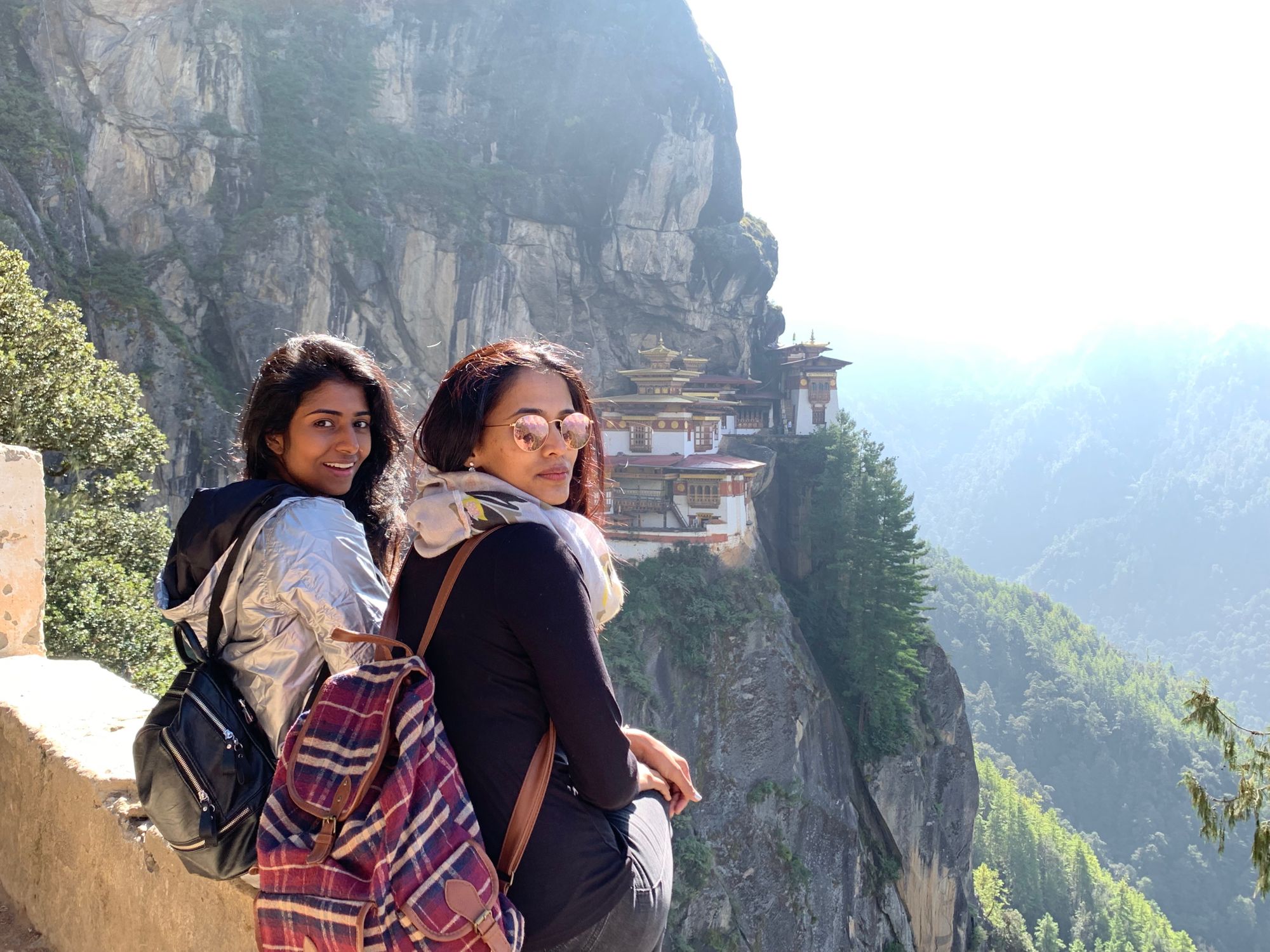 Join the newsletter to receive the latest updates in your inbox.