China is an amazing tourist destination offering an array of places and activities for its visitors to explore. But when we think of travelling to China, the iconic Great Wall of China, the capital city Beijing and the skyscrapers in Shanghai are the first few things that come to our mind.
But there are many places in China which are offbeat and are different from the mainstream happening life in the city.
Today let's take you through two such exciting province in China that will let you get a glimpse of this country's vibrant hues - our favourites, Chengdu & Zhangjiajie
Chengdu
Chengdu is home to the amazing Chengdu Research Base for Giant Panda Breeding, a conservation center where visitors can view these Giant Pandas and Red Pandas in their natural habitat.
It is once in a lifetime opportunity for everyone to get up close with these endangered species. And the baby pandas there - just adorable! 🐼


Photo by Chester Ho / Unsplash
After a wonderful experience with the Giant Pandas make your way to explore the city some more. Wondering where to go next? Its Jinli Street!
Jinli Street
Located to the east of Wuhou Temple, it the best stage for Chengdu life. Take in old-Chengnu with residence-teahouses, wine bars and handiwork shops. It is the right place for visitors looking for local craftwork. You can buy scarves, stoles and other clothing materials with bright coloured, Shu embroidery and brocades on it.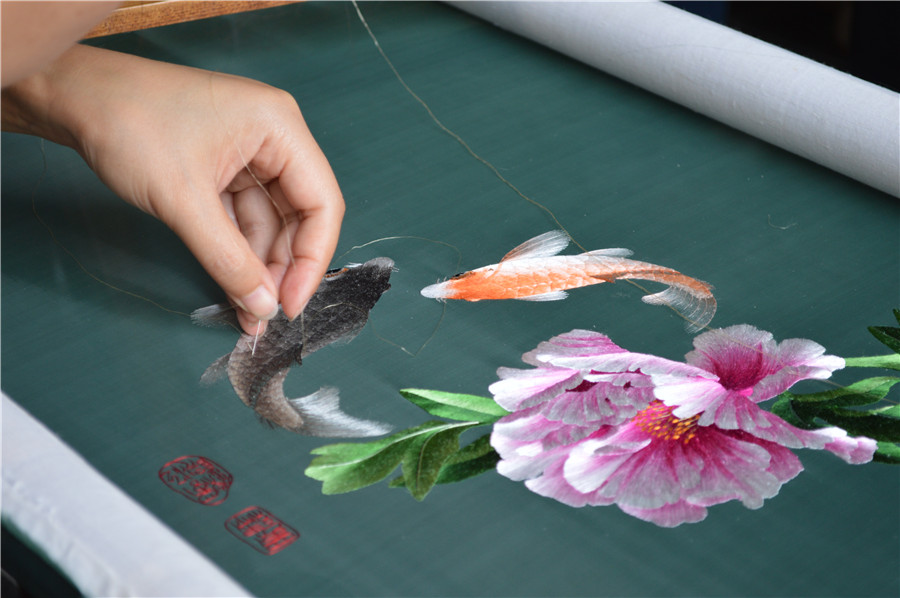 Chengdu is also famous for lacquerware. Here there are many kinds of lacquer wares such as lacquer wares out of wood base, gunny base, paper base, plastics base and so on. These are just the ideal piece to serve as a souvenir from China!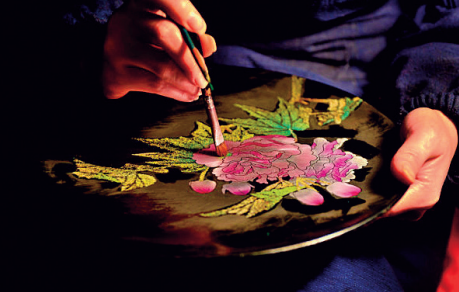 After finishing your shopping, treat your taste buds in some lipsmacking snacks like San Da Pao, which is a bowl of glutinous rice balls coated with soybean powder and black sugar juice.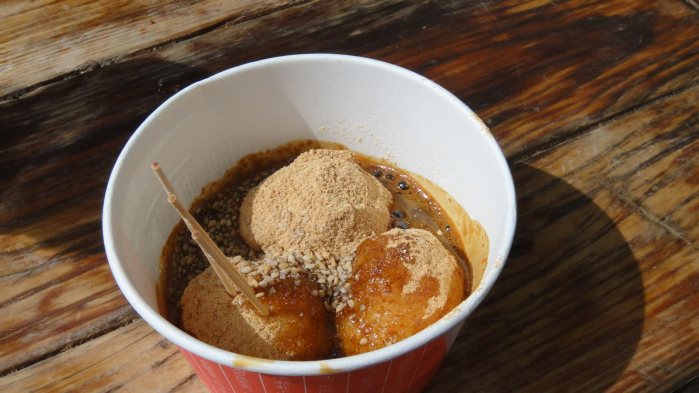 San-da-Pao
In the middle of Jinli Street, there is a wooden stage which looks like an ancient pavilion. It is used from time to time for performing classic Sichuan Operas. If you are lucky then you can enjoy some folk music along with the actor's beautiful, quick costume and make-up changes.
We are not done yet!
The Sichuan Musuem & the Leshan Giant Buddha
History buff or not - these are worth visiting! Wondering what is so special about these two places?
Well! The Sichuan museum showcases the remains of the different dynasties of the region and is one of the top and oldest museums in Chengdu. With a history of over 60 years, the museum houses more than 260,000 pieces of relics, a fifth of which are noted as national treasures.
Excited to become a part of this amazing Chinese culture and history? So are we!...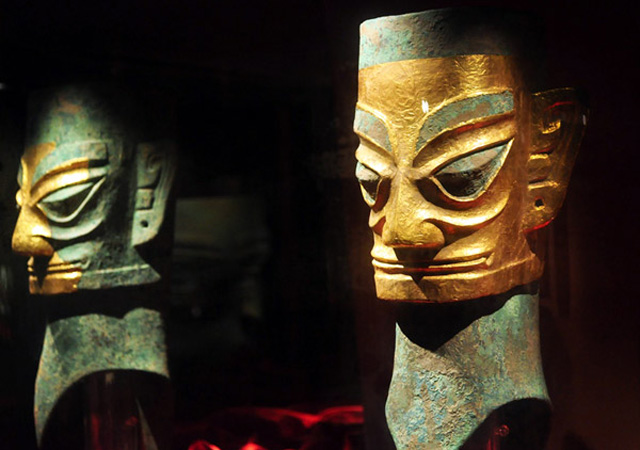 Leshan Giant Buddha has been built in the 8th century by the powerful Tang Dynasty of China. It depicts Maitreya or future Buddha. It is carved out of a cliff face that lies at the confluence of the Min River and Dadu River near the city of Leshan.
Hold yourself as you get a glimpse of this largest and tallest stone Buddha statue in the world. This UNESCO World Heritage Site is sure to leave you awestruck forever!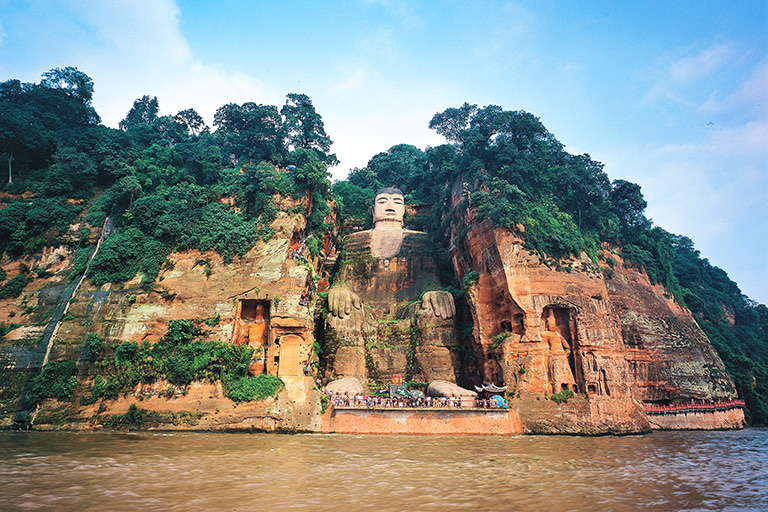 The Leshan Giant Buddha on the Yangtze River
Feeling like meeting the Pandas?

We are headed to China in the last week of May. Have a look at our itinerary here
Zhangjiajie
Our path to discover more off-beat China, away from the skyscrapers, leads us to Zhangjiajie
The Glass Bottomed Bridge
Zhangjiajie, in the recent past was in the news due to the jaw dropping Glass Bridge also called Zhangjiajie Grand Canyon Glass Bridge
This bridge in is above the Wulingyuan area. Built as an attraction for tourists, is glass-bottomed and is transparent. It is the longest and tallest glass bottomed bridge in the world. Designed by Israeli architect Haim Dotan to carry 800 visitors, this bridge holds the world record for its designing and architecture.
Its just too amazing! Isn't it?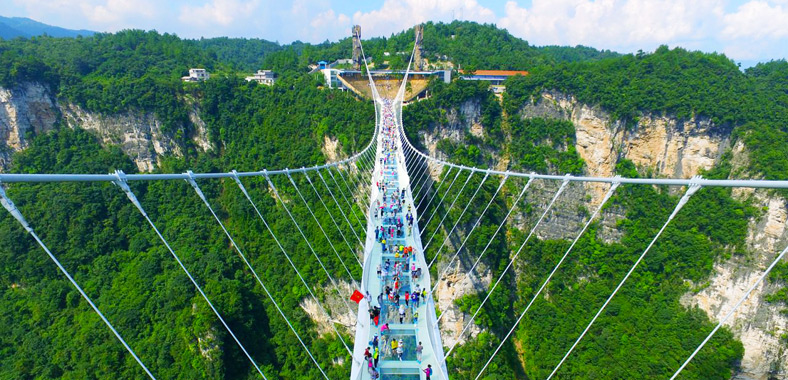 Zhangjiajie Grand Canyon Glass Bridge
Tianzi Mountain
After experiencing this magnificent work of human architecture make your way to Tianzi Mountain has a large forest and from here you can view the spectacular scenery around. The ride through the cable car allows visitors to enjoy the magnificent view from the top. The view stretches with distinct layers, and is an ideal spot for viewing Wulingyuan peak forest. The most beautiful scenic spots are the Imperial Writing Brush Peaks, Yunqing Rock, Shentang Gulf and Grand Sightseeing Platform.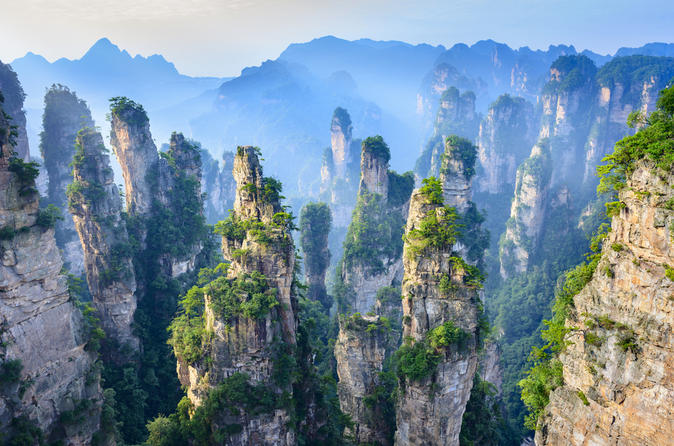 Yuanjiajie Mountain
Another major attraction in Zhangjiajie is Yuanjiajie Mountain. What makes it stand out is that the peaks and pillars there, are nearly at the same height! - Which makes Yuanjiajie Scenic Area, a mountain platform great for enjoying the pleasant views. It became all the more popular, as the Southern Sky Pillar inspired the floating mountains in the Hollywood blockbuster Avatar. As far as movie sets go, this is among the most beautiful!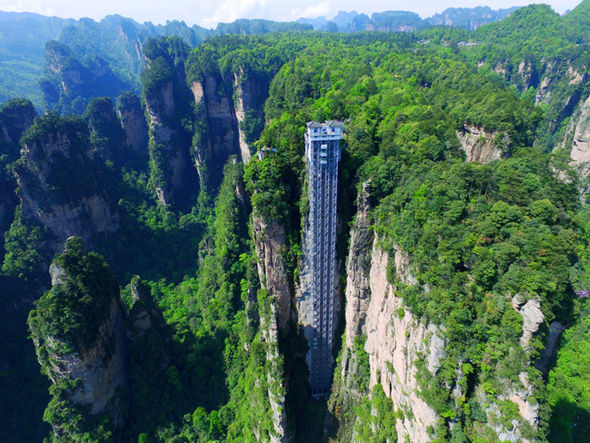 Hundred Dragon Elevator
While in Zhangjiajie do not miss on the Hundred Dragon Elevator or the Bailong Elevator. It is a glass elevator built onto the side of a huge cliff in the Wulingyuan area of Zhangjiajie. It is claimed to be the highest and heaviest outdoor elevator in the world.
We've made a very different itinerary for our intrepid wanderers

We go to China in the last week of May. Have a look at our itinerary here