When you see the program Elephant Jungle Sanctuary in your itinerary, the first thing that strikes your mind is some jungle safari riding on the back of an elephant.
But you will be pleasantly surprised to know that this program does not support any of these activity which stresses these mammoths. Riding an elephant is absolutely not a good idea because their back is not designed to carry weight which humans fail to understand. Also an elephant which carries goods and humans on its back is being subjected to severe cruel training sessions which actually breaks the spirit of the elephant. So an elephant ride should be completely avoided by the tourists.
A Brief Introduction:
Elephant Jungle Sanctuary is an ethical and sustainable eco-tourism project located approximately 60km from the city of Chiang Mai in Northern Thailand. Founded in July 2014, it is a joint initiative between members of the Karen hill-tribes and Chiang Mai locals who were concerned about the welfare of Asian elephants in Thailand, an endangered species.
This project comprises of 9 spacious locations, which is home to over thirty formerly ill-treated elephants, who now enjoy their lives in this lovely serene and natural habitat in Chiang Mai Province. These 9 spacious locations include the Mountain Village Sanctuary, Tranquil Valley Sanctuary, Paddy Field Sanctuary, Hilltop Paradise Sanctuary, Waterfall Grove Sanctuary.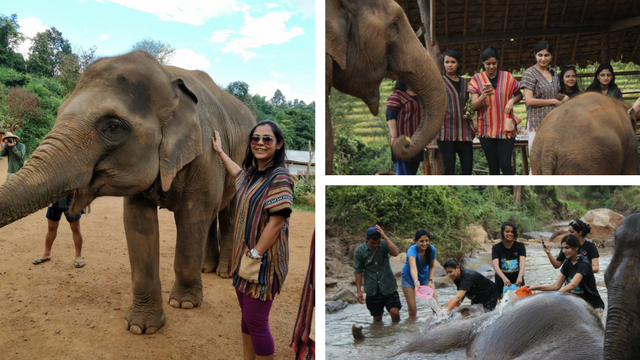 When we reached the Elephant Jungle Sanctuary, we were taken to Camp 6 in a mini van. After a short bumpy ride, enjoying the scenic beauty of nature we were given a warm welcome at the Camp 6. Once we were out of our mini van, the mahout asked us to keep our belongings inside a locker as it is not a good idea to be near the mammoths with our belongings like – bag, purse and mobiles. This is so because they get attracted to these things and try to snatch it away from you. The mahout also gave us few basic instructions like how to feed bananas to the elephant and how not to run away from them when they are walking or moving towards you. Also it is mandatory to keep the flash of your camera switched off as the light irritates the animal if you are clicking the pictures with the flash on.
With all these instructions in mind we started feeding bananas to these tuskers. It was a treat to the eye in watching these elephants savouring the bananas especially the baby elephant which just kept clinging on to its mother. That reminded me of the fact how a mother is special and irreplaceable even in animal kingdom as well.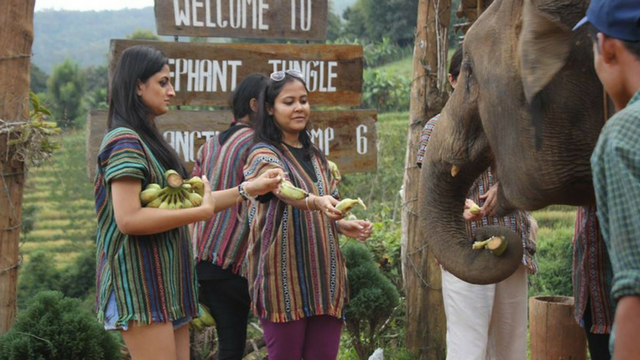 After our initial session of feeding the elephants, the mahout led the tuskers to the stream just down the camp for a bathing session. In these sessions even visitors could also join them and give a refreshing bath to the elephants. It is indeed a fun filled session and one of a kind of experience to bathe these huge tuskers. Even the elephants enjoyed these pampering session thoroughly. After 15 mins of  enjoying the cool water of the stream, the tuskers were again up on the land for their second round of food session.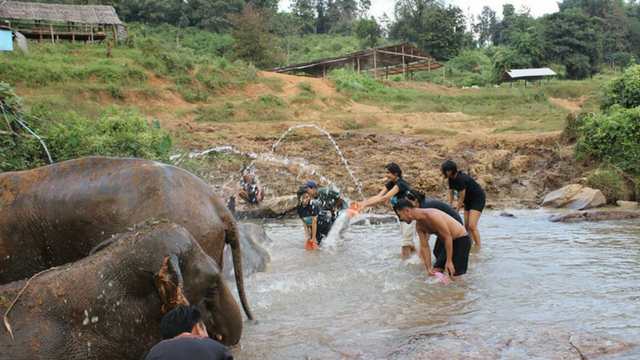 As the tuskers got busy with their food, the locals working in that Camp also offered us food and other refreshment towards the end of the activity. Watching these jumbo enjoying their free lives now in a serene and calm countryside of Chiang Mai in the company of clear blue sky and green paddy fields and hillocks is indeed a lifetime experience.
With lots of incredible memories and wonderful experiences we bade adieu to this Elephant Jungle Sanctuary only to continue with our journey to explore some more unconventional shades of Thailand.
If you also want to enjoy and experience this soul fulfilling activity then log on to
Join the newsletter to receive the latest updates in your inbox.