Myanmar's beauty is unmatched and it's one of the most magical and undiscovered destinations in the world. Wondering what are all the things to do in Myanmar? This article will tell you everything and more!
Travelling to Myanmar can be pretty interesting. Apart from the temple run in this Golden Land, explore the famous Burmese cuisine, go on a shopping spree of Myanmar's fine range of handicrafts and the famous lotus silk range of products, discover it's cultural diversity with hundreds of different ethnic groups, stroll through the colorful local markets, take a hot air balloon ride overlooking the many gorgeous temples of Bagan or just jump in a canoe for a lazy ride while gazing at the glassy waters of Inle Lake. THIS COUNTRY IS TOTALLY UNIQUE!!!
Contents
Top destinations to explore in Myanmar
Yangon – The former capital & the largest city
Mandalay Hill -  Spectacular panoramic views
Bagan – Home to two thousand Temples & Pagodas
Inle Lake - One of  Unesco's World Network of Biosphere Reserves
Kakku - 11th-13th century architectural wonder
How to travel between cities in Myanmar?  
The most convenient way of moving from one place to another is taking short domestic flights between these cities. Flying is obviously the most time efficient way to travel and if you have the budget, it is an easy way to continue your journey whatever route you are taking around the country. It takes around 1 hour 20 minutes to get from Yangon to Bagan, 30 minutes from Mandalay to Bagan and 40 minutes from Bagan to Heho (Inle Lake) with many daily flights available.
How many days are best for Myanmar?
Begin your journey in this pious land from it's former capital Yangon, which still has it's colonial charm intact, after spending 2 nights here, move onto Mandalay for a night, then onto Bagan for 3 nights to explore it extensively, and then finally move to Inle for 2 nights before heading back to Yangon to catch your flight back to your home country. Around 9 nights in Myanmar, make for a perfect itinerary to discover the hidden treasures of this devoutly Buddhist nation.
Top 10 tourist attractions of Myanmar
Myanmar is full of fascinating places to visit which will make it a once in a lifetime experience but we are chalking out for you, the best places to visit in Myanmar. This article will give you a clear insight on what to see in Myanmar.
Shwedagon Pagoda in Yangon
The Shwedagon Pagoda is one of the Myanmar top tourist attractions. This giant golden structure rises to a height of 99 metres with its exterior covered in around 60 tonnes of gold. If you look up at the top of the stupa, you can see a 76-carat diamond as well as more than 7,000 smaller ones throughout the complex. Inside Shwedagon, there are smaller pagodas and pavilions dedicated to different Buddhist deities. Admission is MKK 8000 ($6 USD) and you should expect to spend up to three hours here. Be aware that you need to remove your shoes and it may be advisable to bring a plastic bag to carry your footwear.
WOW Pro Tip: Visit the Shwedagon Pagoda in the evening to see Yangon's most famous temple as the sun sets and the golden spires of the temple glow. You will have the opportunity to participate in candle lighting, with your guide there to explain the meaning behind this cultural tradition.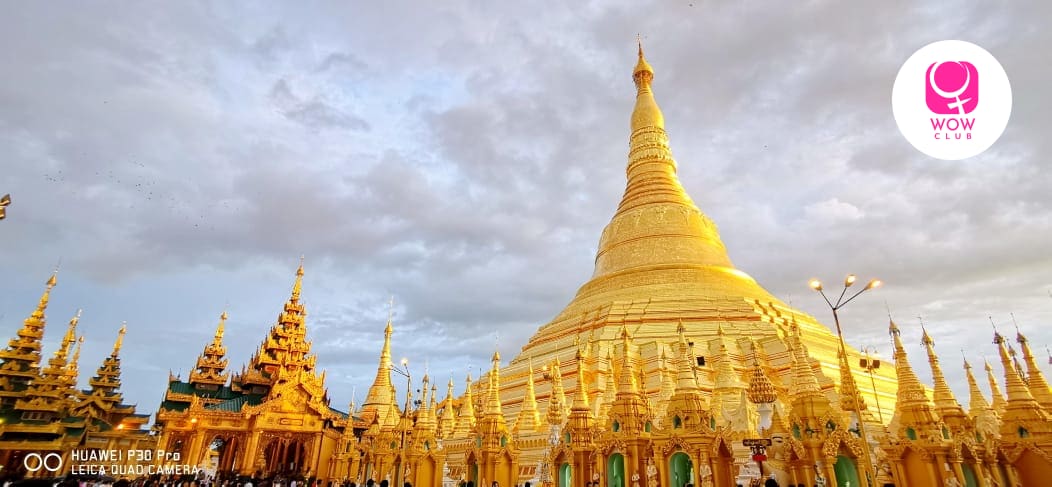 The Reclining Buddha in Yangon
The Reclining Buddha (Chauk-htat-gyi Buddha Temple) is a large image of Buddha in Yangon that extends for a distance of 16 metres. Locals come here to make offerings and to worship the image. When you visit, you'll see different shrines that correspond to days in the astrological week. People make offerings to the shrine of the day that they were born on. (Refer to the cover pic).
The colonial city of Yangon
Since Yangon has some of the most stunning examples of colonial architecture, a walking tour is the ideal way to come up, close with these historic marvels and view the architecture and detailing at arm's length. Head to the Yangon City Hall after, to get a true feel of Yangon's heritage as this structure, with tiered roofs, dates back to the early 19th century and combines European design with Burmese motifs. After a quick stop at the traditional look High Court, make your way to Strand Road to view some of the other architectural gems of the region, which include the new courts of law, the Art Deco inspired Port Authority tower, the GPO and the fancy Strand Hotel. Enjoy lunch at the Linkage Restaurant and Art which is an experiment in social mobilization as street children are trained to cook. Also visit Hla Day which is another social enterprise that employs disadvantaged women who create the finest Myanmar's handicrafts. By now you've got a firm feel of the spirit of Burma, so for a moment, stand aside and bring out your selfie sticks for a round of pictures at the picturesque Royal Lake.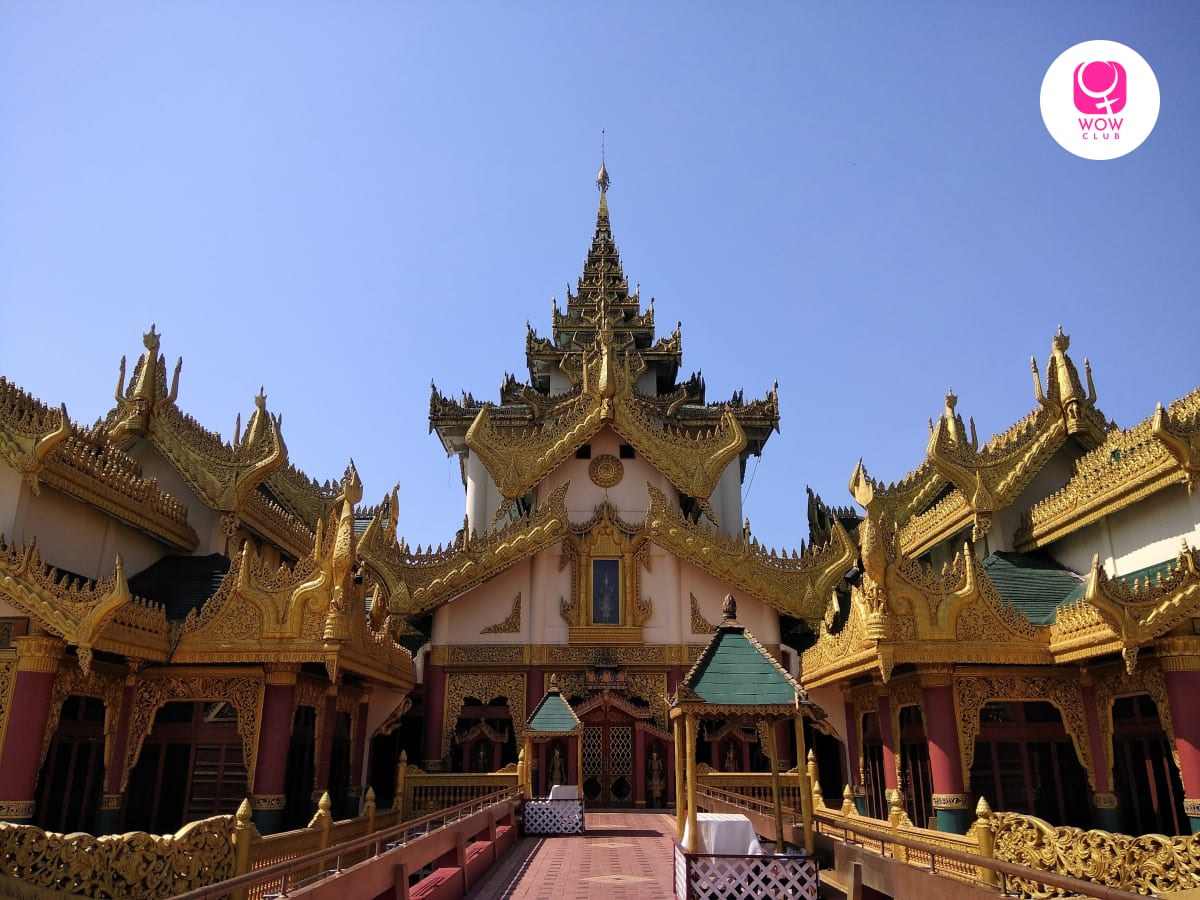 The Temples of Bagan
Of all the places to visit in Myanmar, Bagan has to be one of the most fascinating. This is one of the world's greatest archaeological sites, one that rivals Machu Picchu and Angkor Wat. Imagine a lazy river, palm and tamarind trees and pagodas in the distance. What's not to love about Bagan?
With thousands of pagodas strewn across the rural landscape, it's a compelling city in which to spend a few days soaking up some history and culture. You can rent an e-bike for a very reasonable price and explore the ruinous temples independently. Watching the sunrise or sunset over these ancient temples is a highlight for any tourist. Tourists have to pay an entrance fee of MKK 25000 ($20) to enter the archaeological zone of Old Bagan. You have to buy this before leaving Nyaung U Airport near Bagan or the bus will take you to a ticket office before you enter the town.
WOW Pro Tip: Catch a Burmese puppet show at a local restaurant with dinner. It is in the local language but you will totally enjoy the wonderful depiction.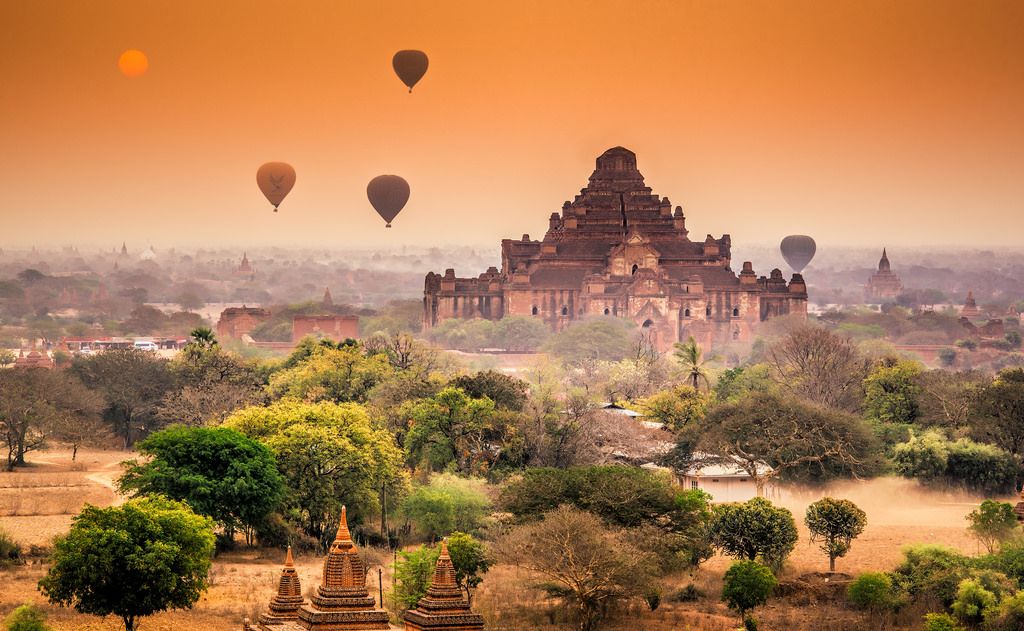 Shwezigon Pagoda, Bagan
"Whatever precious jewel there is in the heavenly worlds, there is nothing comparable to one who is awakened." Such is the wisdom enunciated by Siddhartha Gautama. Followers of Buddha visit his shrines to help cultivate positivity and thoughtfulness. Out of many shrines with images of Buddha or one of the bodhisattva's, Shwezigon Pagoda, Bagan is a must visit.
One of the most archetypal monuments, the shrine is jeweled with a huge gold-plated pagoda (built by the founder of Pagan Empire) which makes it unique and impressive. The bell-shaped stupa looks like the crown of the Buddhist temple. At the Shwezigon Paya base rest 4 gold-plated lions, guarding each of its corners. The holy complex contains four Buddha statues (Kakusandha, Konagamana, Kassapa, and Gautama Buddha), standing concretely, and 12-13 feet tall.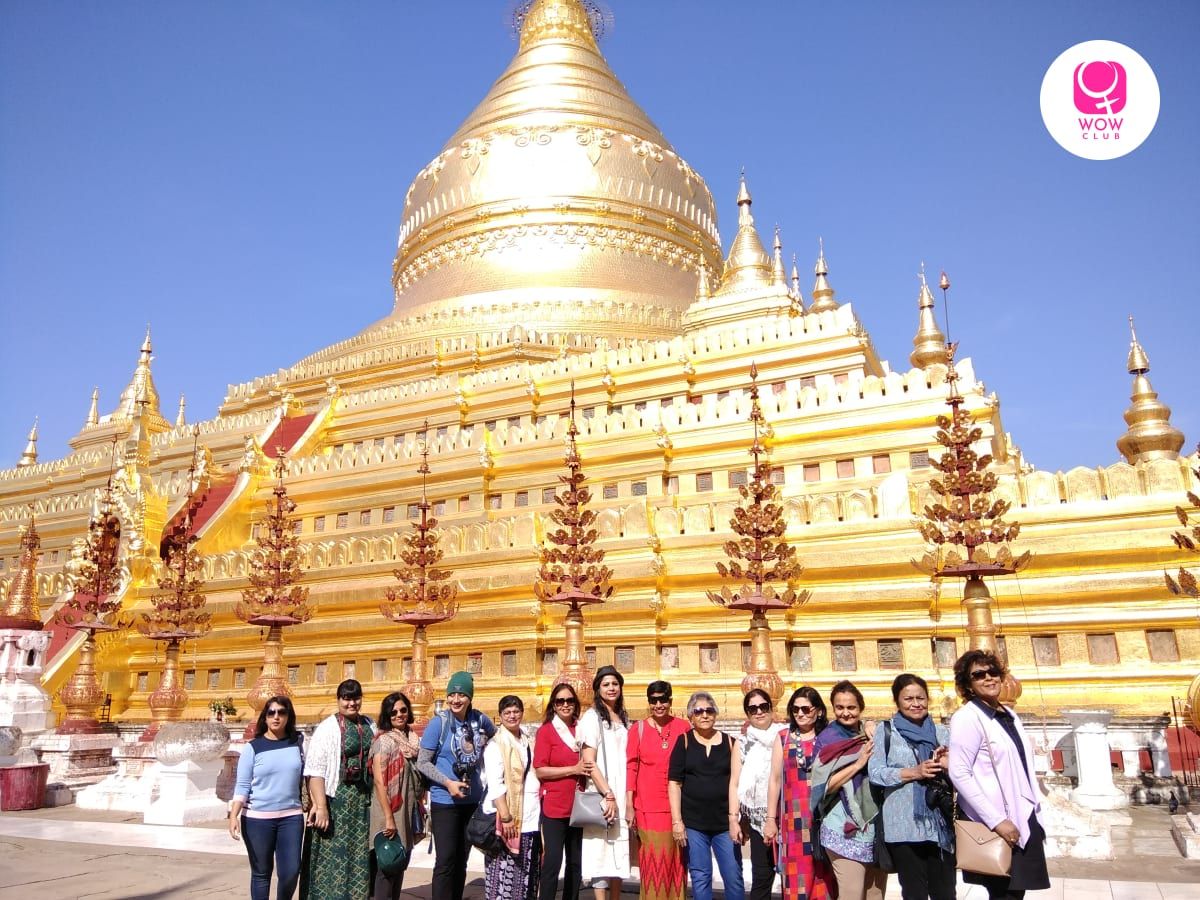 Inle Lake
This is the largest lake in Myanmar and is another one of the top Burma tourist attractions. You can come here to explore the surrounding villages supported on stilts that extend out into the water. Various activities include taking a boat ride around a floating market and visiting the nearby temples and monasteries. You can also see the local Intha people, who use a unique style of paddling their boats using just one leg, for a more cultural experience. It is one of the best travel destinations in Myanmar and offers a lot in terms of local culture.
WOW Pro Tip: Carry a jacket or shawl while on your boat ride in Lake Inle as it gets cooler in the evening as the lake is between the mountains. Be careful about getting on and off the boat while visiting the various floating factories in Inle Lake.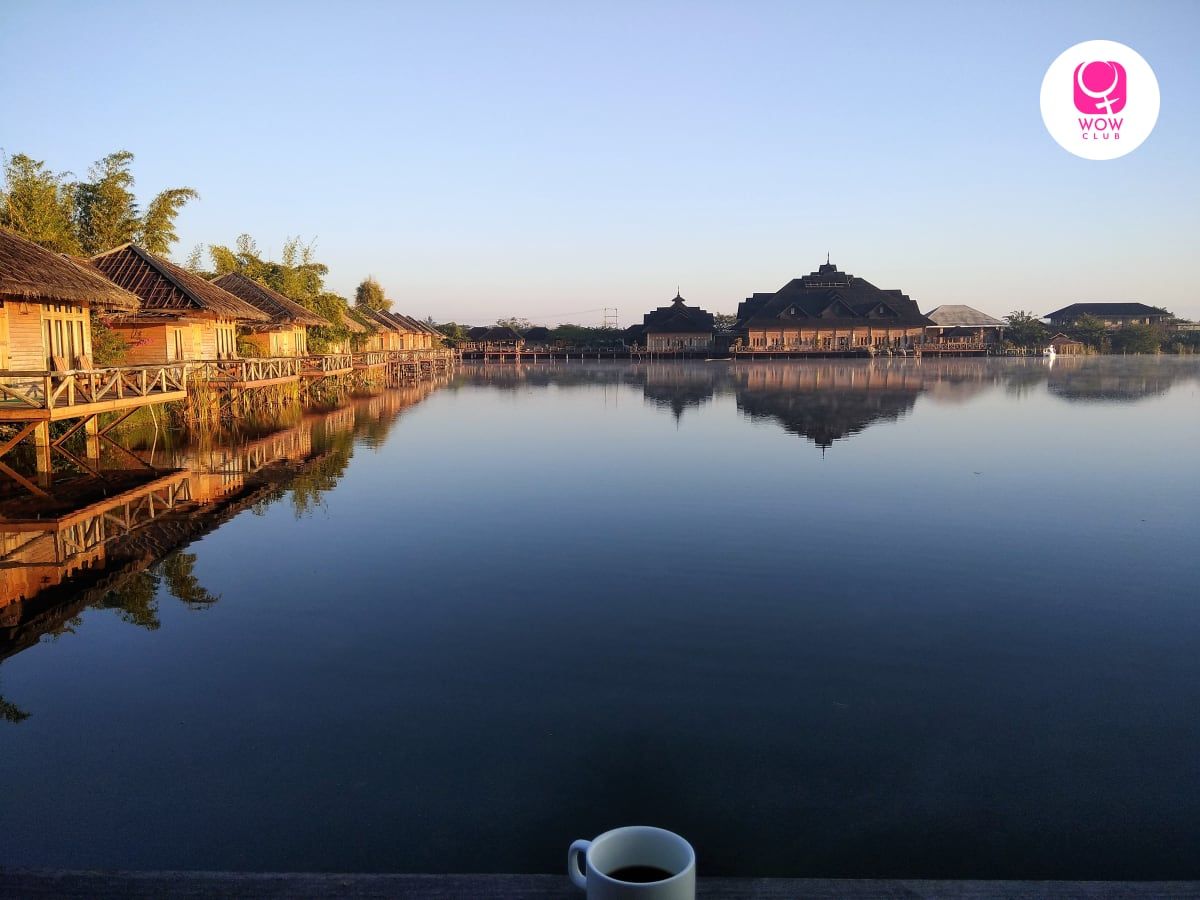 The Wonders of Kakku
It's certainly a sight that will bewilder the mind; hundreds of stupas dotting the horizon, all paying homage to the temple located smack in the middle. The stupas of the Kakku Pagoda Complex were created by Buddhist missionaries of King Asoka, Indian emperor of the Maurya Dynasty, who converted to Buddhism. The Kakku Pagoda is a cluster of more than 3,000 pagodas, said to be from Bagan period. They differ slightly as they are in the Yun Shan style. The drive to the Kakku Pagoda Complex is roughly an hour and a half from the Nyaung Shwe (the town on the edge of Inle Lake).
WOW Pro tip: Don't forget your hat & sunglasses while you visit the many stupas and the main temple as Myanmar is quite sunny even during the recommended months.
A Climb Up Mandalay Hill
Rudyard Kipling's poem, The Road to Mandalay, dedicated to this Burmese city immediately comes to mind. Mandalay Hill, is one of the holiest places in Mandalay. This has several pagodas, monasteries, and religious images that rise up the side of the hill. Climbing up the steps to reach the top rewards travelers with views of the city and Mandalay Palace below. Tourists tend to say this is one of their top Burma attractions in Mandalay. And it also gives you an insight into the local Buddhist way of life.As you climb up the hill, you'll pass several pagodas and images of Buddha. There are several monks in the monasteries that hang around and like to practice their English with tourists. This is a great experience and you may be able to chat with some of the younger, more curious locals.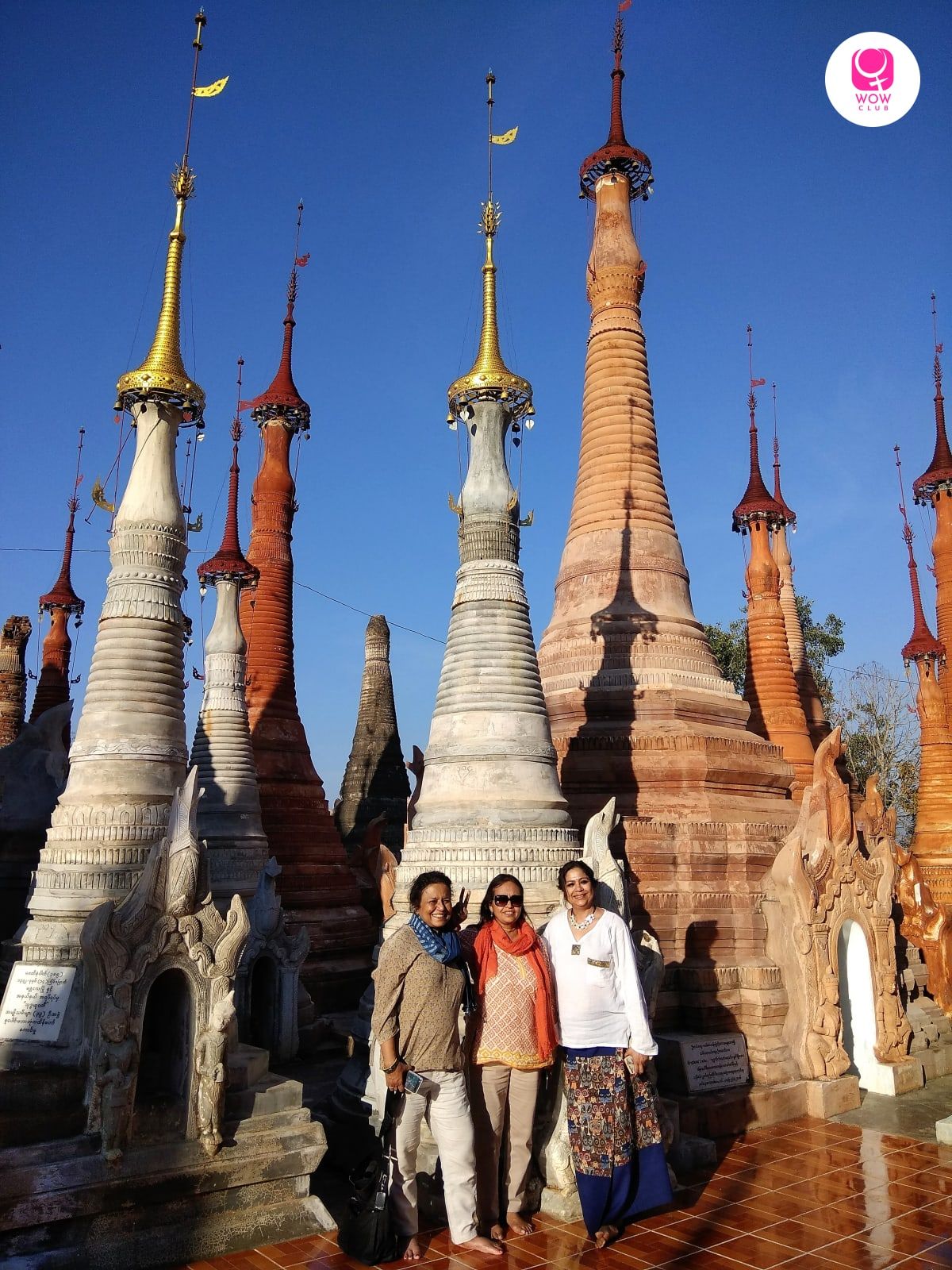 Amarapura and U-Bein Bridge
Amarapura was once the capital of the Burmese Kingdom before it was moved to Mandalay. It is around 10 kms from Mandalay. There are lots to do in this small village including visiting the U Bein Bridge that spans across Taungthaman Lake. This is the longest and oldest teak bridge in the world. The lake is a great place to see the sunrise or sunset. You can also sit along the side of the lake and watch the locals on their boats paddle past.
WOW Pro Tip: If you do not want to walk the whole bridge, sit back at one of the local coffee shops on a higher floor, and enjoy a cuppa while watching the sunset. You can also shop around for jute hats & handbags etc and bargain up-to fifty percent.
A Day Trip to Inwa
Inwa is around 30 kms from Mandalay. It is another former capital of the Burmese Kingdom near Mandalay. In the 19th century, a devastating earthquake destroyed most of the city and it was later moved to Amarapura. If you visit today, you can see the ruins of the old pagodas and a large monastery made from teak where monks still attend today. Some of the highlights include the gorgeous Bagaya Monastery which is encircled by scenic stupas as well as the Maha Aungmye Bonzan Monastery, or you can visit the Nanmyint Watch Tower which is another one of the iconic structures for which Inwa is famous.
Fun Facts: You have to cross the river in a local boat to get to the other side & then take horse carts to get to the ancient temples. You'll surely feel like you are transported back in time!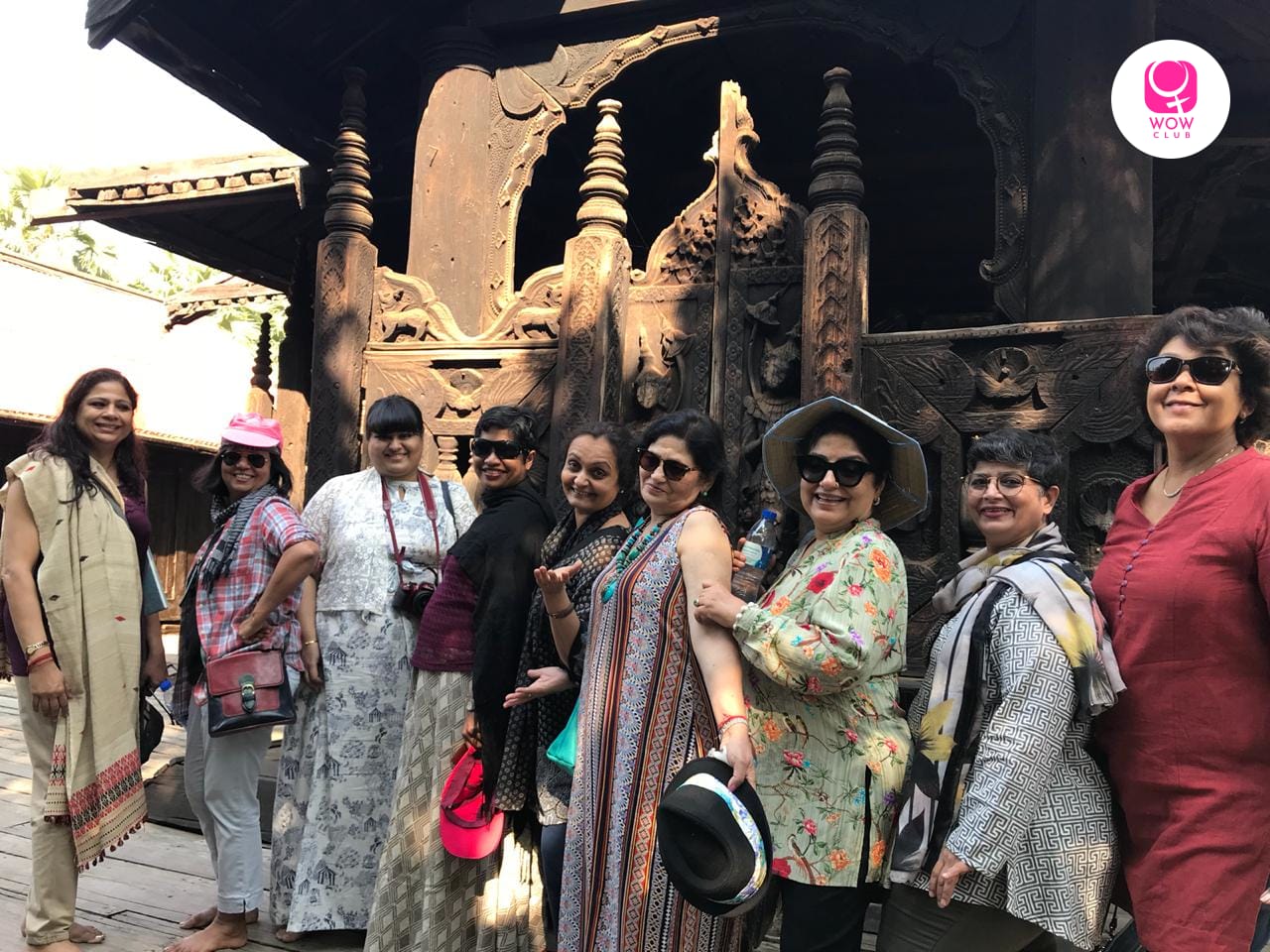 Interesting facts about Myanmar
1.Myanmar was known as Burma. Well, Burma was what the British called the country during their reign that lasted from 1824 to 1948. In 1989, Burma officially became the Republic of the Union of Myanmar and Rangoon became Yangon.
2. The magic of Thanaka. Anyone who visits Myanmar will notice people in the streets with what seems like mud smeared over their face. Actually, it's a special mixture of powdered bark that comes from a particular tree. When it's produced, locals wipe it on their face to act as protection against the sun. Some also say that it's good for the skin and has anti-aging properties. When you're in the country, try it for yourself and you can make up your own mind.
3. Fishermen on Inle Lake in Myanmar are famous for fishing on one leg. The local Intha people developed the unusual technique over centuries to enable fishing and rowing at the same time. Standing allows the fishermen to see through the reeds that lie just beneath the surface in the shallow waters of the lake.
4. Longyi is a traditional piece of clothing that both men and women wear throughout Myanmar. People wear this for pretty much any occasions. The difference between the longyi for males and females is the pattern and how the knot is tied. Men allow their knot to hang out the front whereas women tuck it inside.
5. Women of the Kayan Lahwi tribe in the Shan state are known for wearing neck rings: brass coils placed around the neck, appearing to lengthen it. The coils actually depress their collarbones rather than elongating their necks.
Travel Tips for Myanmar
1. The most popular and best time of year to visit Myanmar is between December and February during the dry season. The weather is just perfect in all the places of interest.
2. Money matters! The Burmese Kyat is the currency of Myanmar (Burma). The currency code for Kyats is MMK. However, the U.S. dollar is accepted in many hostels, hotels and resorts in touristy areas like Yangon, Mandalay, Bagan and Inle Lake.
3. Myanmar Visa: E-Visa is the easiest way tourists can visit Burma and 100 different nationalities are eligible for it including Indians. It offers visa up-to 30 days. It's one of the easiest and quickest visas to get.
4. Myanmar is quite conservative about clothing. While visiting the Pagodas and temples, one has to be properly covered. Lowers nothing less than calf length and tops/shirts nothing less than half sleeves.
WOW Pro Tip: Carry a sarong and a scarf in case you wish to wear shorts/dresses or sleeveless tops in the city tours, and you can use sarong/scarf while visiting the temples & pagodas.
Shopping in Myanmar
Burmese Ruby is the rarest and most valuable. Colors range from pink red ruby to a vivid pigeon blood red that is regarded as the finest color for ruby. If you love gemstones, and are ready to splurge, then don't forget to pick up Burmese ruby jewelry.
Jade is another gemstone which is famous in Myanmar & you will find various things made from Jade in the Jade local markets in Yangon.
Longyi, the traditional dress.
Lacquer-ware from Yangon.
Gold leaf from small local factories in Yangon.
Hand-woven Burmese silk in Inle Lake. From neck-ties, scarves, skirts, dresses to even bags & purses, there's lots to choose from.
Handmade Cigars & cigarettes in Inle Lake.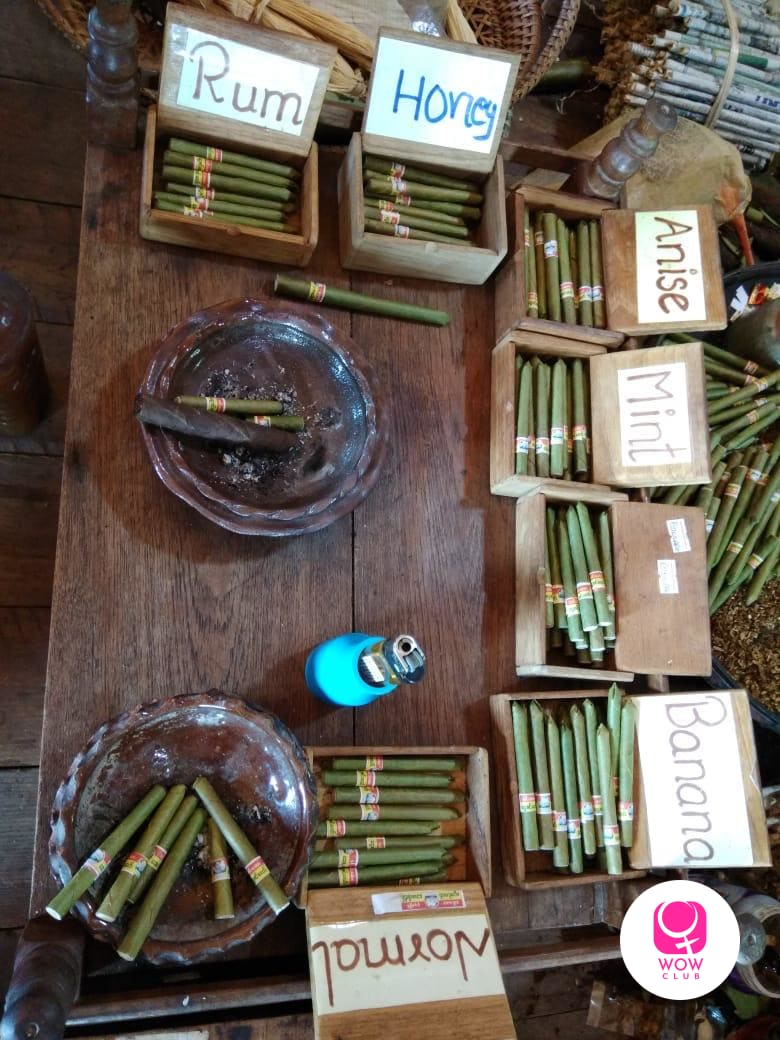 Foodie Diaries
Burmese cuisine is quite popular.  Some of the most popular dishes are Khow suey, Mohinga and Laska. Vegetarians enjoy it as much as non-vegetarians.
The traditional dish is non-vegetarian but vegetarian options are readily available. Khow suey, is a noodle soup made of egg noodles and curried beef or chicken with coconut milk, served with a variety of contrasting condiments. A squeeze of lemon also adds tanginess to khow suey. The dish is similar to the Burmese noodle dish ohn no khauk swe, literally 'coconut milk noodles'.
At the forefront of Burmese cuisine is the famous dish of Mohinga, a bowl of rice noodles covered in a fish based soup and sprinkled with deep fried fritters. Mohinga is a breakfast of champions!
Laksa is a spicy noodle soup popular in the Peranakan cuisine of Southeast Asia. Laksa consists of thick wheat noodles or rice vermicelli with chicken, prawn or fish, served in spicy soup based on either rich and spicy curry coconut milk or on sour asam (tamarind or gelugur).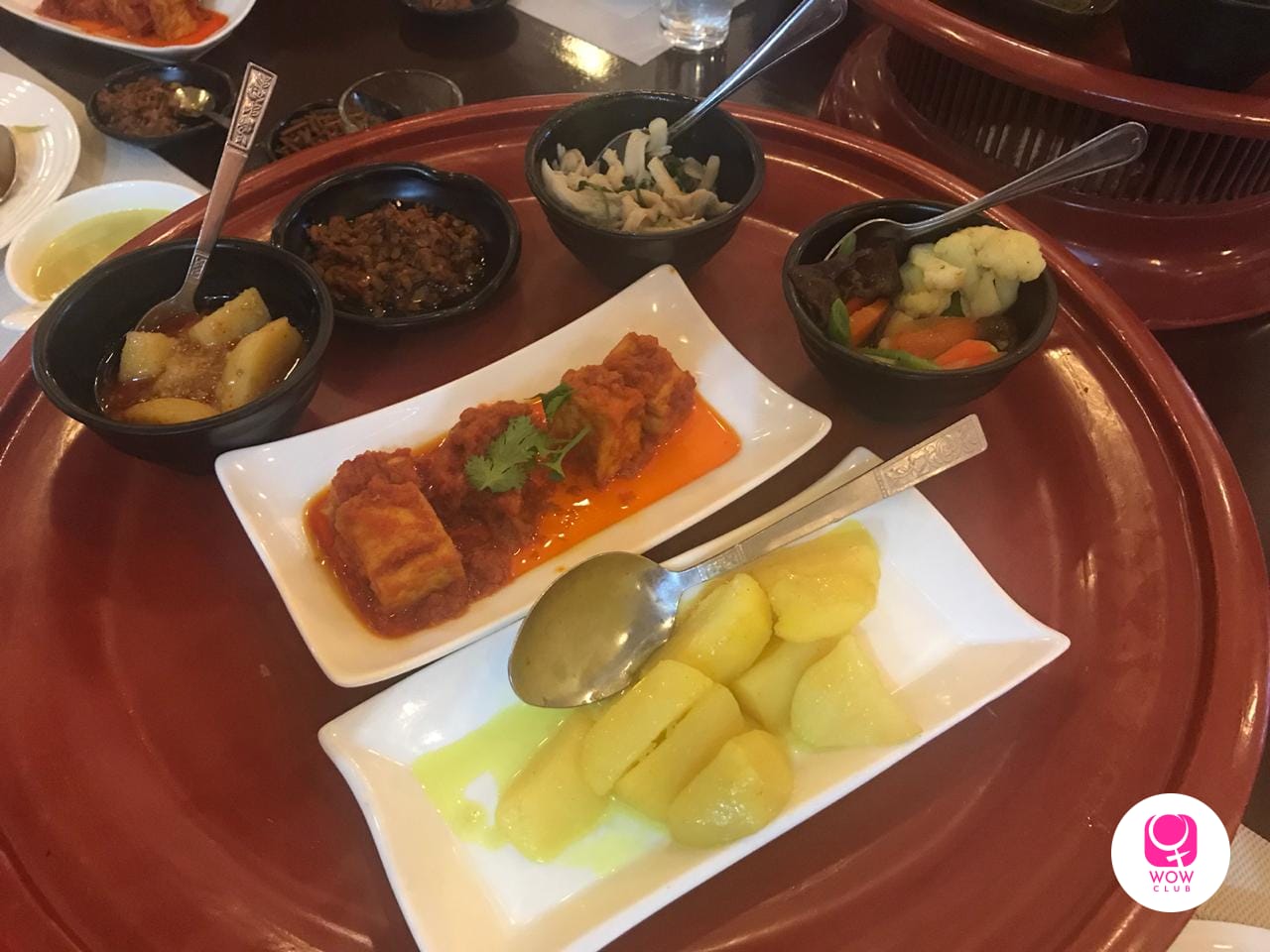 Let's be a little adventurous!
Who doesn't love to be in a hot air balloon?  This is one of the best things to do in Myanmar. Tourists are crazy about watching the sunrise and sunset in Bagan. You shall witness scattered  balloons in the sky at sunrise where tourists enjoy a mesmerizing Ariel view of thousands of pagodas strewn across the rural fields of Bagan. It's a once in a lifetime experience in this unique offbeat destination, Myanmar.
WOW Pro Tip: Book the hot air balloon ride at the hotel or from the local operator and not online in advance. That will help you negotiate with the hot air balloon operator & you might end up saving as much as $80. Typically costs $380-$400.
Myanmar is a perfect choice for those travelers who do not believe in only exploring the typical. We can assure that you will fall in love with Burma for it's vibe, it's people, it's cities and an experience which will leave you rejuvenated. Hence, don't wait to soak into the beauty of Myanmar but plan a trip real soon!
Well if all this sounds like too much of homework, then just sit back and click here.

Join the newsletter to receive the latest updates in your inbox.