Japan, the land of the rising sun has four beautiful seasons: spring, summer, autumn and winter. Its highly notable seasonal attractions depend on these seasons. Facts about Japan that it itself is considered one of the top four season travel destinations on the planet. It amazes tourists with its mind-boggling attractions and activities throughout the year.
Spring in Japan is famous for the cherry blossom season (March to May), and if you're lucky — and don't mind the crowds — you may experience hanami (cherry-blossom viewing) at all its glory. Click here to know how to plan a Solo Trip for Cherry Blossom in Japan- March and April is the best time for the viewing of the Cherry Blossoms.
Contents
Here is some information about what you can expect from the rest of the year of Japan.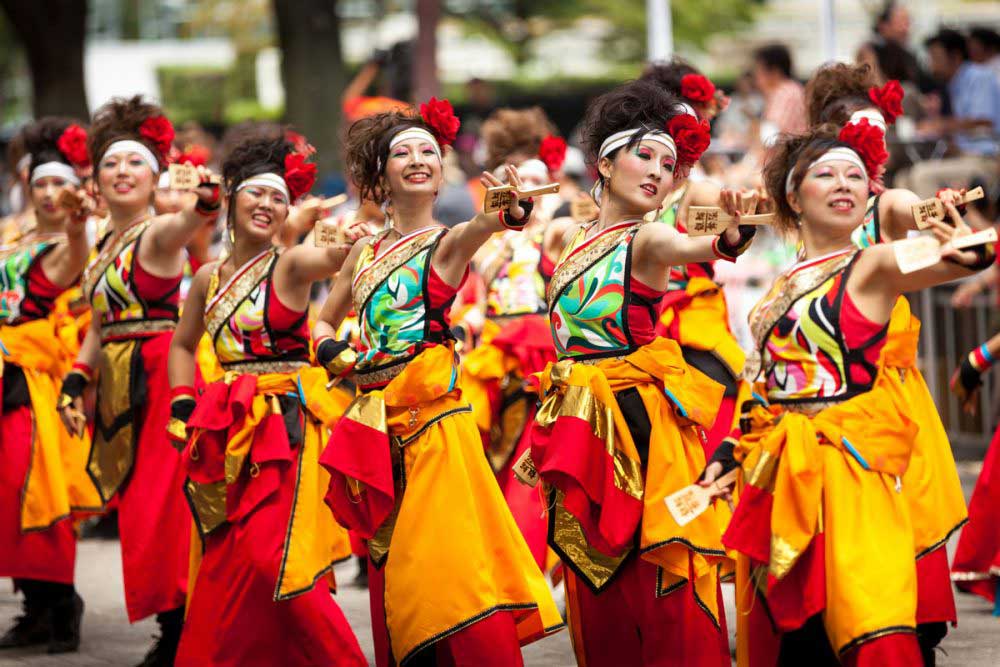 Summers in Japan (June to August)
The best way to experience Japan's stunning summertime is through participating in one of its top summer festivals. This is a season of grand fireworks, large festivals, and food stalls galore. Despite the humidity, travelers from all over the world come to experience the culture and parties that take place.
Best Summer Festivals in Japan
If you are planning a trip to Japan in Summers please check out the calendar and location of the festivals you wish to attend as there are so many of them. Some of the best ones are:
Gion Matsuri, Kyoto - This is festival of the Yasaka Shrine, held in Kyoto over the entire month of July each year. It consists of many events; from festive evenings to the famous grand procession of floats and is one of the most famous festival in Japan.
Aomori Nebuta Matsuri, Aomori - This festival takes place from 2nd to 7th August. The floats are displayed downtown every night of the festival up until the last day. There are also teams of taiko drummers, flute players, cymbal players, and hundreds of dancers.
Tokushima Awa Odori, Tokushima- This festival is held in Tokushima from 12th to 15th August. It is best known through Japan for this phrase: "It's a fool who dances and a fool who watches! If both are fools, you might as well have fun dancing!"
Akita Kanto Matsuri, Akita- This festival's name means "pole lantern festival" It takes place in August for 3 days i.e. from 3rd to 6th August in hope for a good harvest. Its main feature is the performers who balance long bamboo poles (kanto) arrayed with appear lanterns as they move positions.
Yosakoi Festival, Kochi- During the summer, without question Yosakoi matsuri is the grand attraction of the city. The eve of Kochi's Yosakoi Festival is celebrated every year on August 9th, the main festival August 10th and 11th, and the closing day on August 12th, so the entire festival is spread over 4 days. This is a highly energetic festival visited by people from around the world.
Fuji Rock Festival- The biggest outdoor music festival in Japan, Fuji Rock Festival is held on the last weekend of July for 3 days- the dates might differ each year.
Things to do in Japan During Summers
Apart from the festivals you can also indulge in other activities in your trips to Japan. For example:
Head to the beach- From turquoise waters and white sand beaches located on the islands of Okinawa to soothing views and fun-filled beaches in Kanagawa.
Try wearing Yukata which is a summer Japanese traditional clothing. There are many different colours and designs for both men and women, so find your favourite one.
Kamikochi is famous for the scenic hiking trails with several beautiful view points, and it's highly recommended for both beginners and advanced hikers.
WOW Pro tip: Are you adventurous? Do you like hiking? If your answer is YES – then I would say, climbing the Mt. Fuji is one of the greatest things you would do in the summer in Japan. The summer season opens the door to experience this never forgetting trip. Please bear in mind that official Mt. Fuji climbing season starts from early July to early September.
With lots of interesting events and festivals, you can discover what to eat in Japan in summer. Some of the must try dishes are: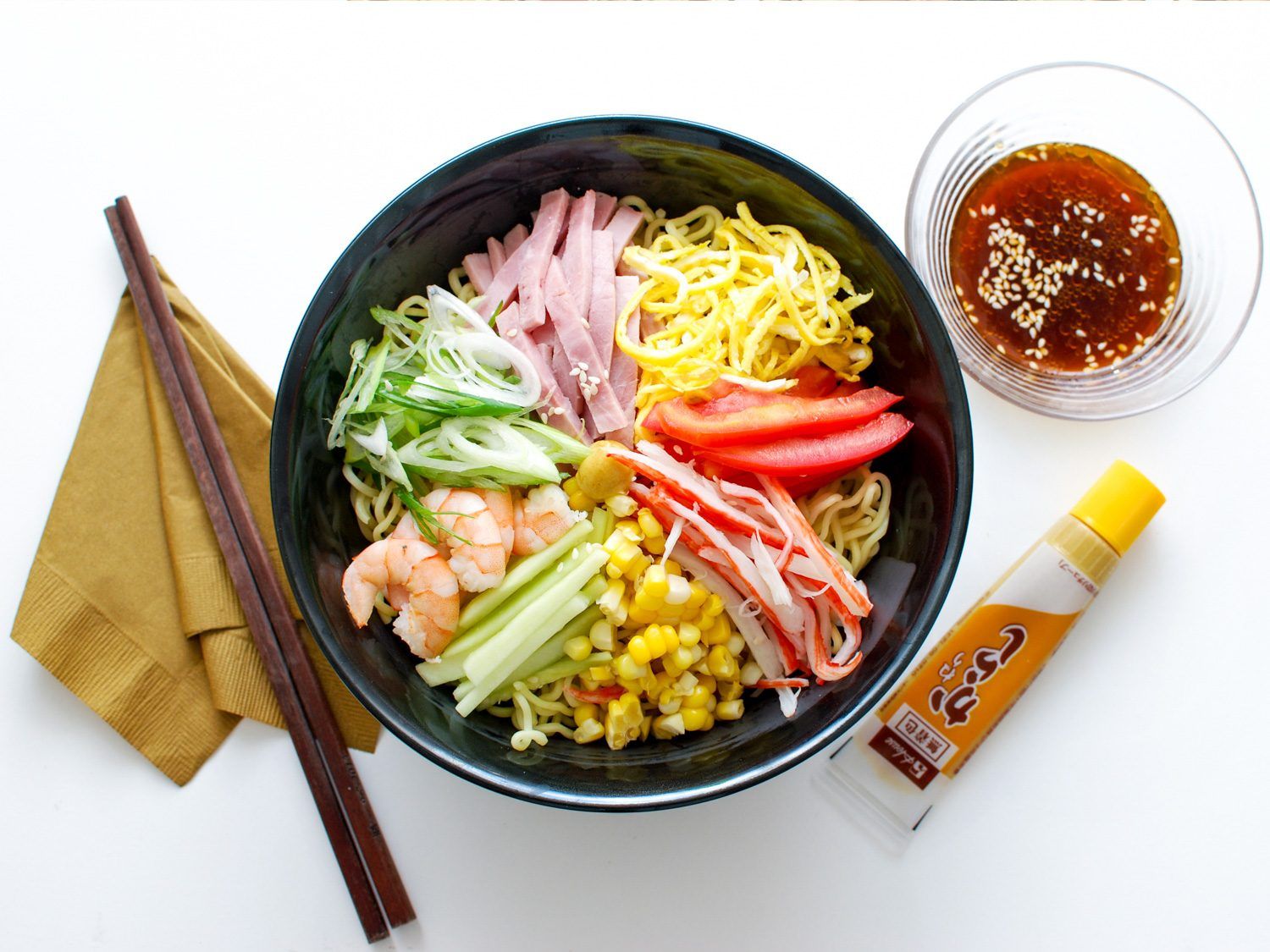 -Somen- This is a traditional Japanese meal, usually eaten in the summer. They are thin boiled noodles dipped in sauce and cooled.
-  Kakigori is Japanese for "shaved ice," and it's a great way to cool down on a sunny day.
-Ayu- If you love fish, ayu, or sweetfish, is a perfect on-the-go snack. It is usually grilled and is associated with the summertime in Japan.
-Hiyashi Chuka- Hiyashi Chuka means "chilled Chinese," but it's actually a Japanese dish consisting sliced thin vegetables on top of cold ramen noodles. If you are a fan of ramen you must also watch movies about Japan such as Tampopo. This film had me salivating from beginning to end. It's a comedic satire about food and a play on "western ramen."
Japan is also famous for it's Lavender season in the north. Usually, this flowering season starts in late June in the summer. Facts about Japan flowers is that unlike cherry blossom season that stays less than a week at a particular hanami spot, lavender season stays for more than a month from early July to early August.
Japan Travel Itinerary in Lavender Season
Here is a suggested WOW itinerary for my fellow wanderers who are looking forward to join do a solo trip to Japan in Lavender season.
Day 1 to Day 3| Hello Tokyo: Tokyo being the capital has a lot to offer, therefore, minimum 3 days should be given to the city which can include Asakusa, Sensoji temple, Shibuya, Harijuku, Disneyland Tokyo and of course shopping at Ginza and Shinjuku.
Day 4| Sapporo- Sapporo is a dynamic urban centre that offers everything you would want from a Japanese city: a thriving food scene, stylish cafes, neon-lit nightlife, shopping galore. Visit Odori Park, clock tower, Mt. Moiwa and Sapporo TV Tower.
Day 5|Asahikawa - Visit Asahikawa ramen village which has an interesting collection of ramen and Asahiyama Zoo; highlights include a glass tunnel through the penguin pool that allows visitors to observe the animals. Asahiyama Zoo is the largest and most popular zoo in Hokkaido!
Day 6| Biei & Furano- Head back to Sapporo. Do not miss to visit the Biei Blue Pond which will on the way. It is a man-made pond feature in Biei, Hokkaido. Furano is one of Japan's most inland towns and considered the centre of Hokkaidō – a distinction that has earned it the cute nickname Heso-no-machi (Belly-Button Town) which has flower fields covered in a rainbow array of flowers and is particularly known for its Lavenders.
Day 7 & 8| Osaka & Kyoto- Definitely spend a few days in Osaka and Kyoto. I can give you more than 20 reasons why not to miss these 2 cities but Nara Deer Park and the Osaka Castle are on top of my list. Other highlights- Universal Studios & Dōtonbori in Osaka and Fushimi- Inari, Kiyomizu Dera, Arashiyama Bamboo Grove & Gion District in Kyoto.
Best places to see Lavender in Japan
Hokkaido, the second largest island of Japan. You can reach here by flight or train. The best period to visit for Hokkaido lavender is in July, especially between July 10-25 is ideal. The Furano flower fields, complete with breathtaking waves of lavender, are among the region's most popular. There are lost of Lavender Japan travel packages but you must include the following places in your itinerary.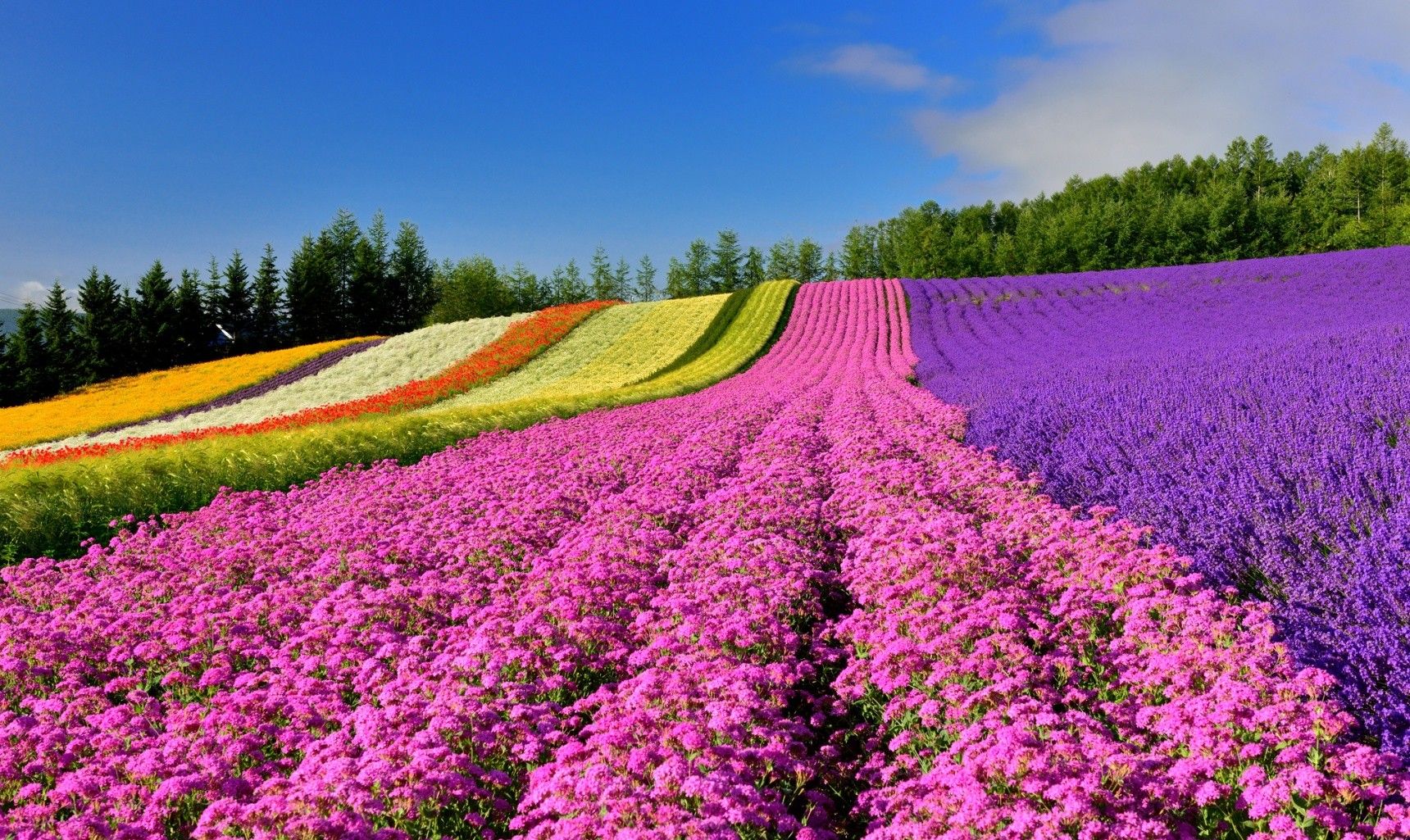 Farm Tomita Flower Fields: The Holy Land of Hokkaido Lavender Fields- There are many types of lavender here. You should visit Farm Tomita in the morning before the crowds descend.
Choei Lavender Farm: Ride the Ski Lift and View Lavender Flower Fields from Above- After Farm Tomita, head on over to Choei Lavender Farm, which is about a three-minute drive away. This is a hidden gem for viewing lavender.
Lavender East: Japan's Largest Lavender Field- There are two major points here. The first is viewing the lavender field from the Fragrant Breeze Hill and observation deck located in the center area of the facility. The second point is riding the lavender bus and enjoying the view.
Rokugo Viewing Platform (Furano Jam Garden) - Amazing Hokkaido Lavender and Sunflower Field- Around the viewing platform, there are a variety of Furano flower fields, including lavender fields, Chinese Peony, Spider Flower, Cosmos and other seasonal flowers. After viewing the beautiful flowers, head on over to the Auntie Jam's Gift Shop for some shopping.
Highland Furano: Viewing Hokkaido Lavender Fields While Soaking in an Outdoor Hot Spring- How about soaking in an outdoor hot spring while looking at lavenders at the end of your trip? The Furano onsen hot spring is open late and is perfect to wash away your fatigue from sightseeing and driving!
Just viewing lavenders is not enough you have to try the local specialties made out of lavender itself.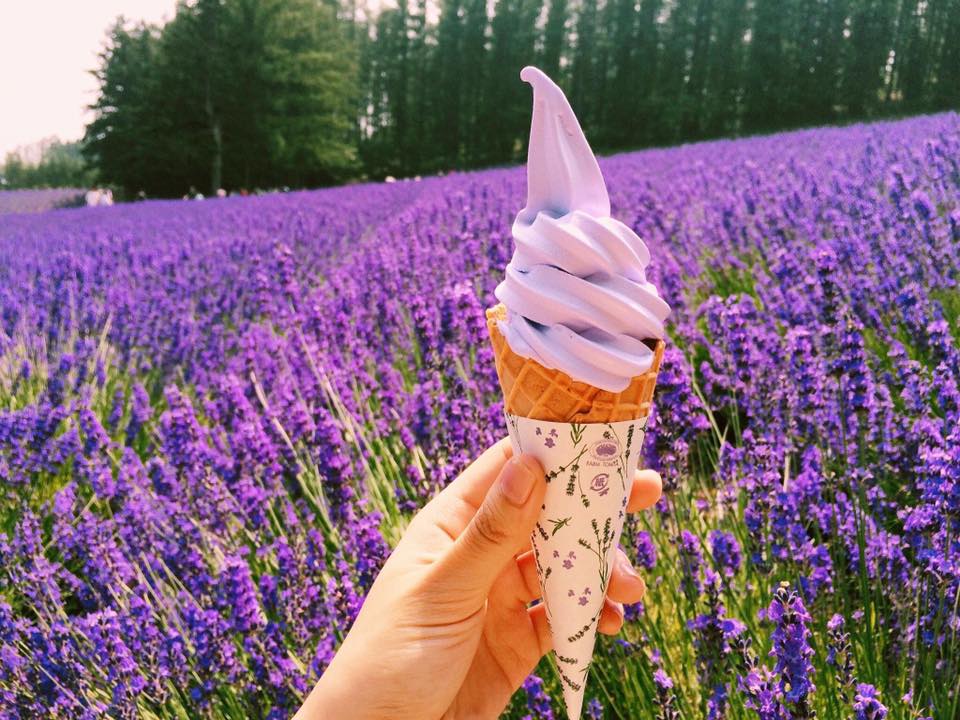 WOW pro tip: The first must eat item at Farm Tomita is the original lavender soft-serve ice cream which can only be experienced here. Taking a bite out of the smooth textured light purple cream, the refreshing lavender flavor expands in your mouth! The Farm Tomita lavender soft-serve ice cream can be purchased at various shops and cafes on the farm.
As you enter the farm, Rapport House is located next to the Hanabito Field. Other than original sweets, they also sell specialty products of Furano.  You can also try the cantaloupe soft-serve ice cream that is made with Hokkaido cantaloupe juice here.  The most popular is the the lavender crispy cream puff- crushed lavender is mixed into whipped cream and rich custard then filled into the cookie-like crispy shell.
Some of the interesting souvenirs that you can buy from here are:
Lavender Massage Oil
The lavender reed diffuser is a popular pick from the aromatic selection.
Aroma Room Perfumizer
Mini Column Noushi Hayazaki- It is a dried lavender and potpourri in a small bottle that looks like a lavender plant.
Natural series Lavender Soap
Autumn in Japan (October to November)
It's all about Autumn leaves from October to November. These leaves draw just as many travelers as the cherry blossoms do. The best places to spot the fall foliage are at parks, temples, and the mountains.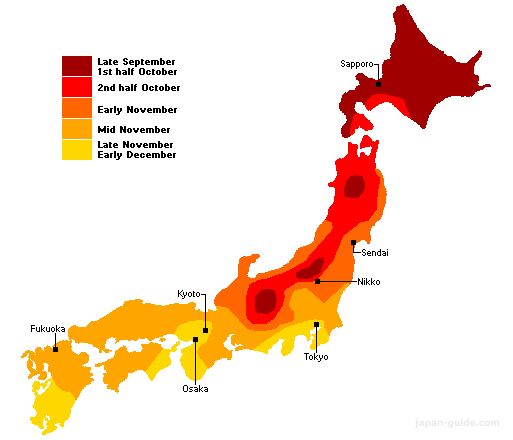 Best Places to see Autumn Leaves In Japan
There are lot of places that you can explore in Autumn season weather you explore the northern or central Japan. Some of the best ones that you can include in your itinerary are as follows:
Daisetsuzan National Park, Hokkaido- Every year, this is where the fall foliage first appears in Japan. In search of unspoiled wilderness in the region, you will have to visit this national park, especially the areas such as Mount Asahi, Ginsendai, Sounkyo, Mount Kurodake, and Kogen onsen. Peak colors: Mid September through mid October.
Lake Towada and Oirase Stream, Aomori- Lake Towada is a perfect holiday destination in the Tohoku region to admire fall foliage around late October. On the other hand, the Oirase stream is kind of an attraction, where many hikers go to have a pleasant nature experience. Peak colors: Mid to Late October.
Nikko, Tochigi- There is nothing quite like Nikko in autumn! While central Nikko is famous for its beautiful decorated shrines and temples, Okunikko area is especially well known for its gorgeous fall colors happening every year from early to late October.
Arashiyama, Kyoto- Walk across the Togetsukyo Bridge and marvel at the mountainside forests that offer incredible views of changing colors. To make your trip unforgettable and unique, you can take the Sagano Romantic Train run by Sagano Scenic Railway and the Hozugawa River Boat Ride. Peak colors: Late November through early December.
Korankei Valley/Gorge, Aichi- Korankei Valley is considered the best fall colors spot in Aichi Prefecture. The valley offers stunning vividly colored leaves and should be on your bucket list, especially when you visit Japan in the fall. Peak colors: Mid-November.
Fujigoko (Fuji Five Lakes)- The region hosts an enchanting fall foliage festival known as The Fuji-Kawaguchiko momiji matsuri, held every year from early November through late November. Every evening during the festival, the Maple Corridor, located near the Kubota Itchku Museum, is lit up gorgeously, making the site pretty overwhelming to behold.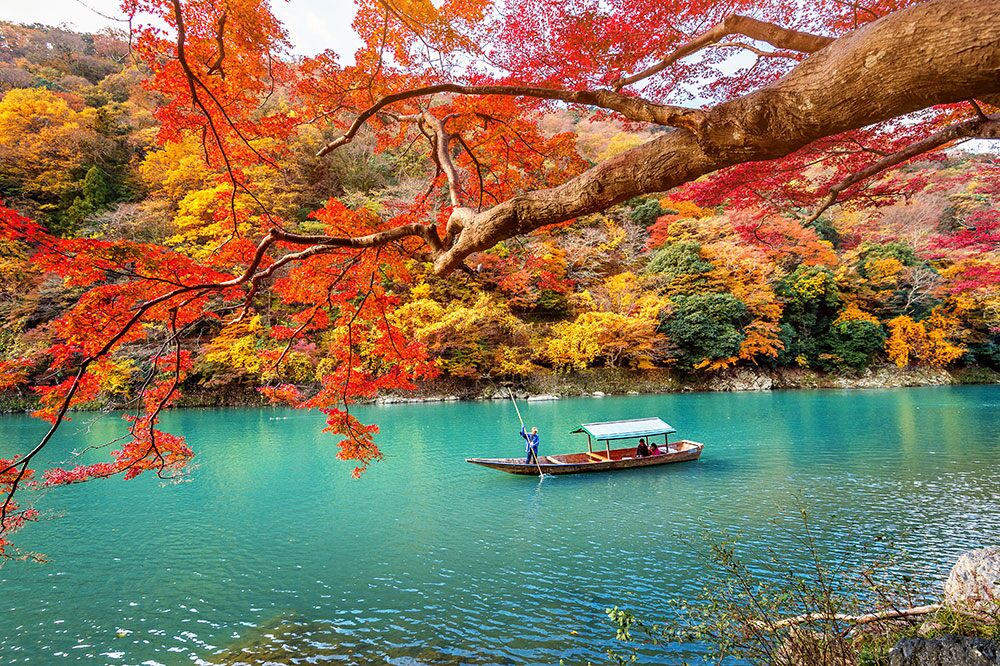 Things to do in Fall in Japan
Apart from chasing the Autumn leaves you can also do:
-Hiking- Amazing spots to hike such as Hokkaido, Nagano and there are several spots where you can easily access from Tokyo such as Mt Takao, Mt Oyama and Hakone.
-Visit Rikugien in Tokyo- The stunning collaboration of the autumn colours and Japanese Zen gardens can be only enjoy during this season.
-Sumo Grand Tournament- Watching Sumo matches could be one of the most special and extraordinary experiences you can have in Japan.
-Attend the Autumn Festivals- Japan knows how to throw a party, whatever the season. The famous autumn festivals include Takayama Masturi (9th-10th October), Sapporo Autumn Festival (early September to Early October), Nagasaki Kunchi Festival(7th-9th October), Kichijoji Autumn Festival (Mid September) and Saga International Balloon Fiesta (31st October- 4th November).
Try the local cuisines- In autumn, Japanese have a tendency to go outside and have some famous autumn dishes alongside viewing fall foliage.
WOW Pro tip: It's the best time of the year to enjoy many kinds of seasonal food. There is even a phrase "Autumn Appetite" to describe autumn as the best season for eating in Japan. It's simply the great time to visit Japan for foodies. Must-have autumn foods are Matsutake Mushroom, Sanma Fish(Pacific Saury), Pumpkin, Sweet potato, Kyoho Grapes, Chestnuts, Kaki (Japanese persimmon), etc.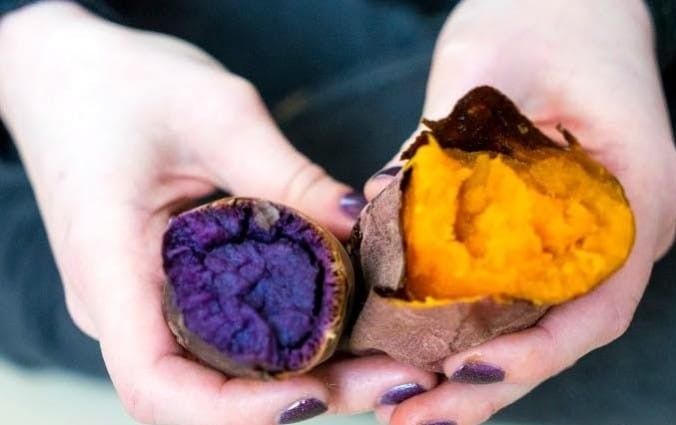 Winter in Japan (December to February)
Secret ski fields, incredible seafood, and even sakura blossoms – winter may not be the most popular time to visit Japan, but it's well worth considering. As the temperatures drop, prices and airfares also drops. Hokkaido is one of the best places in the world for skiing, snowboarding, and other winter sports. They also put on the Sapporo Snow Festival—an international contest of giant snow sculptures. And you can't forget New Years!
Best Places to Visit in Japan during Winters
Thanks to the incredible diversity of its landscape and passionate championing of traditional culture, a winter trip to Japan is quite unlike anywhere else in the world. Here are some of the best places to visit in Japan during winter.
The Blue Pond, Biei, Hokkaido- What makes the pond special is it contains traces of chemicals which turn its waters a rainbow of different blue hues depending on the season. The best time to see the Blue Pond is during the winter when it's surrounded by snow and the blue of the water strikes a strong contrast with the pristine white. The pond is even more impressive after five at night when it is illuminated with spotlights and the color of the water is reflected onto the snow.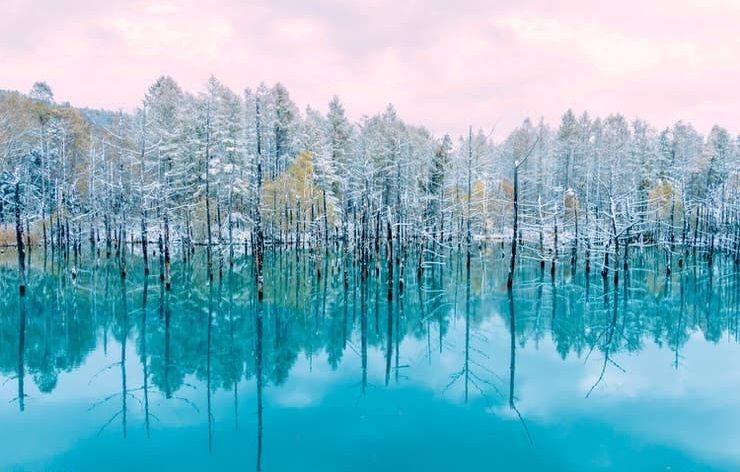 Ginzan Onsen, Yamagata- You might be thinking that we can experience the onsen in any season, so what is so special about winter? In winter, when there's snow on the ground and a chill in the air, taking onsen outdoors becomes an even more pleasurable experience. Ginzan is a small mountain town which was founded over six hundred years ago and is full of historical, wooden-fronted ryokans, the traditional onsen inns, around the streets of its pedestrianized center and along the banks of the Ginzan River which intersects it.
WOW Pro Tip: In Ginzan, there are two onsen public baths, Shiroganeyu and Omokageyu, right in the center of Ginzan plus a free of charge Warashiyu public foot spa if you don't want to get fully immersed.
Fuji-Q Highland, Fujiyoshida- While you may think winter is not quite the right time to visit an amusement park or even Japan the right country to do it in, you'd be wrong. Fuji-Q Highland is a theme park at the base of Mount Fuji with some of the most thrilling adrenaline rides in the world. With its close proximity to Tokyo, the park draws the city's thrill-seeking crowds and waiting times for rides can often be two to three hours long. Visit Fuji-Q in winter and your time spent queuing will be shortened by around sixty minutes.
Best Things to do in Japan During Winters
During winter in Japan, there are many things that you can only experience in this time of the year. From winter illuminations to bathing monkeys, here are the best places to visit in winter! Trip to Japan cost varies in winters compared to rest of the year as this is the low season.
Shirakawago Village- Shirakawago is a beautiful traditional village which is on UNESCO World Heritage list. It's recommended to visit in winter time especially spectacular as the village is covered in white snow, and light-up events are held occasionally during winter time.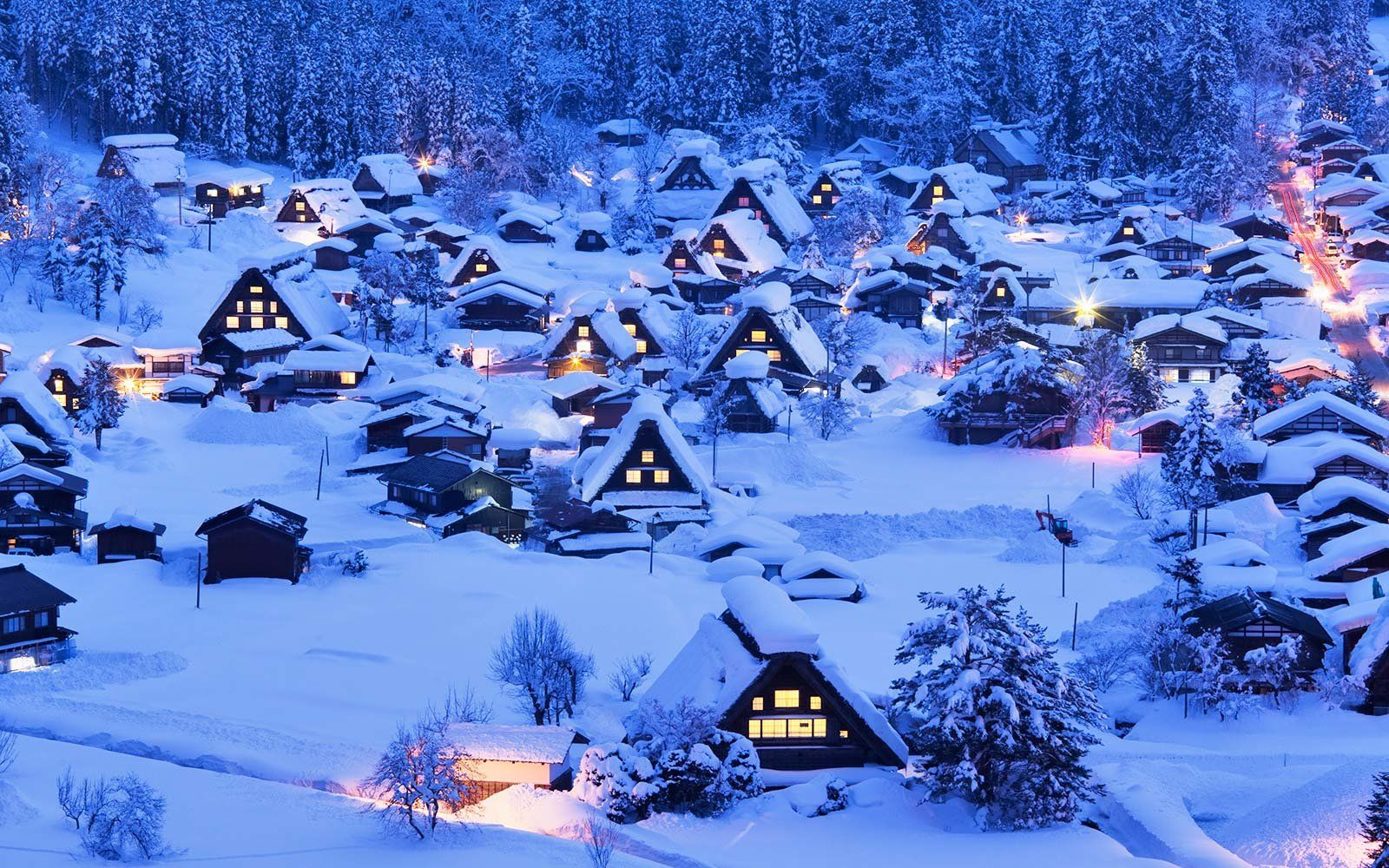 Alpine Sports!- The most popular area is Hokkaido as there are several great ski resorts with fine quality powder snow. Fuji-Q Highland is a theme park at the base of Mount Fuji with some of the most thrilling adrenaline rides in the world.
Winter Illuminations- Winter illumination is the most popular attraction during winter, and light-up events are held across the country.  The best winter illuminations in Tokyo are the Caretta Shiodome Illuminations, the Roppongi Hills Christmas Lights and the Tokyo Midtown Christmas Illuminations.
Visit an Onsen- Bathing in hot springs or onsen is an enjoyable way of relaxing in Japan. In winter, when there's snow on the ground and a chill in the air, taking onsen outdoors becomes an even more pleasurable experience. One of the most picturesque places to take a winter onsen in Japan is the town of Ginzan in the Yamagata prefecture.
Jigokudani Monkey Park- One of most unique and famous winter sights of Japan, bathing snow monkeys can be found at Jigokudani Monkey Park in Nagano Prefecture. The monkeys inhabit in this park and can be seen all year round, but most people visit there during winter when snow covers the sites.
Sapporo Snow Festival- The Sapporo Snow Festival is the number 1 winter festival known by most Japanese people. It is a 12 day festival and generally starts from 31st January is held across 3 sites in Sapporo- Odori Park, Susukino and sudome (kid's park). There are giant sculptures reaching heights of close to 20 meters and now even teams from Canada and the United States participate as well.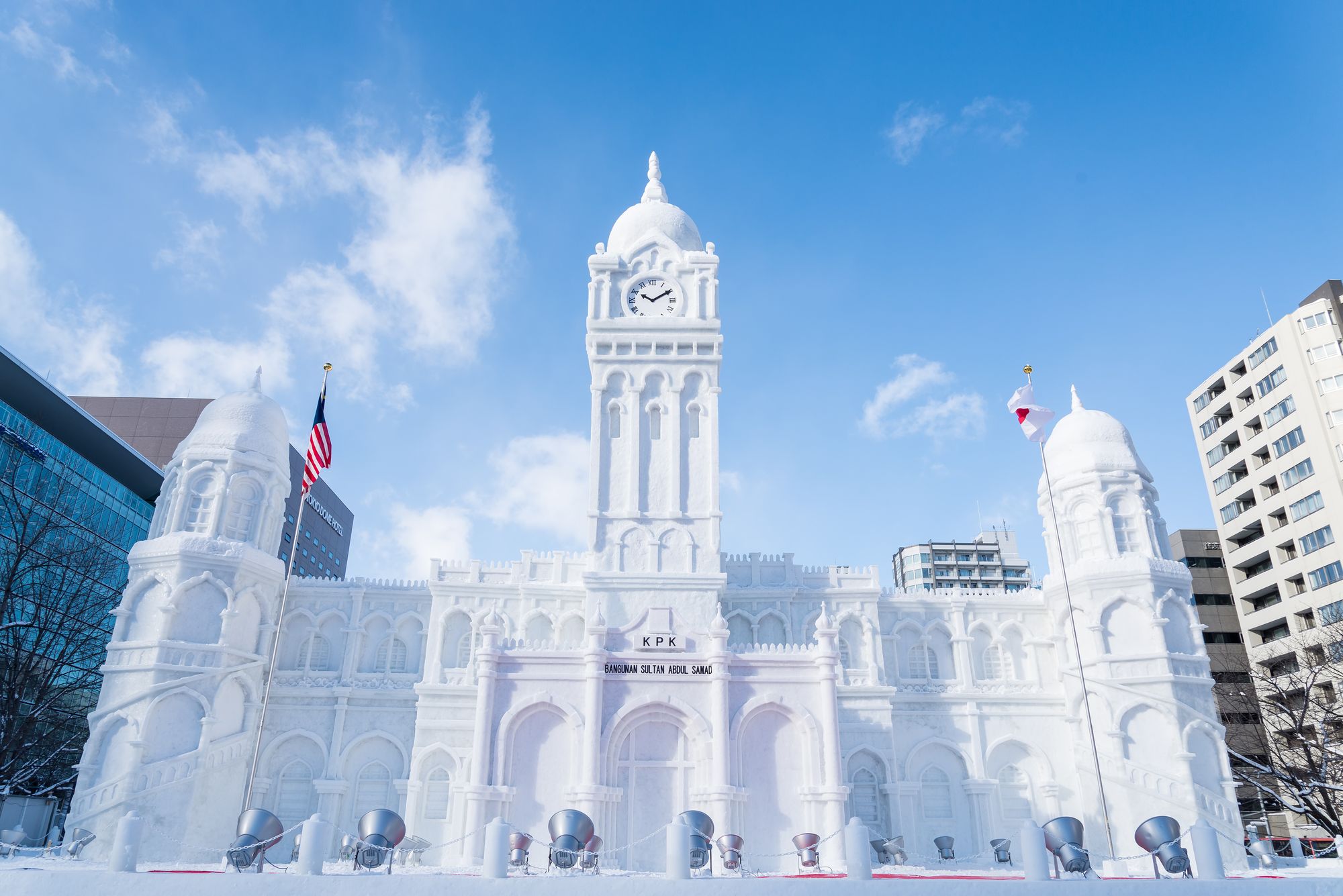 Winter Cuisines- It's the perfect time for sipping hot sake, relaxing in an outdoor hot spring and chowing down on a variety of special dishes! Some of them are:
-Nabe: It is a traditional Japanese hot pot dish of broth, vegetables, and meat or seafood cooked together. A classic Japanese comfort food.
-Shabu-Shabu: Another style of Japanese hot pot that's popular in the winter months.
-Oden: As soon as the weather starts turning cold, oden starts appearing virtually everywhere - in convenience stores, supermarkets, to yatai street food stands and even izakayas.
-Sea food: Fugu tends to be enjoyed in the winter months, and is thought of as a winter dish. The price of enjoying fugu can be a bit high, but is worth trying as a tasty and slightly thrilling dish.
WOW Pro tip: If you are visiting in Winters you must try the Japanese crabs. You can try 4 different types of crabs here. The best one is the tarabagani, the Red King Crab. It is the most expensive and most sought after crab in the world. The season is from September-January for this special crab. You will also find the different dishes made out of crabs in Hokkaido.
Hopefully this blog will help you to plan the trip in different seasons of Japan. Click on the link to check out the WOW's signature trip to Japan in Autumn and other seasons.
Join the newsletter to receive the latest updates in your inbox.