How about waking up to an awesome view of infinity edge swimming pool overlooking the endless sea and the lovely sea beach while you are on a vacation? I am sure this description brought a very beautiful image to your mind and you have started checking out the homestays and hotels and villas with a lovely picturesque view.
The Samujana Villas in Koh Samui, Thailand is just the ultimate place to have the best vacation with friends or family. Situated in the Gulf of Thailand, Koh Samui is the third largest island in Thailand. It is a lovely destination both regionally and internationally owing to its connectivity with Singapore, Malaysia and Hong Kong.
A Brief Introduction:
SAMUJANA's derives its name from the combination of 'Samui' from Koh Samui and the word 'Jana', meaning coral in Moroccan, owing to its spectacular hillside location overlooking a coral inlet, with a continuous view of Samui. Located in Choeng Mon area at a very short distance of 10 minutes from the Samui Airport, Samujana villas are much sought after place for tourists and guests who are on a lovely vacation away from the daily din of cities.
Samujana has 30 charming villas with each villa having 1 to 8 bedrooms. Each villa has a large private infinity pool, with state of the art facilities, lovely architecture and home decor, and stunning breath taking views with other excellent facilities that makes it an ideal place to have a wonderful time with friends and family.
Each villa has its own private Villa Manager and villa maid and has an excellent and up to date modern amenities with a private gym, a movie theatre and a modular kitchen. The villas in Samujana provides unparalleled luxury and facilities to its guests during their stay. Each villa is built in such a way that any loud music from any villa does not disturb its neighbouring villas. So even if you are having a party or an event or a wedding you can be rest assured that your activity will not cause inconvenience to your neighbours.
Incredible Experience!
We had the privilege to stay in villa 26 which has an awesome view from its every room. Once we reached the villa from the airport we were given a warm welcome by the villa manager and they arranged a Thai foot massage session along with some delectable snacks for all the visitors. With a wonderful spread of scrumptious items for a lovely breakfast to begin the day and attending to our other needs, we were pampered to the core by the villa manager and the other attendant over there during our two days of short stay at Samujana.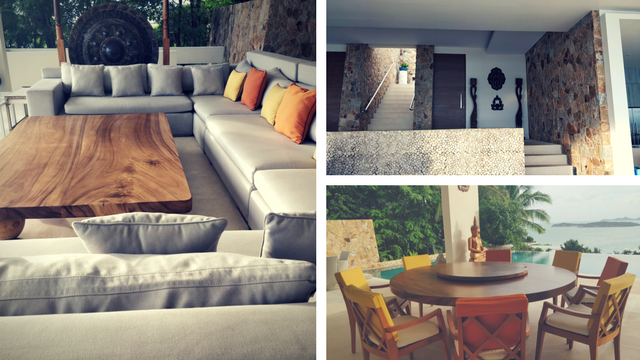 Other Activities:
From boating excursions on their private sailboat to chauffeured tours of the beautiful island and waterfalls, Samujana offers a widespread of land and water experiences. Samujana also has well curated fitness programs and wellness retreat like Yoga, Muay Thai, Chakra Balancing, and Wellness Workshop etc. for its guests who wants to enhance or reinstate their wellbeing whilst on holiday and enjoy a balanced lifestyle. If you are interested to take tour of the island then your Villa Manager can help you in preparing the itinerary with respect to the must visit places in Samui and other adventurous sports like bungee jumping, zip lining, trekking etc. that you would love to indulge in. If you are in dilemma to visit the place with your children then please be informed that they also have a child care facilities for their guests to have hassle free stay at Samujana. They also provide transportation facilities to their guests to move in and around Samui. With access to private beach, Samujana villa is just the right place for a destination fairy tale wedding.
With so much of modern amenities in the midst of a cool and serene atmosphere with a splendid view, a lovely stay in Samujana villa is sure to make your vacation all the more rejuvenating and refreshing.
True to their motto "Your Place, Your Time" Samujana is sure leave you with a lifetime experience.
For more information you can check out their official page or reach out to [email protected]
For Online Bookings +66 (0) 77 423 465 [email protected]