Located in the center of Eurasia, Uzbekistan through the centuries, played a key role,  not only with the trade of gold, silk, and spices but also of culture and religion and marked it's presence on the ancient Silk Route.
Each corner of Uzbekistan attracts with its features - in Tashkent you can take a ride in the most beautiful metro in the world or see intricate mosaics featuring local, historical heroes and myths. In the historical cities included in the UNESCO Cultural Heritage List are  - Samarkand, Bukhara, Shakhrisabz and Khiva.
Contents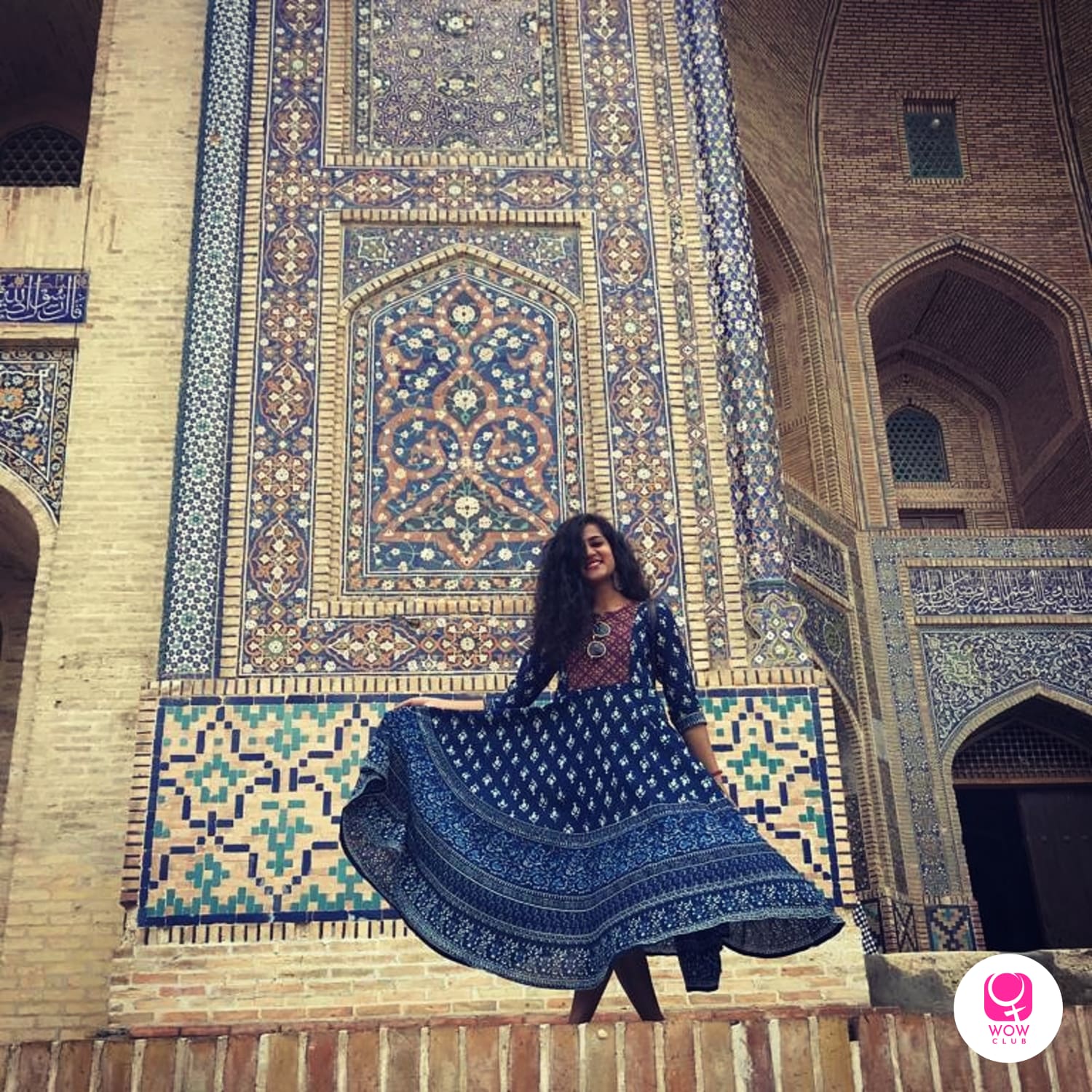 5 Perfect Days in Uzbekistan
This 5 day tour itinerary will give you the insight of what one can cover in shorter duration of time. You can admire the beautiful blue domes of mosques in Samarkand, explore the best examples of Islamic architecture in Bukhara and mingle with locals in bustling bazaars of Tashkent. Uzbekistan tour package from India is as follows:
Day 1 | Fly into Tashkent: The capital city of Uzbekistan, Tashkent offers an eclectic mix of ancient and cosmopolitan. Serving as the main economic and cultural center of Central Asia, it's popular with the tourists for its splendid museums, grand theatres, entertainment hubs and sprawling parks. Take a direct flight from Delhi or Mumbai to Tashkent. Check into the hotel and after lunch you can start with panoramic city tour. Spend the evening at Broadway street. Overnight in Tashkent.
Day 2 | Tashkent to Bukhara: You can take speed train to Bukhara and check into the hotel. Best is to stay in Old Bukhara city. With over 140 stunning monuments, buzzing bazaars, towering minarets and majestic fortifications, Bukhara will leave you in awe with its spellbinding architectural complexes. Take a night walk in the city where you will witness night beauty of ancient Bukhara. You also have an option of watching the traditional folk dance show here. Overnight in Bukhara.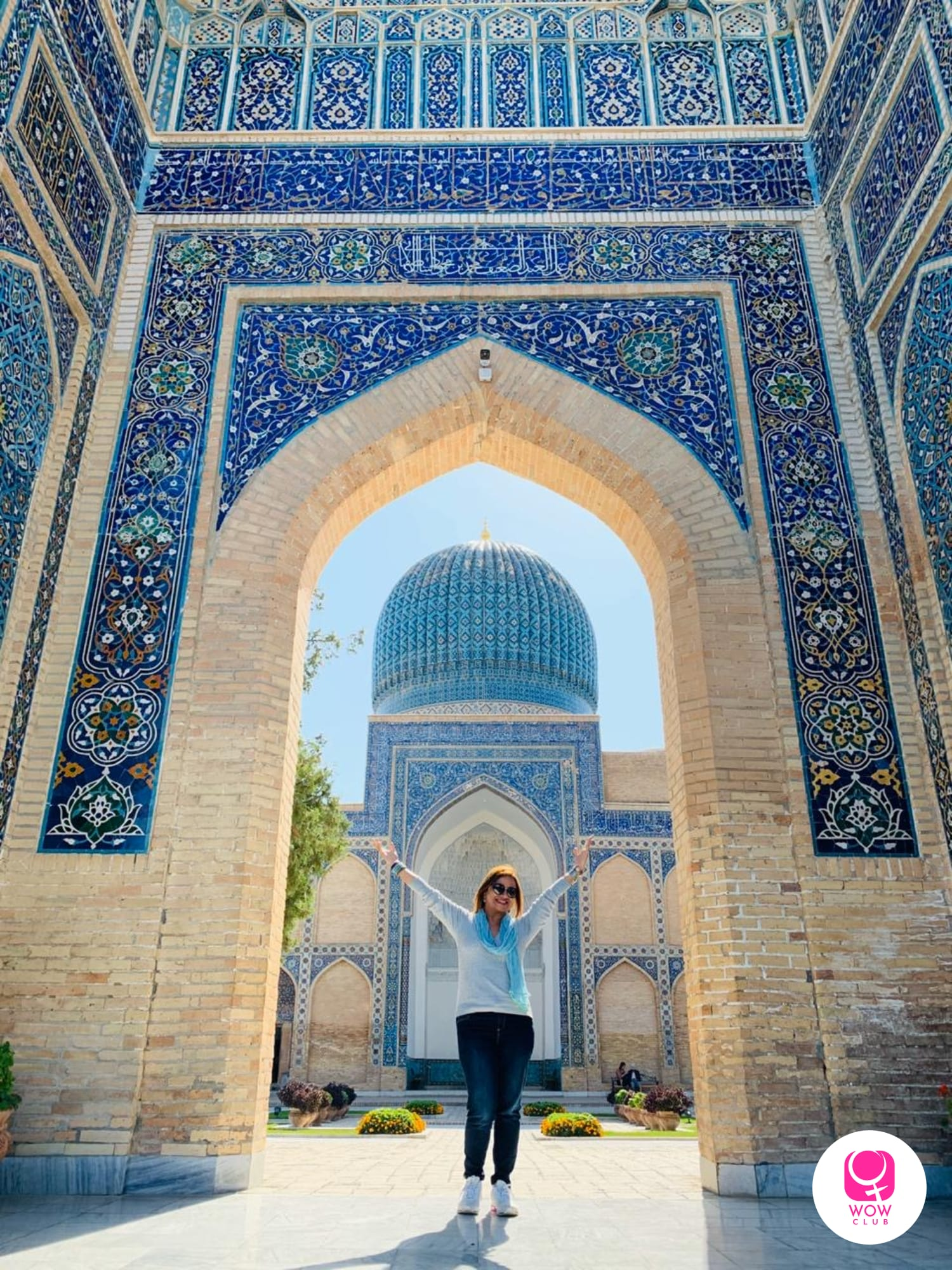 Day 3 | Bukhara to Samarkand: Nestled in the its valley of the Zerafshan River, Samarkand is home to some of the finest masterpieces in Uzbekistan. Morning drive to Samarkand will take around 4 to 5 hours. In the later half of the day visit to the famous Registan Square and The Gur-Amir Mausoleum. Overnight in Samarkand.
Day 4 | Samarkand to Tashkent: Morning visit to Shah-I-Zinda (Tomb of the Living King). Samarkand's most moving and beloved site is this stunning avenue of mausoleums, which contains some of the richest tilework in the Muslim world. Then proceed to visit to Bibi Khanum Mosque and Siyab Bazar. Later in the evening take the fast speed train to Tashkent. Overnight in Tashkent.
Day 5 | Fly out from Tashkent: Today explore Tashkent in your own pace. You can also explore Tashkent metro stations. Built extremely deep in the ground, almost every station of the Tashkent Metro is absolutely gorgeous, all very different from each other. You can also visit Amir Timur Museum. Visit to Alay Bazar. Eating plov at the Central Asian Plov Center is an activity that you really can't skip while you're in Tashkent! In the evening take a flight back to India.
Tips for solo travelling to Uzbekistan:
Here are all the tips required for Uzbekistan solo female travel.
How to get there?
Travelling to Uzbekistan is not at all difficult. Uzbekistan is really really close to India. The flight between Delhi to Tashkent takes the same time it takes to from Delhi to Colombo! It takes 3 and a half hour to get to Tashkent. Time zone wise it is just half-hour behind India.
When to Visit?
The best times to go to Uzbekistan are spring and fall- March, April, May, September and October as this can be when temperatures are most comfortable.
Language in Uzbekistan
Common people speak in Uzbek but Samarkand, Bukhara and Khiva areas are almost exclusively sustained by tourism and most people in the tourist area will speak enough English.
Can you get an e-visa for Uzbekistan?
Citizens of the United States, India, China, Mexico, Hong Kong, Colombia, Ecuador and many others can apply for an e-visa.
Internet and Sim Card
The Internet is just OK. Most hotels will have decent Wi-Fi and 3G works perfectly well throughout the country. SIM Card – Get Beeline, with which, for a couple of USD, you will get plenty of data and calls. It is very easy to buy a SIM Card and all you need is your passport.
Is Uzbekistan Safe for women traveler?
Uzbekistan was recently considered one of the 20 safest destinations in the world, as it has one of the lowest crimes rates in the world, besides a high level of security, especially in the capital Tashkent.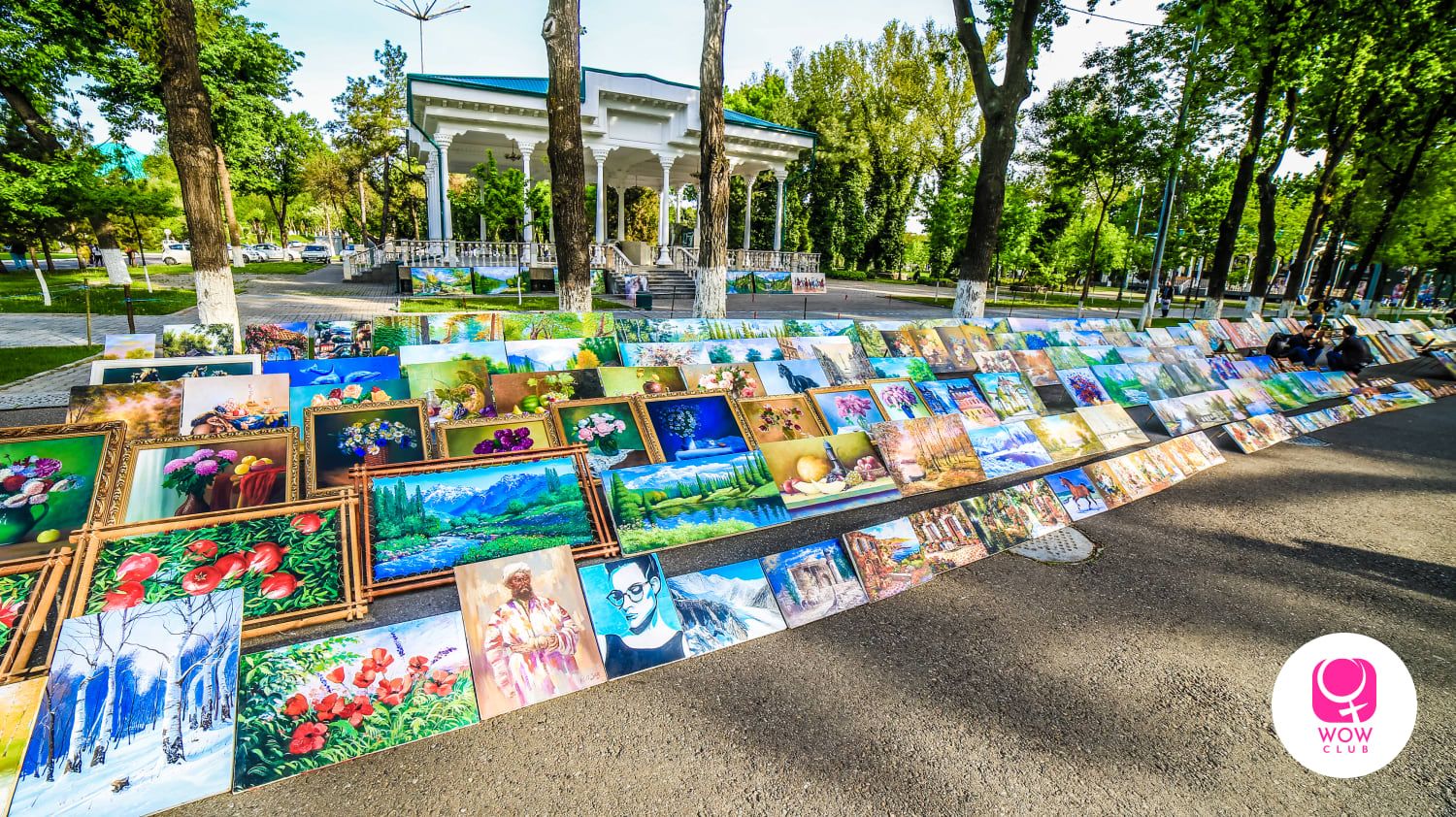 What is the currency of Uzbekistan and how much you should carry?
The currency in Uzbekistan is the som (S), sometimes spelled s'om or soum. It's easy to feel rich in Uzbekistan – the highest Uzbek note (50,000S) was only introduced in 2017 and is currently worth around US$6.
ATMs can be found in most of Tashkent's top-end hotels, in a couple of hotels outside the capital and in a few banks, but they are frequently out of order. Try to avoid using ATMs on a Sunday, when they are almost always out of cash.
$500 USD are enough for 5-7 days trip to Uzbekistan inclusive of food , sightseeing and local travel.
What not to bring with you?
Don't bring any sensitive material – By sensitive I mean adult video or any politically sensitive photos, including Governmental buildings or military stuff. If you happen to have some, upload them to the cloud or hide them very well in your computer. You can't bring in any drugs containing codeine. Please make sure you have prescriptions for the medicines you carry along.
What to wear?
No real dress code for women – Many Uzbek women are veiled but it's mostly for cultural reasons, rather than religious. Except in some parts of the Fergana Valley, women can go as they please, within certain common-sense limitations, of course.
Shopping in Uzbekistan
Uzbekistan offers Central Asia's best shopping. Almost every corner of every historic building in Samarkand, Bukhara and Khiva is stuffed with crafts and souvenirs. The best buys include doppi (skullcaps), Turkmen-style wool hats, chapon cloaks, carved wood, ceramics, embroidered bags, carpets and suzani (embroideries), silk jackets, scarves etc. There is a wide array of dry-fruits that are available, and quite reasonable. You can also buy golden raisins, sultanas, diced apricots and walnut-stuffed dates, spices, blocks of halva, balls of gozinaki (caramelised nuts), traditional sweets, honey, dairy products and local bread.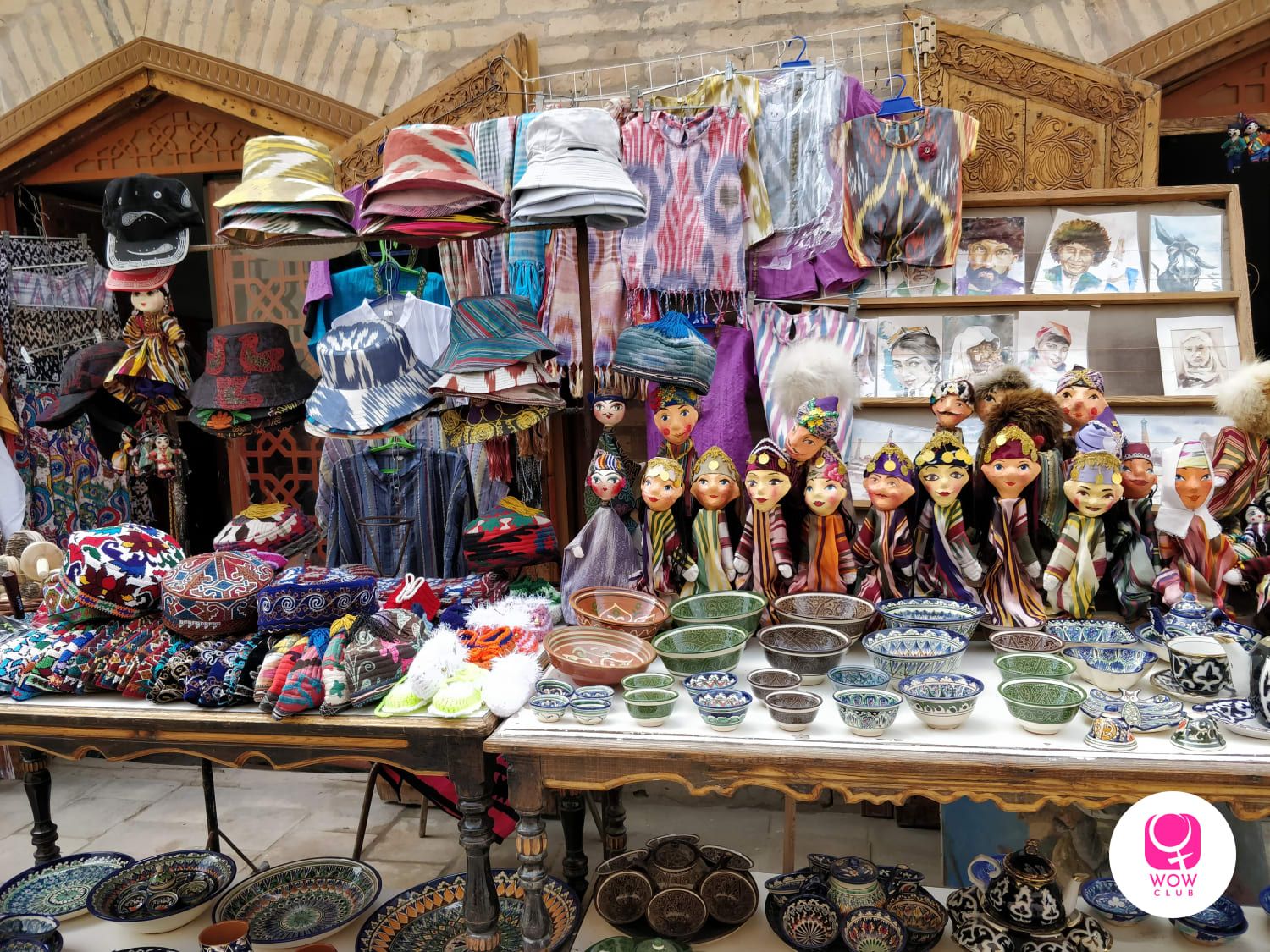 Entertainment in Uzbekistan
There's not much in the way of entertainment in Uzbekistan. Madressas in Bukhara and Khiva put on tourist-orientated fashion and dance shows, as well as the occasional puppet show, but they aren't very authentic. One show that is worth catching is the spectacular sound and light laser show in Samarkand's Registan Square.
Drinking and Smoking in Uzbekistan
Alcohol is widely available – Vodka, beer and everything you want! The smoking is allowed at specially allocated places and rooms at the public places. In Uzbekistan, smoking in public places has been banned since April 2012.
What to eat?
Central Asia is a place for foodies and Uzbekistan is no exception. You won't have any problem finding food, but the range is limited and there is a tendency towards blandness. Vegetarians will likely order most of their food from the salad menu and fruits. Restaurants are split between traditional-style chaikhanas, smarter restaurants in tourist cities and fast-food places in smaller towns.
Few of the best restaurants are (serving vegetarian as well)-
In Tashkent - Nur, Sim Sim, Afsona, Bistro restaurants
In Samarkand - Platan, Samarkand, Karimbek, Muborak guesthouse restaurants
In Bukhara - Bella Italia, Temir's restaurant, Chinar teahouse restaurants
In Khiva - Zarafshan, Malika Kheivak, Mirzaboshi restaurants
Some of the best places to enjoy Uzbeki Nightlife in Tashkent- Broadway, Opera Night Club, FM Bar
Cost of Living in Uzbekistan
Cost of a meal in a mid range restaurant- $5- $6
Cost of a Taxi Ride- $3-$4
Cost of  first class train ticket between the major cities (All rates business class of Afrosiyob express train)
Tashkent to Samarkand - $20
Samarkand to Bukhara - $15
Tashkent to Bukhara - $30
Tashkent to Shahrisabz - $38
Tashkent to Navoi - $25
Tashkent to- Karshi - $35
Local Specialties
Plov, a Central Asian pilaf consisting of rice and fried vegetables, is the national staple and every region prepares its own distinct version.
Every region also has its variation of non (nan bread); the raised rim of Kokand's specialty makes it a particularly fine shashlyk plate, while Samarkand's non resembles a giant bagel without the hole.
Regional staples such as laghman (long, flat noodles), beshbarmak (noodles with horse meat and broth), halim (porridge of boiled meat and wheat) and naryn (horse meat sausage with cold noodles) are all popular.
Moshkichiri and moshhurda are meat and mung-bean gruels, respectively. Dimlama is a ragout of meat, potatoes, onions and vegetables braised slowly; the meatless version is sabzavotli dimlama. Buglama kovok (steamed pumpkin) is a light treat.
Uzbeks love their ubiquitous kurut (small balls of tart, dried yoghurt) and their noz (finely crushed chewing tobacco). Somsa (puff pastry stuffed with lamb meat and onion) are also ubiquitous but vary greatly; the good ones are a great snack, but most are full of fat and smell of the Soviet Union.
WOW Pro tip: For vegetarians, there are many side dishes without meat that could easily replace the main dish. If one can make an extra effort of talking to the chefs  they will replace meat with vegetables in common dishes for you. They will also serve you grilled vegetables. Yogurt is also served usually with all the meals. If you're worried about finding food to your liking, you can also carry some comfort ready to eat food for e.g. MTR products, cuppa noodles etc. for the occasional non-Uzbek meal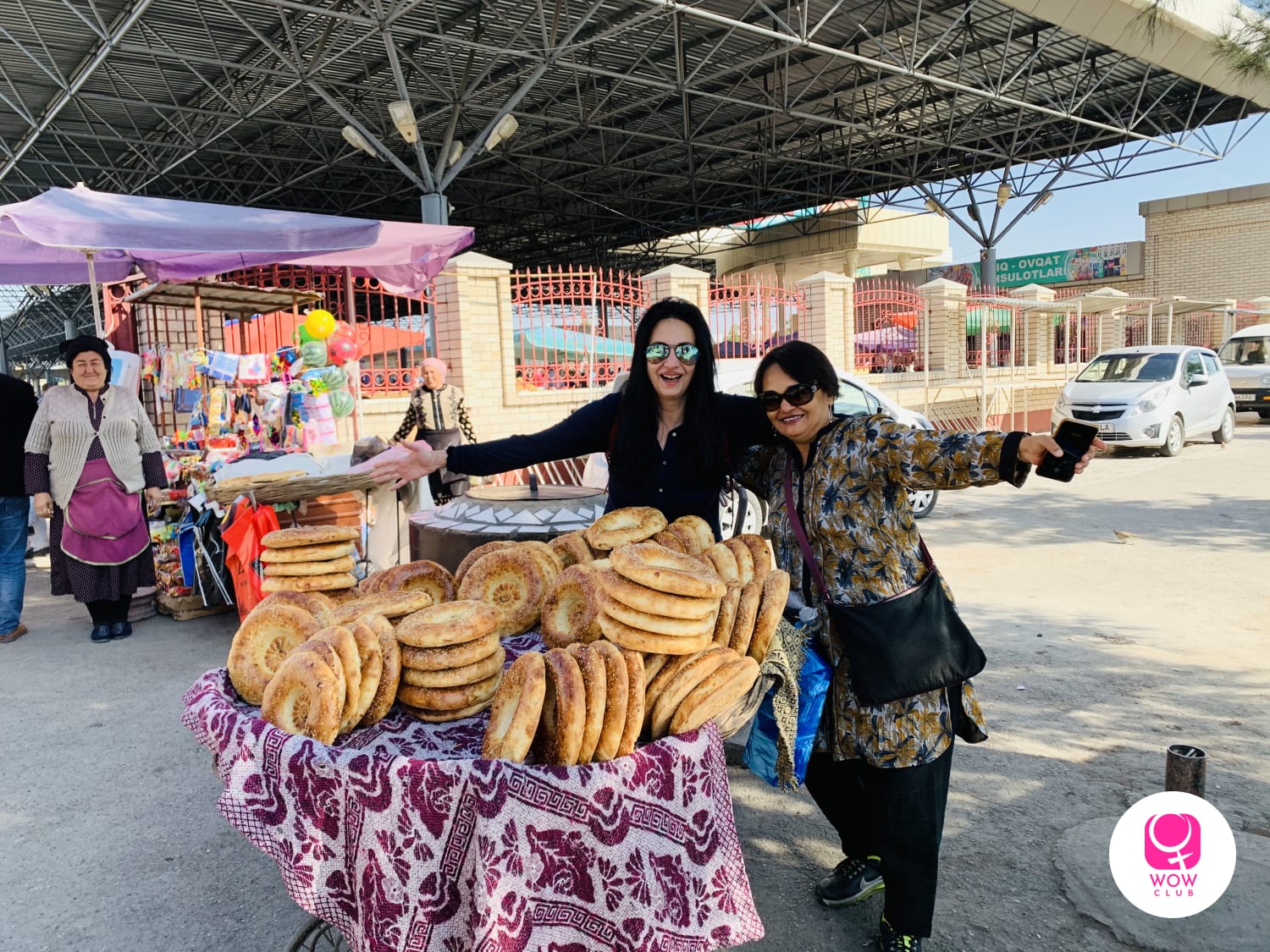 There is more to Uzbekistan:
If you have more days in hand, I would recommend adding Khiva in your itinerary.
You can reach Khiva by a direct flight from Tashkent to Urgench. Khiva is about 40 km away from Urgench Airport and is divided into two halves— Itchan Kala and Dichan Kala, representing the inner and outer city. While Itchan Kala is an open-air museum known for its impressive Islamic architecture and restored settlements, Dichan Kala was formerly protected by a wall with 11 gates to protect the enemies from entering the city. Tosh-Hovli Palace, Kalta Minor Minaret, Kuhna Ark Watchtower, Juma Mosque, Pahlavon Mahmud Mausoleum, and Islom Hoja Minaret are some of the famous monuments that you mustn't miss while exploring Khiva.
WOW Pro Tip: Keep in mind that there aren't many English-speaking guides in Khiva so if you want someone who is quite knowledgeable and easy to understand, it's best to book in advance. Coordinate with your hotel once you make your booking to make sure one is available.
Hopefully this is good enough for you to make you do Uzbekistan on your own! However, if you would like to join our next trip to Uzbekistan, then click here for all the details.